5 April 2022 09:15 (GMT+7)
---
Vaccination status in Vietnam
Source: COVID-19 Immunization Portal – Updated at 00:00 04/04/2022
Number of injections nationally
According to information from the Ministry of Health, Nghe An General Hospital recently saved the life of a 47-year-old female patient who suffered from acute myocarditis, complications from cardiogenic shock, severe arrhythmia, and pneumonia after being infected with COVID-19.
Thus, the patient named D.TL has a history of COVID-19 infection since March 1. After self-monitoring at home, on March 8, the patient's rapid test result was negative. The patient had no pre-existing medical conditions.
On March 21 the patient was transferred from the lower level to Nghe An General Hospital with the diagnosis: ARDS-TD pneumonia, Myocarditis/post COVID-19 on day 10. Immediately after receiving the patient Patient was intubated, mechanical ventilation, antibiotics, continuous dialysis, vasopressor support.
On March 24, the patient's condition worsened, severe arrhythmias appeared, and heart failure developed. Patients with LVEF had a coronary angiogram without a lesion, a temporary pacemaker was placed, and resuscitation continued. On March 25, the patient's heart failure condition developed critical, severe arrhythmia.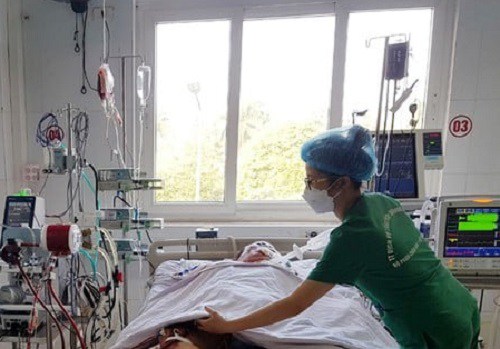 The patient during the treatment has a support machine in the hospital.
Faced with serious developments and a high risk of patient death, the Intensive Care Unit held hospital-wide consultations, chaired by Assoc. Prof. Dr. Nguyen Van Huong – Director of the hospital, in consultation with experts. Intensive Care Center, Bach Mai Hospital, Vietnam Heart Institute.
At consultation, the patient was diagnosed: Myocarditis complicated by cardiogenic shock with severe arrhythmia – Pneumonia/post COVID-19. Patients were assigned to be treated with the ECMO VA technique – a method that uses circulation and oxygen exchange outside the body to support life functions in patients with circulatory failure.
After receiving ECMO support in combination with continuous dialysis and mechanical ventilation, the patient's health improved. After 5 days of intensive care, the patient was discontinued ECMO VA, stopped mechanical ventilation, temporarily removed the pacemaker… Currently, cardiac function is recovering well, breathing is stable, general condition is improving and is expected to improve. may leave the hospital in the coming days.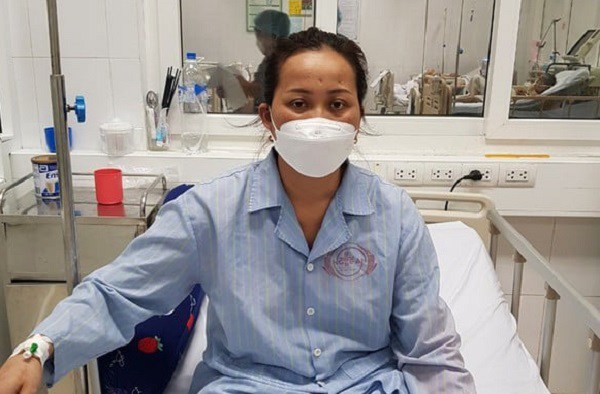 The patient is now stable.
According to experts, myocarditis caused by SARS-CoV-2 is similar to a group of diseases caused by viruses of various etiologies, which are diverse and are not characterized by any symptoms. Myocarditis is known as inflammation of the heart muscle cells and the most common dangerous complications are ventricular arrhythmias, severe acute heart failure, and even fatal cardiogenic shock. The cause is statistically primarily viral (in >50% of cases, myocardial damage is caused not only by toxins from the virus itself but also from the body's own response to these microorganisms). .
You are reading the article
Nghe A woman with no underlying medical condition suddenly has a heart attack and is in critical condition
at Blogtuan.info – Source: Eva.vn – Read the original article here