Genetics affects 23% of a child's height. Therefore, in a family where both parents are tall, the child will have more advantages in physical development. However, other factors such as nutrition, environment, lifestyle, … still reach 77%, parents can fully help their children develop their high potential in various ways.
MC Diep Chi – a beautiful woman with small stature and height is in the female role of MC Vietnam Television has proven that a short mother can still raise a tall child. It is known that since the age of 9, baby Sumo is almost as tall as his mother and has grown well in recent years. Currently, even though Diep Chi wears 5cm shoes, Sumo still outperforms his mother.
MC Diep Chi's daughter is growing, growing taller and prettier.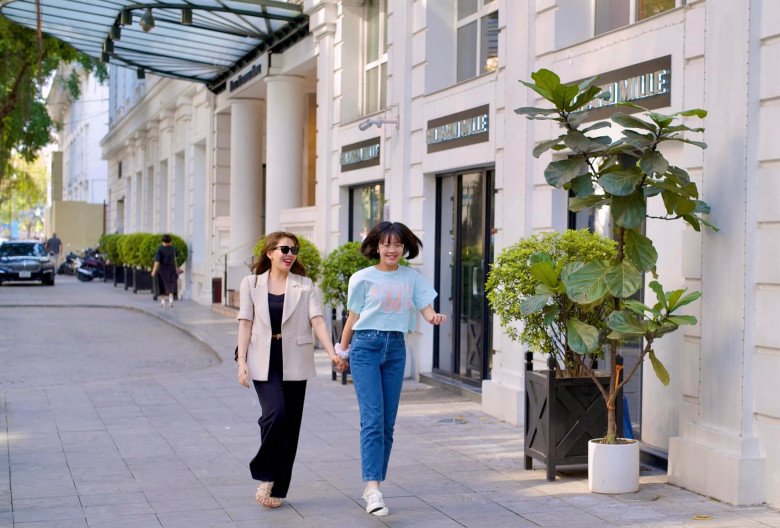 In many frames, the girl is taller than her mother and looks like a young girl.
When receiving a question, what kind of milk helps increase the child's height. Diep Chi quickly answered and added some tips that he implemented. She says: "Most of the leading dairy companies have formula to help you gain height. In addition, you can add whey, yogurt, fresh milk, nut milk (with the right dose). Do not forget the army of Vitamin D3 K2 will help increase calcium absorption. In addition, encourage your child to participate in physical activity every day, there are many subjects that help to increase height very well such as badminton, basketball. !".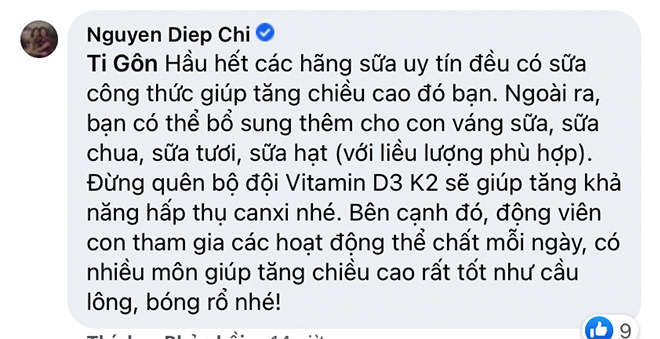 Diep Chi reveals the secret of increasing the height of a child.
When it comes to height growth, parents often think of calcium immediately. However, "loading" calcium is one thing, helping your child absorb calcium is even more important. Vitamins D3 and K2 are the duo that support this process. Vitamin D3 absorbs calcium from the intestines into the blood, while micronutrient K2 activates calcium transport proteins that attach directly to bones, helping to increase bone density and increase bone strength.
Vitamin D3 is abundant in salmon, cod liver oil, egg yolks, milk, mushrooms,… Especially sunlight is also rich in vitamin D3. Micronutrient K2 is abundant in sauerkraut, natto, fish, chicken,… A nutritious and reasonable diet will help children develop comprehensively. In her daily life, even though she is busy, the mother of one, Diep Chi, always focuses on making delicious and nutritious menus for her children. She makes her own juice and nut milk, reminding her to go to bed early and work out with him. These are all "golden" factors for helping children develop height.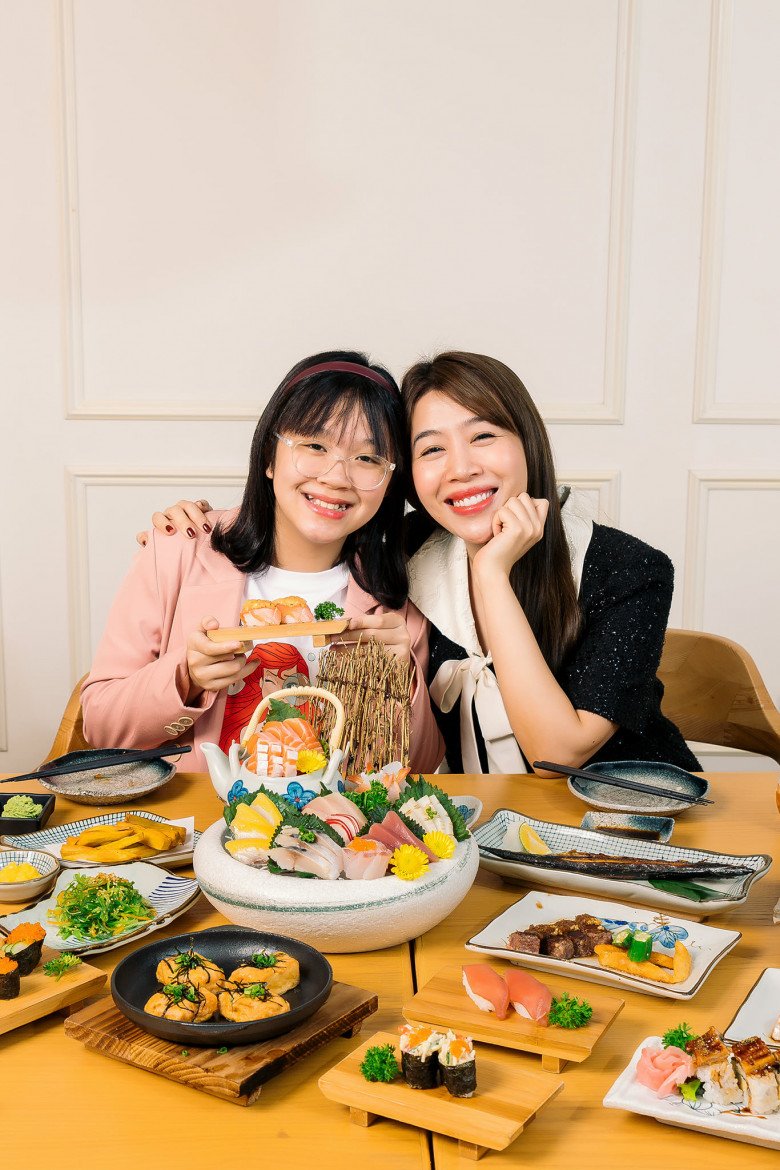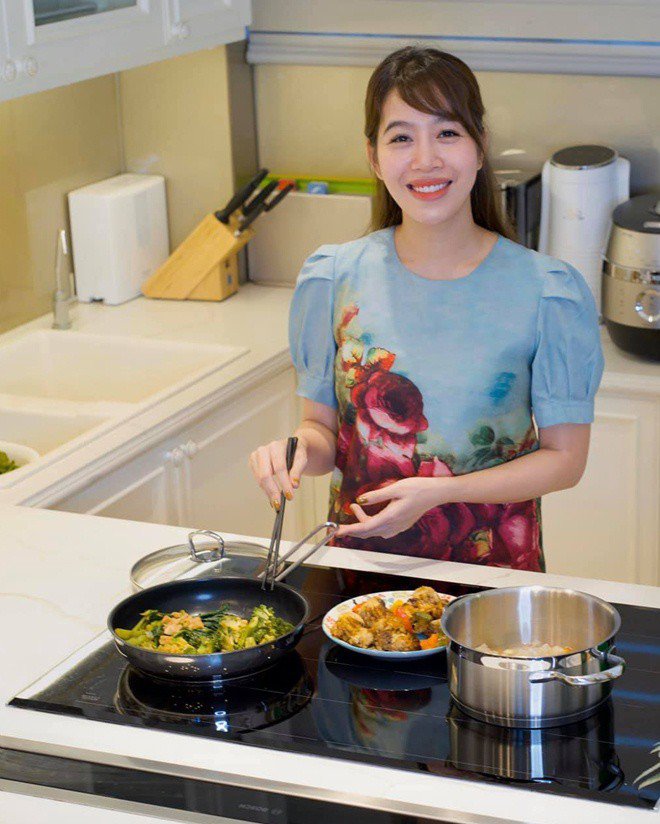 Busy at work, but Diep Chi still goes to the kitchen alone, focusing on nutritional balance for his daughter.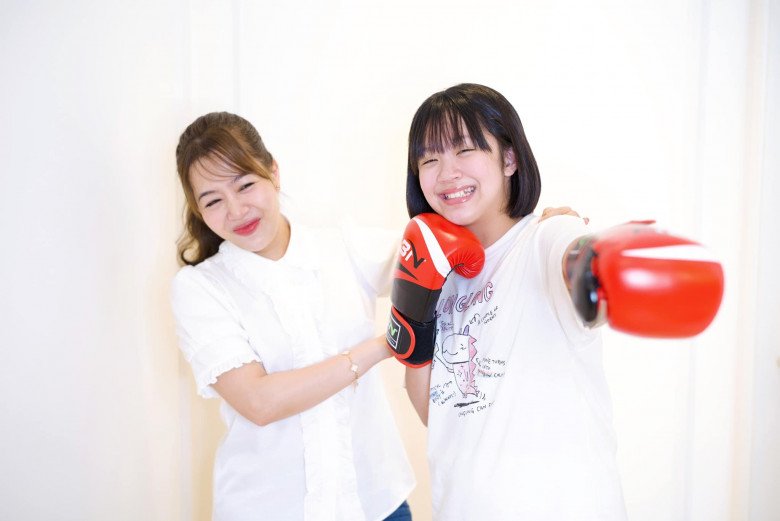 Sumo boxing training.
Diep Chi's daughter's real name is An Nhien, born in 2011. At birth, the child weighed only 2.88kg. Because the baby was born very small, Diep Chi gave his daughter Sumo a nickname, hoping to eat well, grow up fast, and grow up healthy. Thanks to the careful care of her mother, the girl reached the milestones of standard height and weight, surpassing even many friends her age, healthy, less sick. Since childhood, Sumo has followed his mother to travel the world, adapting to many climates from cold to hot, becoming a reliable companion of the female director of the show "Who Wants to Be a Millionaire".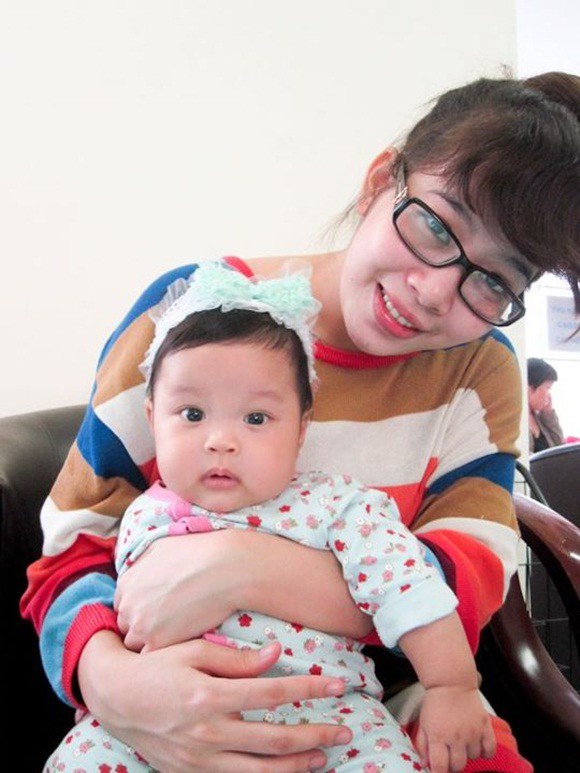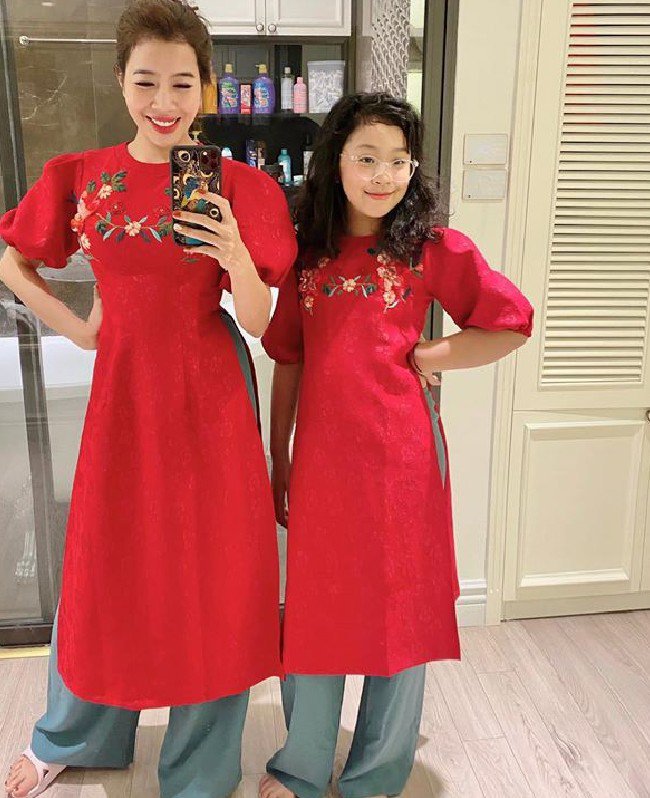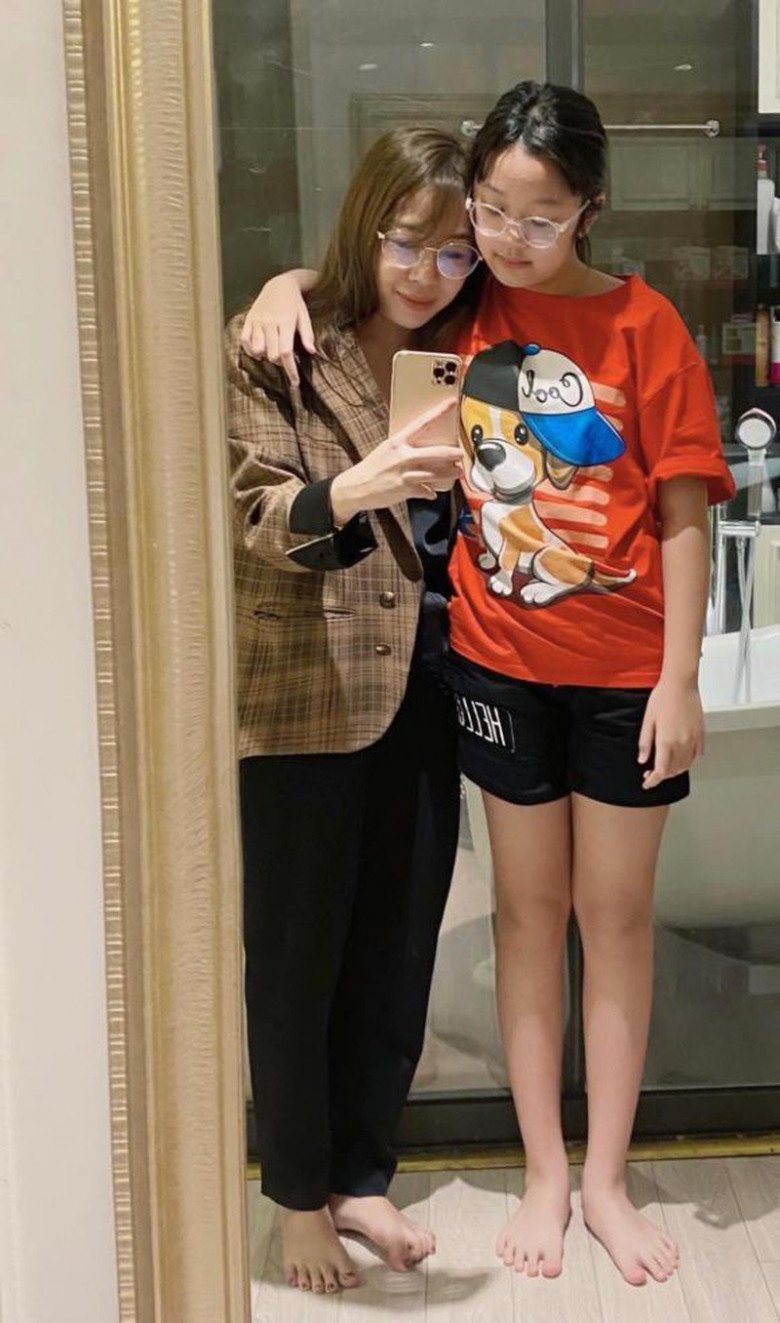 Diep Chi raises children in a modern and careful manner, does not impose indicators on the development of the child. He once shared: "Mesumo (Diep Chi – PV) noticed that many mothers still want to raise their children very well. Mothers who have children the same age, when they meet, they often ask how much the baby weighs, sometimes people ask if the baby is good or not."
He added: "In the past, when raising children, everyone who asked me answered 'Sumo weight is right', and actively steered the story in another direction. Then go enjoy the whole village." Diep Chi does not compare children's height and weight, does not force Sumo to eat. Maybe because of that, he is interested in eating, even passionate about cooking and comprehensive development.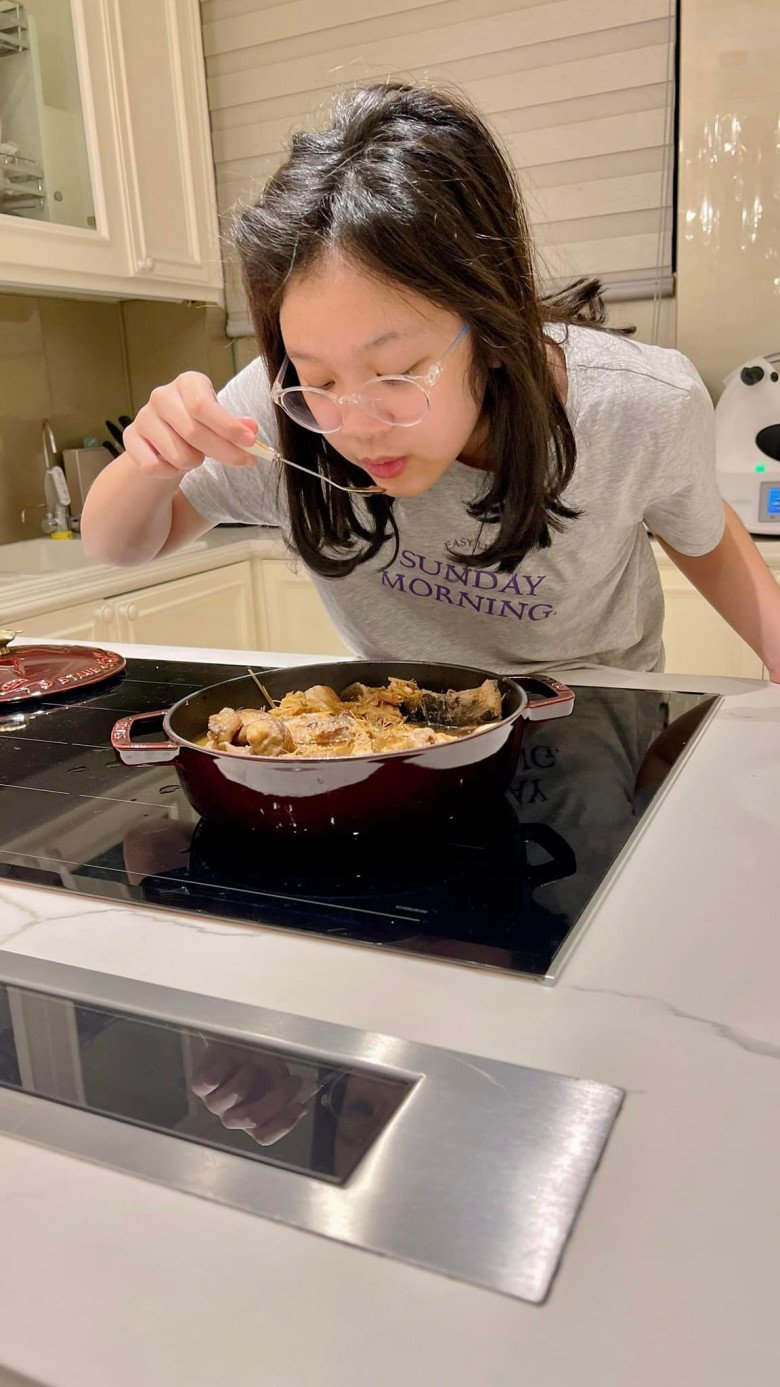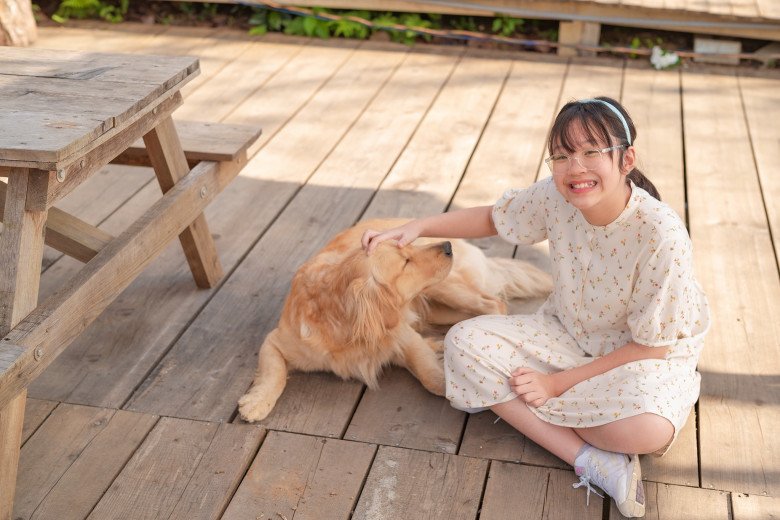 In recent years, Diep Chi no longer mentions his daughter's father on social networks, only updating photos of mother and daughter. Having a beautiful, understanding, and tall daughter, this talented female MC feels like she has a sister again. The mother of one child once lamented: "Two sisters, looking at their bodies, don't know which side is sister and which side is mine. I am really afraid of An Nhien's incredible speed, dear". Apart from growing up healthy, An Nhien is also an emotional daughter, disciplined in everything, making her a "cool" mother.
A mother of one child said: "Sumo always has 1001 ways to make mom happy. In fact, coming home to see you is enough to see how much tired things have disappeared into smoke."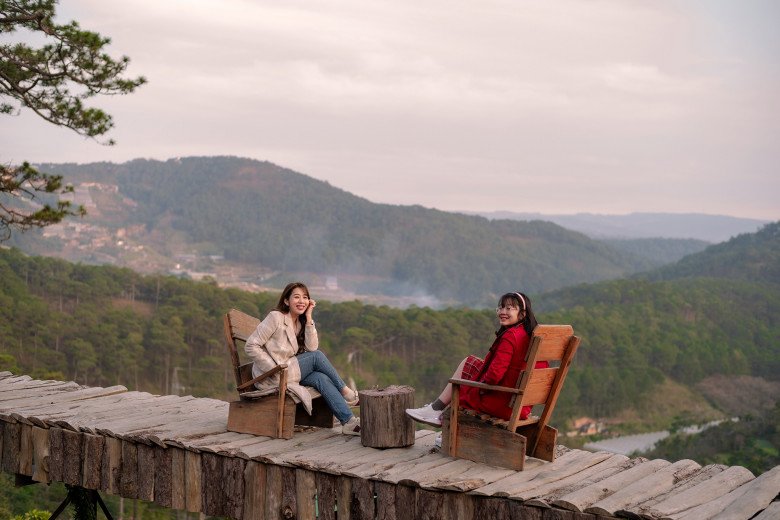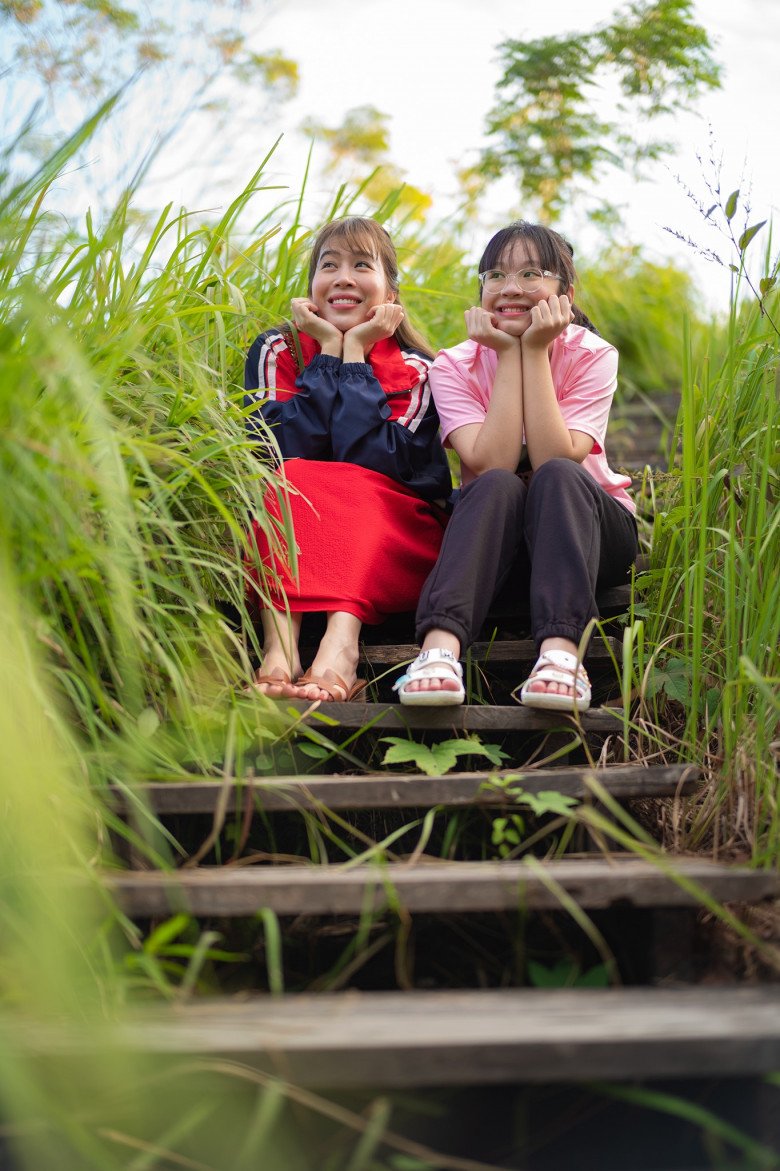 Mother and daughter Diep Chi spend a lot of time hanging out, chatting and being close like close friends.
You are reading the article
Short and small, MC Diep Chi shows how to raise a tall daughter
at Blogtuan.info – Source: Eva.vn – Read the original article here