Giáo dục
Life Style
Students in grades 1 – 6 in Hanoi go back to school: Teaching 2 lessons/day, organizing part-boarding
The Hanoi People's Committee has just approved the proposal of the Department of Education and Training to send students from grades 1 to 6 directly to school from April 6. Thus, after nearly 1 year of stopping going to school and learning online, all primary and sixth grade students across the city will be able to go to school.
The Hanoi Department of Education and Training requires that educational institutions teach directly, but on a voluntary basis, with the consent of students' parents. This time, schools will organize half-boarding and teach 2 sessions a day for parents to facilitate transportation, avoiding the situation of "running out" to pick up their children.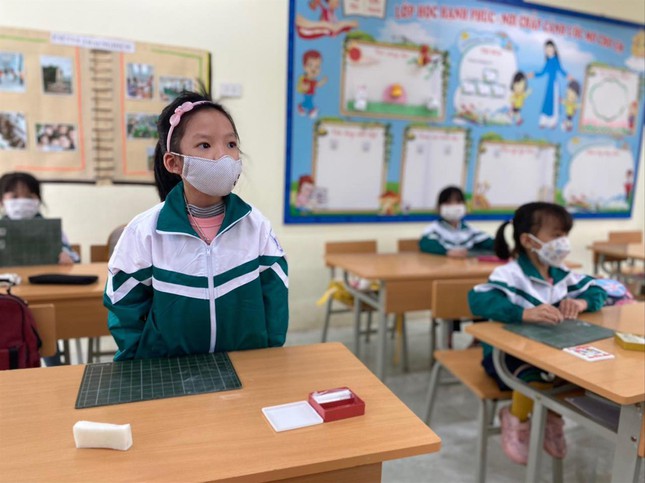 Hanoi requires schools to meet safety requirements in the prevention and control of COVID-19 according to the interdisciplinary guidance of the Department of Education and Training as well as the Hanoi Department of Health. Schools also prepare adequate facilities, develop rehearsal plans to handle situations where teachers and students are F0.
The Steering Committees for COVID-19 Prevention and Control of districts, towns are responsible for considering and stopping face-to-face learning to ensure absolute safety for students; There are scenarios to handle situations if F0 and F1 occur in classrooms and schools.
Explaining why Hanoi is the locality that has closed schools for the longest time, Mr. Tran The Cuong said: "Many times, Hanoi is a locality with intense epidemics. Especially in the period after the Lunar New Year for students in grades 7-12, the rate of COVID-19 infection in schools is very high, forcing schools to close and switch to online learning. Faced with that fact, the industry must consider and calculate to gradually open schools, cannot do it massively to ensure the safety and health of students, "said Mr. Cuong.
Responding to Reporter Tien Phong, Director of Hanoi Department of Education and Training Tran The Cuong said that before submitting the plan to the City People's Committee, the Department of Education and Training had consulted parents as a basis.
As a result, about 75% of parents agree with the plan to send their children to school. The City People's Committee also approved the plan for students from grades 1-6 to go to school from April 6.
Before welcoming students to school, the Department of Education and Training will meet with the Department of Education and Training of districts and towns on the preparation of plans and handling of situations arising in the teaching process.
According to the head of Hanoi's education sector, after primary and sixth grade students across the city go to school, the industry requires preschool educational institutions to consult with parents about allowing children to attend school. go to school. Because preschool educational institutions have been closed for nearly a year now, schools need time to prepare to review facilities, clean classrooms, school supplies as well as develop plans. , the script picks up children and then opens the school door.
Can extend the school year
News of Hanoi for primary and sixth grade students to go to school made many parents excited. Some parents want Hanoi to send preschool children to school soon because these are disadvantaged groups, stopping interaction with friends and teachers for almost a whole year.
Ms. Nguyen Bich Tram, whose child is studying at Chu Van An Primary School, Tay Ho District (Hanoi), said that this would be the best news for both parents and children. For nearly a year, the child was at home, family life was disturbed because parents had to arrange to both look after the children and work.
Ms. Tran Thi Huong, Principal of Van Bao Primary School, Ha Dong District (Hanoi) said that most parents want their children to go to school, only a few have the mentality that near the end of the school year should study online. finish. However, many teachers think that going to school anytime is good for children.
"What the school is worried about is that young students who stay at home for too long, are familiar with their family members, will be surprised when they separate and go to class. Moreover, in online learning, primary school children only learn 90 minutes/day for grade 1, 2.5 hours/day for other grades, so when they come to school, the school will also balance, calculate and bring the curriculum to school. The learning process is gradual, without putting pressure on the students.
Teachers will take the time to take children to visit the school, guide the use of restrooms, libraries, and play areas. Parents are asked to do ideological and psychological work for their children, such as talking, telling their children what's going on at school, and how different learning is so that children are not surprised," Huong said.
"Schools suspending direct classes for a long time may affect the quality of education, so Hanoi is considering a proposal to the Ministry of Education and Training to extend the school year. Schools are required to develop a plan to review and consolidate knowledge for students after online learning," said Tran The Cuong, Director of the Department of Education and Training.
You are reading the article
Students in grades 1 – 6 in Hanoi go back to school: Teaching 2 lessons/day, organizing part-boarding

at
Blogtuan.info
– Source:
Afamily.vn
– Read the original article
here