Sức Khỏe
Woman suffering from 'petrifying' disease
Asal Shirazi, 57, has been living with the rare disease scleroderma for many years.
The British-Iranian woman has suffered from the "sick that turns you to stone" for nearly 20 years.
When she was 39, Asal Shirazi was told she had only four to six months to live after being diagnosed with a rare condition called generalized scleroderma. Despite the poor prognosis, she now has 5 children, has a skin care brand and is working to raise awareness about the disease.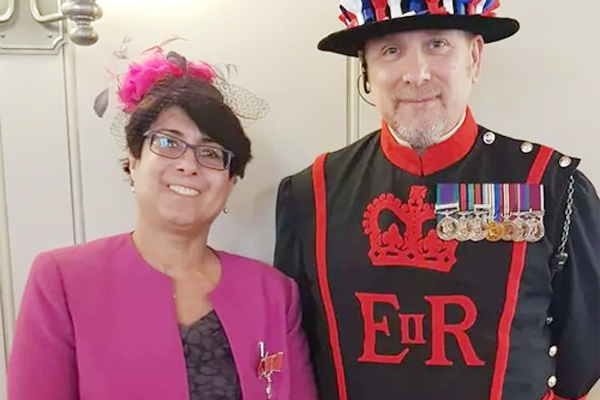 Shirazi (left) achieved many successes in life despite poor health
Scleroderma affects the immune system, attacking body tissues under the skin and around internal organs. The disease ranges in severity, from mild focal scleroderma that affects only the skin to generalized scleroderma such as acquired by Shirazi.
"I had the most severe type, which affects the heart and lungs. I can't sit for long. I have arthritis around my heart muscle and my lungs are fibrous," she said. Fibrosis is when the lungs become scarred and the patient has difficulty breathing.
An estimated 12,000 people in the UK are diagnosed with scleroderma but only about 1% of the population know what it is.
Shirazi, who has a medical degree, said she went to the doctor many times. However, she was diagnosed with menopause and treated with different hormones. For a time, she was prescribed pain relievers to treat stomach ulcers. Some time later, she was discovered to have scleroderma.
As a result of the disease, Shirazi had to take immunosuppressive drugs. "If I stop drugs, chemotherapy, injections, I won't make it through 6 months," she shared.
Scleroderma has been linked to Raynauld's phenomenon, which causes constriction of blood vessels in the fingers, numbness and loss of sensation in the extremities, and cramps when exposed to cold water or out in the cold.
The patient has thin limbs, cracked and brittle nails, fibrosis appears in the fingers, arms, face and body, muscle pain, muscle atrophy, joint stiffness, bone loss in the finger joints…
"My mouth is getting smaller and smaller as the tissue hardens. I choked, I couldn't lie down. I had to have six pillows," Shirazi said.
Despite her illness, Shirazi still established a sensitive skin care brand. She also runs a non-profit organization that specializes in philanthropic activities.
An Yen (According to Express)
You are reading the article
Woman suffering from 'petrifying' disease

at
Blogtuan.info
– Source:
vietnamnet.vn
– Read the original article
here