Tin
Dad took me to the wrong school, I didn't recognize her
After nearly a year of waiting, on the morning of April 6, students in grades 1-6 in Hanoi were officially allowed to go to school directly.
Students in grades 1-6 in Hanoi are overwhelmed when they go to school
According to the policy of the City People's Committee and the Hanoi Department of Education and Training, on the basis of voluntary and consent of parents the student, starting from the morning of April 6, schools have officially organized direct teaching for students and boarding meals. This is an indescribable joy, the "second day of school" for many parents and students because they are so tired after a long time studying online at home. Especially the first graders – grades 1, 6 – in the inner city, they have not been to school once, do not know the faces of teachers and friends.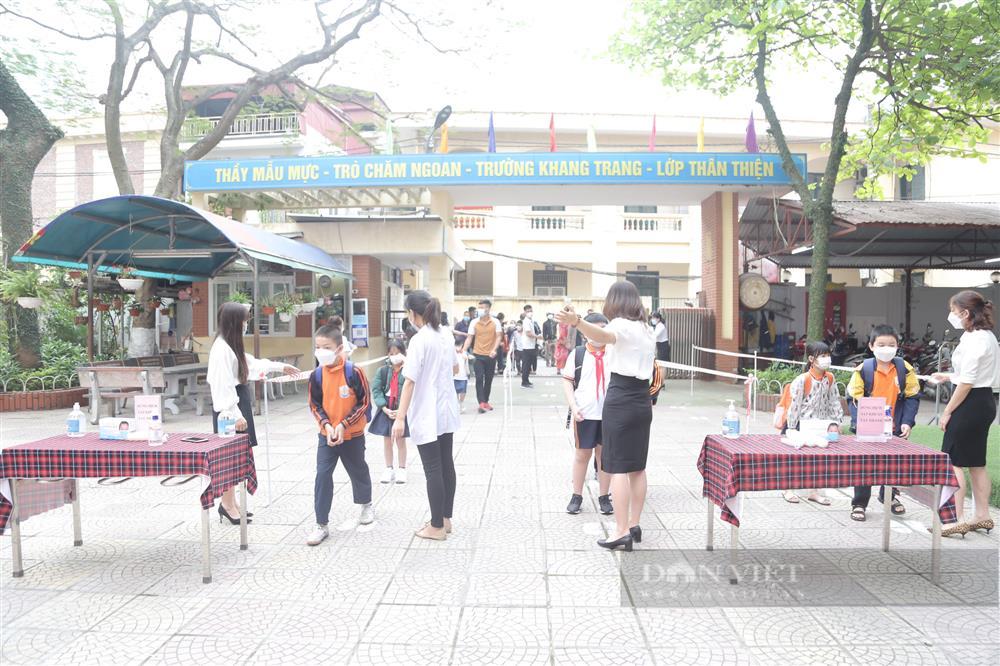 Right from the early morning, students were at the school. Photo: Cao Nga
At Trung Van Primary School, Nam Tu Liem district, right from the early morning, the atmosphere here is very joyful. While the "senior and senior" students were smiling, happy to see their teachers and friends and quickly entered the classroom, the 1st graders had memorable memories.
Although there were teachers holding class signs waiting for them, the feeling of entering the school for the first time made them timid and bewildered because it was strange. Many children do not recognize their teachers.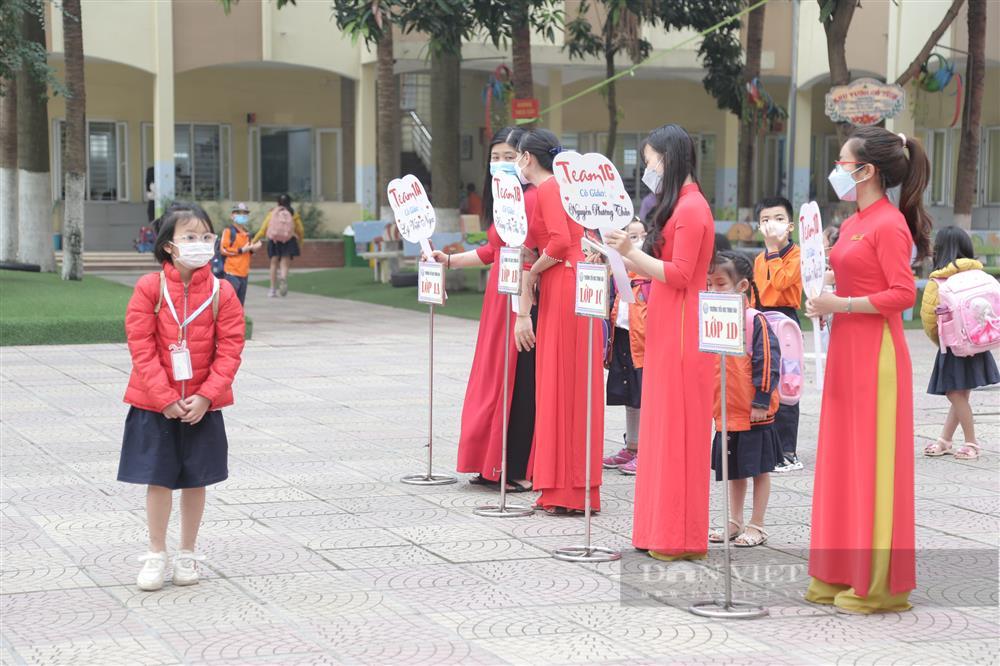 There are students confused looking for the teacher. Photo: Cao Nga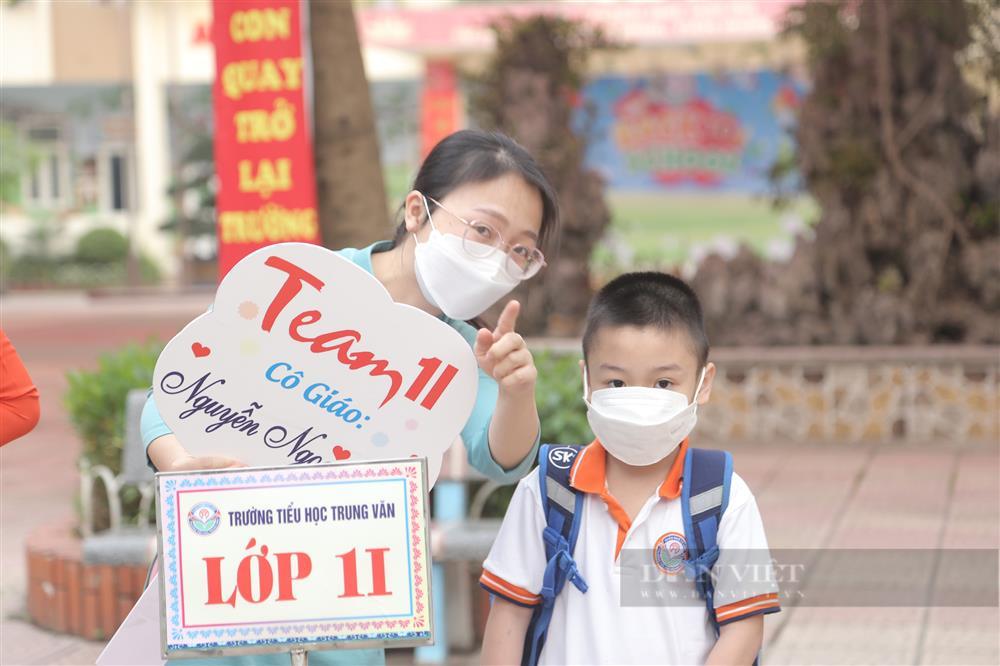 A student who doesn't remember what grade he was in has finally found his teacher. Photo: Cao Nga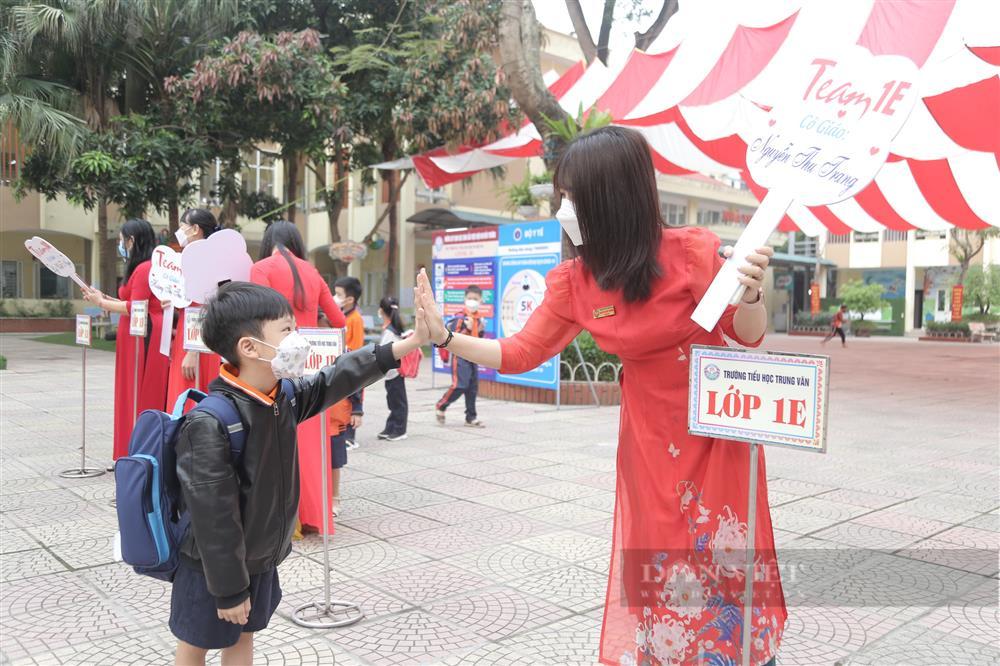 Some students immediately recognized their teacher even though they only met her through the computer screen. Photo: Cao Nga
Le Khai Anh, a 1st grader, said: "This morning, my mother took me to school. I was a little worried because I didn't know anyone."
Vu Ngoc Lan Khue, a student of class 1C, confessed: "I think the school is very beautiful. I am very happy to go to school today".
However, a rare case happened at Trung Van Primary School. A confused student looked for his class but did not know any teachers. When asked by the teachers, I answered that I was in class 1G but confirmed that this was not my teacher. The homeroom teacher said that there was no such student in the class. The teacher asked the students for permission to check the books, but did not write the name of the school. Luckily, I still remember the parent's phone number so that the teacher can call me then I know… my father sent me to the wrong school.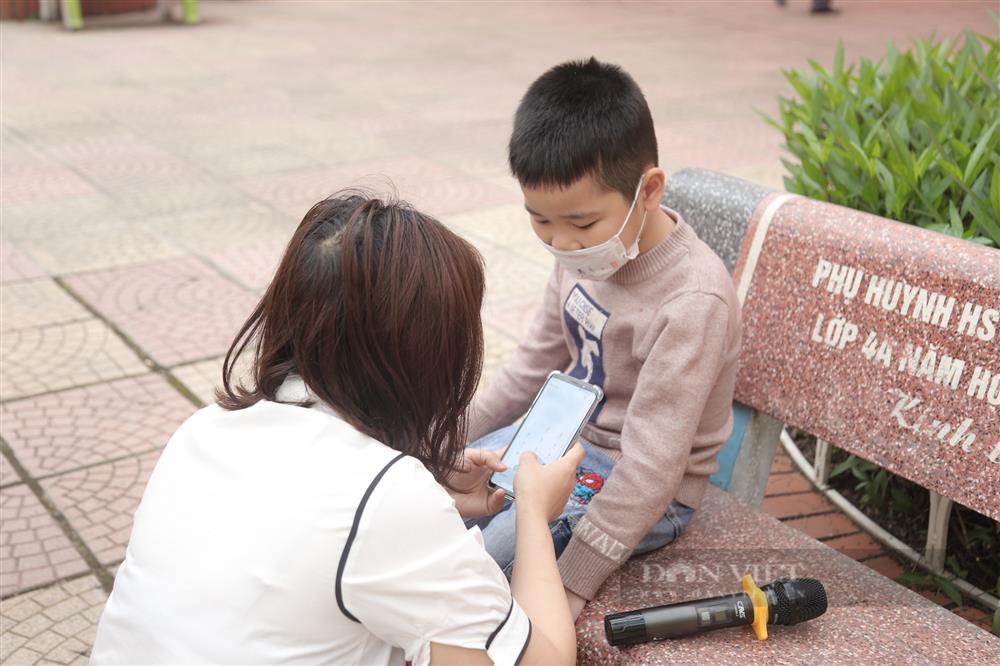 A student was sent to the wrong school by his father. Photo: Cao Nga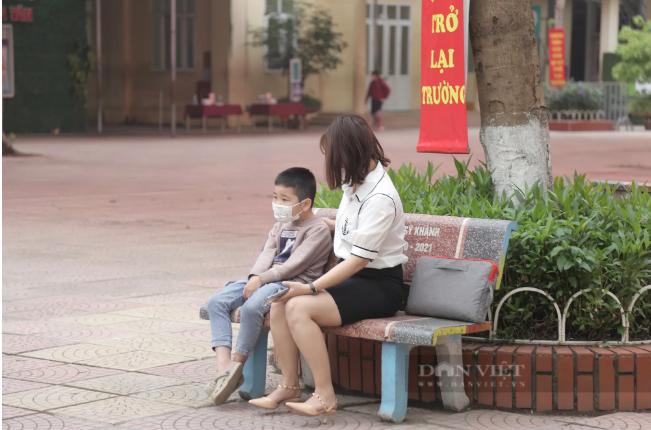 The teacher talked to the students while waiting for their father to pick them up. Photo: Cao Nga
Ms. Giang Thanh Thuy, Principal of Trung Van Primary School shared: "This morning, 1,800 students of the school went back to school. The school divides the time to pick up students: Grades 2-4 pick up students from 7:30 a.m., and grade 1 pick up students from 8:30 a.m. The school has 2 gates to ensure no congestion: Gate 1 is for students of grades 1, 3, 5, gate 2 is for students of grades 2, 4 and students riding bicycles. Each gate is divided into 4 lanes for students to enter and has a teacher. measure body temperature, disinfect, guide students to class".
Ms. Thuy added that because the first graders came to school for the first time, the school arranged for teachers to hold the class board and the teacher's name for easy identification. After that, the teachers took them to visit the school, guide the function rooms, and then start studying.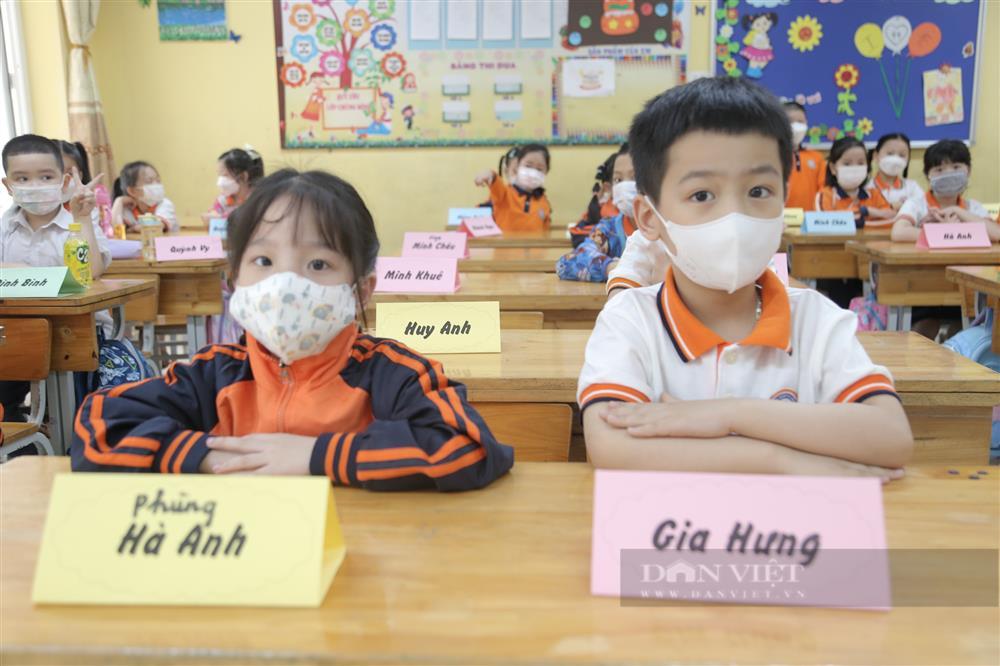 Trung Van Primary SchoolIn each classroom, teachers put up name boards so that students can easily find their seats. Photo: Cao Nga
At My Dinh 1 Secondary School, Nam Tu Liem District, this morning, 295 students in grade 7 and 6 went to school directly and they couldn't hide their excitement. Ngo Dang Chau Anh, a student of class 6A5, shared: "The first time I went to school, my emotions were extremely indescribable: Surprised, bewildered and very happy."
Chau Anh expressed, hearing the news about going to school from the teacher in the class group, he was restless all night until he couldn't sleep. When he entered the school, Chau Anh did not expect his school to be so big and beautiful.
Commenting on the teacher and friends, Chau Anh said: "My teacher in real life is very white, pretty and gentle, beyond my imagination. They are so tall that I thought they were 7th graders, afraid of getting the wrong person."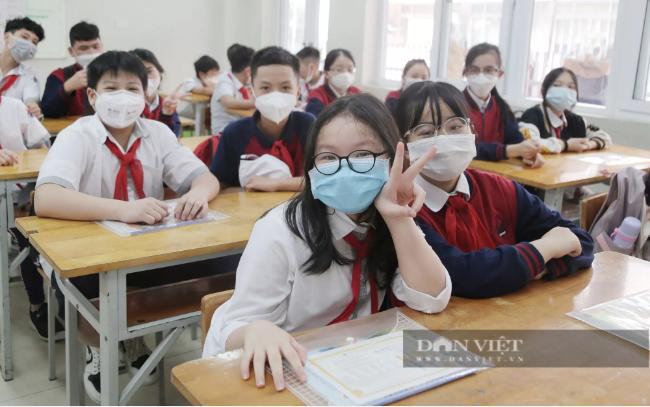 Chau Anh (white shirt) is very happy to go to school directly. Photo: Cao Nga
Le Tran Khuong Duy, a student in grade 6A5, said she jumped for joy when she heard the news that she was going to school, even though she knew she would be going to school soon: "I found the campus very beautiful. The first time I entered the school, I did not expect it to be so beautiful."
Duy shared more: "I haven't had F0 yet, I haven't been vaccinated so this time I'm a little worried about spreading the disease. However, I like going to school and my parents want me to go to school to have more fresh air, but not have to look at the computer screen".
Not only students but also parents are equally happy. Ms. Le Thi Khanh Diep, Parents Student Le Ngoc Bao Duy, class 6A3 shared: "I received the news that my son went to school without surprise because I wanted him to go from April 4. However, when he finally got to go to school, the whole family was very excited. His uniform was full, I had to go to school yesterday afternoon. I don't worry about the epidemic, but I am completely assured that my children can go to school."
Trinh Thi Minh Hoa, parent of Pham Minh Anh, class 6A7, expressed: "I count every day and month to hope that my child can go to school. I have been absent from home for more than 11 months. I go to school in the morning, in the afternoon, and when I go out, I don't dare to go anywhere, just hanging around at home with my parents and younger brother. Looking at my child. I'm tired, tired but I don't know what to do. When I go to school, I can run and dance with friends, open space, she teaches directly… that's the best thing."
Teachers, schools are eager
Welcoming students on the first day back to school, Ms. Truong Thi Hong Nhung, class teacher 6A5 expressed: "I have been waiting for this day for a long time, looking forward to meeting students because I have only looked at students for almost a year through the computer screen. Seeing students, I feel happy, happy, and happy because they are innocent. Poetic, lovely. Hope students will love this school and stick with it and have good memories."
Phi Thi Thu Huong, Principal of My Dinh 1 Secondary School shared: "This is a long-standing wish. Many children come to school to hug her and say 'Are you the principal? I just met you today', which makes me emotional."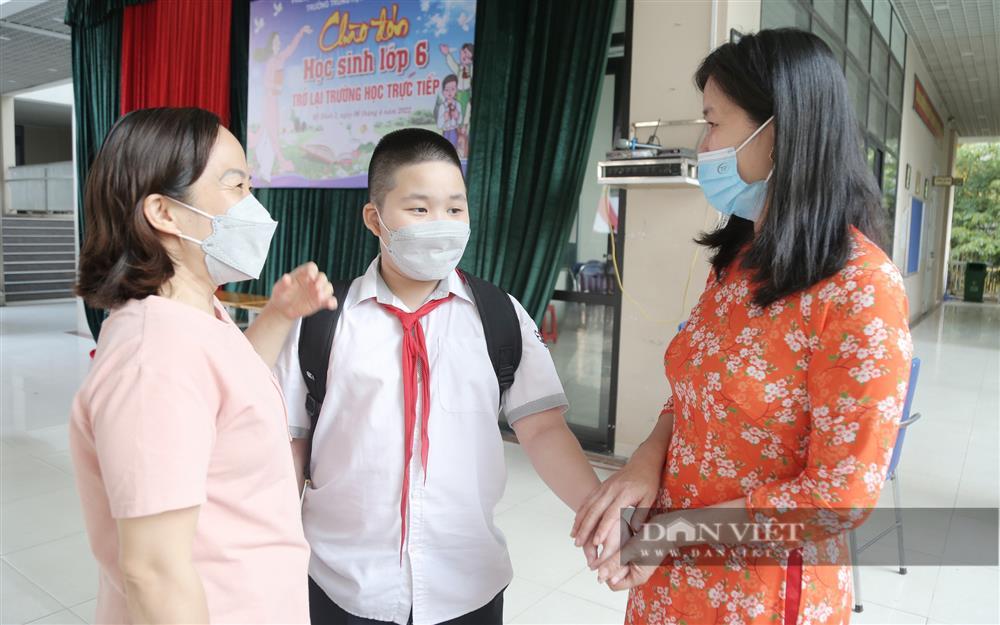 Ms. Phi Thi Thu Huong talks with parents and students. Photo: Cao Nga
Ms. Huong added: "After receiving the official letter for students to go to school, the school has been rushing to prepare for the reception of 6th grade students from the facilities, the process of picking up students and the notes when students come to school. For the sake of students. Grade 6 has not been to school yet, so it will take time for the children to learn, so the school held the first meeting on the afternoon of April 5 to get acquainted. Today, the school will organize for students. Students eat part-boarding to create favorable conditions for students' parents to transport because the school year is also short."
Mr. Nguyen Xuan Khang, Principal of Marie Curie School said: "I am really moved and very happy about the city leader's decision to return elementary and sixth grade students to school. It can be considered "April 6 is the day to liberate the parents of the Capital". The policy of the city leadership is very consistent with the wishes of the majority of parents."
Mr. Khang said, April 6 will welcome students from grades 6-12 and on April 7 will welcome students from grades 1-6.
According to Dan Viet
You are reading the article
Dad took me to the wrong school, I didn't recognize her

at
Blogtuan.info
– Source:
2sao.vn
– Read the original article
here