Tin
First lesson of grades 1-6 after 11 months of school closure
On the morning of April 6, the first day students from grades 1-6 in the inner city district of Hanoi returned to school directly after 11 months of school closure against the epidemic. Many people call this their first "opening session".
The girl is excited
On the morning of April 6, Ha Anh (Cau Giay district) got up very early to prepare to go to school directly. Finally, her uniform, which has been stored in the closet for nearly a year, was also used again.
The school does not require students to wear uniforms, but after 11 months of not being able to go to school, I still want to put on the uniform and joyfully accompany my mother to class.
Lan, Ha Anh's mother, said that the night before, her two children were very happy, they prepared their school bags, got their uniforms ready to go out to prepare for school. She herself is also excited because the family is truly "liberated" from the naughty children.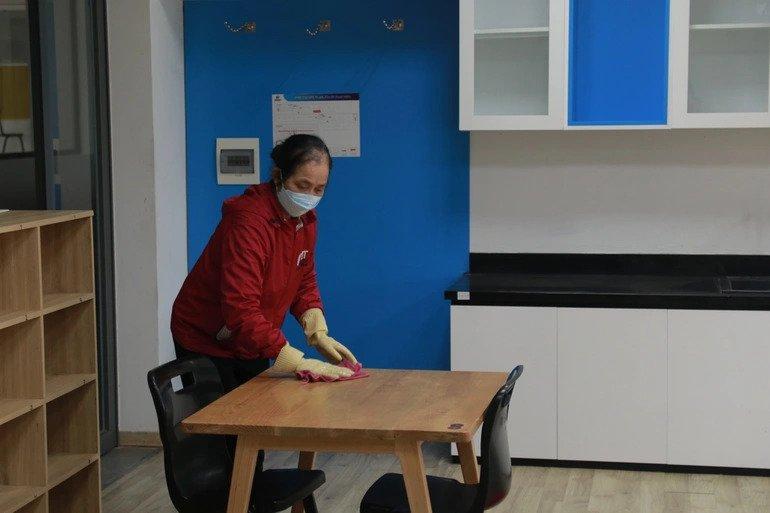 Cleaning and disinfecting facilities to prepare for elementary school students to go to school directly (Photo: MH).
Can't be excited because in the past time, due to the long time of online learning, all of the children's routines have been turned upside down.
In order for her two children to sit at a serious study table, she must apply enough "posts", both flattering and threatening, but being taken seriously by each of the 4th grade sisters and the 3rd grade son is very stubborn, always looking for every reason to leave the table.
So even though it's only about a month until the end of the school year, for me, I can study directly every day, happy that day.
Meanwhile, to prepare students to return to class, on the afternoon of April 5, a group of parents of class 5A0 at Dang Tran Con Primary School (Thanh Xuan district) invited each other to the school to coordinate with the school's cleaning teachers. class.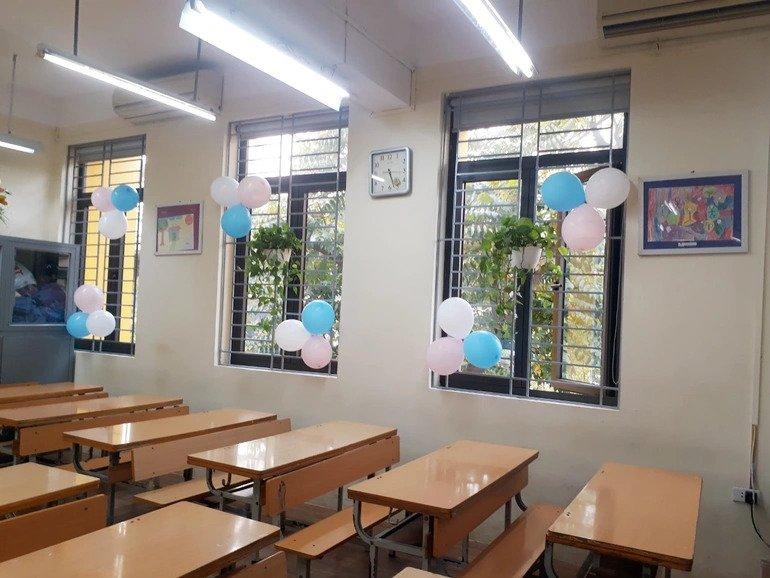 The classroom was decorated with balloons by parents of class 5A0, Dang Tran Con Primary School, to welcome the children back to school on their first day (Photo: Ha Linh).
To surprise the children on the first day back to school, the group Parents This guy buys balloons, ties each bunch to the window, decorates the board…
This school also announced the streaming and dismissal time of all grades to ensure safety against the epidemic, and also announced that the children would be held day-boarding on the first day, making parents very excited.
It is known that this school has surveyed the opinions of students' parents before organizing day-boarding in the school with a very high consensus rate.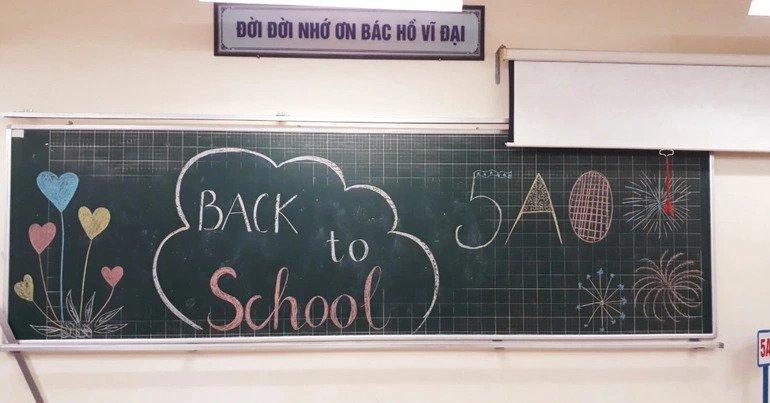 Parents decorate the board, welcome students back to school directly (Photo: Ha Linh).
Not only students, parents but also teachers are also anxiously waiting for the first day to welcome elementary students to school because since they received the class until now, they only know each other's faces through the computer screen.
Ms. Nguyen Thi Thuy Quynh, primary teacher at Dewey Schools in Cau Giay campus, shared: "There are many emotions when receiving the news that students will return to school on April 6. Glad to be on duty. See you again after a long time of online learning.
Surprised that the time to prepare for going back to school was only one day. Excited, looking forward to the moments when the classroom is filled with laughter and laughter from the children studying, the moments when the school yard is crowded and chirping during the breaks.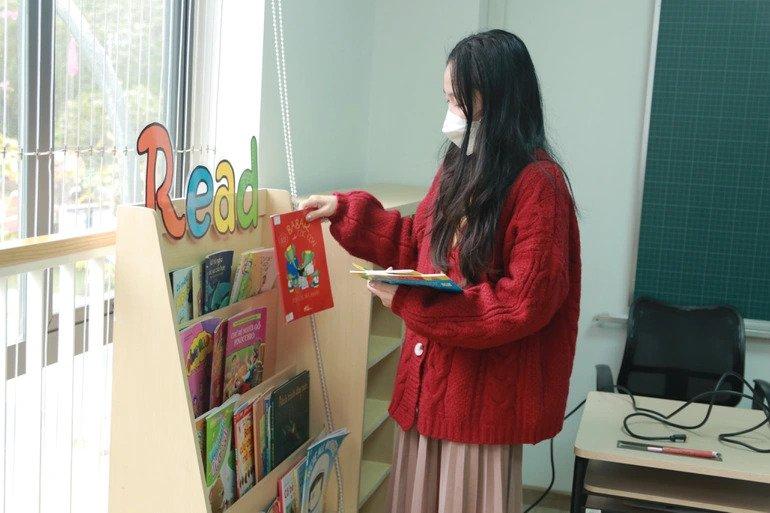 Teachers are also anxiously waiting for students to return to school (Photo: LP).
Especially, for the 1st graders, this is almost an "opening session" of their first school year, the first time they go to a new school, the first time they meet new but familiar friends. Surely these will be unforgettable emotions for the children."
Meanwhile, Ms. Doan Thi Lam Oanh, one of the teachers at this school, was a bit worried when "how to help children quickly adapt to the new learning environment after finishing an online learning period. quite long at home".
Spacing the canteen, installing partitions…
At Yen Nghia Primary School (Ha Dong District), the school has developed a detailed plan at each stage and prepared all the best conditions to prepare to welcome students. Including a plan to handle cases if F0 is detected in schools according to interdisciplinary guidelines.
The school will compile the data of students who register for day-boarding so that it is expected that, after the Hung Kings Anniversary holiday, it will be implemented on the basis of consensus from parents.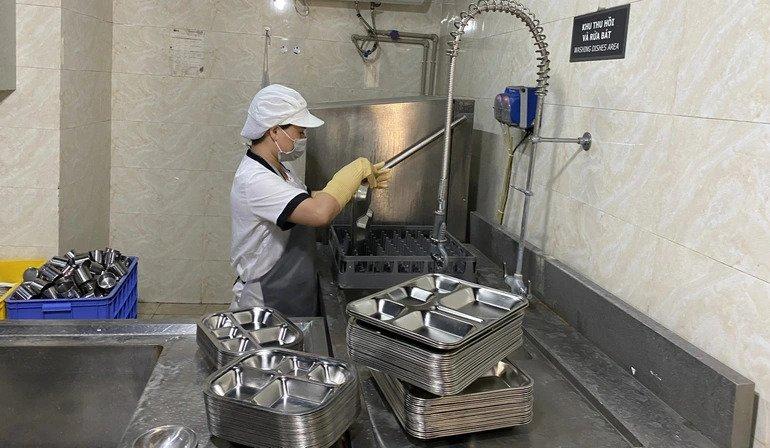 Cleaning the kitchen to serve day-boarding at Dewey Schools (Photo: LP).
Pham Thi Le Hang, Head of the Education and Training Department of Ha Dong District, said that after receiving information from the Hanoi Department of Education and Training, the department has directed primary and secondary schools in the area to survey parents' opinions about the for students in grades 1 through 6 to return to school and have a high consensus rate.
Meanwhile, the Department of Education and Training of Nam Tu Liem district is expected to welcome about 30,000 students of school age directly back to school. 100% of schools in the area have developed detailed plans and scenarios ready to welcome students back to school.
Mr. Nguyen Xuan Khang, Principal of Marie Curie School (Nam Tu Liem district), said that the school is very active in preparing to welcome all students back to school.
Accordingly, on April 6, students of grades 6, 7, 8, 9, 10, 11, 12 will be accepted to go to school directly, and April 7 will welcome students of grades 1, 2, 3, 4, 5.
Elementary and Middle School students will attend boarding school as usual.
To prepare students to return to face-to-face learning, Dewey Schools has completed and ready anti-epidemic plans.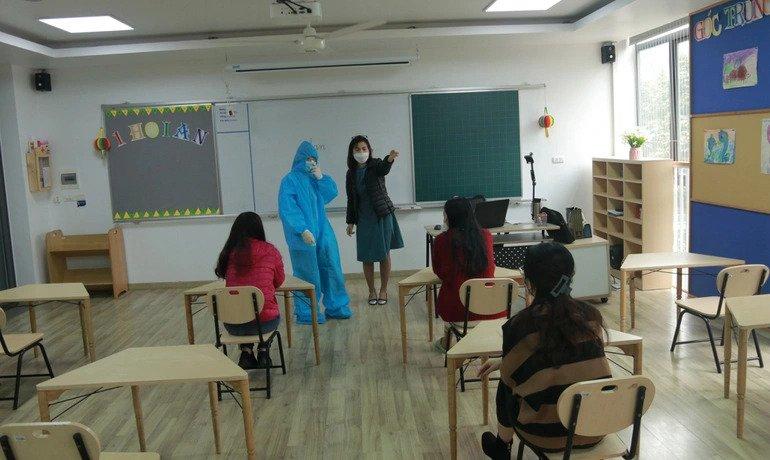 Rehearsal of anti-epidemic plans at Dewey Schools (Photo: LP).
In order for the epidemic control to take place synchronously and comprehensively, the school has established a safety committee to prevent and control the Covid-19 epidemic, in order to ensure that every stage is carefully prepared, closely monitored, and informed. Information related to the epidemic is circulated smoothly among schools, students, parents as well as specialized educational and medical institutions in the locality.
Students have their temperature checked and their hands disinfected before entering the school. Depends on the body temperature of the student (above or below 37.5 degrees), the school will have appropriate guidelines in place to ensure the safety of the student itself as well as the school community.
Wearing a mask and keeping a distance are absolutely guaranteed in schools. The school has equipped disinfectant bottles in many areas of the school, medical masks, thermometers, and sanitizer everywhere.
Especially with the organization of boarding school for students, the school has arranged the canteen spacing, installed mica partitions at the tables, limited crowded activities as well as prepared isolation rooms for students. cases of illness and fever at school.
The school also conducts school-wide drills for teachers and staff to be ready to respond to any situation.
According to Dan Tri
You are reading the article
First lesson of grades 1-6 after 11 months of school closure

at
Blogtuan.info
– Source:
2sao.vn
– Read the original article
here