According to the Hanoi Ministry of Education and Training, today more than 1 million elementary and sixth graders across the city returned to school in person. However, the school is open to the voluntary spirit of the parents.
Welcoming 6th graders as an opening ceremony
Just yesterday afternoon, all schools cleaned all school facilities, cleaning classrooms one last time to welcome students to school this morning.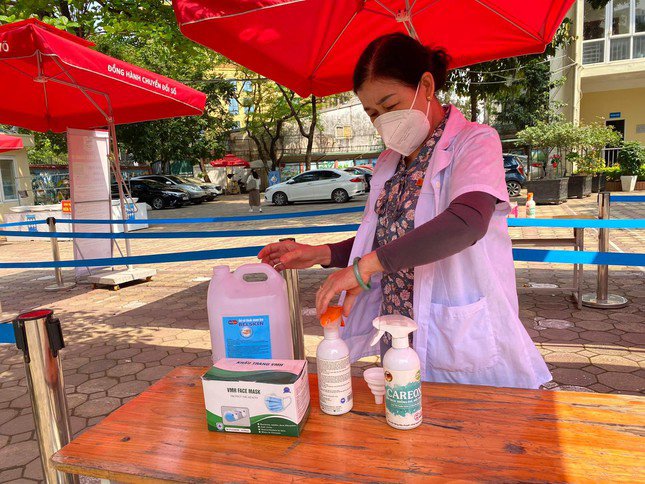 The school's medical staff poured more disinfectant solution.
At Giang Vo Middle School, Ba Dinh district, as of last night, preparations were complete. To Thi Hai Yen, the principal of the school, said that because the school provides direct teaching for students in grades 7-9, the school and classrooms are clean and beautiful. Medical workers are required to review hand washing stations, disinfectant sprays, masks, etc., and other necessary equipment. The school also put up a sign saying "Warmly welcome 6th graders to school".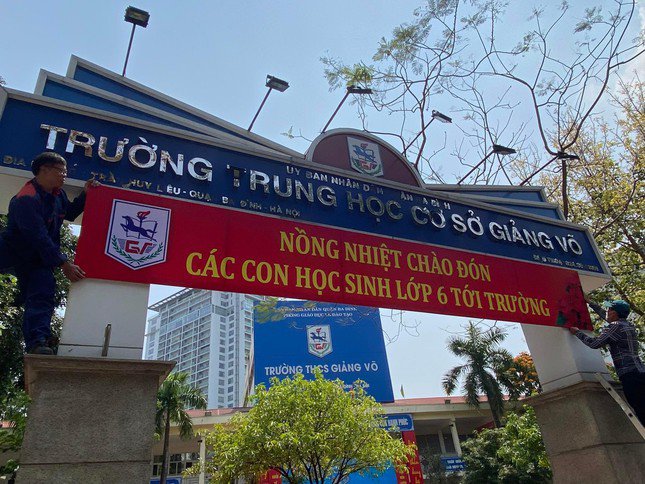 "Although they have studied until the second semester of the second semester, this is their first time coming to school, so the teacher will stand at the school gates to welcome and guide them back to class. In the first session, the students did not immediately learn their knowledge, but the teacher spent 2 hours greeting, chatting, playing games, interacting to bring the girls closer," said Yen.
Allocate pathways for students.
Dinh Thi Van Hong, Principal of Dong Da Middle School also said that the welcoming ceremony for the 6th graders would be like the opening ceremony of the new school year. Teachers will wear ao dai, teachers will wear shirts and ties to welcome students from the school gates. In particular, on the first day of school, students do not have to study at all, but instead will follow the day back to school.
In particular, after being introduced to the school by the teacher, the class will organize folk games such as tug of war, jump rope, throw the ball in the basket…. The school will also prepare 2 areas for students to take souvenir photos. Since the previous day, the school has sent a notification asking parents to mentally prepare their children to come to study. Before leaving for school, parents take their body temperature, if their child has a temporary high temperature, stay at home for monitoring and treatment.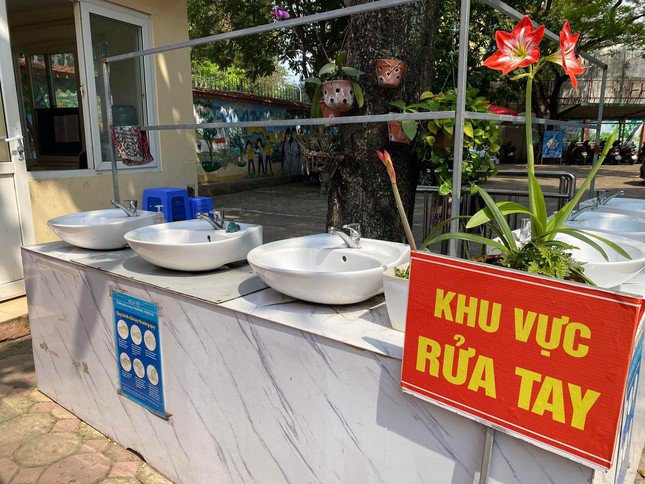 Giang Vo Middle School arranged many hand washing stations for students from outside the gate.
Online teaching for F0, F1 siswa students
Yesterday afternoon, Ngoc Ha Elementary School, Ba Dinh district also sent a notification about students' plans to return to school. The school requires grade 1 students to arrange 1-2 socialization sessions with the school, friends, and teachers prior to teaching. When students come to class, teachers are asked to take their body temperature and record it in the student health monitor every day.
For students who cannot attend face-to-face learning but must study online due to F0, F1 or personal reasons, the school will implement online teaching in parallel with face-to-face classes.
If the teacher is F0, F1, the school will base on the actual number to have a plan to arrange alternative teaching or combine classes, ensuring the quality of teaching.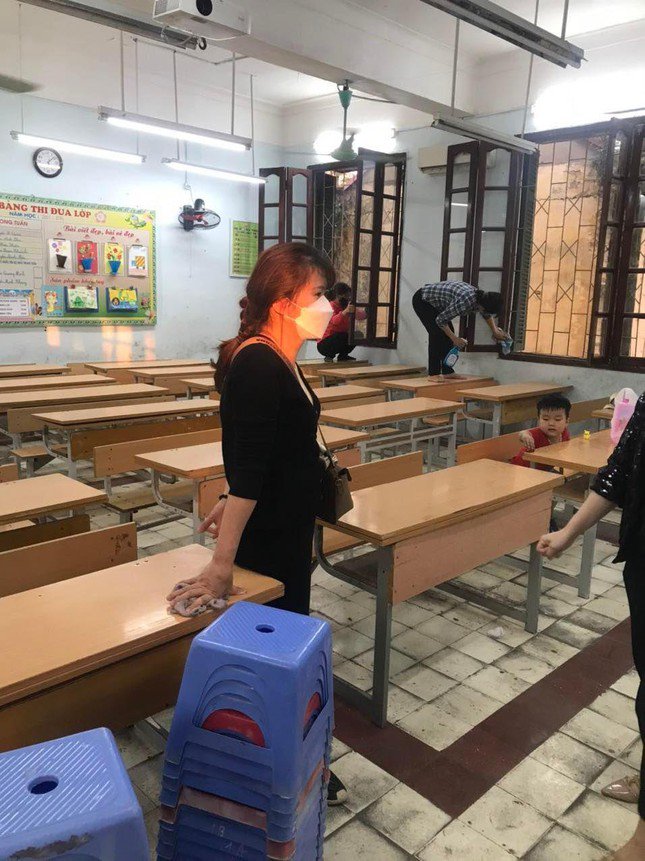 Parents clean the classroom to welcome students to school.
Most schools tell parents to prepare masks, personal water bottles, tissues… for their children to come to class. Before entering class, the child's temperature is checked, if there are symptoms of fever, cough, shortness of breath, he will temporarily stop going to school and stay at home to monitor his health. Students are required to wear masks while studying and participate in fun activities at school.
Students are happy mixed with anxiety
The opening of the Hanoi school this time is very special for students because after almost a year at home, online learning can only reach schools. Meeting teachers, teachers and friends excited many children.
Since the night before, Minh, a 3rd grader, Kim Lien Elementary School, Dong Da District (Hanoi) was so excited that he put on his uniform and red scarf to go to school this morning. "I'm glad to see you guys. Unfortunately, the school only allows one school day, and can't eat and drink yet so I can play with friends longer," said Minh.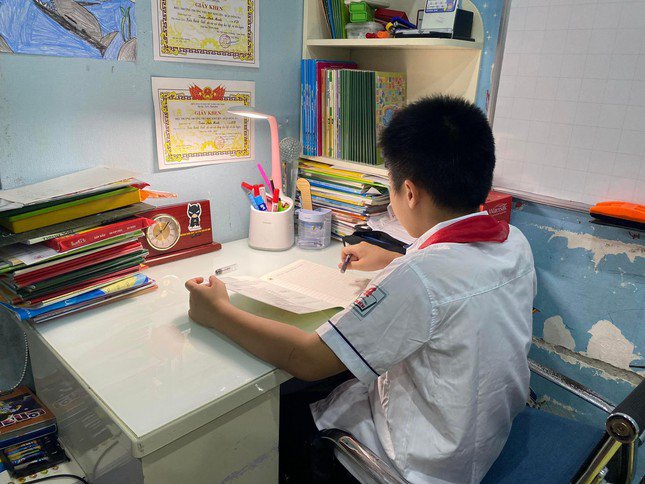 Minh, a 3rd grader, had been eagerly wearing the uniform and red scarf since the night before, waiting for the day to come to school.
Principal Kim Lien Nguyen Thi Linh Chi said that in the first week, the school could not arrange lunch because the kitchen staff could not arrange the plan. Starting early next week, students will study 2 sessions/day and eat a day at school. For grade 1 students, on the first day of school, the teacher will hold a sign to welcome students and bring them back to their respective classes.
After that, students are introduced to classrooms, facilities and learning about epidemic prevention to ensure their safety. "The school is delighted to welcome students back to school after a long period of online learning. Through consultation, parents and students are very happy and excited to learn firsthand. Even though there isn't much time left in the school year, it means a lot, especially to students at the beginning and end of high school," said Ms. Linh Chi.
Nguyen Thi Thanh Xuan, who has 2 children in grades 1 and 3 at Dai Tu Elementary School, Hoang Mai district, shared that her children are very excited, looking forward to going to school today. Moreover, this 1st grader who has been studying online for a long time only knows his teacher and friends online, so when he heard that he was going to school to meet his friends, he was very excited.
Shit, a grade 1 student of Dai Tu Elementary School listens to his teacher's instructions before going to school.
According to Ms. Xuan, the school announced that his son will study 2 days/day, and eat as part of the board on the first day, so it is very convenient for the family. Before students return to school, the grade 1 teacher guides students to prepare personal items to be brought, such as: separate water glasses, towels, etc. Teachers also meet with parents to discuss things that are needed before returning to school. your child back to school.
Nguyen Thi Hue, Principal of Chu Van An Elementary School, Tay Ho District, said that because the school was under construction, he could not prepare for the time to open the school today. The school has reported to the Ministry of Education and Training and the District People's Committee to open its doors to students on April 12.
Happy eyes on school day: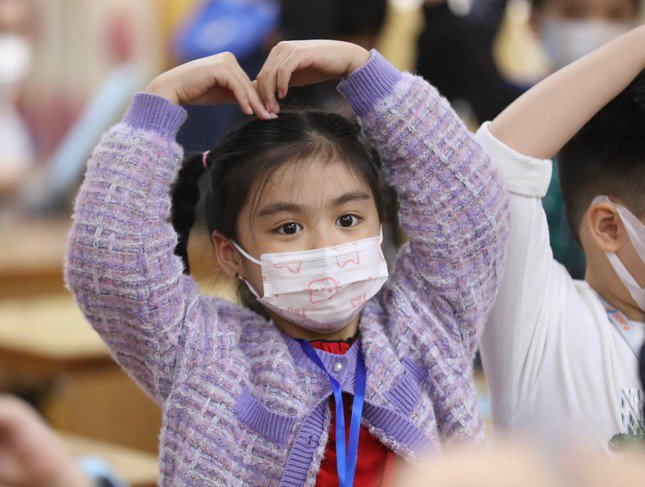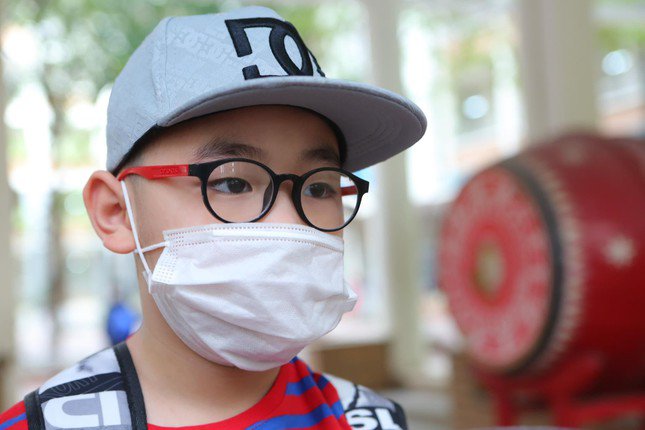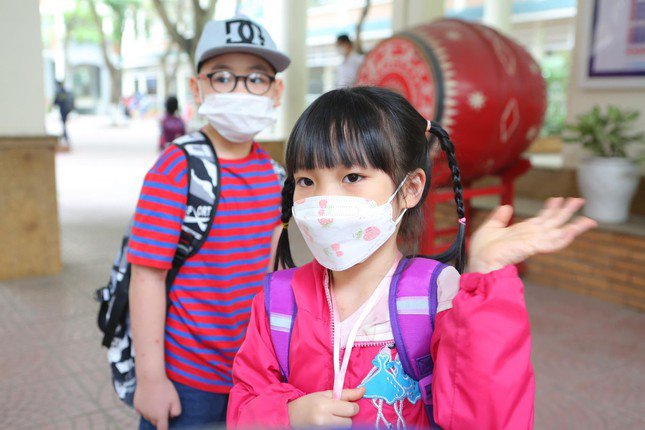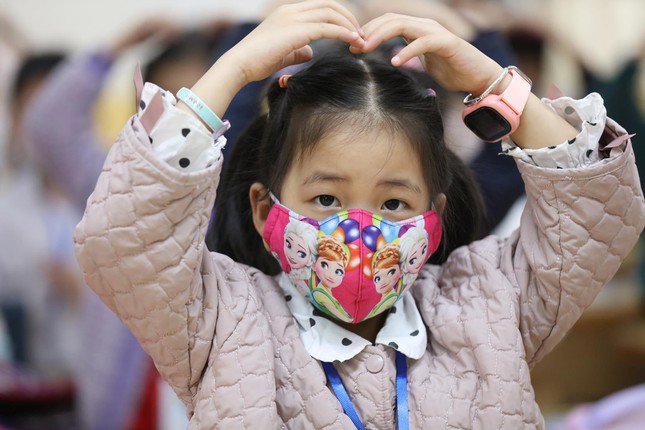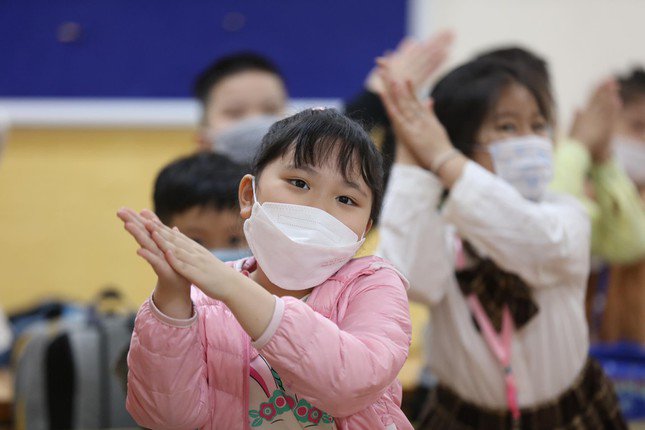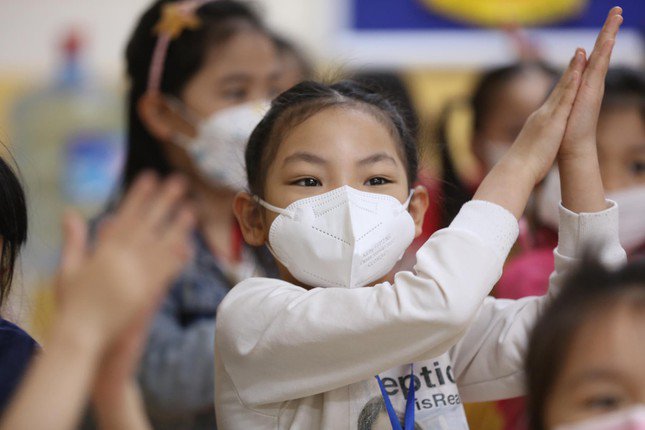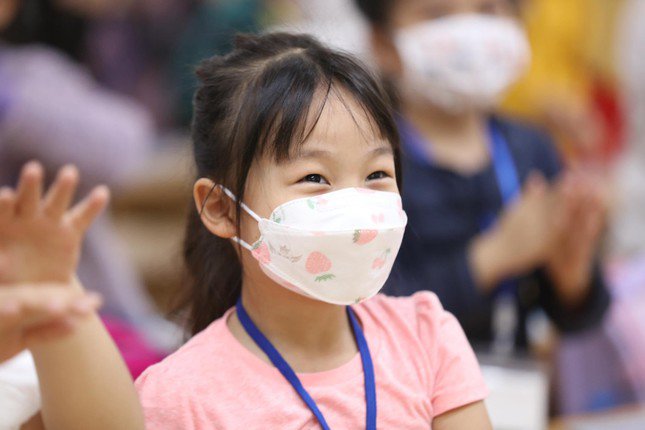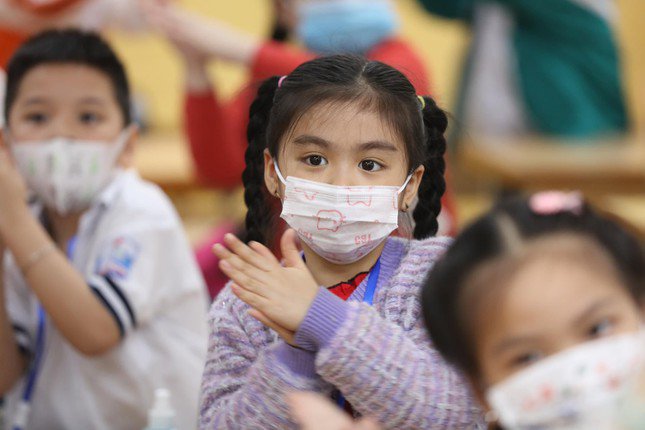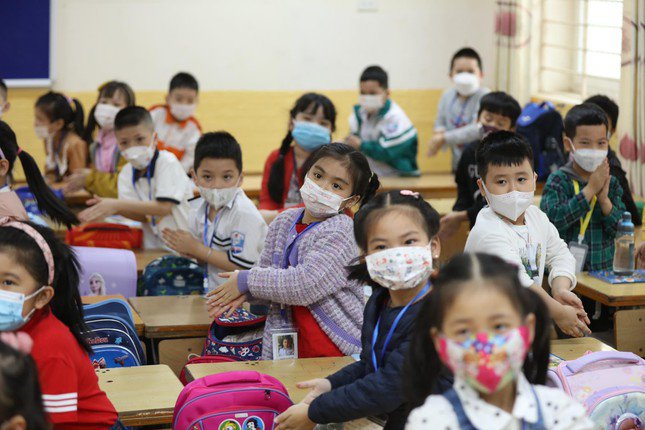 Photo taken at Nguyen Trai Elementary School. Photo: Nhu Y
Parents rush to take their children to school:
At Dai Kim Elementary School, Hoang Mai District, starting at 07.00, parents take their children to school. However, parents are only allowed to bring their children to the gate that has been determined by the class teacher. Restless, many parents linger watching their children, parents who come later have no way to bring their children to the front, causing chaos right in front of the school gate.
Mr. Nguyen Ba Canh, a parent whose child is in grade 1 of school with one hand leading his son, constantly asks for ways to get his child forward.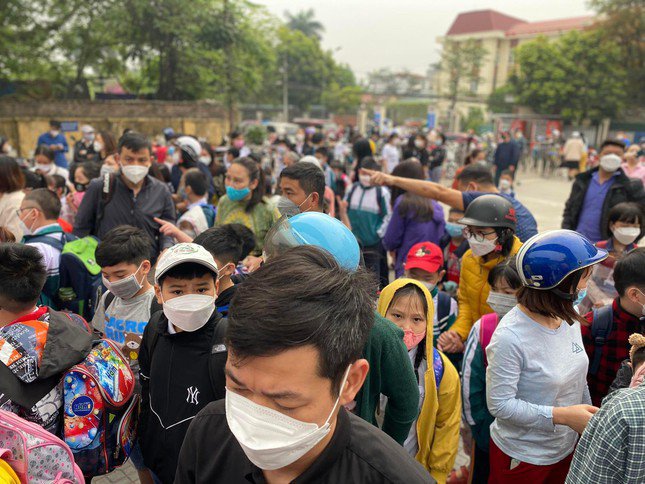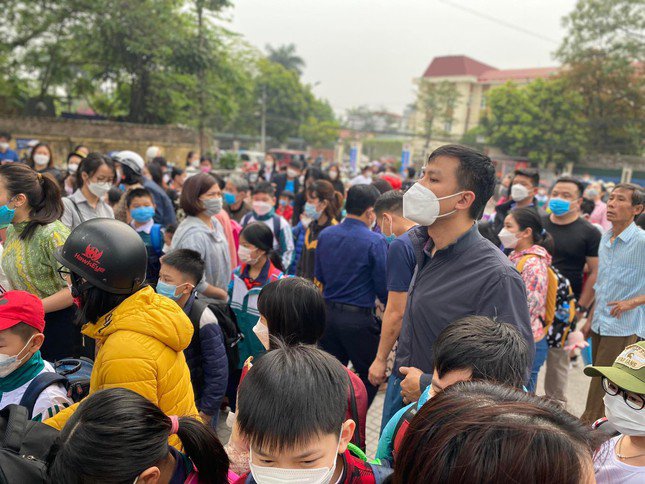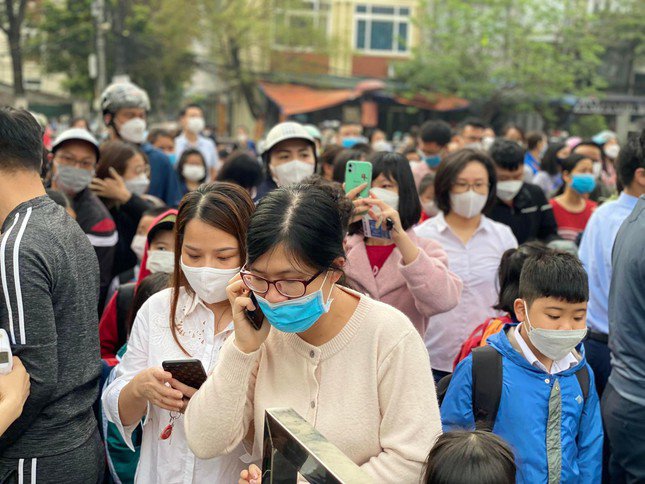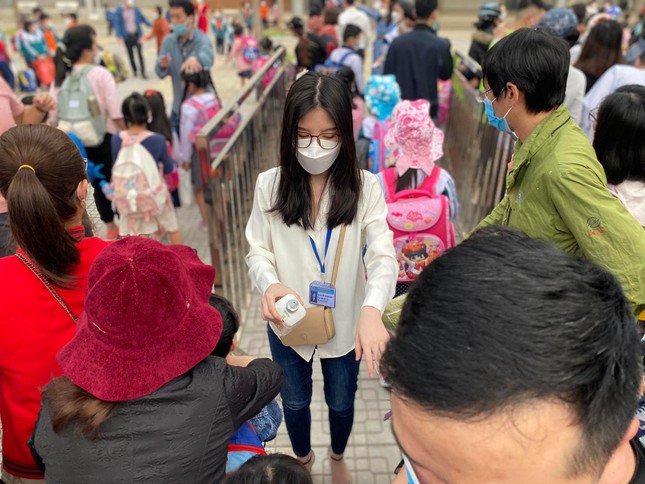 Waiting anxiously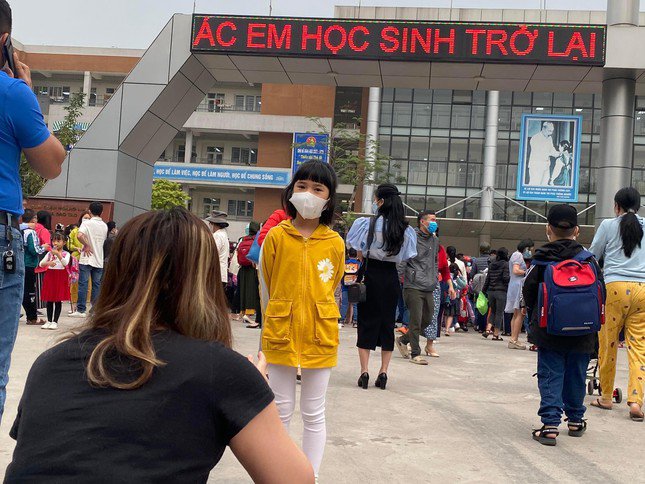 Some parents use their children to take pictures on the first day of school. (News, photo: Nguyen Ha)
You are reading the article
More than 1 million students in Hanoi go to school: Wake up at dawn, buy fresh flowers for class
at Blogtuan.info – Source: Eva.vn – Read the original article here