Lotus root is liked by many people because of its crisp and cool taste, so it can be processed into a variety of delicious and interesting dishes. The lotus root that is stir-fried, steamed, stuffed with meat, stuffed, or made into a model has its own charm. One familiar way to make lotus root is by sautéing it. However, there is a characteristic that when frying lotus root it often darkens, although it does not affect the taste, but loses its aesthetic value.
To solve this situation, the chef needs to keep in mind 3 things during the pre-processing and processing of the lotus root. So, what are these 3 things, see the following information:
First, to get a delicious stir-fried lotus root dish, the chef tells us, it is necessary to choose the right type of lotus root to prepare this dish:
There are 2 types of lotus roots, namely 7 holes and 9 holes. If you want to fry them or let them cool like a salad, you should opt for the 9-hole lotus root which is sweet, crunchy and delicious.
– We recommend choosing lotus root whose skin is slightly yellow, does not have a special smell, is not damaged. Lotus root has a black color or a special smell, and should not be bought cheaply.
– Try to choose lotus roots with large holes, thick and short buttons, so that the lotus roots are old and have a more crunchy taste.
Having chosen the lotus root, we begin to prepare and fry:
– Peel the lotus root, then cut into thin slices (preferably using a stainless steel knife, not an iron knife).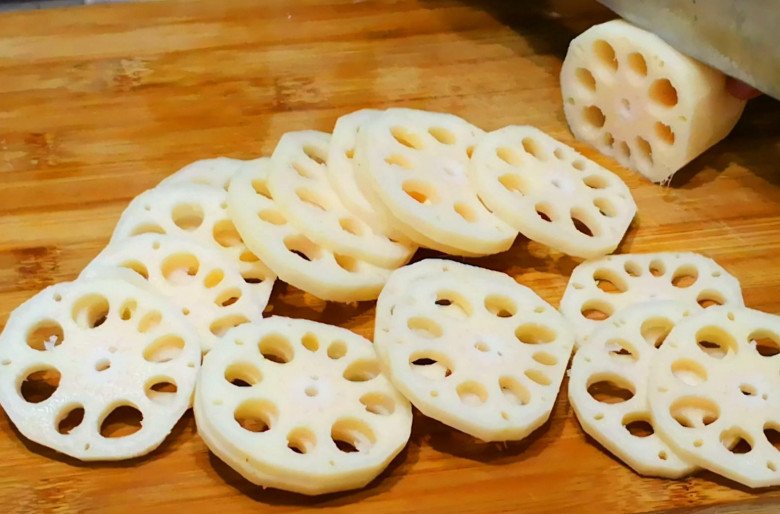 Note, after cutting a piece of lotus root, you should immediately immerse each piece of 3-5 pieces in lightly salted water. Do not wait until all the tubers have finished soaking, as they will quickly turn black. Also don't soak the whole tuber, but slice it for soaking. Soaking the lotus root helps prevent it from oxidizing and darkening due to exposure to air, and at the same time helps the lotus root have a richer taste.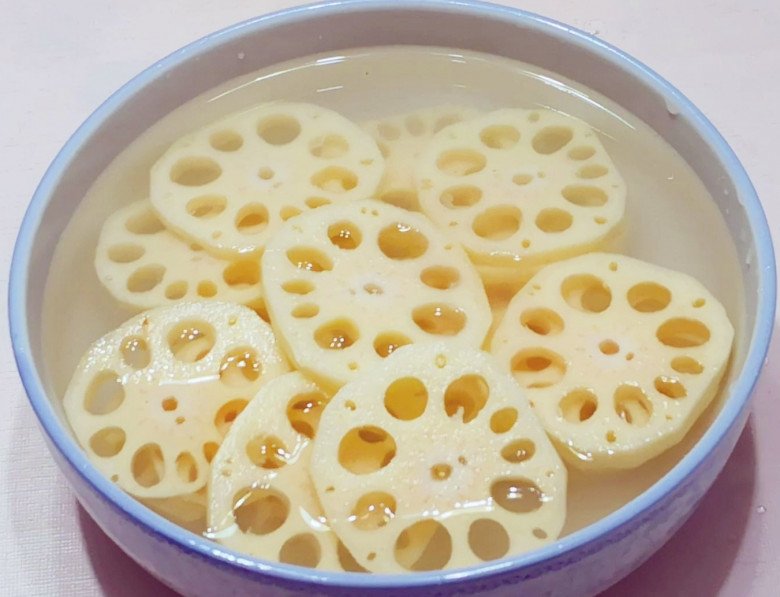 – Put enough water in a saucepan, add a little salt, then bring to a boil. When the water boils, put the sliced ​​lotus root in it and boil for 2-3 minutes, then remove and cool, separating the water.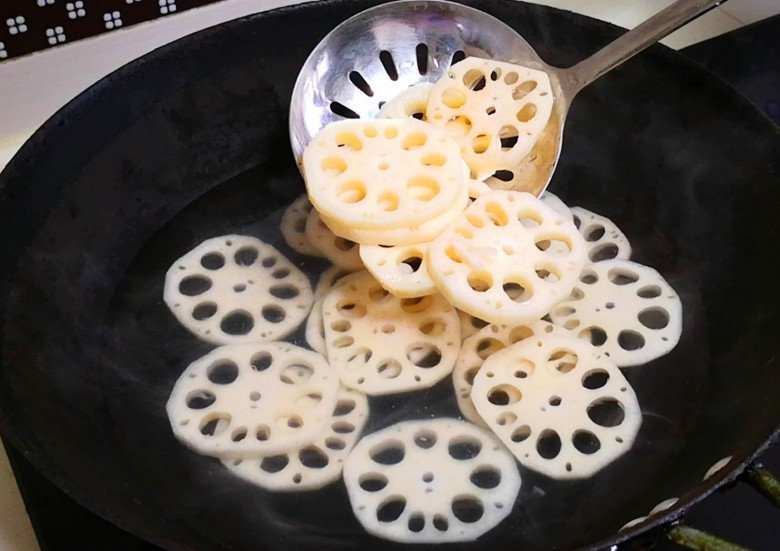 The chef explains that boiling the lotus root is the key step for the lotus root to be crispy and fresh without turning black. After boiling the lotus root, it not only removes the starch on the surface so that it does not stick to the pan when frying, but also shortens the cooking time, avoiding the long frying lotus root in the pan, will not become crispy. After boiling in cold water, lotus root can also make it crispier.
At this point, you just need to fry the lotus root to your liking.
Put enough oil in a saucepan, add the onion and ginger, saute until fragrant. Add the appropriate amount of ripe wine after frying, then add green peppers and grated carrots (the main ingredient plays the role of the right color, you can choose according to your preferences). Saute until tender, then add the sliced ​​lotus root that has been boiled, then add salt and sugar to taste, mix well and turn off the heat.
Since the lotus root is cooked into seven or eight pieces after boiling, don't fry it too long, stir it well so that the spices seep into the lotus root and then remove it from the pot. Since we eat lotus root and enjoy its crunchy taste, don't season it with strong seasonings like soy sauce or black soy sauce.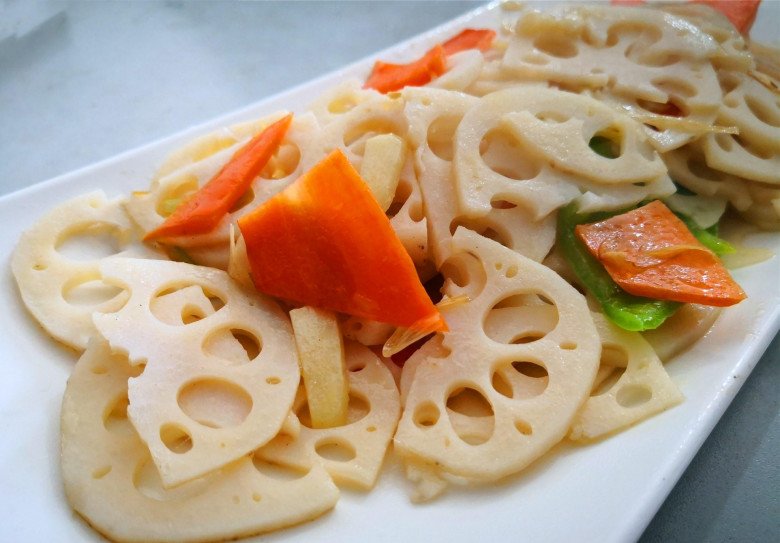 So when frying lotus root, so as not to darken, pay attention to the following 3 things:
– Choose the appropriate lotus root.
– Soak lotus root after slicing with diluted salt water
– Boil lotus root before frying it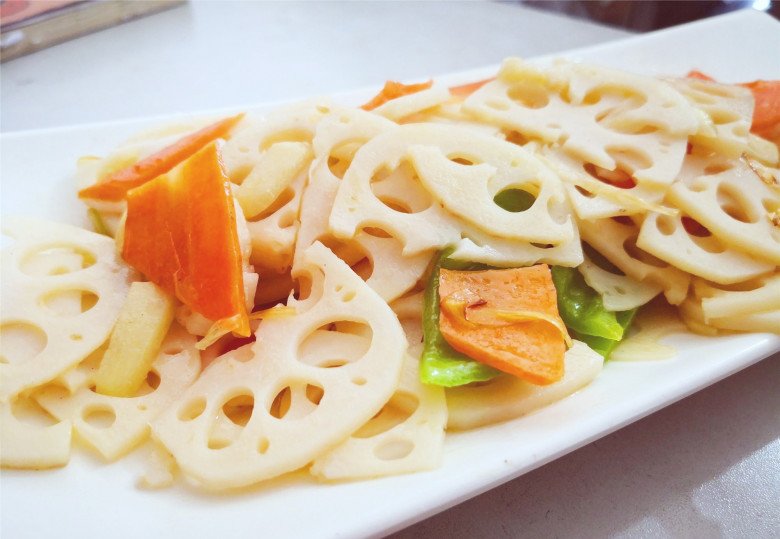 Good luck!
You are reading the article
Stir-fry lotus root all black, remember this trick is delicious, white as pearl
at Blogtuan.info – Source: Eva.vn – Read the original article here