Khỏe - Đẹp
Sudden high fever after a month of having Covid-19, the doctor warned not to be subjective
After a month of contracting Covid-19, an 11-year-old boy (Tuyen Quang) suddenly had a fever again, accompanied by swollen glands, red eyes, abdominal pain, rash…
Taking care of children at the National Children's Hospital, Thao, her mother, said that her 11-year-old son is obese. She currently weighs 43 kg. This mother said that when her child contracted Covid-19, she had no symptoms, no fever. The baby was also only found to have Covid-19 when he was accidentally tested (after his mother was positive).
However, after a month, I couldn't believe that I "came out of this situation". Thao said that her child suddenly had a high fever of 40 degrees Celsius, shivering, swollen glands, red eyes, abdominal pain, skin rash.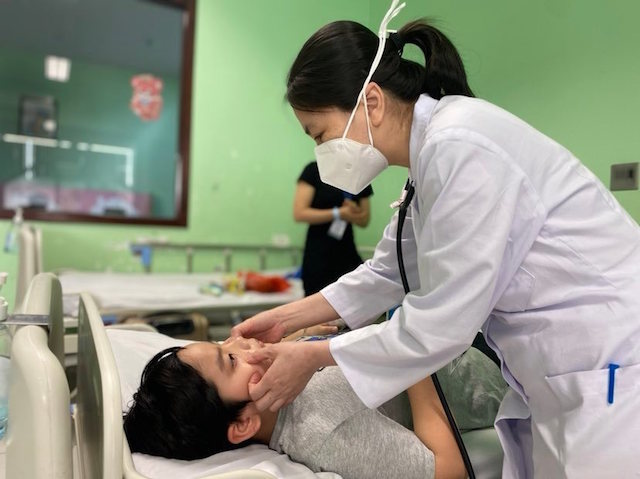 Dr. BS Le Quynh Chi, Head of Department of Immunology – Allergy – Joint examination for pediatric patients
The family took the child to a nearby hospital and was diagnosed with lymphadenitis. However, after 4 days, her child's fever did not improve, she asked to be transferred to the National Children's Hospital (Hanoi). Here, she was diagnosed with MIS-C syndrome or multi-system inflammatory syndrome related to SARS-CoV-2 infection.
"At first, my son was admitted to the hospital, I was also worried, he could not eat anything, only drank a little milk, lay down. After 2 days, his fever was gone and now he can play and eat a meal." Thao shared.
It is known that the condition of children with the above MIS-C syndrome is quite common at the National Children's Hospital recently. A month now, the hospital has received treatment of more than 100 cases.
TS.BS Le Quynh Chi, Head of the Department of Immunology-Allergy-Joints, said that in the last 1-2 weeks, the number of children hospitalized due to MIS-C syndrome was higher, previously sporadically 2-3 cases/week , up to 5 cases/day, but now there can be up to 10 cases a day.
Severe life-threatening cases such as shock, severe myocardial dysfunction will be treated in the intensive care unit.
Children who do not have such severe symptoms will be treated at the Department of Immunology-Allergies-Arthritis. Most children respond well to treatment.
According to Dr. Chi, children with this syndrome are mainly older children 6-12 years old, children under 3 years old are less common. With MIS-C syndrome a sure sign is that the child has a fever. In addition, there are also some systemic and multi-organ manifestations such as skin rash, lymphadenopathy, red eyes, digestive disorders, abdominal pain, vomiting, loose stools.
Some children cough, red lips, prickly tongue, edema on the backs of hands and feet. More severe children may be very tired, showing signs of circulatory failure, headache, convulsions, heart failure, arrhythmia…
"However, it should also be emphasized that not all children with Covid-19 will have this syndrome, but appear in children with an excessive immune response, the immune regulation mechanism is out of control. get a cytokine storm.
According to research from other countries, the risk of this syndrome is higher in children of the black race, boys, aged 5 to 12, and obese. The incidence of MIS-C syndrome according to some reports in children related to SARS-CoV-2 is less than 1%," said Dr. Chi.
BSCKI. Nguyen Thi Kim Dung, Deputy Head of the Department of General Pediatrics, Saint Paul Hospital, said that currently, Saint Paul Hospital receives many pediatric patients with MIS-C syndrome after contracting Covid-19. Currently, in the pediatric emergency department, Saint Paul Hospital has also received and treated 5 children with MIS-C syndrome.
According to Dr. Dung, diseases that occur in the post-Covid-19 period with children, especially MIS-C syndrome, usually occur from 2 to 6 weeks after being infected with Covid-19. This is the time when parents pay close attention.
Accordingly, Dr. Kim Dung recommends that parents monitor their children after 2-6 weeks when their child has tested 1 line.
Dr. Kim Dung emphasized, after a child with Covid-19 recovers from the disease, the problem is that parents need to detect the symptoms encountered to take them to the hospital in time. This is something that parents must pay attention to so that doctors can successfully intervene and treat their children.
Specifically, the signs parents need to pay attention to after their child has recovered from Covid-19 include: fever, high fever returning unresponsive to antipyretic drugs, rash on body, red eyes, child complains of abdominal pain, diarrhea liquid… These are the signs that need to take the patient to the hospital right away.
"Usually, children with high fever, we also advise parents to take their children to the hospital so that doctors can examine, predict and diagnose the disease early," emphasized Dr.
N. Huyen
You are reading the article
Sudden high fever after a month of having Covid-19, the doctor warned not to be subjective

at
Blogtuan.info
– Source:
infonet.vietnamnet.vn
– Read the original article
here