Recently, consumers are familiar with the phrase "return fruit exports". A wide variety of fruits such as jackfruit, mango, watermelon, dragon fruit, banana pepper are sold in online markets and along major roads at "rescue" prices, as cheap as a gift.
Tons of jackfruit, dragon fruit, banana and watermelon have been wildly "rescued" in recent times, attracting the attention of many.
Instead of being able to buy per kilogram at a high price as usual, export goods are usually sold in cartons, starting from 10-20kg at a low price of only half the market price.
Bui Thu Hoai, who lives in Dong Da (Hanoi) said that he had to throw away 2/3 of the boxes of exported mangoes because they were rotten.
"Usually, I only buy 1-2kg for 18-25 thousand VND/kg Taiwanese mangoes for export, but I saw them selling a box of 13 kg for only 90,000 VND, so the sisters in the neighborhood invited each other to buy. cheaply. Who would have thought to throw it all away," said Hoai.
According to Hoai, the whole neighborhood of 5 houses together bought 3 boxes for 270,000 VND, adding 60,000 VND for shipping. Received, the top layer of mango in the box is still fresh, but the bottom is all rotten. Reported to the sales department, they said that thousands of boxes of goods could not be inventoried.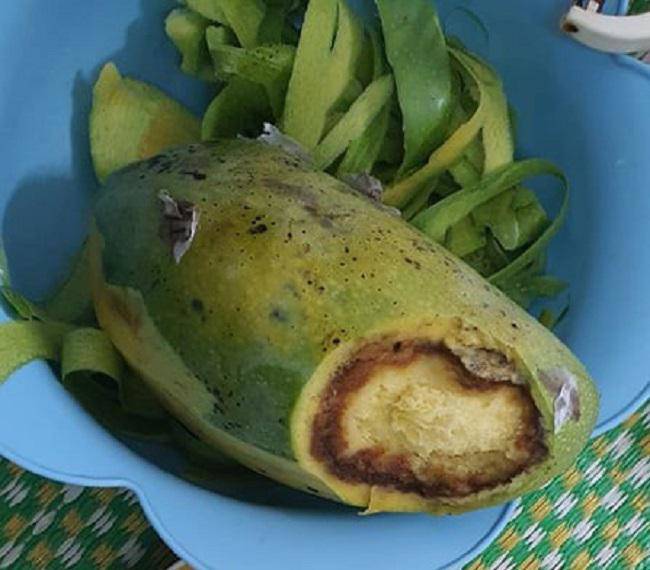 Exported Taiwanese mangoes spoil from heatstroke.
Not only buying poor quality export mangoes, Pham Thi Thu who lives in Phuc Dien (Bac Tu Liem, Hanoi) also faces a similar situation with the export of jackfruit and dragon fruit.
Ms. Thu said that before Tet, the sisters and the agency saw the rush to save export jackfruit, so they collected orders at low prices. However, upon receiving the goods, every jackfruit was speckled and rotten in just 1 day.
"Each jackfruit weighs 8-10 kg, I buy it for 60,000 VND, the shipping cost is 15,000 VND/fruit. From the outside it looks fine, but when you bring it back the next day, everything is rotten. Not to mention, some even buy young jackfruit, wait a long time, it's not ripe, when it's peeled, it's thin and rotten inside," said Thu.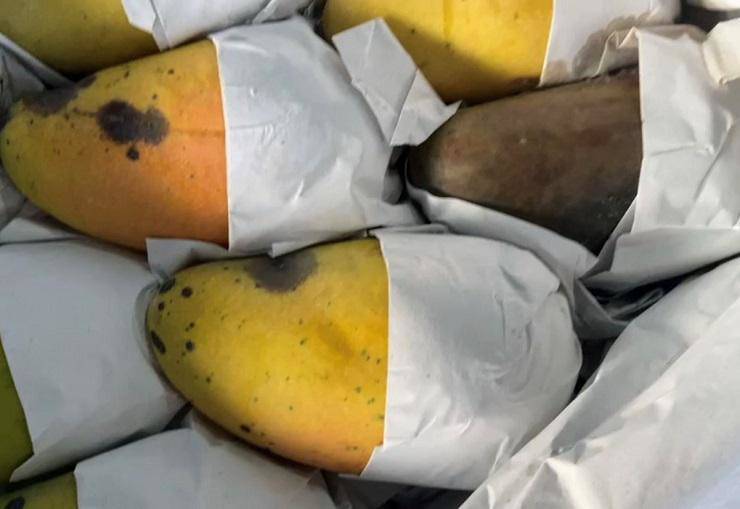 Many people "cry to heaven" for buying poor quality export goods.
Besides jackfruit, the dragon fruit he bought for 85,000 VND/box of 20kg was not as fresh and delicious as usual. The shell looks fresh, but the inside is quite soft and mushy, the nose smells a little musty and rots quickly.
Receiving 2 boxes of bananas for export, only bought 60,000 VND/barrel, Ms. Hoang Thi Thuy, who lives in Hoang Cau (Dong Da, Hanoi) said that she would never buy export goods again because she was so disappointed.
"I personally went to buy jackfruit, but when I picked it up, it was mostly rotten. When it comes to bananas, when they are opened the box is still green, but when they are brought home, when each bunch is removed, the bottom bunches are moldy, and the fruit is black and soft. Losing money makes people angry," said Ms Thuy.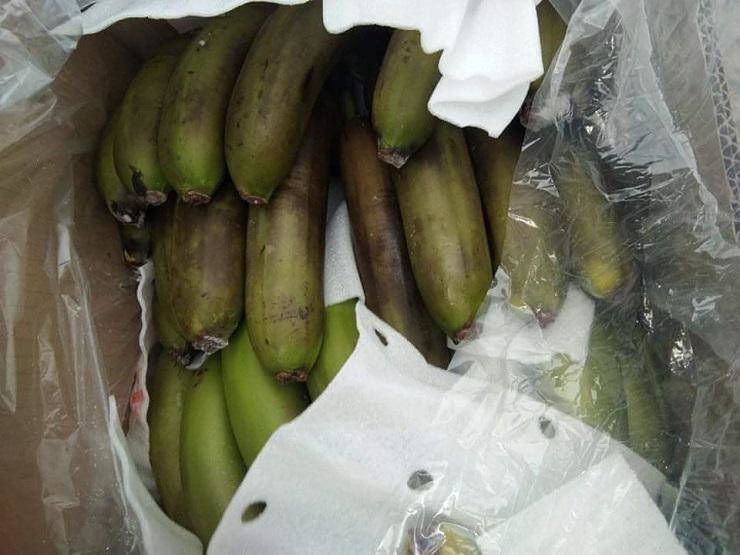 Bananas for export turn black from heatstroke.
Speaking about the quality of the exported fruits, Mr. Dinh Van Tuan, owner of a fruit warehouse in Long Bien (Hanoi) said that most of the fruits exported are of good quality, carefully selected. However, the longer it "lies" on the border, the worse the quality will be.
"There were a few trucks, they finished packing, waited a few days and saw if the situation was not good, then came back. Thus, the quality to consumers is still very good. But there is a car waiting 20-30 days at the border gate, suffering from heat shock, so the dragon fruit is ripe, the jackfruit is rotten and the banana is black," Tuan said.
According to Mr. Tuan, with trucks weighing tens of tons or thousands of boxes, traders often buy whole cars and then sell them at retail at low prices to make a profit, making it difficult to control the quality inside.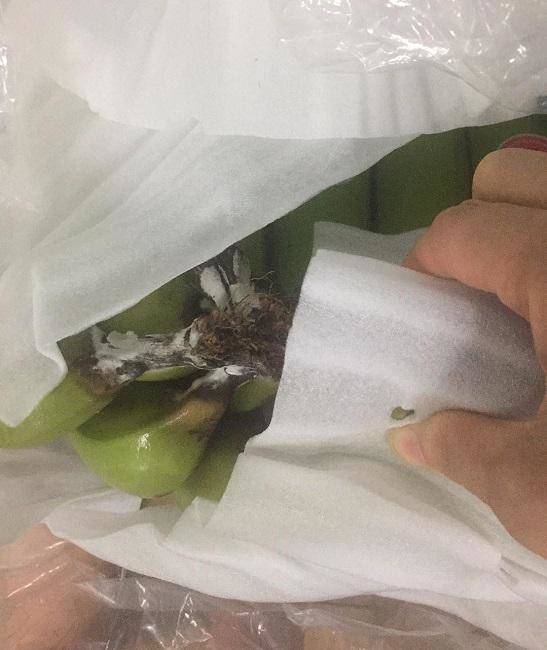 Many bananas have white mold on the stems due to long-term blockage of the border, but the outer skin is still green.
The Dong Dang (Lang Son) Border Gate Economic Zone Management Agency said that until March 29, 2022, the number of vehicles carrying export goods in the province reached 1,380. Inside there are 1,062 fruit trucks, 318 other goods trucks.
The Ministry of Industry and Commerce of Quang Ninh province also informed that to date, the Chinese side has temporarily suspended customs clearance through the border gate and opening of Quang Ninh province from February 24, 2022 due to detection of Sars infection by the side. .CoV-2 in the Dong Hung city community. Time to return to customs will be announced later.
At 18:00 on March 3, 2022, the total number of vehicles waiting for customs at the gate and opening of the Quang Ninh border is 684. Of which, there are 437 trucks of frozen goods waiting for export in the Km3+4 entrance area, which are fully electrified for ensure refrigeration and preservation of goods in the long term.
You are reading the article
The "disappointment" when buying fruit for export reverses with the rescue price
at Blogtuan.info – Source: Eva.vn – Read the original article here