eSport
Thử & đánh giá xe
Eliminate stereotypes about 2.0L turbocharged engine, but need more technology to 'steal customers' of Explorer
After 13 years of doing business in Vietnam, Volkswagen has gradually found the light at the end of the tunnel. The company tried with many models, all segments, but still struggled to find the right approach until the launch of Tiguan Allspace and Teramont. SUV price range of 1.5-2.5 billion dong is probably a suitable venue for the German car company. Because users considering this segment need a model that goes beyond the popular group, but still wants to be practical and functional, which is not available in the small luxury car group on the market.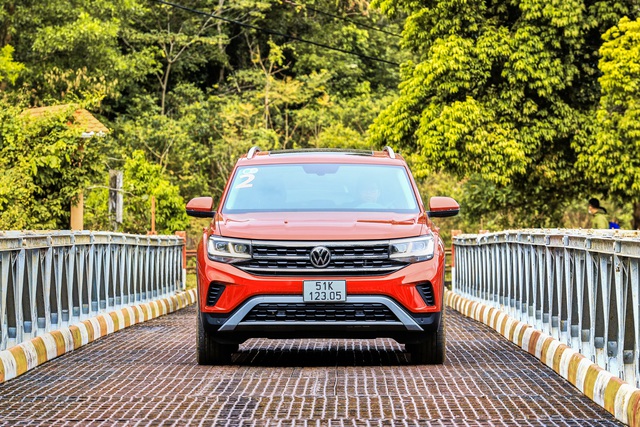 Volkswagen Teramont is priced at VND 2,349 billion in Vietnam.
The company does not publicize sales data, but once revealed that Tiguan Allspace is Volkswagen's best-selling car model in the Vietnamese market, and Teramont is also having a positive first step, because every time a car comes back, dealers discuss always delivered to the customer.
Volkswagen has just organized a journey from Ho Chi Minh City to Dak Lak with two best-selling models: Tiguan Allspace and Teramont. In particular, Teramont received more attention, because this is a new model and many people are skeptical about the actual performance of the 2.0L turbocharged engine block.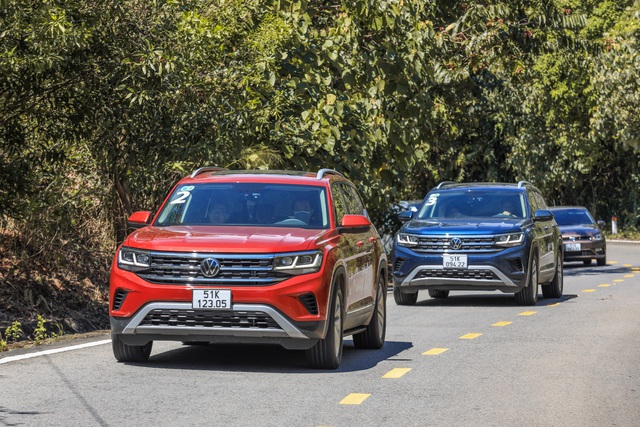 Volkswagen Teramont plays the role of an SUV model suitable for use in Vietnam. Press the start button, shift the gear lever to D, the car gently blends into the crowd. The 2.0L turbocharged engine block, with a capacity of 220 horsepower and 250Nm of torque, does not show weakness despite carrying a body weighing 2.06 tons. On the highway, the car easily reaches a speed of 120 km / h, a stable rpm of 2,000 rpm. When it is necessary to overtake vehicles in the same direction, the engine shows excess power after the turbocharger is activated.
On the pass, the Volkswagen Teramont does the same thing. The journey goes through all kinds of passes from Con O pass, Chuoi pass to Bao Loc pass. All was not enough to make Teramont difficult. The agility and good acceleration make the driver sometimes forget that he is driving a mid-size SUV using a 2.0L turbocharged engine. When operating at a speed of 50 km/h, the rpm is stable at 1,200 rpm. The Volkswagen Group's 8-speed Tiptronic transmission is difficult to find fault with, because it is always smooth, not letting the driver feel the time of shifting, unless intentionally looking for a "sticky seat" experience in Sport mode.
On the way from Dak Lak back to Ho Chi Minh City with a length of 403km in all kinds of traffic conditions, the engine clock consumes 10.7 liters per 100km with an average speed of 36 km/h, close to the number given by the manufacturer. announced production. This is a pleasant fuel consumption level in the mid-size SUV segment.
For customers buying mid-size SUVs in Vietnam, sport is not a top priority. Volkswagen probably understands this. Teramont does not have gearshift paddles behind the steering wheel, even wanting to change the driving mode must use the central screen instead of the usual knob or button. In return, the German automaker offers a smooth Teramont with a soft suspension. People sitting in rows 2 and 3 during the journey did not feel tired even though they traveled hundreds of kilometers every day.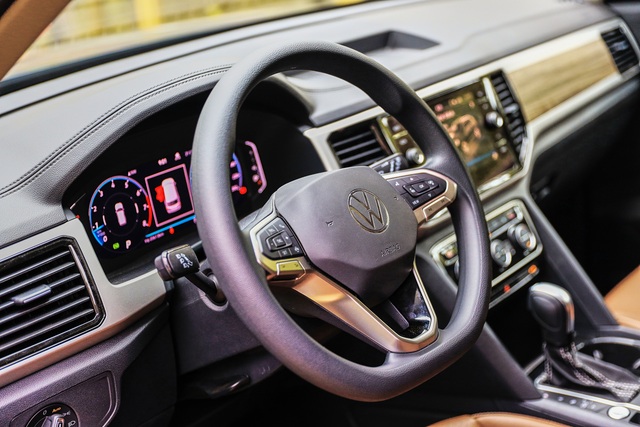 With a soft suspension and a ground clearance of 235mm, the Volkswagen Teramont proved to be a bit bouncy in the high-speed range. This customers are forced to accept the trade-off to receive smoothness. Cars that use stiff suspension, good road surface response sometimes make the driver and passenger feel uncomfortable on long trips.
Teramont is one of the few Volkswagen cars with a look that suits Vietnamese tastes. The burly exterior, the design is masculine and unobtrusive. Of course, LED headlights that automatically turn on / off and adjust the projection angle, LED daytime running lights, LED taillights are indispensable technologies on a model that costs more than 2 billion VND. Volkswagen Teramont is equipped with a set of 20-inch single-tone wheels that are somewhat simple compared to the current trend of 2-tone milling wheels.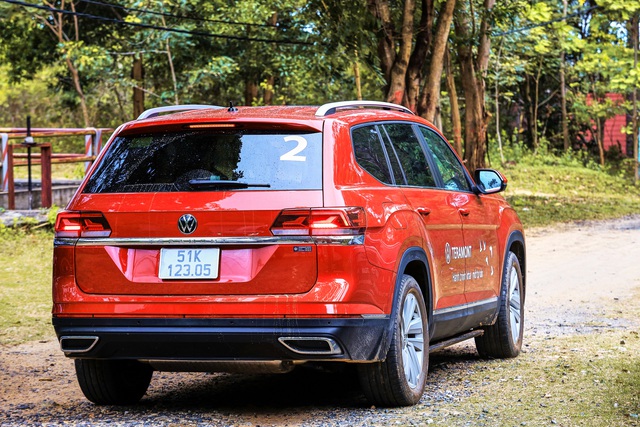 The vehicle has overall dimensions of length x width x height of 5,097 x 1,990 x 1,777mm, respectively. 2,978mm wheelbase. Compared to rival Ford Explorer, Volkswagen Teramont is longer, narrower, lower and has a shorter wheelbase, with a difference of several tens of mm. The parameters and equipment show that the German mid-size SUV is favored for off-road ability with a ground clearance of 235mm, an approach angle of 20.4 degrees, an exit angle of 22.3 degrees, and a 4-mode rotary knob. off-road and 4Motion all-wheel drive with an electronic differential lock.
Volkswagen gradually knows how to pamper Vietnamese customers with equipment such as interior lights or gesture screen control. The practicality is still maintained by the German automaker with 17 storage compartments arranged inside the Teramont cabin. 8-inch touch screen entertainment center. Full-LCD instrument cluster.
However, Volkswagen Teramont still has difficulties to understand, when a spacious interior space like Teramont is only equipped with a 6-speaker sound system. The front seats have a heating function, but without the cooling function that is necessary with high temperatures like Vietnam. Safety technology has electronic balance, parking distance control, emergency brake assist, ramp up / down support, 6 airbags, but lacks many of today's popular safety equipment, such as a panoramic camera. , blind spot warning, lane departure warning, lane keeping assist, automatic braking…
The space of the 2nd and 3rd row seats is easy to make the occupants feel satisfied with the wide head, shoulder and leg space. People taller than 1.7m sitting in row 3 during the long journey are still comfortable. The second row of seats has a sunshade and independent indoor unit, but does not have its own entertainment screen like the Ford Explorer. The panoramic sunroof helps the cabin no longer feel cramped. The Teramont's 2nd and 3rd row seats can be folded completely flat, giving a luggage space of up to 2,741 liters.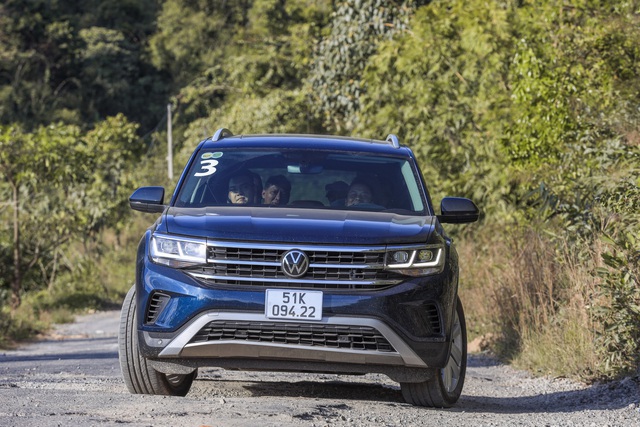 Germany is a country famous for its master level of precision mechanics. Doubts about Volkswagen's performance or quality are probably unnecessary. However, in order to bring the successful scenario in Europe and China to Vietnam, Volkswagen needs to bring more comfort and safety features to the product.
In addition to the strengths, the initial success of mGermany's mid-size SUV also comes from choosing a good drop point. At the time of its launch in September 2021, the consumer's car buying power began to recover after the fourth Covid-19 outbreak, and rival Ford Explorer was out of stock, waiting for the launch of a new version. Currently, the advantage of Teramont is still when the price is always right as listed by the manufacturer, and customers who buy Ford Explorer who want to receive the car soon have to accept a "beer with peanuts" of VND 200-300 million.

https://autopro.com.vn/danh-gia-volkswagen-teramont-xoa-bo-dinh-kien-ve-dong-co-tang-ap-20l-can-them-cong-nghe-de-cuop- customer-explorer-20220406182302417.chn
You are reading the article
Eliminate stereotypes about 2.0L turbocharged engine, but need more technology to 'steal customers' of Explorer

at
Blogtuan.info
– Source:
autopro.com.vn
– Read the original article
here