---
Vaccination situation in Vietnam
Source: COVID-19 Immunization Portal – Updated at 00:00 April 6, 2022
Number of injections nationwide
After 1 month of recovering from Covid-19, Mrs. CTT (65 years old, living in Phu Nhuan district, Ho Chi Minh City) suddenly lost her memory. She was taken to the hospital by her family because she thought she had post-Covid-19 infection.
Any disease is blamed on Covid-19
At the hospital, after performing tests, she was diagnosed with Alzheimer's disease by doctors.
Excellent Doctor – Doctor (BS) Dinh Quang Thanh, Head of Physiotherapy Department cum Head of Covid-19 Treatment Unit, Ho Chi Minh City Hospital for Rehabilitation and Treatment of Occupational Diseases (District 8), for know that the above case of Ms. T. is not unique. Currently, many patients easily confuse "post-Covid-19" with other common diseases.
Explaining this, Dr. Thanh said that the human nervous system has the central nervous system (the controllable nervous system) and the autonomic nervous system (the uncontrollable nervous system). When the autonomic nervous system is stimulated, it will lead to many symptoms, the more anxiety, the more stimulated.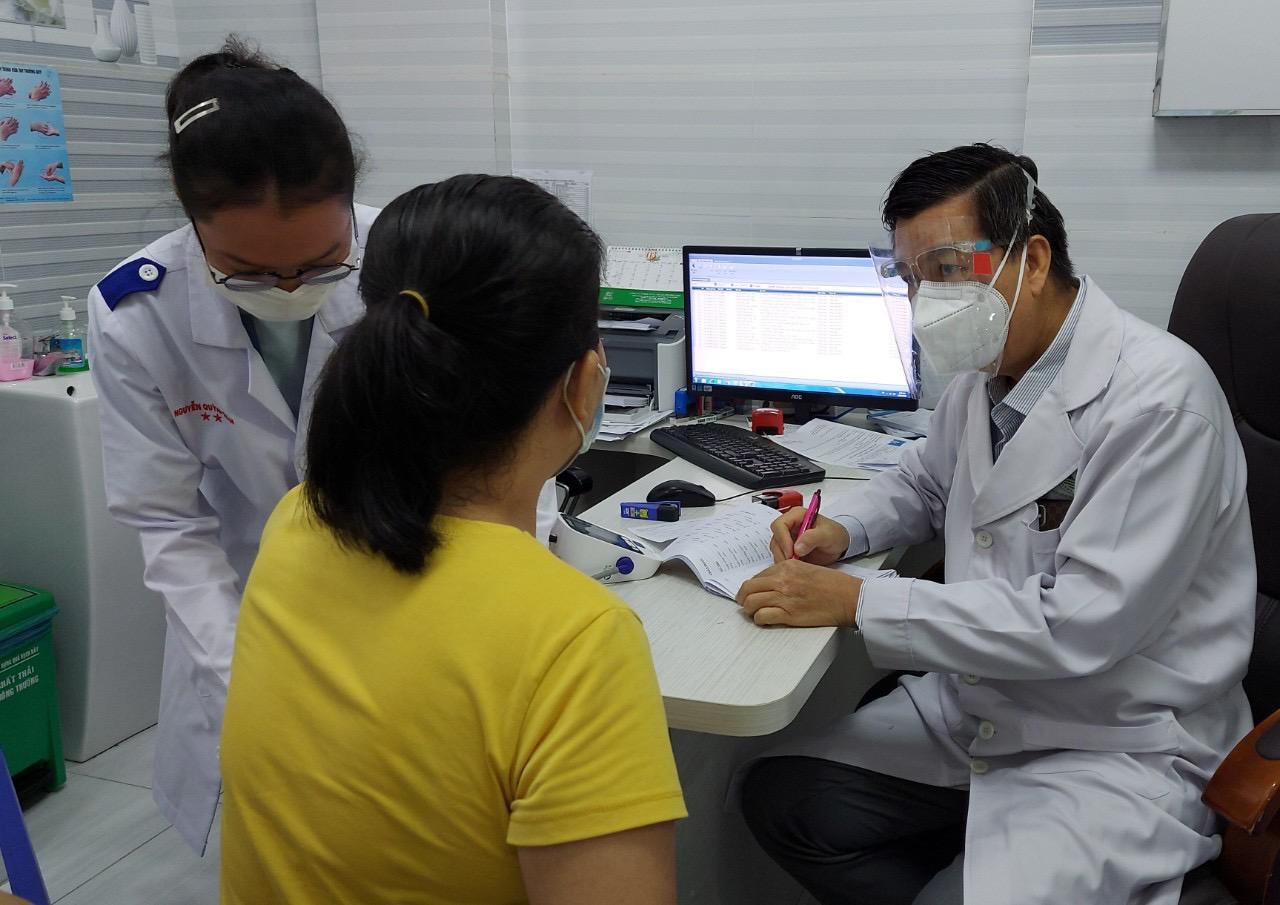 BSCKII Pham Minh Thanh, Head of Medical Examination Department – Le Van Thinh Hospital (Thu Duc City), examines patients
"For example, when infected with Covid-19 many patients are worried and stressed. Therefore, after recovering from Covid-19 they will be haunted by post-Covid-19 symptoms such as if irritation in the area. The heart will be tired in the heart area, the heart will beat faster, …; stimulation of the cerebral cortex will make sleep not deep, not focused…; peripheral nerve stimulation causes pain in the body, limbs… Weaknesses The above factors make patients think of post-Covid-19," explained Dr.
According to Dr. Thanh, the peak of the epidemic last year in the city, at that time, was mainly the Delta variant, with many post-Covid-19 patients. The reason is that there are many serious diseases requiring mechanical ventilation, high-flow oxygen … in these cases, the treatment process of Covid-19 has damaged the lungs, leading to pulmonary coagulation syndrome, pulmonary fibrosis.
However, currently, in Ho Chi Minh City, the Omicron variant predominates (80%-90%), mainly patients with mild symptoms. In addition, the majority have been vaccinated, so the physical damage is not much, but due to anxiety and confusion, the disease is often blamed after Covid-19. In fact, the post-Covid-19 situation in the Omicron variant is not as much as the previous Delta variant.
Sharing the same opinion, BSCKII Pham Minh Thanh, Head of the Medical Examination Department – Le Van Thinh Hospital (Thu Duc City), said that not everyone infected will get post-Covid-19 infection, especially, with the Omicron variant, post-Covid-19 19 is no longer as scary as the Delta variant.
"Like any viral infection, assuming the typhus fever that affects the skin will go away after it heals, the hemorrhagic fever will cause liver complications, and the SARS-CoV-2 virus will cause complications on the lungs (common in patients with complications from the flu). With the Omicron strain, lung damage is also common. Common symptoms after Covid-19 in the Omicron variant are mainly anxiety disorders," said Dr. Thanh. .
According to Dr. Thanh, many patients come to the doctor and think that they have post-Covid-19 with very vague symptoms. However, upon examination and examination, there were no physical lesions. These cases are mainly psychological treatment such as encouragement, sharing or medication to overcome their feelings of fear
Post-Covid-19 signs
Doctor Dinh Quang Thanh also said that post-Covid-19 complications, if they appear, there will be some signs in the lungs, nerves (anxiety disorder, headache, insomnia…), blood clotting disorders. (common in Delta variant), kidney damage complications (very few), hair loss… Complications can occur in internal organs, but with Omicron variant, it is less. In this variant, the most common is gastric reflux (accounting for 50%), less complications of pulmonary fibrosis, blood clotting.
Dr. Dinh Quang Thanh said that after Covid-19 often complications on the lungs are mainly leading to symptoms such as pulmonary coagulation, pulmonary fibrosis, pneumonia causing continuous breathing difficulty, when working hard due to oxygen demand. increase, but the lungs do not supply enough. These are physical symptoms. For patients with "virtual disease" neurological effects will also appear sensations such as shortness of breath, shortness of breath, but the patient himself cannot distinguish.
To overcome these feelings, Dr. Thanh noted, for patients who have been fully vaccinated, with mild symptoms when sick, they can be assured that it is unlikely to have post-Covid-19 pulmonary complications.
"If you belong to this group, you don't need to worry about pathogenesis. If you are worried, you can measure Sp02, when the indicators are normal (97%-99%) then definitely not affecting the lungs, this is simple to know. However, in order not to miss it, it is necessary to observe if there are persistent abnormal symptoms, then go to the hospital to be checked "- Dr. Thanh said.
Particularly for patients with underlying diseases (diabetes, blood pressure, chronic obstructive pulmonary disease, endocrinology, etc.), Dr. Thanh also notes that it depends on each person's disease. If Covid-19 is recovered, it is necessary to continue to monitor and treat the underlying disease periodically according to the doctor's regimen.
"For patients with diabetes, when they have Covid-19 it will be worse than other underlying diseases. So after recovering from Covid-19 these patients need to observe their bodies and visit them regularly as recommended for timely treatment. treatment if any" – Dr. Thanh said.
Two types of examination
Doctor Pham Minh Thanh also said that there are two types of patients who are examined for the post-Covid-19 reason. Firstly, the condition is mild, the doctor will advise and explain to understand the disease, then it will be stable soon after. Second, there are cases where anti-stress medications are required. Usually patients also respond quickly, about 1-2 weeks, the patient's condition will improve positively.
You are reading the article
Many people fall ill because of anxiety after Covid-19, a real sign of post-Covid-10

at
Blogtuan.info
– Source:
Eva.vn
– Read the original article
here