Nguyen Do Truc Phuong (27 years old, HCMC) is a young benefactor who often helps disadvantaged people in Ho Chi Minh City and some neighboring provinces. Born into a well-to-do family, the young girl has lived a luxurious life since childhood, but always pays attention and favors to less fortunate circumstances.
The 9X girl was familiar with charity work from a very early age. Axis Phuong is not afraid of difficulties, afraid of fatigue, always ready to spend her time, effort and money to help difficult situations. Nguyen Do Truc Phuong has been favored by netizens with the dear nickname "Saigon fairy".
"Charity flower" shared, when she did not have much experience and influence, she often spent her own money for charity. But at the present time, there are many MTQs who have come to Truc Phuong to contribute cash to improve somewhat the lives of the less fortunate.
"In the beginning, I used to spend my own money to help difficult situations, although each case only had a few million dong, but seeing them happy makes me feel good too. Later, when I have gained a certain amount of trust, the financial source for me to do charity comes from the help of Fatherland Fronts and I am only the one who sows the charm to help them", Truc Phuong confided.
"Saigon fairy" has been passionate about charity since the age of 14
Starting at the age of 14, Nguyen Do Truc Phuong had the first contact with charity activities through community groups. At that time, she was entrusted with simple tasks such as distributing rice, distributing rice, and distributing medicine at free medical examination and treatment points.
At that time, Truc Phuong did not have many resources to help difficult situations, but deep in her heart she realized that later when she grew up, she had to do something to help the community.
In 2010, when he was just 16 years old, Truc Phuong had to temporarily put aside his dream of doing charity and set out to study in Australia. After 9 years of living and studying abroad, in July 2019, she officially returned to the country and began her journey to help those in need.
The biggest turning point in Truc Phuong's life-saving journey officially took place in August 2020 after she supported two cases: giving Uncle Hai a motorbike taxi in Tan Binh district.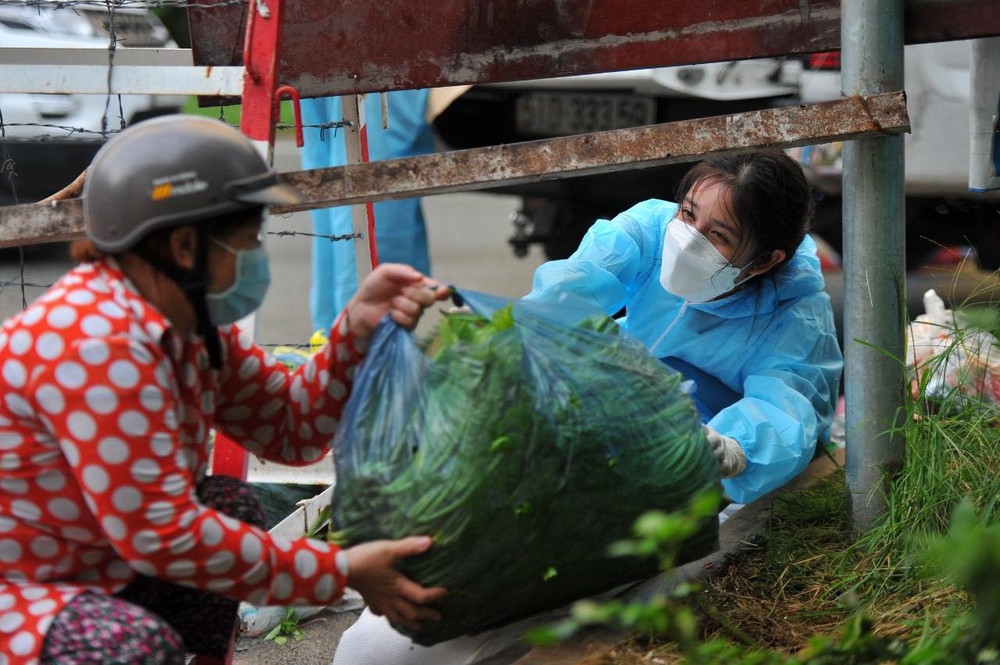 Truc Phuong did not hesitate to bask in the rain and shine to help difficult situations.
Besides, she also donated a new motorbike and a new phone to practice and support 80 million VND for Tam's family who was severely bitten by a cobra in Tay Ninh. It was also from this time that the online community knew Truc Phuong more and favored her with the nickname "Saigon fairy".
The nickname given to Truc Phuong by the online community has created a great motivation for her to continue her journey of bringing love to those less fortunate. Throughout the interview with PV, Truc Phuong always used an excited and enthusiastic tone to describe her happiness when she saw the smiles of lonely elderly people, orphans, and basic situations. when you get help.
For any job, there are certain difficulties, especially, in charity, every action receives great attention from outsiders.
When asked about the difficulties she had encountered during nearly 2 years of doing charity work, Truc Phuong confided: "Talking about difficulties, it is definitely impossible not to have. Typically, at first, when I had no influence, I was limited in financial matters, for each case I could only help them 3-4 million VND. OLD
But when it has influence, there are some individuals who impersonate their Zalo number to ask for money. I can't control this, so I always have to post a warning to everyone on my personal page and provide specific information so that no one will lose money unjustly.
Then, for each case that needs help, we have to measure how much we have to help them and how. Especially at the money stage, I have to be very careful because the money I keep is part of the Fatherland near and far."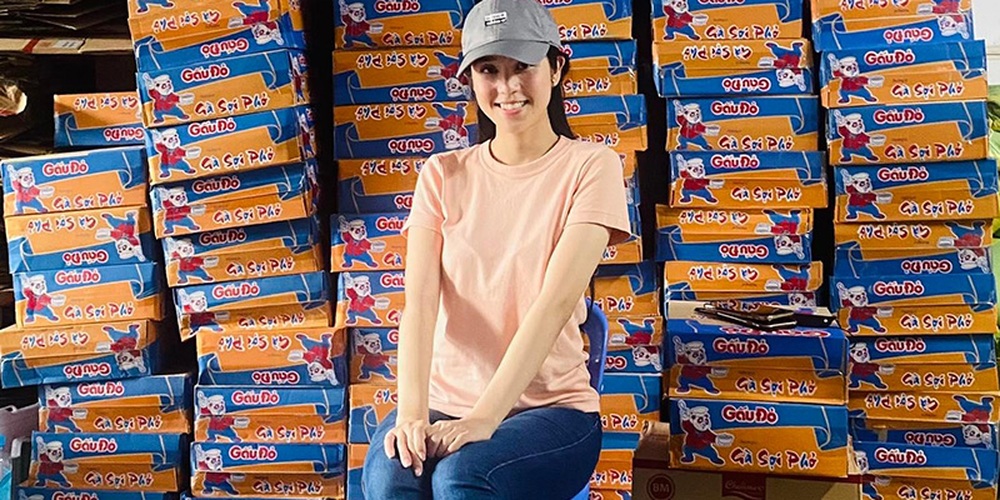 Nguyen Do Truc Phuong next to charity items, helping people during the epidemic season.
Truc Phuong added that compared to the difficulties she encountered, what she received was even more valuable. It's simply the peace of mind, the relief, the happiness of knowing someone else's life has gotten better.
Truc Phuong said that she loves charity work because she feels compassion for and sympathizes with people in poor circumstances. Phuong is especially touched when she sees elderly grandparents who still have to work on the street to make ends meet. Besides, she hopes that all individuals in this society are treated fairly and equally.
This is the foundation that helps Truc Phuong convince her family to let her pursue her passion for charity.
"My family did not support my charity work at first because I found myself often going to the sun and the work was too hard. But when I understood my feelings for the lonely elderly and those with less fortunate circumstances, my parents agreed to let me continue on my journey to bring good things to those in need." Truc Phuong shared her family's thoughts when she decided to stick with volunteer work for a long time.
"I gave them a fishing rod instead of a fish."
"Give them a fishing rod instead of a fish" is the charity rule that Truc Phuong set for herself. She does this because she understands that for each known situation on social networks, she only receives help for a certain period of time.
When they come to the forgotten period, if they do not have diligence, do not have the tools to support themselves, no matter how much money they pour in, they will be exhausted and their lives will still be precarious and poor. so difficult.
At the end of March, after receiving information about the situation of the two grandparents who had to take a bus from Thu Duc to Tao Dan Park to ask for money for his grandmother's goiter surgery, Truc Phuong quickly found meet and help them.
It is known that the grandfather in the story used to run a motorbike taxi for a time, but after the last epidemic season, he had to sell his motorbike to have money to buy medicine for his wife. Understanding the situation, Truc Phuong bought his grandson and grandson a motorbike, a phone and included 30 million in cash to support her grandmother's surgery at home.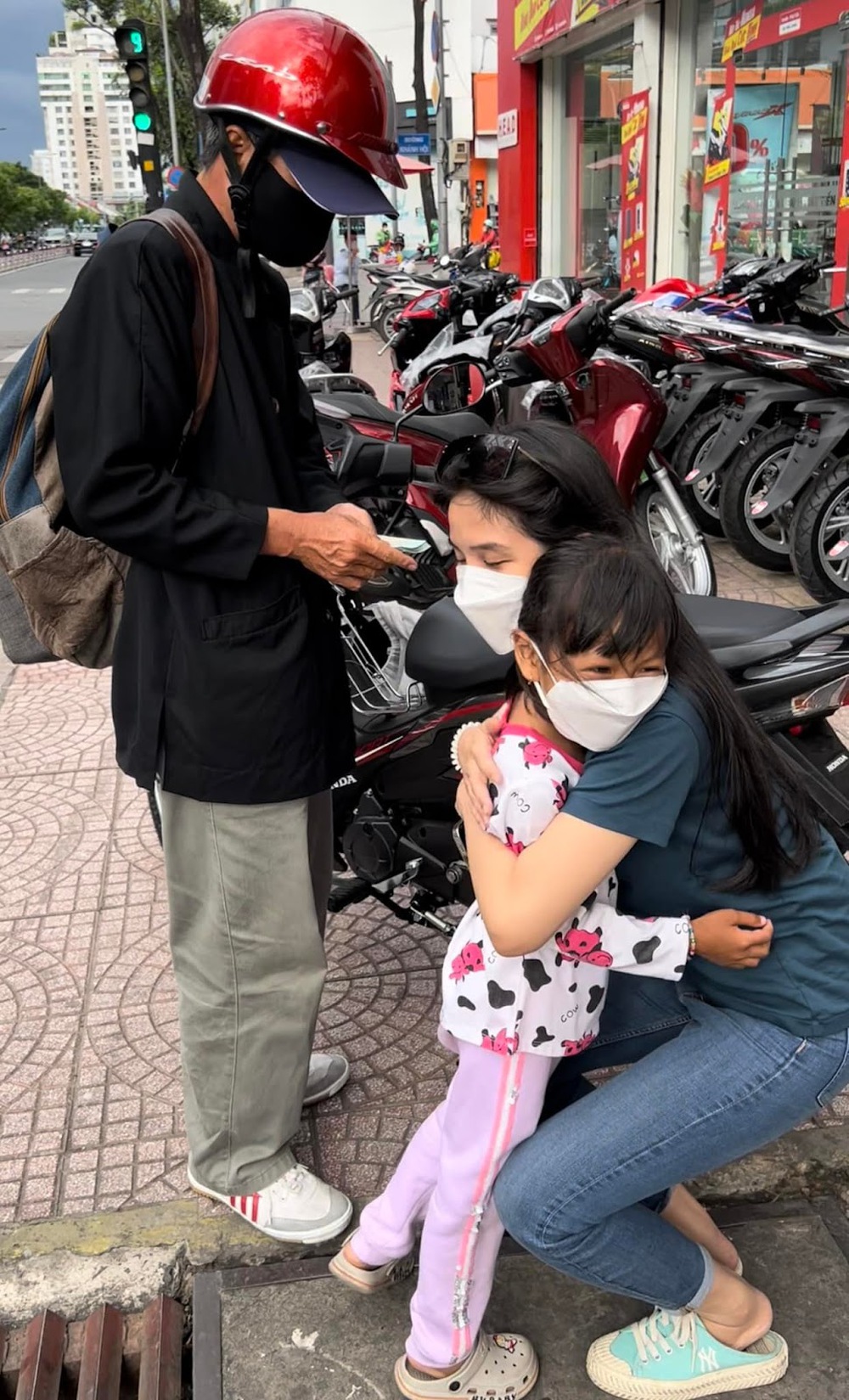 Truc Phuong focuses on giving fishing rods to others instead of giving fish.
During more than 2 years of traveling around Saigon and neighboring provinces to bring good values ​​to disadvantaged people, Truc Phuong always tries to keep in touch with the people she has helped. Especially for the elderly grandparents, she still regularly visits every month.
Truc Phuong has the deepest impression on the 89-year-old man selling lottery tickets at Kinh Thanh Da bridge. According to Truc Phuong's memory, around the middle of last year, the first time she met him was that he was living in a shabby, shabby little apartment with stains on the ceiling and the old walls were slowly fading. sloughing.
His house has nothing but a hammock and two sets of old clothes. Seeing his living conditions like that, Truc Phuong immediately changed him to a new apartment and began to buy necessary items in the house for him.
She even called the old man with the very dear name "grandpa". And every month, "Saigon fairy" still keeps in touch with "grandfather", she often visits and visits him as often as a biological grandchild.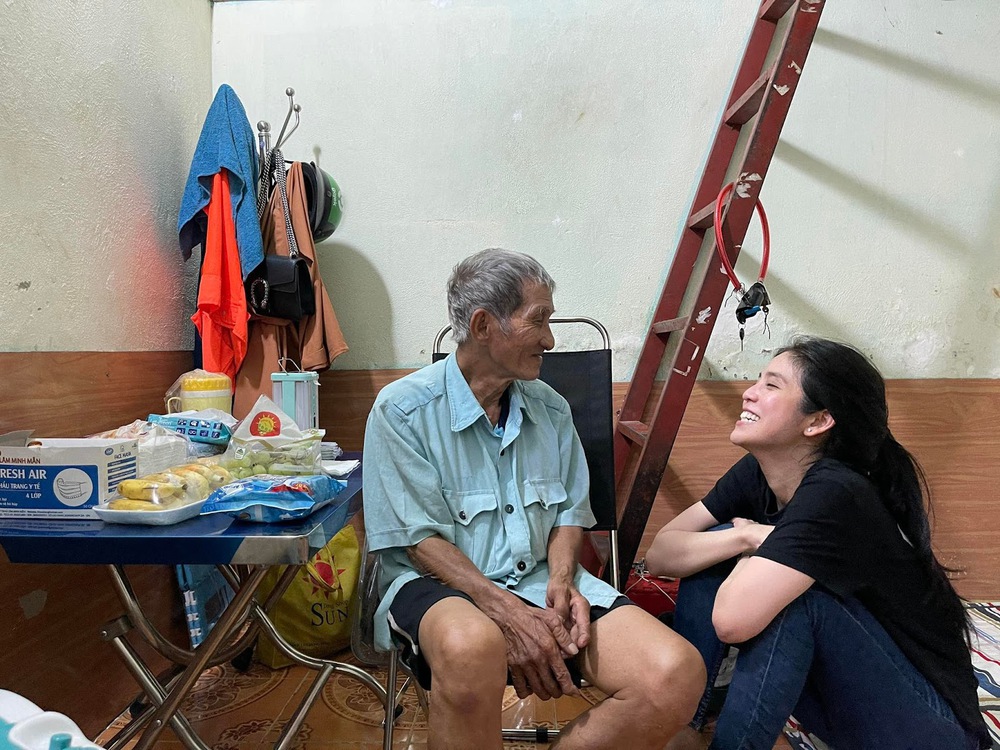 Truc Phuong is happy and smiling with her "grandfather".
In the current society, many individuals or organizations take advantage of the trust and sympathy of the Fatherland Front to speculate and gain profits. Seeing this, Truc Phuong also frankly shared: "I think doing charity. Must come from heart and passion. And I hope those who think of profiting from charity should stop because I believe that everything has a cause and effect."
https://soha.vn/co-tien-sai-gon-tu-tieu-thu-nha-giau-thanh-ban-tri-ky-cua-nguoi-ngheo-20220331032718608.htm
You are reading the article
"Saigon fairy" – From a rich lady to a confidant of the poor

at
Blogtuan.info
– Source:
Soha.vn
– Read the original article
here