Tin
Terrible fake book case: Prosecuting 22 more defendants
Acting to assist Cao Thi Minh Thuan (Director of Phu Hung Phat Production and Trading Co., Ltd., owner of Minh Thuan Bookstore) to produce and trade fake books, 22 defendants were prosecuted.
This afternoon (April 7), news from the Ministry of Public Security said that the Investigative Police Agency of the Ministry of Public Security prosecuted 22 more defendants with the same crime of manufacturing and trading. counterfeiting. They belong to the group of printing, making fake stamps, processing and selling fake books.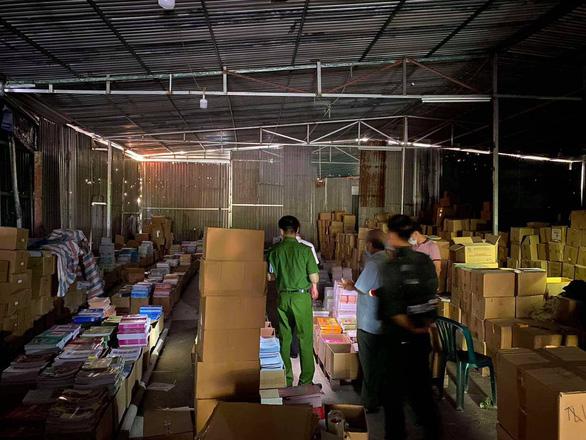 The functional force checks the bookstore
Among these, the Investigation Agency has prosecuted and detained three defendants Van Thi Hien (owner of Hien Long Bookstore); Do Van Duoc (owner of Bong and Bin Shop) and Phan Thi Thanh Thoan (teacher) were arrested. The remaining 19 people were released on bail, banned from leaving their residence.
According to the investigation, Cao Thi Minh Thuan (Director of Phu Hung Phat Production and Trading Co., Ltd., owner of Minh Thuan Bookstore) is the mastermind and leader. The 22 defendants above acted to assist Thuan in the production and sale of counterfeit goods or in buying counterfeit books in particularly large quantities.
Regarding this case, in November 2021, the Ministry of Public Security prosecuted Mr. Tran Hung (former chief controller, former head of Group 1444 under the General Department of Market Management, Ministry of Industry and Trade) for taking bribes. Defendant Nguyen Duy Hai (freelance worker) was identified as a bribe broker.
Three former officers of the Market Management Department of Hanoi, including Le Viet Phuong (former deputy captain of the No. 17 Management Team, now the Captain of the No. 14 Market Management Team), Pham Ngoc Hai and Thanh Thi Dong Phuong (2 former supervisors) inspector of this team) was accused of abusing positions and powers while on official duty. Defendants Cao Thi Minh Thuan, Hoang Manh Chien (Directors of Hanoi Printing and Culture Joint Stock Company) and 5 other people are proposed to be prosecuted for manufacturing and trading in fake goods.
In 2020, Cao Thi Minh Thuan, Hoang Manh Chien and accomplices set up a line to buy paper and print fake textbooks. This group uses dozens of locations in Hanoi to make a system of offices, factories, and warehouses for printing, processing, gathering and distributing fake books to many localities such as Son La, Bac Ninh. , Bac Giang, Nam Dinh, Vinh Phuc, Thai Nguyen, Thanh Hoa, Nghe An, Ha Tinh…
On July 9, 2020, Mr. Tran Hung directly directed the Information Management Teams 15 and 17 of the Hanoi Department of Information Management and the functional forces of Hoang Mai District and the Vietnam Education Publishing House to inspect and discover that the workshop was hiding more than 27,000 books. fake textbooks printed by Phu Hung Phat Company.
In the process of solving the case, Nguyen Duy Hai met and influenced Mr. Hung to lightly handle the violations of the individuals and businesses involved.
After that, Mr. Hung took advantage of his position and authority to not direct his subordinates to handle and handle in accordance with law the case involving two businesses printing and distributing fake books. Until her arrest, Cao Thi Minh Thuan's group continued to produce, print and sell fake books.
On June 18, 2021, the investigative agency caught Hoang Manh Chien with a truck at a warehouse in Thinh Liet ward, Hoang Mai district, Hanoi. Through inspection, the functional forces discovered in the truck there were more than 9,700 fake textbooks, with fake stamps of the Vietnam Education Publishing House.
Expanding the investigation, the special team seized over 3.2 million fake textbooks, 3 printers, more than 1.5 million fake stamps and about 20 billion VND. According to the allegations, the group producing fake goods has illegally profited nearly 50 billion dong.
According to the Workers
You are reading the article
Terrible fake book case: Prosecuting 22 more defendants

at
Blogtuan.info
– Source:
2sao.vn
– Read the original article
here