Life Style
Thế Giới
The wife of a Korean tycoon jumped to her own death because of domestic abuse by her husband and children
On September 2, 2016, a construction worker called the police after seeing a body floating in the Han River, near the Gayang Bridge area. Authorities quickly identified the woman who had just drowned as Lee Mi Ran, the wife of Koreana Hotel CEO – CEO Bang Yong Hoon – a wealthy tycoon in the Korean market. He is also the younger brother of Bang Sang Hoon, CEO and major shareholder of Chosun Ilbo – one of the oldest and most influential newspapers in Korea.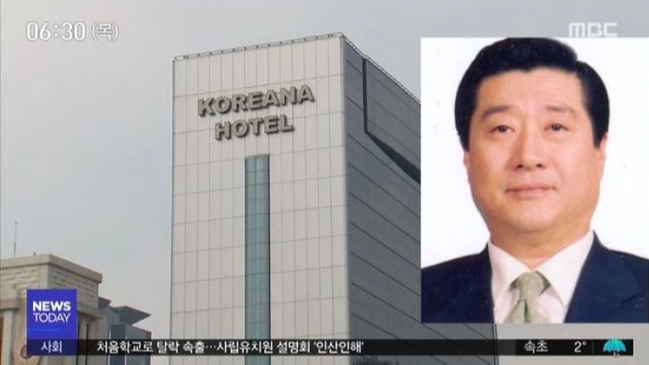 Portrait of Bang Yong Hoon – who owns and operates a large hotel chain that covers all of Korea
Foreshadowed suicide
Right from the evening of September 1, Mi Ran has sent text messages to some of her relatives, expressing her intention to commit suicide. The text messages contained a photo of the suicide note, with the caption: "I won't let my husband get away."
Police received a call about a drowning at 3:12 a.m. local time. When they arrived, there was also a Lexus car that Mi Ran had left behind on the Gayang bridge. Inside the supercar, people found a 7-page letter, which is considered a suicide note from the ill-fated woman.
Although she is a super-rich lady, information about Lee Mi Ran's tragic death is kept quite well hidden and not widely reported by the media, especially the name Koreana Hotel is avoided.
A few days later, her body was handed over to her husband, CEO Bang. The very next day, Mr. Bang Yong Hoon cremated his wife without holding a funeral, nor giving any notice to the deceased's biological family. Mi Ran's relatives were extremely indignant and said that when she first disappeared, her rich husband didn't even bother to look for her.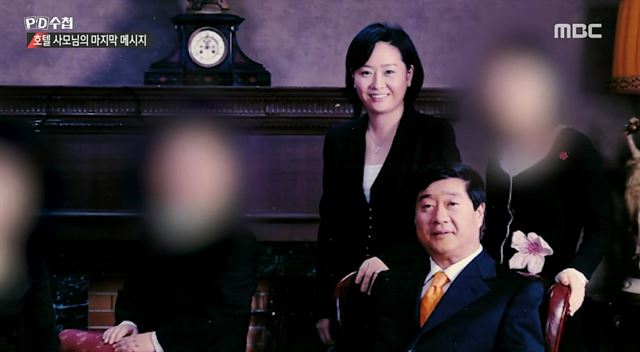 Mi Ran took a photo with her husband and children
The terrible truth about hell life
The police concluded that Lee Mi Ran committed suicide due to depression after being abused by her husband and 2 out of 4 children for a long time. Later, 2 children was charged with causing bodily harm to another person and received a sentence of 8 months in prison and 2 years of probation. The husband, however, was not found guilty.
In March 2019, which is nearly 3 years after the death of Mrs. Mi Ran, MBC TV conducted a reportage episode on the program. PD Notebook overturn this suicide. The content of the 7-page suicide letter exposed the detailed story that made the rich woman choose a negative behavior that shocked the public.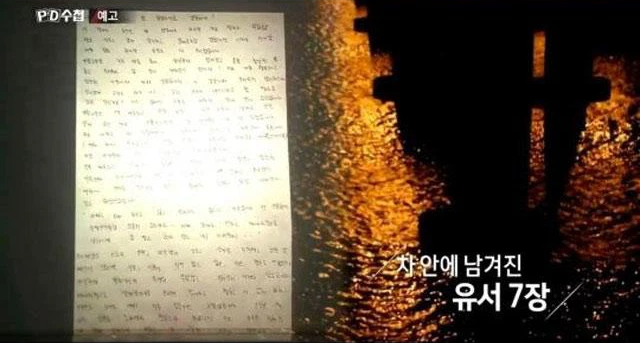 The content of the 7 pages of the suicide note was revealed by MBC
In the letter, Lady Mi Ran wrote:
"When I argued, my husband beat me and cursed me with the worst words. I was extremely scared. I was imprisoned like an invisible person in a basement room for 4 months. But now once I was released, I started to panic and panic even more.I am very scared if I fail to commit suicide, how terrible punishment I will have to face since I was released. Bang Yong Hoon".
Mi Ran detailed that on April 29, 2016, she was beaten by her husband and sent to a room in the basement and locked up for punishment. The poor woman described each of her husband's abusive actions in detail and repeatedly asked herself what she had done wrong to deserve such treatment.
Also in this program, an old housemaid of the family was interviewed. Talking about Mi Ran's 4 months in prison, this person described: "It was hell. Every time I saw her, she looked miserable. The family often held parties with friends on the 1st floor. , eating and drinking and laughing, and the lady was just downstairs in the basement, fed only 2 sweet potatoes and 2 eggs in the morning. Gradually, she became so hungry that I smelled a terrible stench. terror came out of her mouth."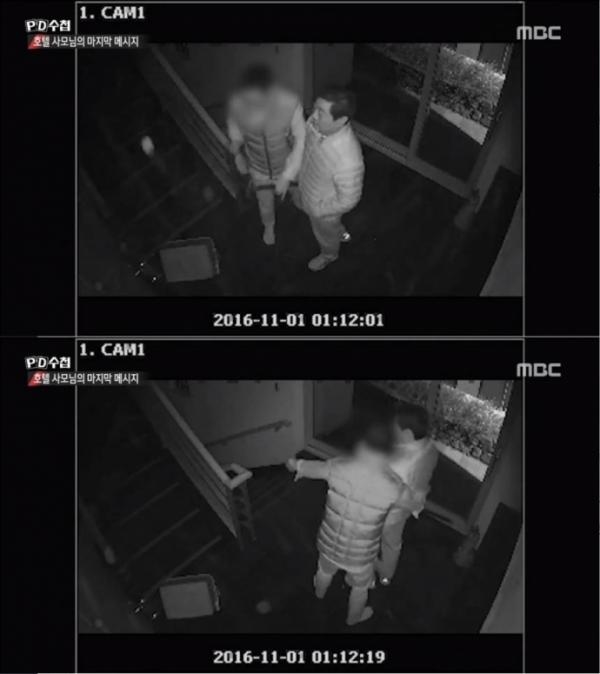 CCTV of Bang's mansion recorded the scene where the father and son of the CEO went down to the basement
The Last Escape
4 months later, on August 22, 2016, Mi Ran came out of the basement, but was not "acquitted", nor successfully escaped, but was kicked out of the house by her two children.
She called her younger sister, Lee Mi Kyeong, to inform her that her two children had called a private ambulance to take their mother to the hospital. Knowing the situation of her sister's abuse, Mi Kyeong reported to the police to drag them to the Bang's house. But when the police arrived, Mi Ran's two children suddenly changed their voices saying that they did not want to take their mother anywhere, but it was all a misunderstanding.
After the police left, the two children violently dragged their mother out of the house. The maid said the lady was screaming and crying in despair as her two children dragged her on the ground. They called an ambulance again and "ejected" her mother to her grandmother's house.
After the ambulance took Mi Ran to her mother's house, a truck carrying all of her belongings also arrived. Mi Ran's mother was extremely shocked when she saw her daughter after many months and took pictures of her daughter's abused body as evidence. Pyo Chang Won – the lawyer representing the family said: "When I look at the pictures, I can see the fingerprints all over my shoulder. There are too many rope marks all over my body and too many bleeding wounds. All are evidence of domestic abuse. serious family".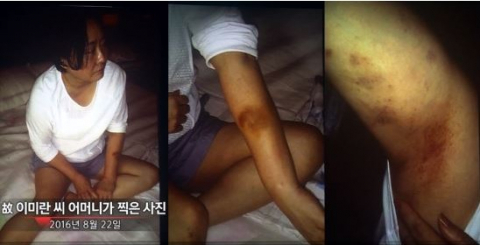 However, when going to court, the two children still insisted that all injuries on Lee Mi Ran's body were caused by medical staff. They also just want to bring their mother to their grandmother's house for the purpose of letting her clear her mind and treat depression.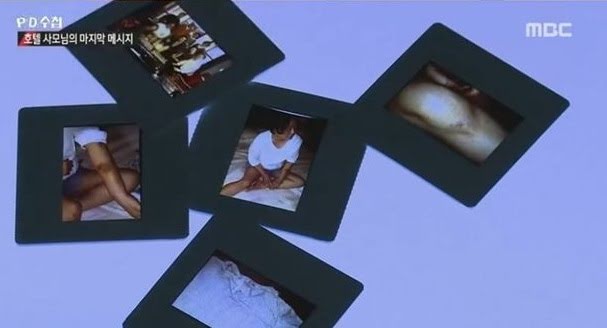 Less than 10 days after returning to her mother's house, the tycoon's wife drove herself to the Han River to end her life.
According to the family and documents on the show PD Notebook exposed, Lady Lee Mi Ran was abused by her husband and children during the last few years of her life. In November 2015, one of her daughters even stabbed her mother in the stomach with a knife three times because of an argument about money. The reason she was treated so badly is said to be due to a money dispute in the house.
After Lee Mi Ran's case was turned over, a big wave of controversy broke out in Korea. There are sources that believe that Bang Yong Hoon is the "unsub" who abuses his wife the worst and turns her life into hell. However, this CEO tried to push the crime to the two children so that they could take the blame and then tried to run the sentence, bringing the punishment to the lowest possible level. After all, this case was never turned over and people could only shudder at the terrifying dark corners of the tycoon.
Source: AllKpop
https://kenh14.vn/phu-nhan-tai-phiet-han-quoc-nhay-song-tu-van-buc-thu-7-trang-3-nam-sau-moi-vach-tran-bi- mat-dang-succession-sieu-giau-20220407171330317.chn
You are reading the article
The wife of a Korean tycoon jumped to her own death because of domestic abuse by her husband and children

at
Blogtuan.info
– Source:
Kenh14.Vn
– Read the original article
here