Khỏe - Đẹp
Why do many people scratch their skin and tear their flesh after Covid-19?
Skin manifestations are common in many Covid-19 patients and after recovering from Covid-19, there are patients who fall into a state of allergies, crazy itching.
Ms. Nguyen Thi Ha (Dong Trieu, Quang Ninh) lamented that after recovering from Covid-19 for 3 days, Ms. Ha began to itch and develop a rash. Skin rashes come in all shapes and sizes and cause itching. At first, Ms. Ha just rubbed it to relieve the itch, but still couldn't stand it, so she scratched it with her fingernails.
Ha asked the doctor, and was told that it might be because lazy bathing causes itching. Ha abstained from bathing during the illness, but after that, she cleaned and bathed, but the itching and edema on the skin did not stop.
Every day, she took antihistamines and lasted for 1 month, the itching still showed no sign of going away.
Not only Ha, in the community of people who have recovered from Covid-19 on social networks, many people come and complain about itching, allergies, and urticaria.
Mr. Nguyen Ngoc – a member of the Locket Association said that he had been cured of the locket for more than a year before, and when he had Covid-19, the condition of the locket reappeared, making Mr. Ngoc extremely uncomfortable.
Finger-sized papules spread all over the body. After 3 weeks of negative, allergic urticaria still appears every day. If I don't take the medicine, I'll just lie there all night because I can't sleep.
According to MSc Tran Thi Thanh Mai – Vice President of Ho Chi Minh City Association of Asthma – Allergy – Clinical Immunologyshe also met many patients complaining of skin diseases after Covid-19.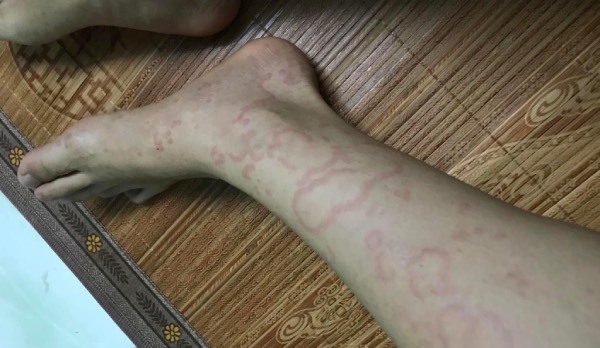 Post-Covid-19 skin damage is dangerous.
Doctor Mai said that when infected with Covid-19 skin symptoms were few, but later there were many documents published after Covid-19 many people still had a rash. It has been found to be related to immunity.
Symptoms of a rash may be that the patient has a rash that may be in the acute phase or it may be after it has resolved.
Symptoms can appear from the 2nd to the 10th day, some people from the 10th day onwards, some people 2 weeks to several months later.
Dr. Mai said that the rash of Covid-19 patients is very diverse. Patients have many different manifestations such as: itching without any lesions on the skin but only lesions caused by scratching, pink lesions.
The rash may be raised as papules or true urticaria, the patient has a reticular rash located on the patient's thigh causing burning. Dr. Mai encounters many cases where people have blisters like chickenpox.
Some patients change skin color, have more prominent spots than usual, reduce pigmentation. There are even patients who come to the doctor complaining of suddenly having vitiligo.
Some patients with pre-existing skin diseases, if they have Covid-19 that can make the disease worse, for example, people with acne, people with psoriasis, people with dermatitis …
When there are normal skin manifestations, patients only treat them locally, most of them are mild and will go away on their own. Many people have a habit of blaming Covid-19 but it is not really due to Covid-19.
Patients should not be too worried because worrying too much can increase the feeling of itching, should not scratch, when using soaps and detergents should use moisturizers, skin softeners.
Should moisturize the skin, try to choose the type that is free of preservatives and fragrances, with a pH level corresponding to your skin.
If you choose to wear clothes, you should not use thick, squashy, furry, lace clothes. Should choose cotton clothes. If the itching is too much, you can take an antihistamine. You absolutely should not use antibiotics or corticosteroids, whether taken orally or applied to the skin.
When the rash is too itchy to scratch, causing superinfection, insomnia, you can go to a specialist facility for advice and treatment.
Dr. Mai said that many patients worry excessively. Worrying too much about a problem can lead to a worsening of symptoms.
If you keep reading online and see that people do whatever they want, it can have undesirable consequences.
Ideally, you should balance work and rest. You should eat enough protein, fat, starch, do not need to be too heavy, avoid fermented foods, stimulants.
Dr. Mai thinks that certain fermented foods can increase itching. You can add multivitamins to your body.
Khanh Chi
You are reading the article
Why do many people scratch their skin and tear their flesh after Covid-19?

at
Blogtuan.info
– Source:
infonet.vietnamnet.vn
– Read the original article
here