Khỏe - Đẹp
11-year-old boy almost died from a stroke: A warning from children's headaches
After a severe headache with vomiting, the 11-year-old nearly fell into a coma because of a ruptured brain aneurysm, a disease like a ticking time bomb.
Dr. Tran Chi Cuong – Director of Can Tho Stroke and Cardiovascular Hospital said that the hospital had just intervened to treat an 11-year-old patient with a cerebral stroke.
The patient entered the emergency room on the evening of April 7 with severe headache accompanied by vomiting. When admitted to the hospital, the doctor suspected a brain hemorrhage due to a ruptured brain aneurysm.
Dr. Cuong said that unlike strokes in adults, which can be caused by cerebral infarction, in children, most of them are caused by cerebral hemorrhage from cerebral vascular malformations that are not detected in time.
Before that, this also received a girl named LKN, 10 years old, in Hau Giang in a state of brain hemorrhage. In the locality, the doctor informed that the baby was in a life-threatening critical period requiring treatment at a specialized hospital.
According to the family, before the stroke, KN was going to school normally, suddenly showing signs of severe headache and vomiting. The teacher immediately called the parents to come pick up the child.
Baby KN developed healthy, studied well, did not have any abnormalities, but from the age of 5, he often complained of headaches from time to time. Thinking that my daughter only had a headache due to going out in the sun, then she would rest for a while and then get back to normal, so her parents did not take her to get checked.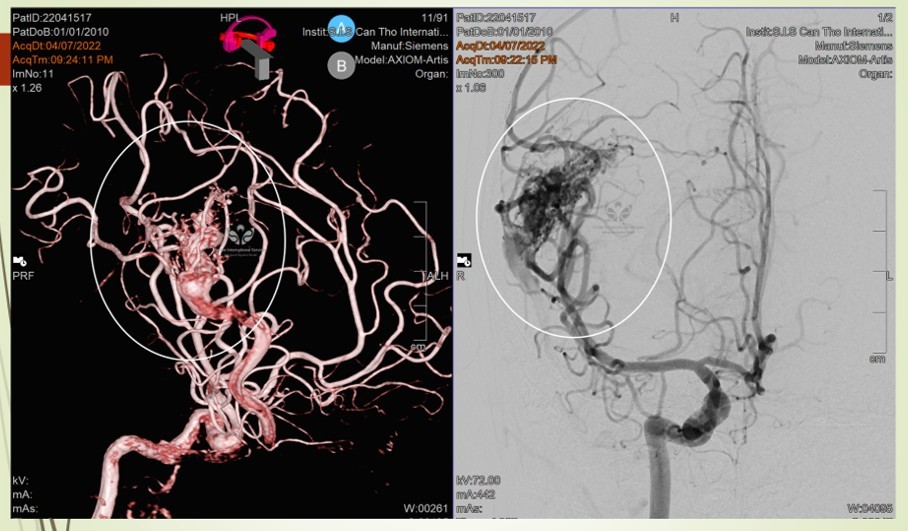 The child's cerebral aneurysm burst.
For young children, Dr. Cuong said family members should be wary of sudden headaches, vomiting, lethargy, and slow contact of children in the house.
Cerebral vascular malformation rupture is the first reason to think about in the case of cerebral stroke in children. Completely different from stroke, the elderly are more likely to experience embolism causing cerebral infarction.
According to Dr. Cuong, when having the above symptoms, relatives should not waste time "self-control" at home to avoid risks for the grandchildren, sometimes even losing their "only gold nugget" forever.
With cases of brain bleeding, the difficult treatment depends on the amount of bleeding, the location of the bleeding, the clinical condition at the time of admission, whether there is still a chance for treatment or not. In these cases, time is still a very important factor.
When a stroke occurs in children, today it will be treated by endovascular intervention (DSA) method, which is less invasive, especially to treat deep brain areas that cannot be operated by surgery. In addition, after the intervention, young children preserved most of their function, without leaving any scars.
Dr. Cuong noted that parents when their children complain of too much headache, unusual vomiting, lethargy, not as flexible as usual, convulsions, epilepsy, weakness in one calf, must go to the doctor immediately.
The early diagnosis of a cerebrovascular malformation before it ruptures, the treatment will be fully proactive and of course 10 times safer than intervention when it has ruptured.
Vascular malformation (AVM) is extremely dangerous because it can affect the control of the brain on body activities, if detected and treated late, can lead to death.
In medicine, cerebral aneurysms are likened to slow-explosive bombs, which can burst causing a hemorrhagic stroke at any time.
This malformation is present since childhood, the baby has no symptoms at all, but it can grow over time and cause symptoms and it is not until a stroke that the cause of the deformity is determined.
Cerebral vascular malformation is also the cause of an increasing number of young people with cerebral hemorrhage.
Dr. Cuong warned that headaches in young people have many causes, including the main cause of cerebral vascular malformations. Therefore, when frequent headaches occur, patients should go to the hospital for examination, scan, early diagnosis and treatment, to avoid the consequences of brain bleeding that can be fatal.
Cerebral vascular malformation is a dangerous disease, but if diagnosed early, it can be completely cured. Currently, cerebral angiography using DSA application helps doctors have an accurate view of the position, size, and shape of the malformed vascular segment and draw a blood vessel chart where the malformed blood vessel arises. .
K.Chi
You are reading the article
11-year-old boy almost died from a stroke: A warning from children's headaches

at
Blogtuan.info
– Source:
infonet.vietnamnet.vn
– Read the original article
here