Giới trẻ
Artist Thanh Chuong: "I believe Da Thao Phuong about the statements in the denunciation of Luong Ngoc An"
"If a woman suffers like this, I will always support Da Thao Phuong and oppose Luong Ngoc An's behavior," said artist Thanh Chuong.
Regarding the case of poetess Da Thao Phuong accusing PTBT Luong Ngoc An of rape many years ago, on the morning of April 8, painter Thanh Chuong had discussions with Infonet reporters as witnesses to the incident. published at Van Nghe newspaper on April 14, 2020.
Painter Thanh Chuong said: "The report was written by painter Le Tam, and I am the one who signed it as a witness".
Before recounting the incident, painter Thanh Chuong said that Van Nghe newspaper at 17 Tran Quoc Toan had 3 floors. On the first floor, the room inside is the administrative room, the outside room is the reception room, the staff member. On the 2nd floor, there is a common meeting room of the agency, a room of TBT and a room of the Secretariat, most of which work in this room.
"The Youth Arts Department is on the 3rd floor, right on the ceiling where I work" – painter Thanh Chuong recounted.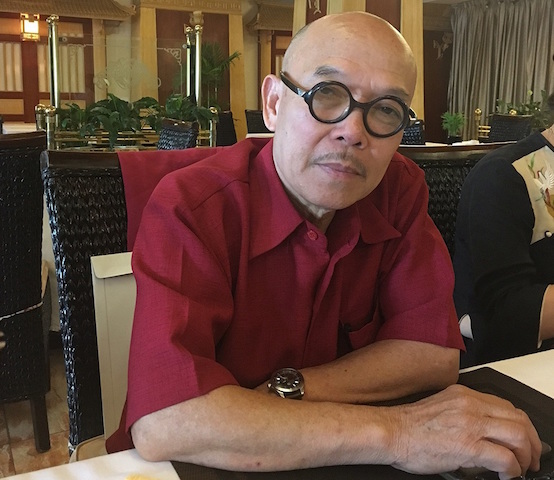 Painter Thanh Chuong
Painter Thanh Chuong recalled: "That day, around 1:00 pm on April 14, 2000, Be Kien Quoc and I were working in the secretariat's office when we heard an unusually strong noise. , and then thought it was broken above, but thought it was not because if it was poured, it only made a sound, but here the noise is very unusual.
When we were still bewildered and did not understand what was going on, we heard a cry for help. Be Kien Quoc and I immediately ran out to meet Le Tam and then immediately went up to young Van Nghe (3rd floor) to see what was wrong.
The artist continued that when he opened the door, he saw Luong Ngoc An lying on top of Da Thao Phuong with his hand strangling her.
"She was screaming for help, struggling a lot. When everyone opened the door to see the same scene, Luong Ngoc An removed his hand from Da Thao Phuong's neck. Then, me, Quoc and another reporter took Luong Ngoc An out. Le Tam and one or two more people stayed with Da Thao Phuong.
That witness was written by Le Tam. That report is completely accurate, not a single detail is wrong – there is a scene where Luong Ngoc An leans over Da Thao Phuong, hands strangles and two people are wearing clothes, "said artist Thanh Chuong.
Regarding the way to handle it at that time, painter Thanh Chuong said: "Van Nghe Newspaper handled it, in my opinion, it was reasonable because by that phenomenon it was not possible to confirm the rape case. The two were still wearing normal clothes, still struggling, choking each other.
Da Thao Phuong said the rape and Luong Ngoc An said that due to personal conflicts, quarrels and fights occurred. What happened in the newspaper should only be handled in such a way that causing chaos at the office is not good and there is a warning to Luong Ngoc An.
Some people understand it's a failed rape case, some think it's a scuffle…but no matter what, the fault still belongs to Luong Ngoc An. Therefore, the Van Nghe newspaper at that time, in addition to warning and criticizing, also let Luong Ngoc An go to school for a few months."
The artist said that he later read carefully the denunciation of Da Thao Phuong, only to know that the relationship between the two happened in 1999, not in 2000.
'According to the accusation, rape, sexual slavery, child abandonment… all happened before the incident in Van Nghe newspaper.
My understanding of this case is very little, only witnessing the specific case that the painter Le Tam made a report on, and all the relationships of these two people, whether they love each other or not, whether they were raped, or not. sexually abused, forced into sex slavery or not… I really don't know anything,' said artist Thanh Chuong.
However, he emphasized that 'by many evidences, by many other things, I believe Da Thao Phuong about the statements in that denunciation open letter'.
"If a woman suffers like this, I will always support Da Thao Phuong and oppose Luong Ngoc An's behavior," said painter Thanh Chuong.
The artist also believes that the case needs the voices of responsible organizations such as writers' associations, women's associations and other authorities.
As Infonet Previously, on the evening of April 6, the social network account Da Thao Phuong posted the content of a letter denouncing PTBT Luong Ngoc An Van Arts Newspaper for raping and slandering her many years ago.
In the application, Ms. Da Thao Phuong also said that the reason she spoke up until now was because: "I need to speak up. It is an urgent requirement of me personally, as a victim of unjust suffering, as well as a requirement of social reality for the responsibility of a citizen, the demand of conscience for a pen holder".
Also related to the incident, answering reporters, PTBT Luong Ngoc An said "I have no idea because I don't know where this will go and how".
"Therefore, I have no opinion at all", Mr. Luong Ngoc An said, but also said "in my personal opinion, these words are not completely correct", "however, I have not said it yet." ".
Meanwhile, Chairman of the Vietnam Writers Association Nguyen Quang Thieu said: "The association will soon have an opinion".
N. Huyen
You are reading the article
Artist Thanh Chuong: "I believe Da Thao Phuong about the statements in the denunciation of Luong Ngoc An"

at
Blogtuan.info
– Source:
infonet.vietnamnet.vn
– Read the original article
here