Business
Stunned by the school schedule of a kindergartener living in the RICH SON area: Studying continuously from 8 am
In addition to wishing their children to be healthy, every parent also wants their children to study well, grow up to be successful, and become people with a place in society. Also because of the high expectations, sometimes parents unknowingly put pressure on their children, or force them to study too much right from kindergarten.
Recently, on social media, a picture of a child's daily schedule appeared on social media in a kindergarten in the Gangnam area (Korea) – famous as the modern and upmarket center of Seoul. Immediately, the online community not only in Korea but also in China and Vietnam… erupted into a fierce controversy before a schedule as dense as the president's work schedule!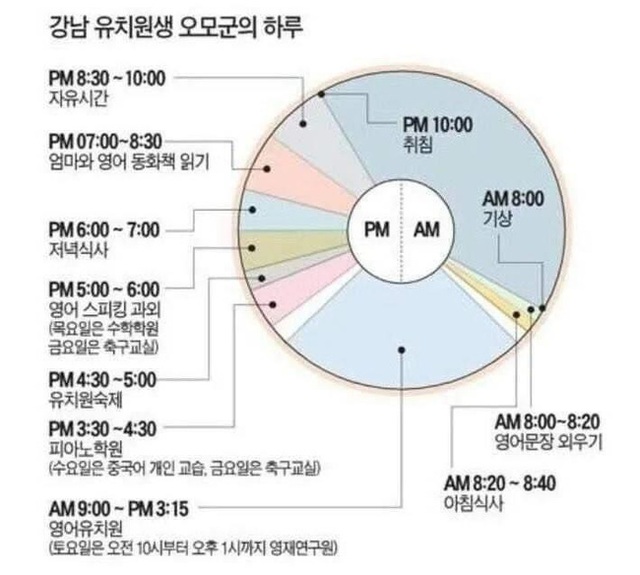 The dense schedule of a kindergarten student makes adults startled.
The schedule of preschool students causing storms in CDM:
8am: Wake up
8:00 – 8:30: Memorize English sentences
8:20 am – 8:40 am: Breakfast
9h – 15h15: English Kindergarten (Saturday at the Institute of Prodigies from 10am – 13pm)
15h30 – 16h30: Piano lessons
16h30 – 17h: Do homework for kindergarten
5:00 p.m. – 6:00 p.m.: Practice speaking English with a private tutor (Thursday for Math, Friday for soccer)
18h – 19h: Dinner
19h – 20h30: Read English fairy tales with mom
20h30 – 22h: Free time
22:00: Go to bed.
Gangnam is known as the rich neighborhood in Korea. For parents who live here, failure is not an option. And the explosive growth of this neighborhood forces students to endure the pressure. At all levels, there is pressure, students sometimes have to study up to 15 hours/day. To help their children keep up with their peers or expect their children to excel, many parents choose to arrange a tight schedule when their child is only in kindergarten.
Looking at the above timetable, it is easy to see that from waking up in the morning to going to bed late at night, the child hardly has time to relax and entertain. The dense schedule of subjects such as English, piano, and homework in kindergarten is considered by many to be "heavy" for preschool children.
Some comments such as:
– Expecting too much, thinking well for the future of children. Those who can adapt are very good. Children who are under too much pressure will have autism, depression, and in the long run, they will commit suicide. It is because of the high standard of living and education that makes parents' lives more stressful.
– Under 8 years old, children can freely play to have childhood memories. What parents force their children to study in such a tight schedule, ask why the children often suffer from depression. If the child is old enough to play, he will easily fall when he is forced to grow up. What a pity!
– First of all, we teach our children to be polite and respectful, first and foremost. Then, depending on your child's level, they can learn what they like to learn. My wife and I do not have the idea that children should be like this. If you study according to your parents' wishes, you can leave home early.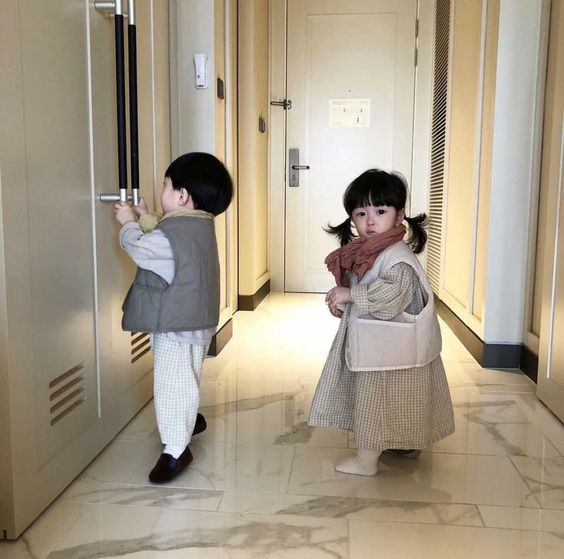 Currently, this class schedule is still being discussed by the online community. In fact, at the kindergarten stage, before their children enter grade 1, parents need to equip their children with a lot of knowledge and skills to get them used to the new environment. However, parents need to combine learning and playing to help their children not be stressed and pressured. Let your child feel that learning is quite light, this helps them absorb better.
1. Teach children how to use objects:
This is the most basic skill that parents need to teach their children. Parents should not do everything for their children, let them learn to be independent in some things. The simplest way is to teach your child how to use school tools, how to use food to eat, and how to clean the body.
Children under the age of 6 learn best through role-playing. Try giving your child fake objects and play the role of a doctor, police officer, teacher, etc. Children are naturally curious and love to help others. Therefore, parents should let children have the opportunity to do things that are suitable for their ability such as: Sweeping the house, cleaning tables and chairs, drying clothes, etc.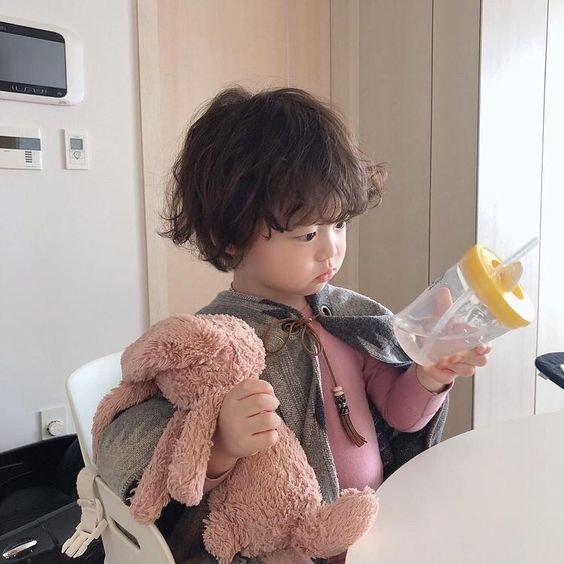 Parents need to teach their children to do simple things. (Illustrated image)
2. Teach children to sing and play music
Music is the most amazing thing that man can create. A child who learns about Music from a young age will not only develop in thinking, language, but also physically and personality. Through singing a rhyme, listening to a mother's lullaby or learning how to sing a song, children will learn many nouns, how to communicate, and love for everything around them.
Normally, each child has a penchant for an artistic field such as: Singing, modern dance, dancing, playing the piano, playing the guitar, etc. Parents should create opportunities, encourage and foster their children. If your child is not gifted, just learn to know as a hobby.
3. Teach your child to play sports
Sports is a necessary activity if parents want their children to develop comprehensively. Parents do not need to be professional sports teachers to form and maintain sports habits for their children.
Sports not only improve health, develop motor skills, but also help develop teamwork skills. In addition, playing sports also forms a good character for children such as: Honesty, teamwork skills, respect for others, etc. Parents can choose any subject to play with their children.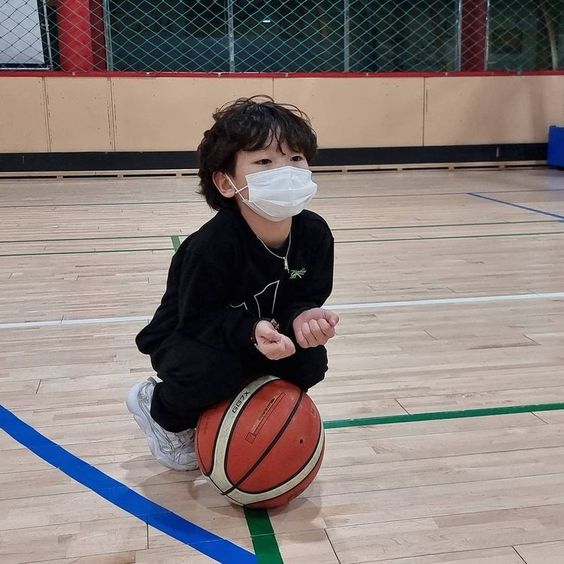 Playing sports will help your child develop both physically and mentally. (Illustrated image)
4. Teach your child how to communicate and behave
Communication skills are likened to the key to help children master and develop the remaining skills. This is also the foundation to help children realize the value of life and gradually form life skills. Therefore, parents should care and teach their children to communicate with people around them.
For preschool children, communication skills need to be formed and trained from an early age. When children know how to communicate, children will know how to listen and convey messages to others. Children will easily make friends, have good relationships with everyone. At that time, children also gradually develop other skills such as: teamwork, logical thinking, argumentation, etc.
https://afamily.vn/choang-vang-truoc-lich-hoc-cua-1-dua-tre-mau-Giao-song-o-khu-con-nha-giau-hoc-lien-tuc-tu- 8:00 a.m. to 8:00 p.m.-meet-20220406154227921.chn
You are reading the article
Stunned by the school schedule of a kindergartener living in the RICH SON area: Studying continuously from 8 am

at
Blogtuan.info
– Source:
cafebiz.vn
– Read the original article
here