Giải trí
Aston Villa – Tottenham football video: Unstoppable sublimation, brilliant hat-trick (Round 32 of the English Premier League)
(Aston Villa football video – Tottenham, round 32 of the English Premier League) With the defeat of Arsenal and MU, Tottenham has a chance to break through in the top 4 race.



Being a guest in front of an Aston Villa is difficult to play at home, but Tottenham Enter confidently. Right in the 3rd minute, Son Heung Min launched a lightning-fast left foot kick, sending the ball bouncing off the post into the net, opening the score.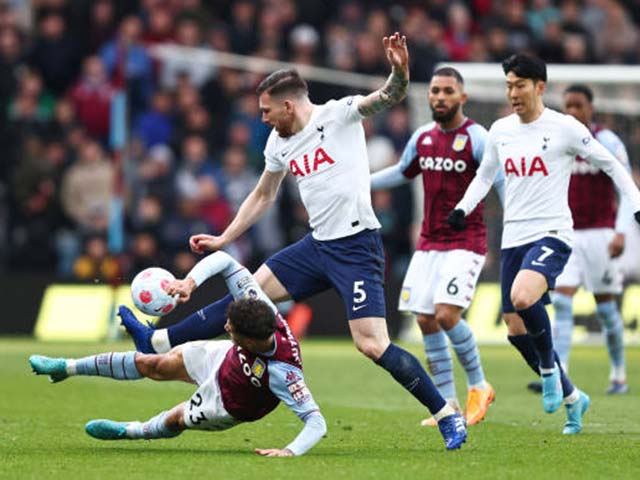 Tottenham excels in efficiency compared to Aston Villa
After the goal, Tottenham played back to protect the results, creating conditions for Aston Villa to organize an attack. In the 17th minute, Ramsey sped up strongly past two Tottenham defenders in the penalty area before hitting a narrow corner, but Lloris closed the corner in time. Only 2 minutes later, McGinn shot a very long shot with his left foot, the ball flew into the high corner, but Lloris still managed to save it.
In the last minutes of the half, Aston Villa had a smart free kick. Danny Ings snuck down to catch his teammate's poke, but his volley didn't hit the ball. Tottenham's most impressive player in the first 45 minutes was goalkeeper Lloris with 6 saves.
In the second half, Tottenham suddenly increased the speed from the beginning and continued to have an effective preemptive screen. In the 50th minute, Kulusevski broke out into the penalty area to receive a long pass, which he handled neatly before hitting a dangerous left-footed corner, increasing the score to 2-0.
Tottenham played better while Aston Villa proved disordered. In the 66th minute, Kane shook his head and created a top assist to put Son Heung Min in a position to face Martinez and then decisively finished the left foot to raise the score to 3-0. Five minutes later, the Korean striker completed a brilliant hat-trick with a series of good coordination with Kulusevski before easily sealing a 4-0 victory for the visitors.
Final round: Aston Villa 0-4 Tottenham (1st half: 0-1)
Scored
Tottenham: Son Heung Min 3′, 66′, 71′; Kulusevski 50′
Squad
Aston Villa: Martinez, Cash, Konsa, Mings, Digne, McGinn, Douglas Luiz, Ramsey, Coutinho, Ings, Watkins.
Tottenham: Lloris, Romero, Eric Dier, Davies, Emerson, Bentancur, Hojbjerg, Doherty, Kulusevski, Harry Kane, Son Heung Min.
Score players (according to Whoscored)
Aston Villa
with
Tottenham
Point
Martinez 5.4
Cash 5.9
Konsa 5.6
Mings 5.8
Digne 6.0
McGinn 6.6
Douglas Luiz 6.5
Ramsey 6.2
Coutinho 6.6
Ings 6.5
Watkins 6.2
Point
Lloris 8.6
Romero 7.8
Eric Dier 7.2
Davies 6.8
Emerson 7.1
Bentancur 7.1
Hojbjerg 7.6
Doherty 6.3
Kulusevski 8.4
Harry Kane 9.0
Son Heung Min 9.6
Substitution
Young 5.9
Bailey 6.0
Buendia 6.2
Substitution
Regilon 6.8
Bergwijn 6.0
Moura 6.1
Red: Player of the match
Black: Worst player of the match
Match statistics
Aston Villa
Tottenham
According to Minh Duc (Ho Chi Minh City Tourism Magazine)
You are reading the article
Aston Villa – Tottenham football video: Unstoppable sublimation, brilliant hat-trick (Round 32 of the English Premier League)

at
Blogtuan.info
– Source:
24h.com.vn
– Read the original article
here