Business
Digitizing sales with AI at Viettel reduces customer waiting time by 3 times
The digitization process has brought impressive results to both customers and Viettel Telecom. 94% of postpaid mobile customers are satisfied with the AI ​​Callbot system that prompts for automatic payment notifications, transaction waiting time is reduced by 1.5-3 times. The personnel to review records is reduced by 3 times, the transaction processing time is reduced by 3 times. The number of monthly customer complaints has since also decreased by 3 times.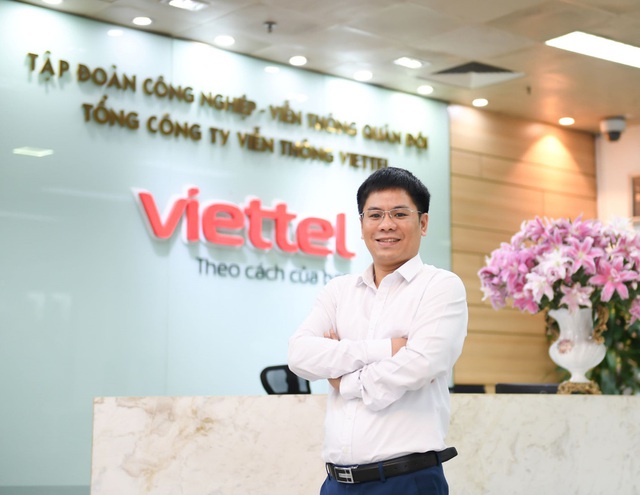 Mr. Le Tuan Anh, Deputy Director of Sales Management Center, Viettel Telecom
"Mind-wasting" ideas
Previously, every time a customer came to register or change a service, Viettel's tellers had to "scan" the customer's identity card, compare the information and enter the data manually. But over the past year, with image recognition technology (OCR) and electronic customer identification (eKYC), store staff now only need to scan customers' ID cards on the camera. The remaining stages are handled automatically by the system, and customer service time is much faster.
This is one of 6 solutions that Deputy Director of Viettel Telecom Sales Management Center Le Tuan Anh proposed and successfully implemented in 2020-2021. This is also the problem that makes Tuan Anh "spoilt his mind", taking the most time.
"Viettel is a pioneer telecommunications enterprise applying AI technology to identify images and identify customers in the sales process. In the first time of deployment, the initial recognition ability of the system is quite low, the input of information The news was significantly wrong and we had a lot of feedback," Mr. Tuan Anh recalled.
There was even a time when the project was faced with a vital question: "Should I continue or not?". If it continues, it will take a long time for Viettel to collect comments from branches and customers, edit processes, optimize machine learning technology, etc.
The bigger difficulty for the project team is the pressure from users, also the team of traders. The old process and way of working is manual, once you get used to it, it is very difficult to change. In the first stage, the operation system is not stable, there are errors that slow down the work progress.
"I choose to continue because I believe that these problems will be solved sooner or later. With AI technology, machine learning, after a while, when the volume of data increases, the accuracy also increases, errors will During that time, every time an error is reported, we immediately receive it and fix it as quickly as possible with the spirit of listening and co-ordination "- Mr. Tuan Anh recalled.
According to this expert, the most important thing that helps him to have many initiatives and effective solutions is his working style: Always "pain" with problems. "Seeing the problem as having to find a solution, and having done it, I must do it thoroughly, to the end with the highest thrift. My personal personality is a small part, and most of it is due to the influence of Viettel culture" – Mr. Tuan Anh shared.
Digital transformation results come from efforts
With a huge workload of 6 projects in 2 years, Mr. Tuan Anh admits he is a "workaholic": "There are only 12 months in a year. A month goes by very quickly, a year is like the blink of an eye. If we focus, do something to finish that job, then we can complete the work quickly and effectively. Of course, fast will have to come with more effort."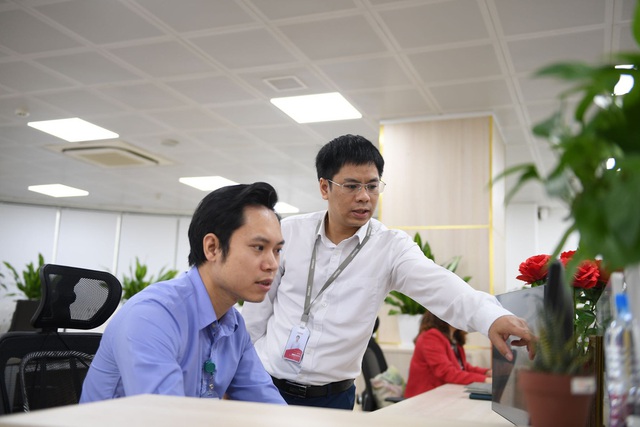 Photo Caption: "If I focus and do something completely then I can finish the job quickly and efficiently", Le Tuan Anh.
Among the 6 digitization projects, when applying the customer identification AI system, the store channel can cut the number of personnel to review records by 30%, shorten the transaction time 3 times (3 minutes). down to 1 minute), reducing the number of customer complaints by 3 times (from 20 complaints/month to 6 complaints/month) and at the same time helping to optimize costs up to 3 billion VND/month.
Winning the Sao Khue Award in 2021, the channel-assisted virtual assistant system (Sale AI Assistant) is also a solution proposed and implemented by Mr. Le Tuan Anh. Not "struggled" like the solution above, this solution is well received and highly appreciated for its simplicity, ease of use, helping sales staff to look up sales programs, product policies at any time. anytime and anywhere.
With the application of machine learning technology, natural language processing, the Virtual Assistant system helps to answer all questions of the salesperson in less than 1 minute, the correct rate is 98%. On average, the virtual assistant system supports the channel with nearly 10.3 million interactions each month, with 78,000 users.
The solutions started to be deployed in 2020 and so far have been applied on the entire sales distribution channel system of Viettel Telecom, optimizing the apparatus and saving tens of billions of dong in operating costs.
On the customer side, enhanced experience and satisfaction when the transaction waiting time is reduced by 1.5 – 3 times, the AI ​​Callbot system that prompts for automatic payment notifications also makes 94% of mobile customers postpaid. satisfied and especially, reducing the situation where customers are bothered by being consulted with the same content by many Viettel employees or consulted with content that does not match their needs.
https://soha.vn/so-hoa-ban-hang-bang-ai-o-viettel-giam-3-lan-thoi-gian-cho-cua-khach-hang-20220408142806594.htm
You are reading the article
Digitizing sales with AI at Viettel reduces customer waiting time by 3 times

at
Blogtuan.info
– Source:
cafebiz.vn
– Read the original article
here