Đời sống
Life Style
Hot girl Nam Phuong "forever plum", Pu Met Seven is different when on screen
18 contestants entered the recording round of KOC VIETNAM 2022 there were 9 girls. Every girl of season 1 attracts attention with her impressive ability and attractive appearance in her own way. On personal social networks, the girls are even more comfortable and confident. Let's take a look at the real-life and online KOC girls to see how interesting the difference is!
Hot girl Nguyen Bui Nam Phuong is beautiful "forever plum"
Nguyen Bui Nam Phuong (nickname Bong, SN 1999) is a real hot girl in real life when she was crowned the highest position at the Miss Teen 2017 contest. In the program, Nam Phuong's beauty was not overshadowed but also somewhat lovable. Opponent Call me Duy did not hesitate to give compliments to the hot girl: "You have the appearance of working in the Beauty industry and you are really beautiful, but you don't try to pretend that you are beautiful because you are already very beautiful."
Nam Phuong's exam in episode 1 KOC VIETNAM 22 (Source: KOC VIETNAM)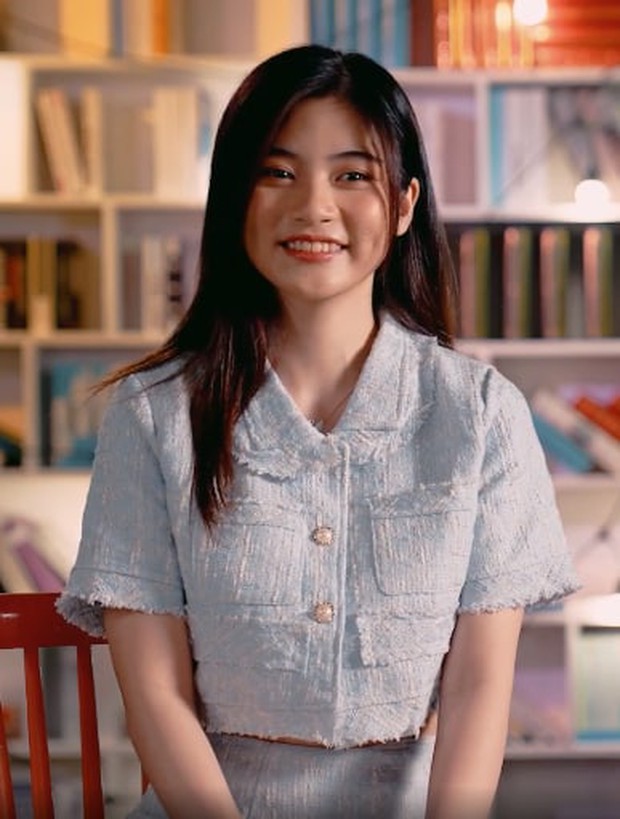 Nam Phuong on KOC VIETNAM is so cute
Pu Met Seven is mature on the air, it's really cool in real life
Pu Met Bay (real name: Pham Thi Phuong Thao, SN 1994) is one of the impressive elements at the show with her professional style at work. If appearing at KOC VIETNAM with a mature and senior attitude, in real life, Pu Met Bay has a bit more personality and coolness.
Pu Met Seven's exam in episode 1 KOC VIETNAM 22 (Source: KOC VIETNAM)
Beautiful, lovely Kieu Thanh
If in the show Kieu Thanh (SN 2000) appeared with a "cool" personality, in real life, she is extremely attractive with a lovely exterior and a milky face. Kieu Thanh's gentle and sweet style makes viewers have a lot of sympathy.
KOC VIETNAM's exam in volume 1 KOC VIETNAM 22 (Source: KOC VIETNAM)
Linh Sim is beautiful anytime, anywhere
Working as a TikToker specializing in beauty, Linh Sim (Luong Phuong Linh, SN 2001) impresses with her beautiful appearance and hair that changes color with the seasons. Joining the program, Linh Sim is no different, still very beautiful and attractive.
Linh Sim's exam in episode 1 KOC VIETNAM 22 (Source: KOC VIETNAM)
I'm Lucia is pretty for her age
In episode 1 of KOC VIETNAM 2022, I'm Lucia (real name: Ho Thi Quynh Mai, SN 2000) is attractive because the image is somewhat more mature than the dynamic look in real life. Maybe she's trying to bring a professional and well-rounded energy to the show!
I'm Lucia's exam in episode 1 KOC VIETNAM 22 (Source: KOC VIETNAM)
I'm Tieu Hy – the show's tomboy
Appearing in the program, Tui is Tieu Hy impresses when she always wears a mask and never shows herself. In real life, too, the tomboy girl always appears unique and personality.
Exam part of I Am Tieu Hy in episode 1 KOC VIETNAM 22 (Source: KOC VIETNAM)
Chau Muoi how old hack
Chau Muoi girl impresses with super-reviewed clips with a super-hacked look. Both when appearing on social networks and on television, no one expected this young girl to be an 8x citizen.
Chau Muoi's exam in episode 1 KOC VIETNAM 22 (Source: KOC VIETNAM)
Miss Em Love Model is full of personality
Just by hearing her name, I know that Co Em Me Mau (real name: Uyen Nguyen, SN: 2002) has a passion for modeling and must have long legs. On her personal page, Uyen Nguyen often appears with model-quality pictures with a super attractive personality.
Miss Em Me Mau's exam in episode 1 KOC VIETNAM 22 (Source: KOC VIETNAM)
Tu Nguyen is full of charm
Tu Nguyen is one of the two rare 8X faces of KOC VIETNAM, always associated with a mature and serious image. In contrast to the broadcast, in real life she is extremely attractive and attractive.
Tu Nguyen in serious show, super sexy in real life
Tu Nguyen's exam in episode 1 KOC VIETNAM 22 (Source: KOC VIETNAM)
KOC VIETNAM 2022 is invested and implemented by VCCorp and co-organizer Lazada Vietnam, officially released on Kenh14 and a multi-platform communication system, consulting and sponsored by Admicro, with ACCESSTRADE Vietnam as the The partner providing the official platform will be a professional playground, for KOC faces to learn, rub and develop. With the explosion of e-commerce platforms and huge demand from consumers, the professional, creative and thoughtful generation of KOC promises to become an indispensable part of every shopping decision of the world. young.
The KOC Camp competition round with 6 episodes full of challenges and engaging activities will officially be broadcast at 20:30 every Sunday from April 3, 2022 to May 8, 2022 on nearly 40 multi-platform media channels. The platform includes the Mega livestream system of VCCorp, the co-organizer of Lazada and many media partners such as famous community fanpages, the fanpage of Host Chau Bui, Judge Ky Duyen and other partners of the program. Choose your own favorite face to vote and find the best KOC with the program here!
Photo: Synthesis
https://kenh14.vn/nhan-sac-dan-gai-xinh-koc-vietnam-2022-hot-girl-nam-phuong-mai-man-pu-met-bay-khac-han-khi-len- picture-20220409220035042.chn
You are reading the article
Hot girl Nam Phuong "forever plum", Pu Met Seven is different when on screen

at
Blogtuan.info
– Source:
Kenh14.Vn
– Read the original article
here