Khỏe - Đẹp
Is it necessary to abort pregnancy when I miss taking Molnupiravir to know I am pregnant?
Molnupiravir is still a new drug, there are no conclusions to specifically evaluate the effect of the drug on pregnant women, but only based on studies in rats.
Many F0 missed taking the antiviral drug for Covid-19 treatment, Molnupiravir, only to find out that they were pregnant. At that time, they were very confused and worried about whether the drug would affect the fetus or not?
According to Assoc. Prof. Vu Thi Nhung – President of the Ho Chi Minh City Union of Obstetricians and Gynecologists, normally the SARS-CoV-2 virus wants to grow and multiply, it needs yeast to help duplicate the RNA chain (genetic material) of the virus.
At this time, the antiviral drug Molnupiravir can be mistakenly recognized by this enzyme and participate in the viral replication process, causing the virus's code to change. Thanks to that, the virus is no longer a Corona virus and it cannot reproduce anymore, so the virus will be eliminated.
However, Assoc. During the development of the implant in the early stages of pregnancy, it is feared that it may cause a genetic mutation and may be dangerous.
Some experiments on pregnant mice from 6 to 17 days showed that the offspring had eye and kidney defects, the formation of bone and cartilage were affected, and the growth retardation caused abnormalities of the cartilage.
The mouse fetus is also slow to develop and malnourished. When people see such unusual lesions in mice, they should be used with extreme caution when used in humans.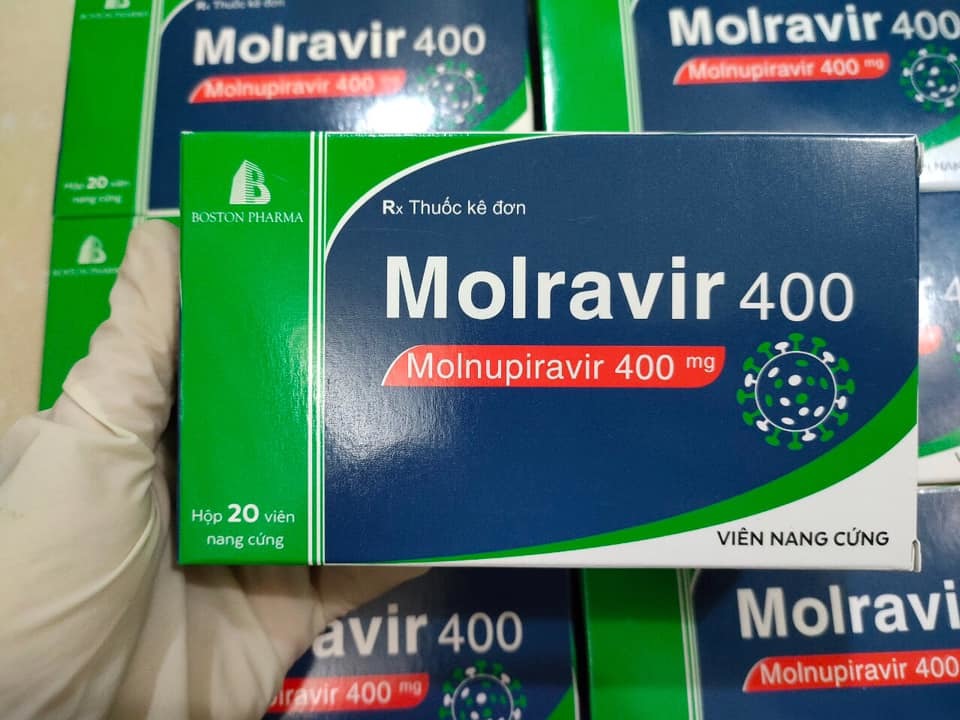 Illustrated photo.
Therefore, the Ministry of Health also issued a recommendation from the Food and Drug Administration – the US FDA also clearly stipulates who can use Molnupiravir and who cannot use it. Accordingly, people who are planning to become pregnant, children under 18 years of age, pregnant and lactating women cannot take the antiviral drug Molnupiravir.
In fact, Molnupiravir is also only used for people with mild symptoms to take care of at home, people with underlying medical conditions such as hypertension, diabetes, taking medication to prevent the disease from getting worse. But for seriously ill patients, Molnupiravir is no longer effective, so the patient has to go to the hospital for treatment. The Ministry of Health prescribes that the drug Molnupiravir requires a doctor's prescription to prevent this contraindication.
When patients take molnupiravir, the time to peak drug concentration when taking the drug is 1.5 – 3.5 hours. After 3.5 hours, the drug will be eliminated. The drug is used for 5 days, the drug is not cumulative, so for women who are counted in the time of taking the pill, they must apply effective contraception such as birth control pills, condoms, or not have sex during the period. this time.
Only 4 days after taking the last dose, no need to use birth control. The female oocyte does not grow like sperm, it often reproduces, so it is less affected when taking the antiviral drug Molnupiravir.
In men, the recommendations are stricter. The time from the development of immature sperm to mature sperm requires 70-90 days, so it is recommended that men after taking the pill must use effective contraception during this period.
When you take birth control, the batch of sperm exposed to molnupiravir is gone. Therefore, men are advised to take the last dose for 3 months before they can stop using birth control.
PGS Nhung recommends that people who are planning to become pregnant or are infertile do not take Molnupiravir. You should take common medicine for Covid-19 according to symptoms such as fever reducer, cough medicine to prevent complications.
When she took Molnupiravir and then discovered that she was pregnant, in this case, PGS Nhung said that up to now, the dose in rats was higher than that used for humans, but this drug is still very new, so far there have been no conclusive reports.
'Best, pregnant women should have regular antenatal check-ups, prenatal diagnosis to see if there are fetal abnormalities or not. Because the rate of fetal malformations in normal people still accounts for 2-3%, so if you take Molnupiravir, you still need to be monitored.
If you want to terminate a pregnancy, you need to go through the obstetric committee to consider and evaluate the termination of pregnancy. Termination of pregnancy only when the fetus has multiple malformations, defects that cannot be corrected when the fetus is born. Therefore, if you miss taking Molnupiravir, there is no need to rush to abort the pregnancy,' – Assoc.
Khanh Chi
You are reading the article
Is it necessary to abort pregnancy when I miss taking Molnupiravir to know I am pregnant?

at
Blogtuan.info
– Source:
infonet.vietnamnet.vn
– Read the original article
here