Business
The "sad" profit story behind Halico's bottles of Hanoi Vodka, Nep Moi, Lua Moi
Hanoi Wine and Beverage Joint Stock Company – HALICO, formerly known as Hanoi winery, was built by French wine company Fontaine in 1898, this is the largest of 5 factories built in the East region. Duong at that time.
After 120 years of establishment, construction and development, HALICO is today the largest and most prestigious wine production enterprise in Vietnam with famous wine brands that are loved by many domestic and international consumers.
In the period 2012 and earlier, Halico steadily made a profit of hundreds of billions per year, the Hanoi Vodka brand used to cover all restaurants and eateries, used to be a "legend" in the popular alcohol segment.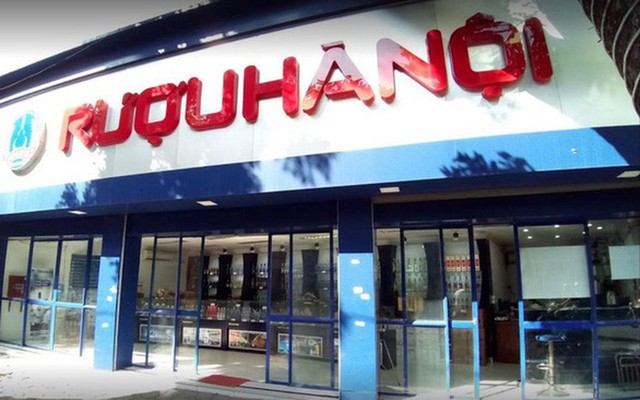 Source: Enterprise integration
Having a long history and owning a "timeless brand", it is owned by Diageo Group – the world's largest wine company and owner of many world-famous wine brands such as Johnnie Walker, Bailey, Smirnoff. … aggressively spent about 1,945 billion VND, equivalent to 90 million USD to hold 45% of the shares in the period 2011 – 2012, thinking that Halico would then soar high…
In 2013, Halico surprised people when business results dropped and from 2015 on, the company was officially in a loss… Loss so much that in the 2022 production and business plan, the profit level The company's profit is expected to be… negative 24.77 billion dong.
Up to now, if the 2022 plan is included, Halico will have 8 consecutive years of seeing negative profits.
Source: An Vu, compiled from the company's financial statements
In the company's revenue structure, alcohol is the main product, accounting for 88.8% of sales (exclusive of SCT). For alcohol, cost of goods accounts for more than 60% of revenue, which means that for every 100 VND of wine sold, production costs account for 60 VND.
If to compare with enterprises in the beer industry such as the big Sabeco (Saigon Beer – Alcohol Corporation) or Habeco (Hanoi Beer – Alcohol Corporation – NGK)… the ratio of cost/revenue is always constant. At over 70%, Halico's production costs are lower.
However, due to the fact that sales volume did not reach the break-even point, Halico's gross profit was not enough to cover selling and administrative expenses, resulting in a negative overall profit of the company.
The inevitable consequence of the inefficient business for many years is that the accumulated loss on the financial statements on December 31, 2021 amounted to more than 470 billion VND, "eroding" more than half of the equity including the contributed capital of the company. owner of 200 billion dong and development investment fund more than 613 billion dong.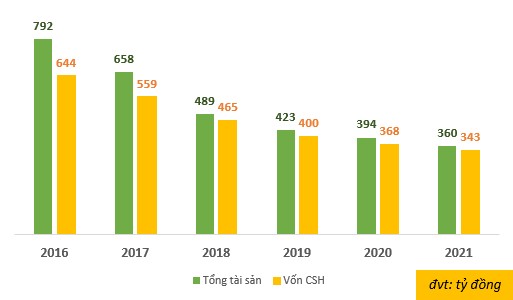 Total assets and equity of Halico from 2016 to present – Source: An Vu compiled from the company's audited financial statements
Reasons explained by the Company for the loss
Group of objective causes: The tastes and requirements of consumers for food in general and alcohol in particular are increasingly strict in terms of product quality, image and packaging design; Fierce competition from other liquor companies, especially unfair competition from tax evasion, counterfeiting and imitation of private establishments; Objective difficulties due to the Covid situation.
In addition, there are subjective reasons from within the company such as: production demand is lower than production capacity, leading to failure to reduce costs; the previous ineffective sales programs and systems have not been completely resolved; wage costs remained unchanged while production capacity decreased; has not yet exploited its strengths in cooperation with partners Diageo.
Despite the loss in business results for many years, in terms of capital structure, Halico is still mainly doing business with equity, accounting for 95% of total capital.
The company does not borrow from the bank, on the contrary, it also has deposits. The balance of term deposits increased from VND 89.5 billion at the end of 2020 to VND 109 billion at the end of 2021.
Regarding shareholder structure, as of December 31, 2021, Habeco is still the largest shareholder with 10,858,041 shares, accounting for more than 54%. The second shareholder is Streetcar Investment Holding Pte Ltd ("Streetcar"), Streetcar is a member of the Diageo Group, a global leader in premium beverages with alcoholic beverage brands including spirits, Beer and wine sold in more than 180 countries

Excerpt from Halico's Annual Report 2021
https://cafebiz.vn/cau-chuyen-loi-nhuan-buon-sau-nhung-chai-vodka-ha-noi-nep-moi-lua-moi-cua-halico-20220408133228527.chn
You are reading the article
The "sad" profit story behind Halico's bottles of Hanoi Vodka, Nep Moi, Lua Moi

at
Blogtuan.info
– Source:
cafebiz.vn
– Read the original article
here