Play the role of "crazy girl"
Nearly a week after a terrible fire broke out in the mini apartment complex at No. 4, Lane 60, Phu Do Street, Group 4, Phu Do Ward, Nam Tu Liem District, Hanoi, people here still mention the work with bewilderment, pity.
The victims of the fire were all very young. In which, the death victim is Mai A. – a beautiful girl who graduated from university, has a stable job, is pregnant, and is about to get married.
Authorities examine the scene of the fire in Phu Do
Among the 4 injured victims, there is a young man with deep burns, a poor prognosis, and a 2-year-old boy. The boy's mother and brother are the other two victims.
The big fire also burned 9 motorbikes of the residents here, many motorbikes in the yard, and badly damaged furniture in the house. The row of motels was covered with black smoke, closed silently after the day of the incident.
Those innocent victims were completely unfamiliar with and conflicted with Tran Thi Thanh Hai (SN 1999, permanent residence in Dung hamlet, Minh Thuan commune, Vu Ban district, Nam Dinh province – currently residing at 614 St. Lac Long Quan, Nhat Tan Ward, Tay Ho District, Hanoi).
Mr. Chuu Viet Hoang himself (SN 1994, residing in Na Lung village, Thuong Lam commune, Lam Binh district, Tuyen Quang province) – Hai's boyfriend did not have time to know the victims' faces.
During a meeting with an investigator at the Nam Tu Liem District Police headquarters on April 1, Mr. Hoang confided in a reporter of Traffic Newspaper that he was heartbroken when he witnessed with his own eyes the consequences of the fire caused by his girlfriend. .
Hoang said, about 2 years ago, he worked as a delivery shipper for Hai and the two got to know each other and developed feelings for a man and a woman.
Hai told Mr. Hoang himself that he is a worker of a company in Hanoi and has not had a lover. The two have been really happy for quite some time.
However, about a year ago, Mr. Hoang discovered that his girlfriend was very angry, jealous for no reason, causing the two to quarrel often.
Every time he was angry with each other, Hai often texted Hoang's mother with words of reproach. That made Hoang's family feel troublesome and forbade this love story.
Around January 2022, Hai announced that she was pregnant, surprising Mr. Hoang because both had planned to have a baby yet. Moreover, Mr. Hoang himself has never known Hai's family or met any of his relatives.
Also from here, Hai's personality became more and more hot-tempered, or irritable, once burning a computer, breaking a computer at his boarding house. To avoid his girlfriend, he moved to stay in the same room as his cousin in lane 60, Phu Do street.
Because of this, Hai held a grudge against Hoang's cousin. On the evening of March 31, Hai brought gasoline to the motel row, poured it on Hoang's cousin's motorbike and burned it, then calmly took the motorbike and left. Hai was arrested soon after.
Worth mentioning, despite knowing that Hai caused a fire that caused many casualties, but on the morning of April 1, at the police station, when he saw Hai showing a breakdown and low blood sugar, Mr. Hoang still took care of him. inquire.
The poor man stood awkwardly squeezing shoulders, holding hands and encouraging his girlfriend. Because in his eyes, Hai is still pitiful, "acting foolishly and impulsively just because he loves himself too much". "I no longer love her, but I love her," Hoang said.
Meanwhile, according to PV's observation, even at the meeting with the police agency, although he was tired and had to be accompanied by someone to help him, Hai's eyes sometimes turned very quickly. But every time he saw the investigator or Mr. Hoang approaching, Hai fell from his seat, looking very depressed (?!)
An investigator said, when brought to the police station, Hai denied everything. Although the camera gave a fairly clear image, the investigators had to persevere through the night. The next morning, Hai made a request to drink a cup of milk tea before he confessed.
However, Hai's initial testimony was still just a lie. Hai still says that he is a worker, loves Mr. Hoang passionately and "acts impulsively because of love".
Surprise real identity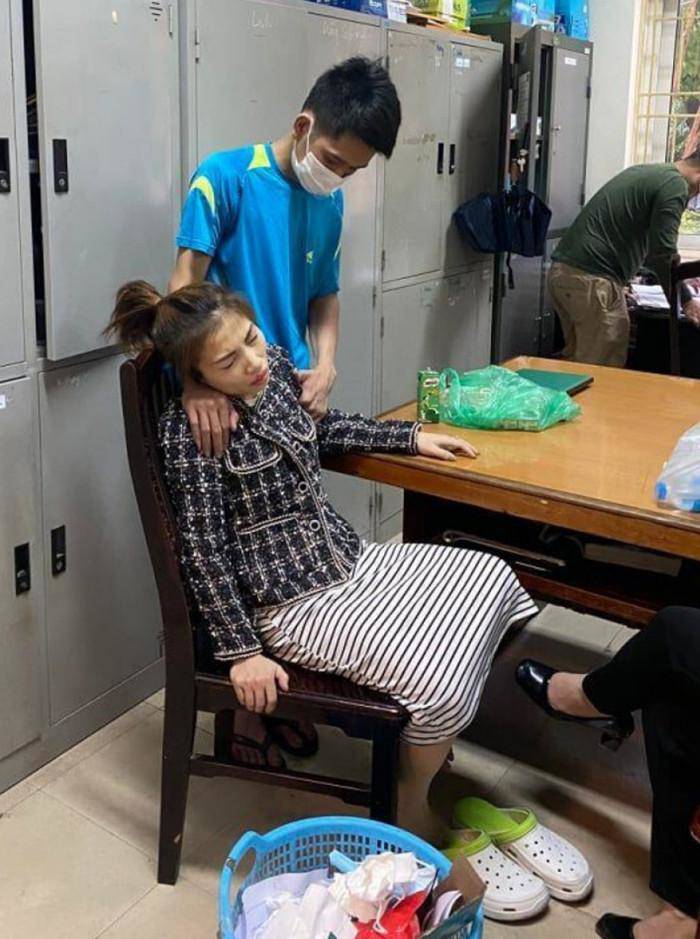 Hoang still takes care of his girlfriend, not knowing that this is a married woman with children
When executing an emergency search warrant at Hai's residence at 614 Lac Long Quan Street, investigators were surprised to find this woman's husband and children living here.
Unlike the testimony at the police station and the information Hai shared with Mr. Hoang, Hai is not a female worker of a company but a restaurant employee of a famous buffet system in Hanoi.
According to Hai's husband, both are from Nam Dinh and rent a motel in Hanoi. In a room less than 20 square meters in size, their lives are as normal as other happy families.
Working in the same restaurant, however, with Hai's mischievousness, the husband did not notice anything strange from his wife, much less knew that she was "coupled" with Mr. Hoang. Hai's husband, as well as Mr. Hoang, were surprised by the love play that Hai had performed for so long.
Senior Colonel Vu Van Phuc, Deputy Chief of Nam Tu Liem District Police, said that up to now, the Investigation Agency has decided to prosecute the cases of "Murder" and "Destruction of property" to investigate the case.
Lawyer Dang Van Cuong, Head of the Chinh Phap Law Office (Hanoi Bar Association), analyzed that with the fact that the authorities had prosecuted the "Murder" case, Tran Thi Thanh Hai could be prosecuted. duty Criminal with a minimum penalty of 7 years in prison.
Even with the aggravating circumstances of the act being carried out by a method capable of causing many deaths, Hai may also face the heaviest fine of up to 20 years, life in prison or the death penalty.
For the crime of Destruction or intentional damage to property, the lowest penalty bracket is a fine of between VND 10 and 50 million, a non-custodial reform for up to 3 years or a prison term of between 6 months and 3 years, and the maximum is a fine of up to 3 years. 20 years in prison.
You are reading the article
Uncovering the "crazy girl" who set fire to kill people in Phu Do

at
Blogtuan.info
– Source:
Eva.vn
– Read the original article
here