Strict blockade order is enforced in China During the outbreak of the Covid-19 epidemic, many people realized the fact that food security is not guaranteed.
But a group of people in China have an easier way to adapt and overcome the blockade situation when turning their balcony into a garden full of fresh fruits and vegetables. Their goal is to achieve "fruit and vegetable freedom" while improving their mental health. These gardens are likened to a "garden of paradise" full of fragrant flowers and sweet fruits.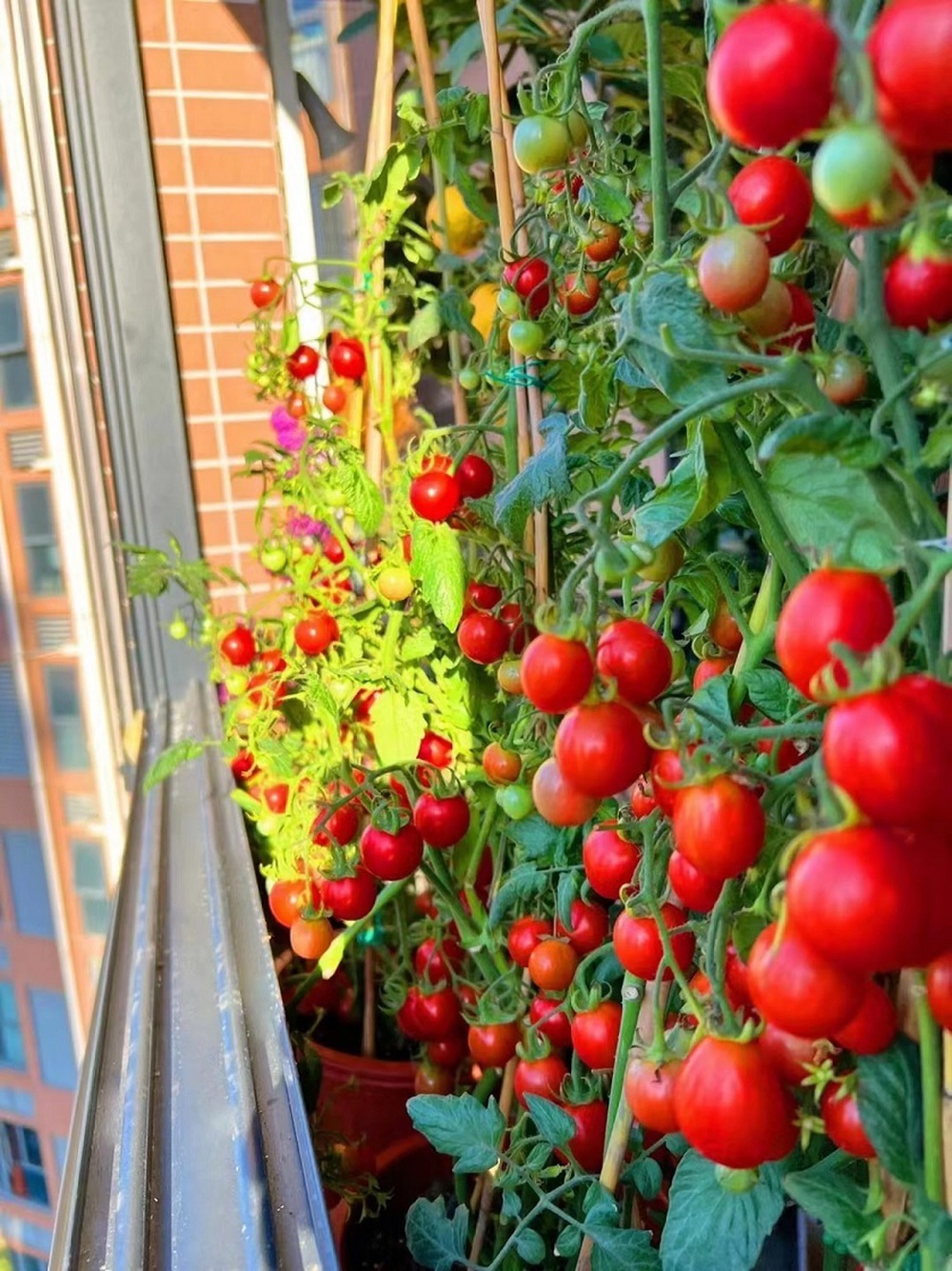 "Garden of Eden" right on the balcony of Ms. Zhong's house. (Photo: Zhong Liu)
Ms. Shi's journey to turn her balcony into a vegetable garden started in 2019. At that time, Ms. Shi just dropped tomato seeds from fresh tomatoes into a pot without thinking much. But then, the seed germinates and develops into a seedling. At this point, Ms. Shi couldn't help but be surprised and started researching how to grow trees. Ms. Shi Huanglei (39 years old), a medical worker in Shanghai who lives with her husband and 11-year-old daughter, said the garden The family helped the whole family eat a variety of nutritious foods such as tomatoes, lettuce and strawberries. In addition, Ms. Shi also grows coriander and basil to spice up her favorite dishes.
Her daughter Wenwen also helps Ms. Shi grow vegetables by learning tips and advice from experts or knowledge from books.
"Previously, my daughter didn't know anything about growing vegetables, but now she can write an essay to submit to the school about her experience of growing vegetables," said Ms. Shi proudly.
When the city of Shanghai faced a wave of Covid-19 spreading rapidly due to the Omicron mutation raging, Ms. Shi was recruited into the frontline anti-epidemic force and worked more than 10 hours a day from March 28.
Despite the busy schedule, Ms. Shi still spends some time taking care of the vegetable garden on her balcony. According to her, this is an important time to help her balance psychologically amid a strong outbreak of the disease.
"Watching the trees grow makes my soul calm and peaceful. Although these vegetables are not enough for the whole family, they give me some peace of mind about the source of vegetables," Ms. Shi said.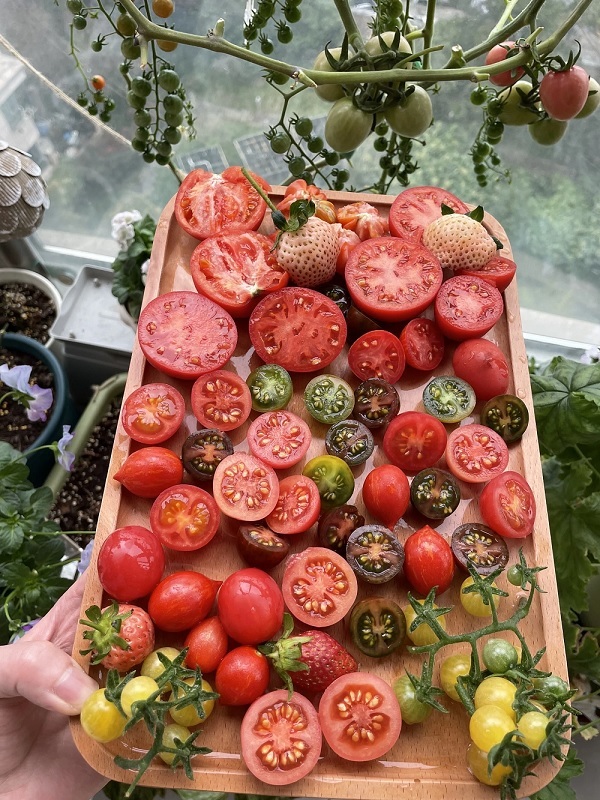 Fresh fruit in the home garden. (Photo: Shi Huanglei)
In the city of Shenzhen, Ms. Zhong Liu (32 years old) taking care of the garden on a 5.9 m2 balcony with her own hands agrees with Ms. Shi's opinion.
At the time of the lockdown in Shenzhen on March 14, Ms. Zhong hurriedly checked the ordering apps and discovered that all the green vegetables had been sold out. But unlike many people, Ms. Zhong did not rush into the street and rummage around the city to stock up on food.
"Going to the street to buy vegetables is only formal for me in the midst of the city blockade. I no longer have to worry about lack of vegetables, because my balcony is full of edible vegetables," said Ms. Zhong.
It is known that the balcony area of ​​Ms. Zhong's house now has a lot of fruit trees and green vegetables such as peaches, plums, passion flowers and grapes.
Ms. Zhong started growing vegetables on the balcony in time for the 2020 Lunar New Year, when the Covid-19 epidemic first appeared in Wuhan city in China's Hubei province.
"My apartment block was locked down because some people escaped from Wuhan to Shenzhen and were found to have Covid-19," Ms. Zhong recalled.
At that time, Ms. Zhong's primary concern was the lack of green vegetables. To avoid falling into the lack of vegetables and the boredom of being indoors during the blockade, Ms. Zhong started growing vegetables on her balcony, initially with spinach and onions bought from the market.
"I realized that growing vegetables is really useful and very easy. Growing my own vegetables makes me feel safe," said Ms. Zhong, who has planted more flowers in the past half year to help make the garden more lively.
Like most gardeners, Ms. Zhong has had to learn many painful lessons when it comes to dealing with diseases and pests.
When moving into a new apartment in March 2021, Ms. Zhong installed a glass door system to prevent insects from attacking the vegetable garden on the balcony. She also buys organic fertilizers to increase the nutrition of the soil.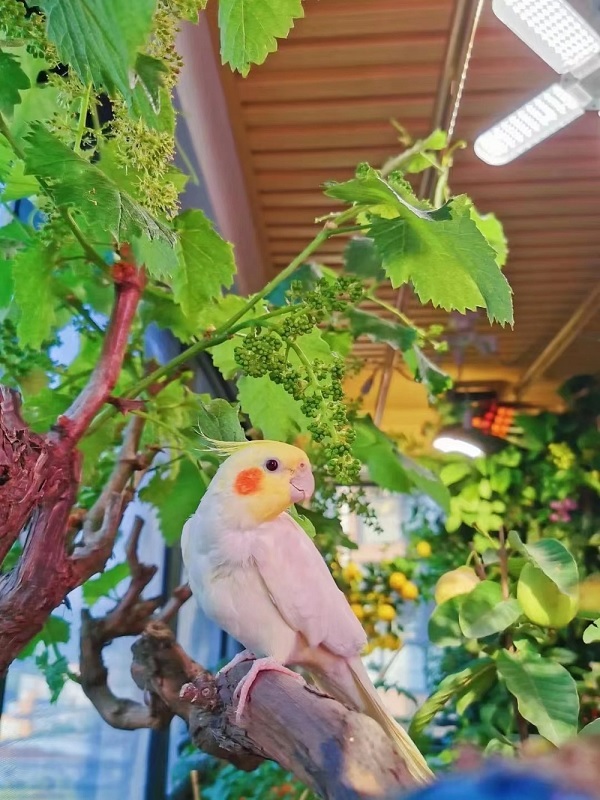 The garden has fruit trees, green vegetables, flowers and birds. (Photo: Zhong Liu)
More sophisticated, her husband Zhong installed 4 lighting systems that work 9 hours a day to compensate for the lack of sunlight for plants on the north balcony. He also created "a symbiotic system between the aquarium and the vegetable garden". In other words, water will be automatically circulated from the fish tank to irrigate the vegetable garden.
"We do not need to fertilize the plants, because the fish waste and leftover food left in the aquarium water will provide nutrients for the plants. Meanwhile, the fish tank needs to be changed with clean water every day to ensure an abundant oxygen source for the fish," Ms. Zhong explained.
Having lived with her grandmother in a small village since she was a child, Ms. Zhong says the taste of home-grown vegetables helps her recall her childhood days.
Like Ms. Shi, Ms. Zhong admits that balcony gardens are extremely valuable because they help her relieve stress, reduce anxiety and enjoy gardening.
"In the summer, I can take a chair out on the balcony and take a nap. It feels great to enjoy the breeze blowing from the garden's window. The first thing I look at when I wake up is my beautiful balcony," Ms. Zhong said.
You are reading the article
'Garden of Eden' in the middle of the blockade in China

at
Blogtuan.info
– Source:
Soha.vn
– Read the original article
here