Giải trí
How young people overcome pressure in life-Youth
The busy life cycle makes many young people face a lot of pressure, sometimes they seem to be unable to balance… What to do when stuck in life? Many young people have shared "secrets" for them to overcome pressure.
Young people face many worries (Artwork)
Bich Loan, a second-year student at Hanoi College of Medicine and Pharmacy, said that you often fall into a state of prolonged stress when you are under pressure to study before and during exams. Every time she comes to an important exam at school, Loan herself is extremely tired when she has to stay up all night to study. Loan's major is Pharmacy, so the amount of knowledge is very large. There were many nights when the little girl tried to stay up all night to memorize the ingredients list and then rush to school to be on time for the morning shift.
"I always put a lot of emphasis on studying and expect high grades, so I always stress myself to complete everything well. My time is mainly spent studying but neglecting other activities. Gradually, I lost my score. Weight loss, loss of appetite and sometimes don't want to do anything," Loan said.
When receiving feedback from friends about Loan's hot temper and self-contained life… The girl looked back and saw that she had made negative changes. After going online to research and consult a doctor, she realized that she was stressed.
Loan gradually practiced with taking time for herself to rest and clean up unnamed invisible worries. She began to discover more of her new hobbies such as baking and photography,… "It's really fun to discover new hobbies for yourself. That will make me feel good about myself. Moreover, in the process of pursuing a hobby, the body will release a hormone called Endorphin, which helps to relieve stress in studying and significantly reduce negative thoughts that should not be," Loan shared.
Learn to calm down and think about the future
Tran Quang Hung, a student at Thach Ban High School (Long Bien), said that when he was preparing for the 10th grade exam, he was also very stressed, under the pressure of the exam, along with the continuous study at school and the At the urging of his parents, sometimes Hung thought he wanted to give up everything, go somewhere to hide from everything that surrounded him.
"At that time, I was pressured, angry, quarreled with my parents, even ran away from home, making the whole family worried… later on, my parents were softer, no longer forced to study, my mood I feel more comfortable and feel responsible to learn.
Now that I think back to that time, I see, when I am stuck, I should take time to calm down, take a moment to think, think about a beautiful future that is still waiting for me ahead. In stressful times, in addition to wandering, I often listen to Podcasts of inspirational characters. When I hear these things, I realize that, it turns out that I am still luckier and happier than many people in society, so there is no reason for me to be depressed and step into the darkness of destruction. more extreme".
Nguyen Hang Nga, a primary school teacher in Hanoi, confided that young people have many good things, many breakthroughs, but also countless unnamed pressures, overcoming it is not easy. However, when we calm down, see everything thoroughly, evaluate it carefully and solve it slowly, all the knots will be untied.
"When you feel pressured and too difficult, don't try to do anything, don't make yourself more negative. Take a nap to calm your mind. I remember somewhere saying: "Calm is the cradle of strength"; "Mind is like water. When it's chaotic, it's hard to see through everything. When the mind is calm, everything becomes clear." Therefore, when you are calm, you will definitely have more positive thoughts and ways of life, try to do more useful things for the community, or at least live responsibly with yourself and your loved ones. ", said Ms. Nga.
Take time to improve yourself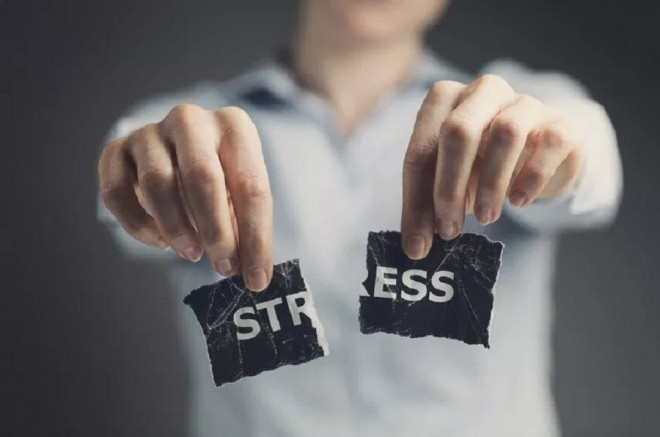 Overcome pressure by taking time to think, change yourself (Artwork)
Having faced many pressures in work and study, Vu Duc, a student at Hanoi National University, said that in the new era of 4.0 like today, adults and young people all face countless challenges. difficulties and pressures in life. So, what to do to get through the tough times?
"I think first of all, when pressure comes to us, we should not compare ourselves with other friends, because each person has their own difficulties, advantages and disadvantages. You should just compare yourself today with yesterday to see what you have developed? What should try to overcome is the best?
Just look at the difficulties and failures in life as challenges for you to learn lessons for the future. For example, when you get a bad grade on an exam, don't pass the exam, have a heartbreak, etc., when facing such difficulties, calmly take the time to review everything to see what you are lacking in order to improve yourself." Germany shared.
You are reading the article
How young people overcome pressure in life-Youth

at
Blogtuan.info
– Source:
24h.com.vn
– Read the original article
here