If you feel that your current life is too dry and boring, then consider the meaning in the animated movie "Ethel & Ernest", see how these two people can actively live in a mediocre life. this.
The film is adapted from the work of novelist Raymond Briggs. He saved the life of his parents in cartoon drawings so that it would live with him forever.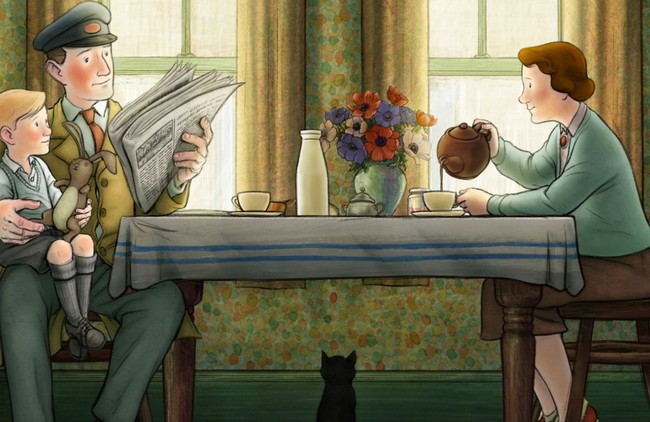 1. From failing to having a family
The mother Ethel was originally just a maid in an upper-class family. Every day she cleans the windows, she greets a young man on a bicycle, who is also Ernest's father. At this time, Ernest was just a milk delivery worker, every day he passed by and gave Ethel a bright smile.
Dated to see a movie, launched a family, and then both got married.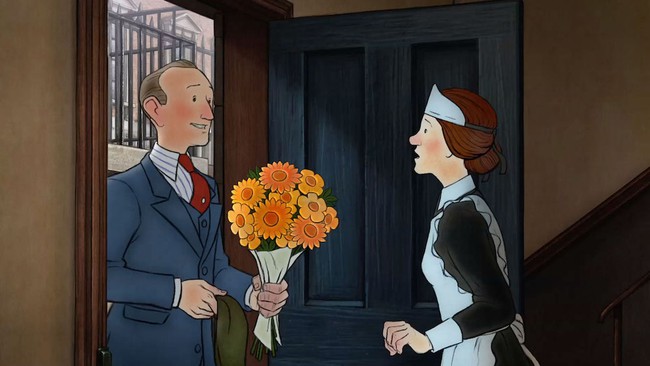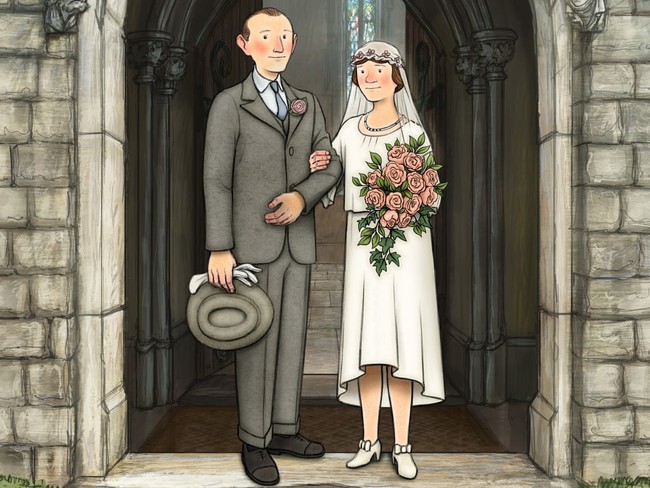 Ethel quit her job as a maid, Ernest borrowed money to buy a new house. The couple started their married life like heaven.
There is nothing in the house, even the stove is old. But they are still very happy, even planning a separate room for their children in the future.
Ernest is a very optimistic person, uses the most positive attitude to welcome each day and is satisfied with the milk delivery job he is doing. He remodeled the old things in the house, using the least amount of money to buy the best things. And then, the house is gradually full.
Ethel is responsible for housework such as washing clothes, cooking rice,…
The couple lived happily together, although not very well off, but still happy enough to get through the day.
2. Finding common ground in differences, moving forward together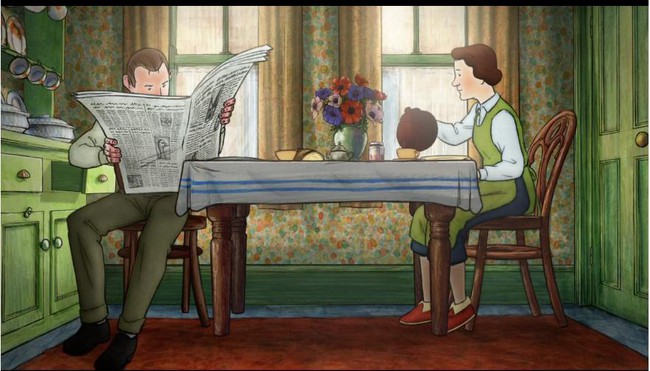 Ernest and Ethel both understand that happiness is to live with the most positive attitude.
Ethel likes to complain, sometimes a little bit difficult, but all are tolerated by Ernest and always give a warm hug when his wife is sad.
The two have been married for two years but have no children. Ethel was very sad, but Ernest remained calm and understanding for his wife's feelings.
God did not disappoint, Ethel finally became pregnant. The day his son was born, Ernest was busy delivering milk outside.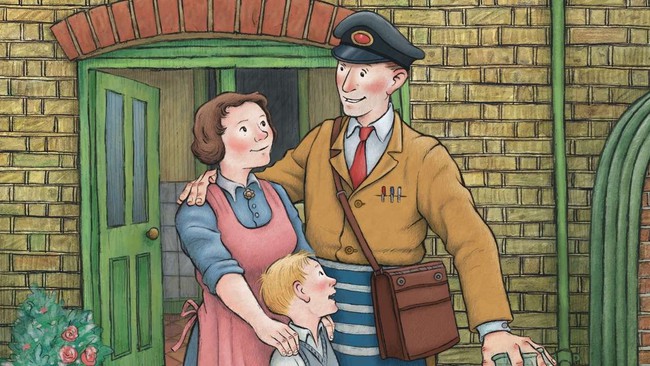 From start to finish, what Ernest cared most about was Ethel's health, not wanting his wife to give birth because he was worried she would be in danger.
The couple are different in many ways. Ernest likes to talk about politics, Ethel is busy with housework, but she always listens to her husband because she knows he is immersed in the world he loves.
Ethel felt that the firewood in the house was very messy, so Ernest built a small wood store in the garden.
When the war comes, one is a lifeguard, the other is a clerical worker, together resiliently through the chaotic period.
3. Parents are the best teachers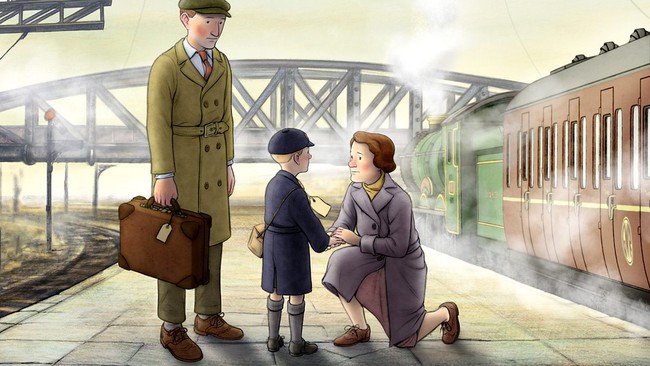 Regarding the upbringing of their children, whether it is in the fire of war or life after chaos, the two did not let their son Raymond feel that this life is too difficult, but full of light of hope. They used the most optimistic attitude to raise their children to grow up in a healthy way.
Once Raymond was caught stealing by the police, Ethel was very upset, but she said it directly in front of the neighbour. Of course, little Raymond was very sorry. But Ethel's way of doing things is like a word of encouragement and protection for his son, helping Raymond grow up and become an upright guy.
Raymond pursues art. The couple feels extremely worried because they think that the artist is too dreamy, can't make money, only knows how to have long hair and indulge in alcohol. But Raymond still followed the call of his heart.
Raymond matured, the two also aged, it was time to send the child away to pursue his dream. When he returned, Raymond brought another daughter he loved. Right! Raymond wants to get married, the couple is really old now.
Raymond's wife is mentally ill and cannot bear children. Ethel is very sad but has to accept this reality.
4. Accompanying aging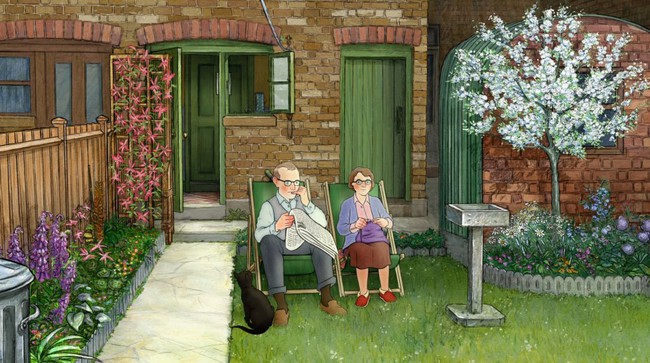 Ernest and Ethel accompanies each other on every path. When they were old, they both sunbathing in the garden, Ethel knitting, Ernest read the newspaper, and next to him was a cat. Ernest still liked to talk about politics, Ethel was still curious to ask her husband to explain.
Sometimes, the two of them sat on the porch chair, looking at the world in front of their eyes, asking each other if they remembered the places they had gone, what they had done.
Parents get old, but the memories of youth are still in the memory.
Ethel, suffering from senile amnesia, sat on his hospital bed not remembering his companion Ernest, sometimes even surreptitiously asking his son Raymond who the old man was.
Ethel left, Ernest lived quietly alone, no longer his wife sitting next to him watching TV, only the cat was still lying there.
Before long, Ernest also closed his eyes. He went to find his beloved wife.
5. Fresh bouquet of optimism
"Ethel & Ernest" also has a very touching detail. There is always a bouquet of fresh flowers in the couple's house. That is a testament to their optimistic life.
Birth, old age, sickness and death, wars and turmoil, or life's obstacles are constantly rushing, but how precious it is to have someone to accompany you on this journey to the end!
(Source: Zhihu)
https://afamily.vn/su-lac-quan-chinh-la-than-duoc-chua-anh-tam-hon-hay-chiem-nghiem-cau-chuyen-ve-chang-Giao-sua-va- co-hau-gai-nay-se-hieu-ngay-20220409222611858.chn
You are reading the article
Is life worth it or is a happy marriage?

at
Blogtuan.info
– Source:
Afamily.vn
– Read the original article
here