Life Style
Never had to apply for a job but also save money to "coward", how to manage finances to travel everywhere without fear of unemployment?
The story of working online has become so familiar. Things that used to be dreamed of by many young people but were difficult to do, such as traveling around the world and still making money, have now become easier.
This is also how the girl born in 1997, Nguyen Thi Hoang Dieu, started her dream journey, both working online and traveling. Currently, she is doing marketing and writing content for the website. Besides, Dieu also teaches Vietnamese to foreigners, translates documents and books, and has his own YouTube channel "Dieu Nguyen".
Contacted Dieu while she was still stopping in Thailand, but when she received the answer, she was moving to… England. "I'm writing these lines right at the international airport Suvarnabhumi In Bangkok, I fly to England in 1 hour. I found a cheap flight ticket of 200$ from Thailand to London. My friend who used to be a Vietnamese student told me to come and stay, so let's go."
Let's find out how she found a job, prepared financially so that she could work online and travel at the same time.
Why did Dieu decide to both travel and work online? What is the reason Dieu chooses Thailand as his destination?
My boss is also such a traveler (travelling full time). He once told me that there are lucky people born with a reason to live and dedicate themselves to work. But in general a happy life is a balance of many factors. And work is a means for me to find that balance. Just write down all the things you like, don't like, want to do or are important to you, then choose a job that suits your abilities and can satisfy the most factors there.
I've always had a dream to explore the world, learn languages ​​and be exposed to different cultural sources. Moreover, I really enjoy playing sports, feeling that these are the things that make me happiest in life up to now. And the way to do all of this is to work online.
I choose Thailand because in the epidemic situation, this is one of the countries near Vietnam that opens the earliest, the procedure is easiest, the cost of living is similar to Saigon, I have many friends here. Therefore, it is a not too reckless choice for the first time traveling alone with your current budget.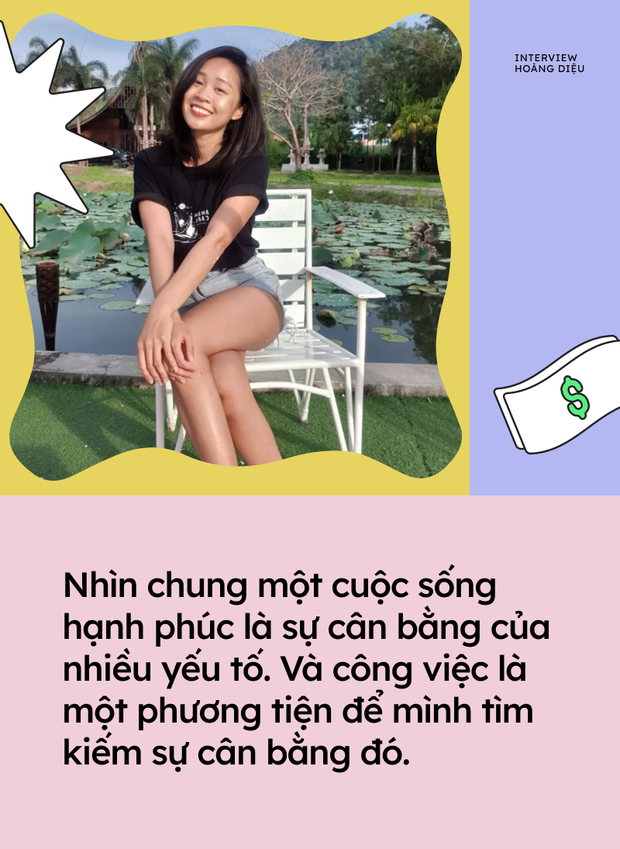 When deciding to work online and travel, did Dieu prepare a budget in advance? What is the method Dieu chooses to budget for?
Of course there is, there's nothing you can't do with money (laughs). Right from 4 years before I started thinking about my dream, I lived very frugally. Fortunately, I have a decent amount of savings so that I can always be at ease no matter what, I can afford to catch a plane back to my parents (laughs).
I seriously researched about manage personal finance. People usually recommend 50% for necessities, 30% for personal expenses, 20% for financial goals (investment, savings or debt repayment). This plan was good but not suitable for me at that time, at that time I had a big dream so I needed to save a lot.
I use an app to track my income and expenses. Besides, I set a spending limit for myself that is about 30% from 7-10 million/month. Mainly housing and food. I work online, stay at home all day, so the living space is very important to me, and I mainly cook by myself. So I also accumulated a large amount of money. The rest, no matter how much or how little, I put into savings.
Did your parents stop you when Dieu chose to work online while traveling? And how does Dieu prove himself independent enough, especially financially?
I started working at the age of 20. After graduating from school, I did not apply for a job at the company but continued to do my previous job and work online, combined with playing and teaching sports. This "combo" must be said to go against parents' expectations for their daughter completely.
There was a time when my mother and I had a hard time talking to each other. What I feel is good, my mother thinks is not good. And what my mother thinks I should do, I don't like to do. But then I realized that no one was wrong, just my parents and I were born and raised in two different eras, so I had a different way of thinking.
Every parent wants their child to be good and happy, as long as they are confident, stable and happy with their choice. Parents who see it will gradually accept. Now my parents are completely supportive of my work and travel plans, and even expect me to make a video to see where I can go and what to do.
I have shared the situation, as well as the financial plans I have made for a long time, so that my parents understand that I am fully prepared and ready. think about the future.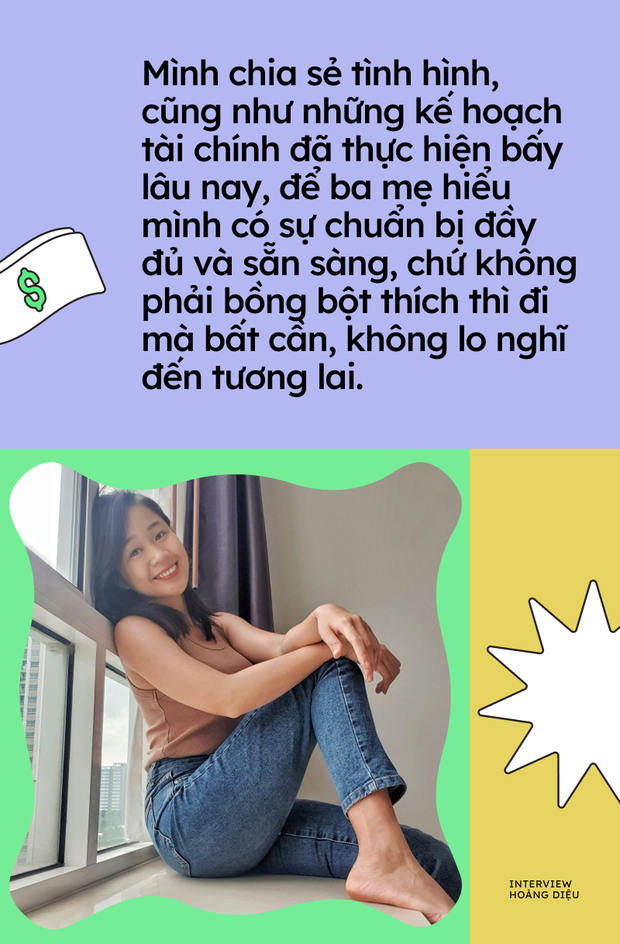 It can be seen that Dieu's income sources are quite diverse. How did Dieu manage and find jobs?
One thing I must emphasize is to invest in skills. All the jobs I've done have come to me, but I haven't actually applied for a job, except for the first time I worked as a teaching assistant at an English center since university. After working at the center, I got to know a lot of foreigners, and I volunteered to help them learn Vietnamese. So my friends asked me to be a teacher, and I started teaching Vietnamese from there.
– Teaching sports: At first, I only signed up to go out, it cost a lot of money at that time, I planned to go rowing Sup once (in the 3rd year of university). But the coach at that time saw "this baby is fine", so I know I like to play without money, so I told you to go help and play for free. After that, the teacher decided to let me teach Sup rowing and surfing classes. So from time to time there are classes to go out and earn a little extra money on the weekend.
– I joined the Toastmaster club – Presented in English, it's been 6 years. There, I learned and practiced my presentation skills a lot. Then there was Lan Anh – CEO of EIY presentation school, and asked me to teach presentations.
– My current Marketing job also thanks to me joining Toastmaster, meeting my Danish boss. After 1 hour of conversation, I thought he was an SEO expert, and there was a whole team working online in this area. My English is good and he feels he can do it, so he suggested that I quit some of my current jobs to work full-time for him. I agreed right away, started learning and doing SEO.
– As for the book translation job, I started learning Spanish and my language exchange friend is Uncle Tim Keeley. Currently, I am writing my memoir and translating it myself into Vietnamese. At first, you sent me to try chapter 1, I stayed up until 3 am to edit it for you. What you see "This kid has the heart to do it" So you suggest me to translate the whole book.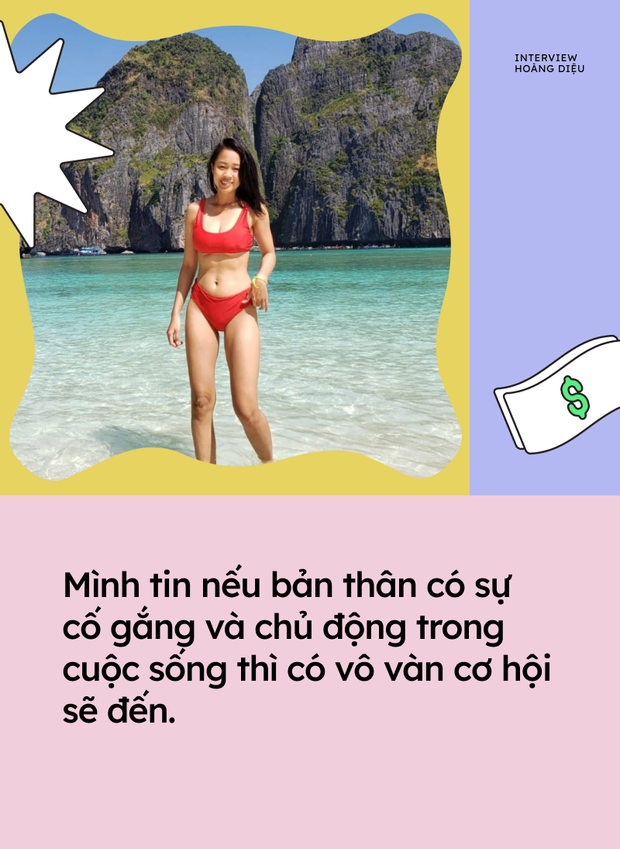 To summarize how I find so many job opportunities, there are 2 things. One is to constantly explore and learn what you like, thereby accumulating many skills and expertise. When you're good and people see it, the work will come on its own.
Second, expand and diversify your relationships. All the people who have asked me to work with come from friends that I know through participating in group activities, clubs, playing sports.
I believe that if I try and take the initiative in life, there will be countless opportunities.
After your experience, do you have any financial advice for those of you who also want to follow this path of online work and travel?
Looks like I have many sources of income, but in reality all of them are in the form of freelance. That is, when you finish receiving money, not a month-by-year contract, or guaranteed insurance benefits, …
Freedom is synonymous with self-careIncome is sometimes less and sometimes more. In the first stage, I was always in a state of fear and confusion, if my students quit, or my boss didn't hire me anymore, or I got sick or something, then I knew what to do, where the money was.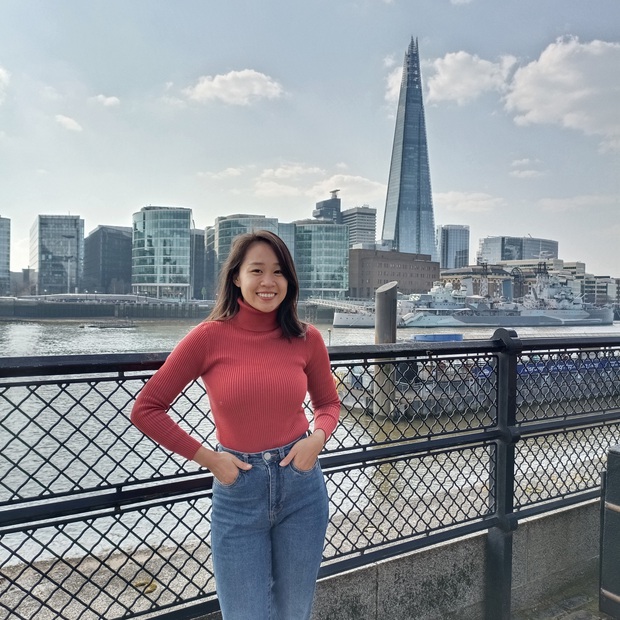 Therefore, although sometimes I earn a lot, but because I am afraid of running out of money, I live so frugally that my sister scolds me. "If you earn money, then spend it, buy clothes and clothes, look at you, you want to hate". Sometimes, there are months of very low income, I'm sad like a sadness, it's my sister who scolds me "More months make up for less months, on average, your income is also very good."
That was the period when I was 22-23 years old. Now it's much better. Because of the bottom line, I believe that with what I've learned, and the experience I've had, even though I lose all my current jobs, I'm still confident I can find other job opportunities and I will do not fall into the tragedy of no money, no money, no shelter.
If that's the case, then there's nothing to fear, just come. When I was young, I didn't ask for money or even love, I just wanted to have lots of experiences and unforgettable memories.
Thank you for sharing.
https://kenh14.vn/doi-freelance-cua-gai-xinh-chua-bao-gio-phai-xin-viec-nhung-cung-tiet-kiem-den-hen-quan-ly-tai-chinh- the-nao-de-du-lich-khap-noi-ma-khong-so-that-nghiep-2022040623315371.chn
You are reading the article
Never had to apply for a job but also save money to "coward", how to manage finances to travel everywhere without fear of unemployment?

at
Blogtuan.info
– Source:
Kenh14.Vn
– Read the original article
here