Life Style
Tâm sự
Seeing large scratches on the wall of my sister's bedroom, staying one night, I was devastated
Dedicate your heart – The switchboard "listens and answers" all about women. Here, women have a place to vent not only about love – marriage, but also about dreams and ambitions; express opinions and questions in all aspects of life; even tell your life story… With the form of two-way sharing, you send your heart to the switchboard – the switchboard sends you an illustration of that confided image, hoping that this will be the place to send the message. sister's ideas. Right now, pour your heart out via email: [email protected]
Hello Ms. Huong Duong,
I always thought my sister had a rich and happy life. But I was wrong. Normally, I rarely go to my sister's house. Because her house is so luxurious, I feel uncomfortable.
Two days ago, I went to work, so I stopped by your house. The two sisters chatted happily until dinner. My husband and children had gone home, so I told my sister that I would stay for the night. My sister was surprised and then agreed.
When I went to my sister's room to look for a change of dress, I was surprised to see large cuts on the wooden headboard, but I didn't pay much attention. In the middle of the night, I suddenly heard scratching noises coming from my sister's room, next to mine. I quickly pushed open the door to look in and saw that my sister was using a fruit knife to make cuts on the head of the bed. Her face was sad, her eyes were wild.
I quickly grabbed my sister's hand. When I asked, my sister burst into tears, hugged me and told her husband to go drinking all night again. She and her husband will soon have no house to live in because my brother-in-law's business is facing great difficulties. She doesn't know how to help her husband. Every night husband did not returnshe blames herself, herself Pregnant so very sensitive. This is my way of dealing with pain.
Sunflower, I love you so much. How can I help my sister and her husband? (chaumy…@gmail.com)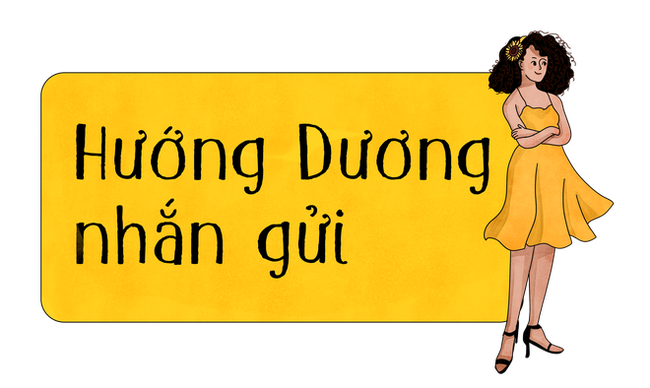 Hello,
Your sister is going through a difficult time in her life. But her way of facing and solving problems is very negative. Instead of talking to her husband and finding a way to solve the problem, she chose to blame herself.
You should tactfully talk to your sister first. Tell her that what she's doing is not only hurting herself but also hurting those who love and cherish her. That is not a way to help her husband return, but only pushes things to a dead end, making her husband feel more pain and helplessness.
You should advise your sister to calm down and find peace to have a clearer view. He and his wife can go to their grandparents' house to stay for a while. During this time, my wife and I should share difficulties with everyone to seek economic and spiritual help.
Your sister is pregnant, is a sensitive period and needs the help of those around her. Therefore, you should be a solid support for her to face and overcome difficulties. Above all, remind her that: currently, her health and spirit are very important because it will directly affect the development of the fetus in the womb.
Love.
Sunflower.
https://afamily.vn/thay-tren-dau-giuong-cua-em-gai-xuat-hien-nhung-vet-rach-lon-sau-khi-ngu-lai-mot-dem-toi-lang- people-when-phat-hien-nguyen-nhan-20220405102932721.chn
You are reading the article
Seeing large scratches on the wall of my sister's bedroom, staying one night, I was devastated

at
Blogtuan.info
– Source:
Afamily.vn
– Read the original article
here