Đời sống
Life Style
The love story is as sweet as the love story of famous CEOs, doctors, and deputy directors
I thought that love language could only be found in stories or movies, but in real life, there is no shortage of sweet love stories like that. There are people who are willing to wait for the person they love for 6 years, because of a back that they miss their whole life…
Doctor's love story: A love from a student and a 6-year wait
Not only impressed with outstanding achievements such as 1 in 10 typical young Vietnamese faces in 2021, Doctor Do Doan Bach There is also a very beautiful love from when I was in school. It is also the relationship between him and his wife.Mr. Bach and his wife have known each other since 11th grade. During the time he went to school and studied abroad in China, his girlfriend (now wife) has always supported and encouraged him. Doctor Bach studied abroad for 6 years, which means that the two also fell in love during this time.
"She waited and sacrificed the whole time that I went to school. When I got home, I went back to school, where I went to work, while she was already working. She also supported me a lot, At that time, sometimes she would pay when going out." Doctor Do Doan Bach shared about his wife.
In 2017, Doctor Do Doan Bach officially returned to work at Bach Mai Hospital. In the same year, the two decided to return to the same home. "I think we always have a similarity and sympathy for each other. For me, feeling is a tree, we have to cultivate and plant it, it grows, the deeper the roots, the stronger it will be. . She has always been my supporter during my career." 9X doctor confided.
Currently, the two live very happily and have a beautiful baby boy.
Accidentally seeing a shadow, the drunkenness follows for life
As a familiar MC face of the program "Happy lunch", in 2020, Khanh Van surprised the audience when she announced "following her husband to give up the game". Khanh Van's husband is conductor Le Ha My, a famous name in the Vietnamese music academy, who studied abroad for 9 years at the famous Tchaikovsky Conservatory (Russia). He used to hold the position Deputy Director of Ho Chi Minh City Opera House.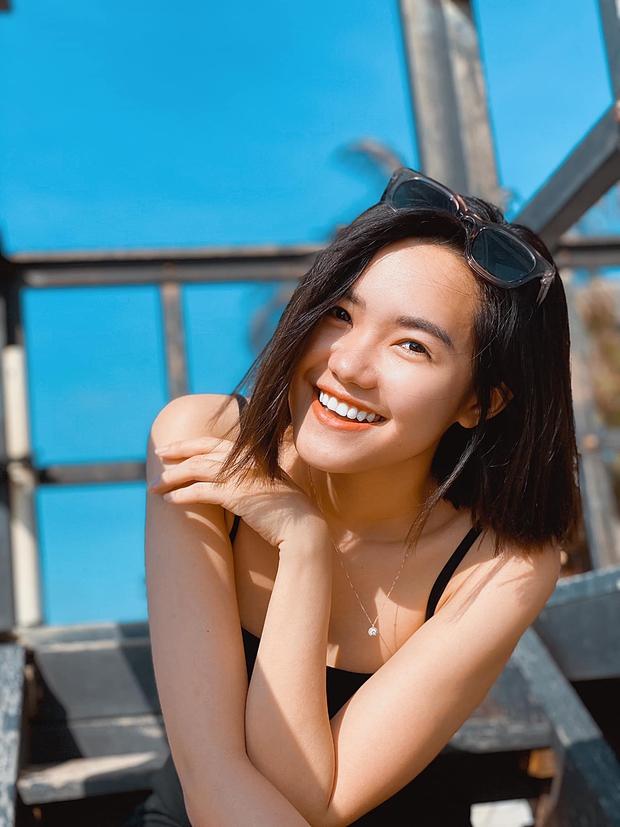 Khanh Van is the MC of the program "Happy lunch".
The love story of MC Chut and Chili "Happy lunch" is also very special. Khanh Van met conductor Le Ha My for the first time at an event. At that time, conductor Le Ha My was facing her back and the female MC was immediately captivated by that back. To this day, she still remembers what color shirt the conductor wears. After that, she knew his name and found out a little bit of information about him online, and she did not contact him.
3 years later, by chance Khanh Van knew the guy's Facebook, she made friends but never received a reply. She was shy and didn't dare to take the initiative to text first because she didn't know how to start the story. Then suddenly one day, the conductor took the initiative to text her first.
This time, the two people talked normally, but all just stopped at the level of friends. Conductor Le Ha My is in Saigon and Khanh Van is still in Hanoi at this time. One day, a sad story happened to Khanh Van, conductor Le Ha My sent a message to share, be beside and comfort her. At this time, the love between them gradually blossomed. Khanh Van believes that this is the half that she has been waiting for and looking for for a long time.
In 2020, the two decided to stick together with a wedding. Currently, the two have a beautiful baby boy and are about to welcome another baby.
The CEO of thousands of people: The joy is spending time with his wife
"Behind a successful man, there is always a woman", this saying is no exception in the case of CEO Gojek "thousands of people love" Phung Tuan Duc. From a photo that was secretly taken in the meeting room, Gojek's handsome CEO caught the attention of netizens, "standing still" and sharing at a rapid pace.
Phung Tuan Duc is an impressive young entrepreneur in the Vietnamese startup community.
Notably, this CEO's profile and series of remarkable achievements make people "take their hat off". CEO Tuan Duc was born in 1987 and is a former student of Hanoi – Amsterdam High School for the Gifted. He has held several positions such as: Director of e-commerce website Adayroi (Vingroup), Operation Director of GoViet and currently CEO of Gojeck.
This CEO's wife is very beautiful, talented, good at cooking and "smart to take care of her husband". On his personal page, CEO Tuan Duc is quite secretive about his personal life, but he also does not forget to confirm that he is a married person by sharing pictures of the meals his wife cooks.
CEO Tuan Duc once shared that: "When I go home, definitely my favorite time is spending time with my wife. Before I got married, I was often called a workaholic who only worked day and night. There were periods when I was ready to sit down. at the coffee shop working until 4-5am I am also trying to find the right balance between my life and work Family is the most important part of anyone, I don't just want to spend my time time for his wife, but also for his parents and brothers."
Image source: Synthesis
https://kenh14.vn/chuyen-tinh-yeu-ngot-nhu-kich-ban-phim-ngon-tinh-cua-cac-ceo-bac-si-pho-giam-doc-tieng-tam-20220410152838535. chn
You are reading the article
The love story is as sweet as the love story of famous CEOs, doctors, and deputy directors

at
Blogtuan.info
– Source:
Kenh14.Vn
– Read the original article
here