Next dishwasherRobot vacuum cleaner – mop is also considered the "pet" of many families because of its effective cleaning function, which simplifies housework as well as frees up labor for everyone in the family.
However, on the market today, there are many types of robot vacuums – mopping with different prices, causing users a headache not knowing which one to choose, whether the cheap one is good or the expensive one is worth it.
A Tiktok account specializing in household appliance reviews recently released a list of the most positively rated vacuum cleaners – mopping robots today, divided by price.
If you are in need of buying one for your family, please refer to it immediately to see which type is suitable for you.
Dreame W10
Considering the robot vacuum cleaner – mopping market in general, the Dreame W10 of Xiaomi manufacturer is in the high segment, with a rather expensive price, about 18 million dong. However, its performance is considered to be extremely worth the price.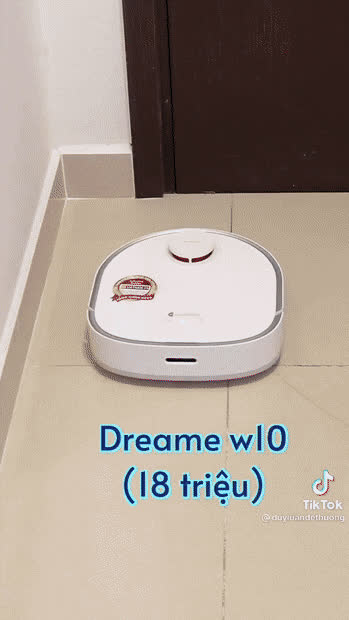 Dreame W10 is considered a vacuum cleaner – mopping robot in the high segment, with a rather "expensive" price. (Photo Tiktok @duyluandethuong)
Accordingly, the Dreame W10 robot has a suction power of up to 55W, the same suction power of 4,000Pa, and 3 customizable suction modes depending on the level of dirt on the floor through the Mihome application. This helps the machine to be able to do outstanding cleaning, from large dust particles to tiny fine dust.
In addition, the robot also has a large container with a capacity of 450ml. Therefore, you do not need to empty the trash too often. In particular, after cleaning, this robot will automatically return to the bot to charge the battery and automatically wash and dry the house.
For families with good financial conditions, or willing to spend a fairly high cost to buy a robot vacuum cleaner – mop the house, the Dreame W10 is a worthy choice.
Dreame Z10 Pro
Another version of Dreame but Dreame Z10 Pro, with a price about 10 million dong.
One of the outstanding features of the Dreame Z10 Pro is that the machine has the ability to empty the garbage inside the machine after cleaning and vacuuming the house.
This special feature is due to the fact that the machine is equipped with a separate storage tower. After completing the cleaning job, the machine returns to the side of the containment tower, the dirt inside will be automatically sucked into that containment tower.
Thus, all you need to do is check and clean the storage tower, on average about once a month, saving time and effort.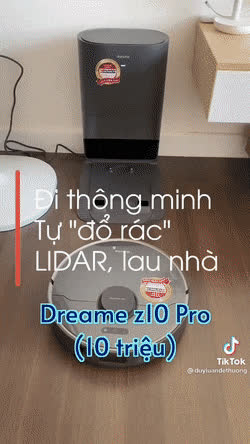 Dreame Z10 Pro version with a cheaper price but also knows how to empty the trash. (Photo Tiktok @duyluandethuong)
However, this robot will not clean the mops on its own. Therefore, you still need to change the rags and wash them regularly to avoid smelly rags, which affects the whole space of your home.
Roborock S7
Continue to be a robot vacuum cleaner – mopping from Xiaomi brand – Roborock S7, but with a "softer" price than Dreame W10, only from 12 million.
The machine has a vibration mopping feature with a frequency of 3000 times / minute, which effectively cleans even stubborn stains and plaques on the floor.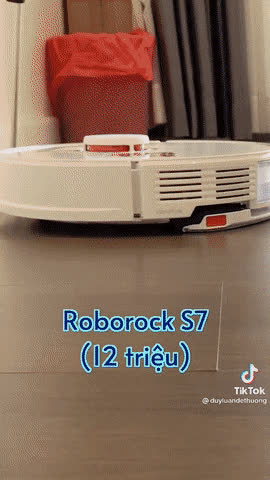 Roborock S7 also comes from Xiaomi brand with price from 12 million VND. (Photo Tiktok @duyluandethuong)
Besides, Roborock S7 has a further upgrade point compared to some other types that is, it can automatically raise the rag when it goes through the carpet. Therefore, it is especially suitable, making cleaning work easier for homes with lots of carpeting.
Deebot D8 AIVI
Not from the famous "big guys" or familiar with Vietnamese users, the Deebot D8 AIVI vacuum cleaner robot comes from a Chinese domestic brand. However, with modern technology, its cleaning efficiency is also worth considering.
It uses AIVI™ technology, bringing a new level of interactivity with deep cleaning of all types of dust on your floors.
In addition, the robot can automatically recognize a variety of obstacles, helping to improve the situation of being stuck during operation.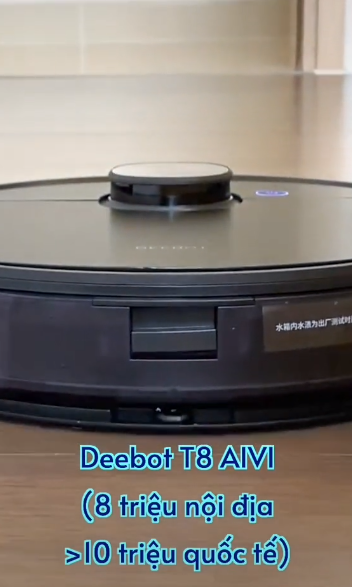 The machine is only from 8-10 million but has a cleaning effect, especially good obstacle avoidance. (Photo Tiktok @duyluandethuong)
The current selling price of this robot line fluctuates from 8 million VND (domestic version) and 10 million VND (international version).
Dreame F9
Dreame F9 can be considered as a cheap vacuuming – mopping robot line, suitable for the pocket of most young Vietnamese families, with a listed price of only about 5 million VND.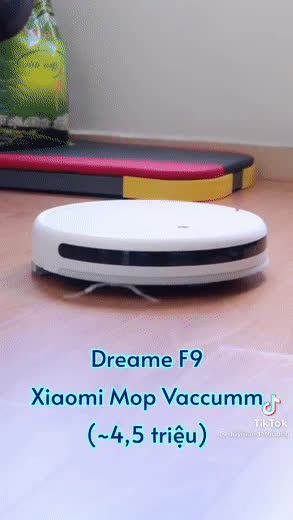 With a price of just under 5 million VND, Dreame F9 is considered the most suitable and easy to buy for many families. (Photo Tiktok @duyluandethuong)
This robot is positioned by camera and does not have a LIDAR sensor so the mobility will not be as good as the others mentioned above. However, the effects it brings are not inferior.
Dreame F9 is equipped with Japanese NIDEC engine, with cleaning system for suction power up to 2500 PA, reducing noise, increasing cleaning ability.
With 4 suction modes, Dreame F9 is also capable of sucking up microscopic particles including dust and allergens.
Above are some typical robot vacuums – mopping, which have been surveyed based on user reviews as well as actual operation. Depending on your budget as well as the needs of your family, you can choose a suitable one, making everyday cleaning easier.
Synthetic
https://soha.vn/mach-nuoc-chon-robot-hut-bui-cho-hoi-chi-em-vi-day-hay-lep-deu-mua-duoc-loai-ung-y-20220409234818252. htm
You are reading the article
Tips to choose a robot vacuum cleaner for sisters, thick or thin wallets can buy a satisfactory type

at
Blogtuan.info
– Source:
Soha.vn
– Read the original article
here