Thế Giới
5 big cities in Vietnam restrict motorbikes: A view from China, Indonesia
Major cities such as Beijing, Guangzhou of China and Jakarta of Indonesia have adopted the order motorbike probihited in urban.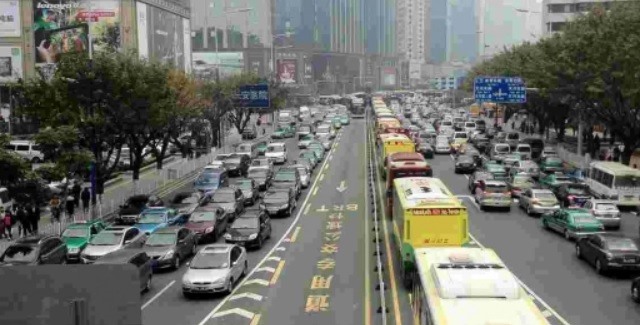 Recently, the Government has issued Resolution 48/NQ-CP on enhancing traffic order and safety and combating traffic congestion in the period 2022-2025. Accordingly, the People's Committees of the cities (city): Hanoi, Hai Phong, Da Nang, Can Tho, Ho Chi Minh City, study and develop a scheme on zoning restrictions for motorbikes in accordance with the infrastructure and capacity. service of the public passenger transport system, towards a roadmap to limit or stop the operation of motorbikes in some districts after 2030.
Before Vietnam, countries in Asia such as China and Indonesia also had to "solve the problem" of restricting motorbikes and developing public transport.
Motorcycle ban applies
Like in Vietnam today, motorbikes are convenient, fast and low-cost personal means of transport, have long been considered a popular means of transport and play an important role in the lives of Chinese people. However, it also brings many problems.
According to a 2020 study by expert Yuntao Guo, Tongji University, Shanghai and Jian Wang, Southeast University, there were more than 100 million motorbikes in operation in China in 2014, compared with 200,000 in 1981. The large number of motorcycles in operation brings problems to Chinese traffic, including traffic jams and robberies.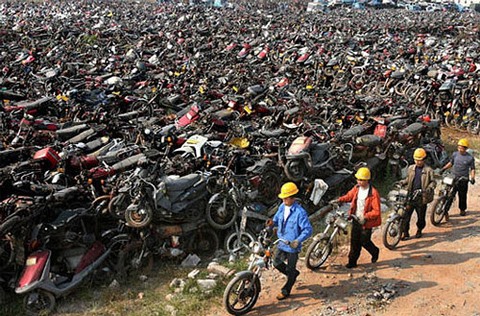 To limit motorcycle-related problems, Chinese authorities have begun to introduce restrictive policies, including stopping new motorbike registrations, banning motorbikes from operating on main streets or downtown areas. , as well as banning motorcyclists from outside the province from entering the city.
The most drastic of these is the complete city-wide ban on motorbikes, introduced by the capital Beijing in 1985. The Chinese capital became the first city in the country to implement it. take this measure. By the early 1990s, more and more cities were following the model of Beijing and by 2020, about 185 cities in China have adopted a motorcycle ban.
Policymakers say the ban will bring two main benefits, including reducing traffic accidents and reducing robberies, while promoting more environmentally friendly forms of transportation such as walk, bike or use public transport.
In 2014, Jakarta's capital city Indonesia also tested the ban on motorbikes on two main roads before it was officially applied. On February 17, 2014, these two roads became devoid of motorbikes when a new ban on testing for this type of vehicle took effect until January 17, 2015. According to the Jakarta Globe, the city has mobilized about 1,700 police, army and traffic department staff who have been deployed to enforce the 24-hour ban.
The problem of banning motorbikes
An article in the Chinese journal Information Technology and Transport System in 2009 cites a study showing that in addition to the transportation benefits, the motorcycle ban also increases the financial burden on the public. poor people, especially migrant workers in big cities.
Research in 2020 by experts Yuntao Guo and Jian Wang shows that in addition to reducing traffic accidents, the measure of banning motorbikes does not bring great results. Accordingly, while low-income people are forced to switch to walking or using public transport, about 25% of motorbike riders started using cars to go to work after motorbikes were banned.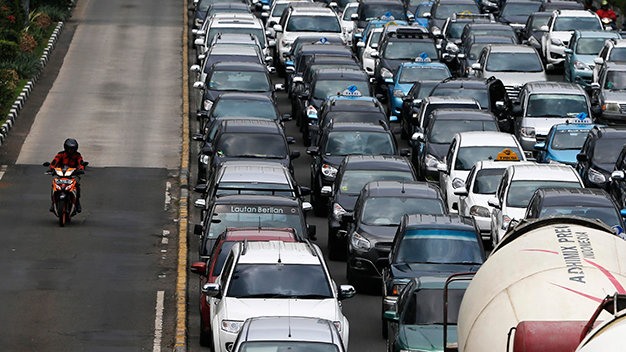 Besides, there are some economic problems that arise when motorbike businesses are gradually pushed to bankruptcy. A large number of immigrants who made a living by driving motorbike taxis did not know what to do when the tool to earn "rice and clothes" was banned from circulation.
The ban has pushed the business of the bicycle market to skyrocket, and the taxi service industry also "takes advantage" to raise prices. Not only that, the paradox also occurs when robberies by motorbikes decrease, but pickpockets and thefts on bus routes increase.
Solutions that have been implemented
The accompanying support policy is an important factor in implementing the roadmap to ban motorbikes. This process should be carried out in parallel with the expansion of inner city bus routes and public transport facilities. For people who have to hand over their motorbikes, the Chinese government provides an average of 180 USD (value at the time of handover) per vehicle.
In Indonesia, after testing, the Indonesian government has approved a plan to build six high- toll highways along Jakarta's downtown area to ease traffic pressure as the number of cars increases.
Along with that, the place to keep the motorcycle after the ban also became a problem. To implement the ban, the city of Guangzhou set up about 40 locations to store hundreds of thousands of vehicles handed over by residents, and spent 70 billion yuan over five years to upgrade equipment and systems. traffic.
A number of special job fairs are also opened in China to help find jobs for former motorbike taxi drivers or in motorcycle-related fields. Special coercive institutions are also implemented with the aim of implementing the given policy in the most thorough and effective way.
You are reading the article
5 big cities in Vietnam restrict motorbikes: A view from China, Indonesia
at Blogtuan.info – Source: laodong.vn – Read the original article here