Giới trẻ
Hanoi Kindergarten is open but… worried about lack of students
In the first week of opening the kindergarten, many families are still afraid, so they do not agree to send their children to class.
According to the latest decision of the Hanoi People's Committee, all preschool children in districts/towns in the capital will be able to go back to school directly from April 13.
After nearly a year of being temporarily closed to prevent the Covid-19 epidemic, preschool educational institutions are focusing on reviewing the entire system of facilities, equipment, and school supplies for repair. buy new, ready to welcome children back to school.
Along with the worry of how to safely welcome students back to school, many teachers are also worried because the number of students who register to go back to school is also quite small.
Ms. Nguyen Thu Tra – teacher of Kindergarten at Children's House (Hanoi) is preparing to return to teach on April 13. These days, Ms. Tra and her colleagues come to school to clean up, wash toys, wash blankets, and clean school supplies to be ready to welcome the children back to school.
Last time, Ms. Tra had to stay at home to take care of small children and received some more children who were all neighbors to look after with an income of 120,000/day/student, a month she also had an income of about 10 million.
"The school reopens, preschool teachers like me have a stable job and income, but it will certainly be difficult at first, because most of the students have taken a break and do not return to school, so the school must new enrollment. Many new students will not be familiar with the school, so they will cry a lot, teachers like us will be more tired," said Ms. Tra.
The thing that this female teacher worries most is that, before it closed, the private educational institution that Ms. Tra worked for had about 70 children divided into 5 classes. When the school had to temporarily close due to the COVID-19 epidemic, many parents sent their children back to their hometown to ask for help from grandparents.
"The mentality of many parents is that the first time they opened the door, they didn't want their children to go to school right away because they were waiting for the class to be really orderly and stable. Therefore, my school is worried that the school will be short of students because through feedback from parents, currently only about 30% of parents agree to let their children return to school at first when the school reopens. Of course, the income of teachers like me will be affected if there are few students, "said Ms. Tra.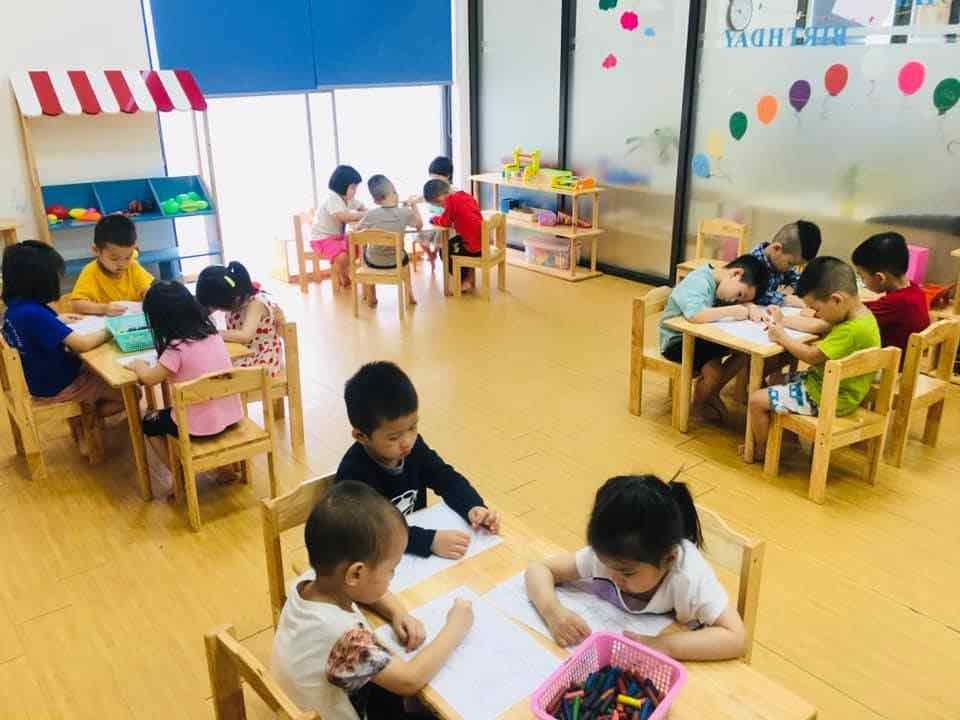 The teacher is worried about the lack of students in the first few weeks when picking up students
Sharing the same sentiment, teacher Nguyen Thi Mai – owner of Hoa Sun kindergarten (Hanoi) also said that through a survey, only about 40% of parents agree to send their children back to school.
"This time, we are focusing on enrollment and welcoming new students, but many parents are not too interested in the first time the school opens," Ms. Mai shared.
Training plan to pick up children
Ms. Nguyen Thi Tuyet Lan – Principal of Phu Thi Kindergarten (Gia Lam district) said that this unit is developing plans to pick up students under the guidance of the city's Department of Education and Training and direction from the district's Department of Education and Training.
According to Ms. Lan, the school will have to mobilize all staff, teachers and staff to take part in picking up children every morning. Take advantage of available materials to direct students from the school gate. At that time, each class will have to have one girl in the yard and one in the classroom. Children in kindergarten for the first time coming to school will often cry, so dividing the staff like that will also be a bit difficult. Therefore, the school will have to be flexible to overcome by having teachers of all classes help each other to pick up children.
"Currently some teachers are on maternity leave, a school medical staff has to do more office work, so it will be very hard in the coming days. It is expected that next week more than 400 children will come to class. It is also very difficult to mobilize more forces outside the school such as parents and youth unions to support the pick-up of children, because according to regulations, only officials and staff directly attached to the school are allowed to participate in child-picking activities to pick up children. ensure epidemic prevention. We will continue to calculate to have a suitable plan", Tuyet Lan emphasized.
Previously, to prepare for the return of preschool education, the Hanoi Department of Education and Training directed the Education and Training Departments of districts and towns to consult parents of preschool children, the results were more than 80% of parents. preschool children agree to let them go to school directly.
Direct attendance is done on a voluntary basis, with the consent of the students' parents, organizing day-boarding activities, teaching 2 sessions/day.
Schools and educational institutions must meet safety requirements in the prevention and control of the Covid-19 epidemic; prepare well the conditions of facilities, develop a plan of rehearsal to handle when there is a situation where cadres, teachers, employees and students are F0; organize general environmental cleaning, disinfection before and after the lesson…
Hoang Thanh
You are reading the article
Hanoi Kindergarten is open but… worried about lack of students

at
Blogtuan.info
– Source:
infonet.vietnamnet.vn
– Read the original article
here