Life Style
Thế Giới
House prices in Asia's hottest markets are falling, has the real estate fever cooled down?
This change comes suddenly, after the market experienced a wave of low borrowing costs and FOMO sentiment during the pandemic that caused the real estate fever from Toronto to Aukland to be pushed to the peak. Sydney house prices rose nearly 27% last year, while Singapore saw an increase not seen in more than a decade. Hong Kong also continues to be the most expensive real estate market in the world.
Although the context and conditions in the regions are different, the decline in the last quarter also has some common points. Worries about affordability have prompted Singapore to adopt market-tightening measures. Meanwhile, inflation risk is also the reason why central banks raise interest rates, making it harder for homebuyers to make mortgage payments.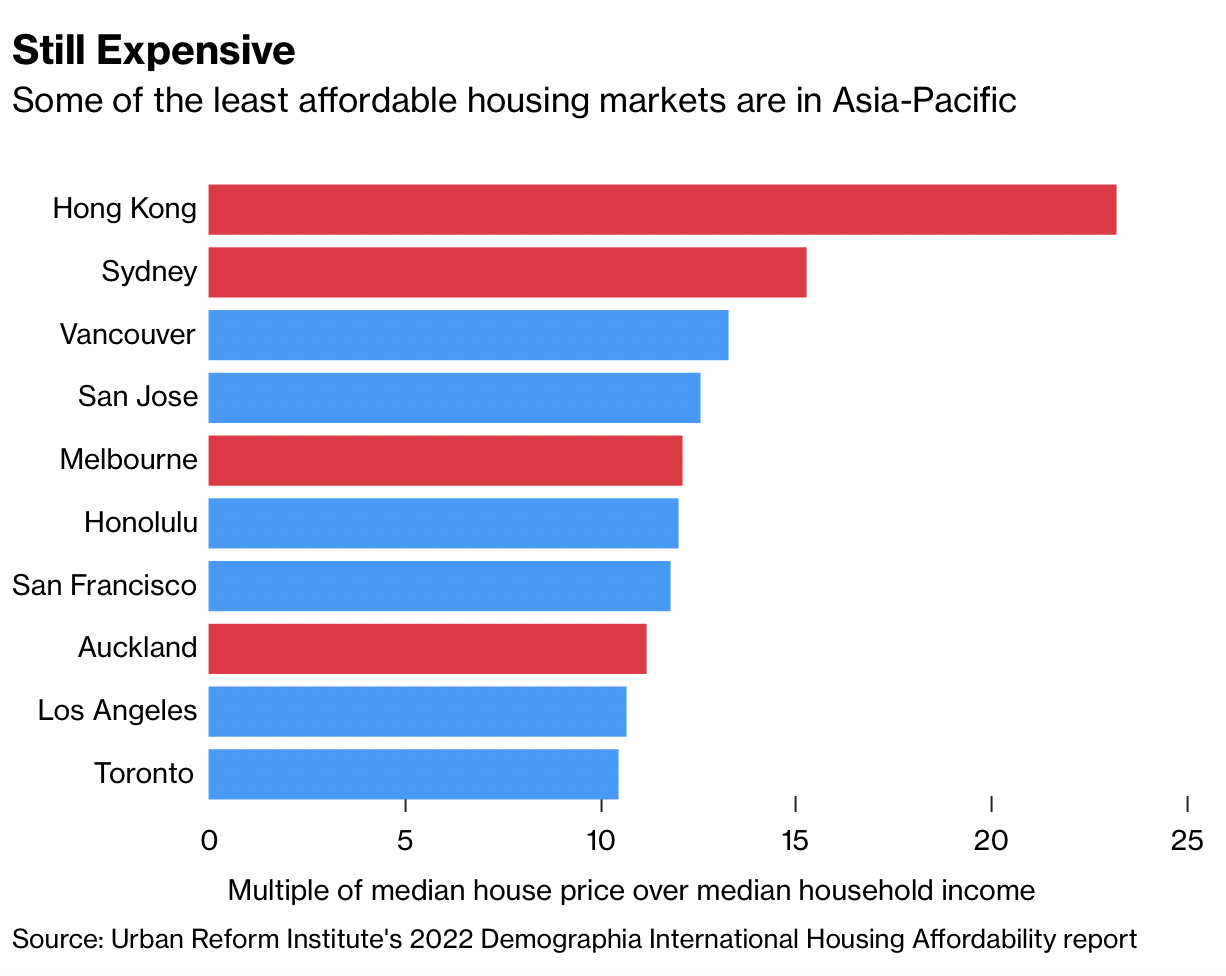 House price/household income ratios in some markets remain high.
Moreover, Covid-19 also caused "headwinds" for the Chinese real estate market. Hong Kong again faced many people trying to leave when the epidemic situation became more and more tense. The blockade of Shanghai is also affecting this market's recovery expectations, after developers fell into debt crises one after another.
"Since the global financial crisis, governments in the region have become more wary of prices," said Victoria Garrett, president of Asia-Pacific residential real estate at Knight Frank. real estate increased, while the pandemic also widened the gap between rich and poor."
She estimates that, by 2022, house prices in the region will increase at a slower and more steady rate of 3-5%. This is lower than last year's 9.1% increase.
Demand in some markets could pick up, in part because housing shortages are unlikely to ease over the next 12 months, according to Garrett. With the interest rate hike roadmap still in the early stages and buyers accordingly still have the opportunity to take advantage of interest rates at a favorable level.
Below are the developments of the real estate market in some major cities in Asia.
Sydney
House prices in Australia's most populous city are showing signs of cooling off after touching a record high, with growing expectations that the central bank will soon raise interest rates. Currently, the ability of buyers to pay is the factor that puts pressure on the high-end segment of the market. From March 2020 to December 2021, wage growth reached 3.3% compared with 22.6% of housing value. The median house price in Sydney is also 17 times higher than the national average.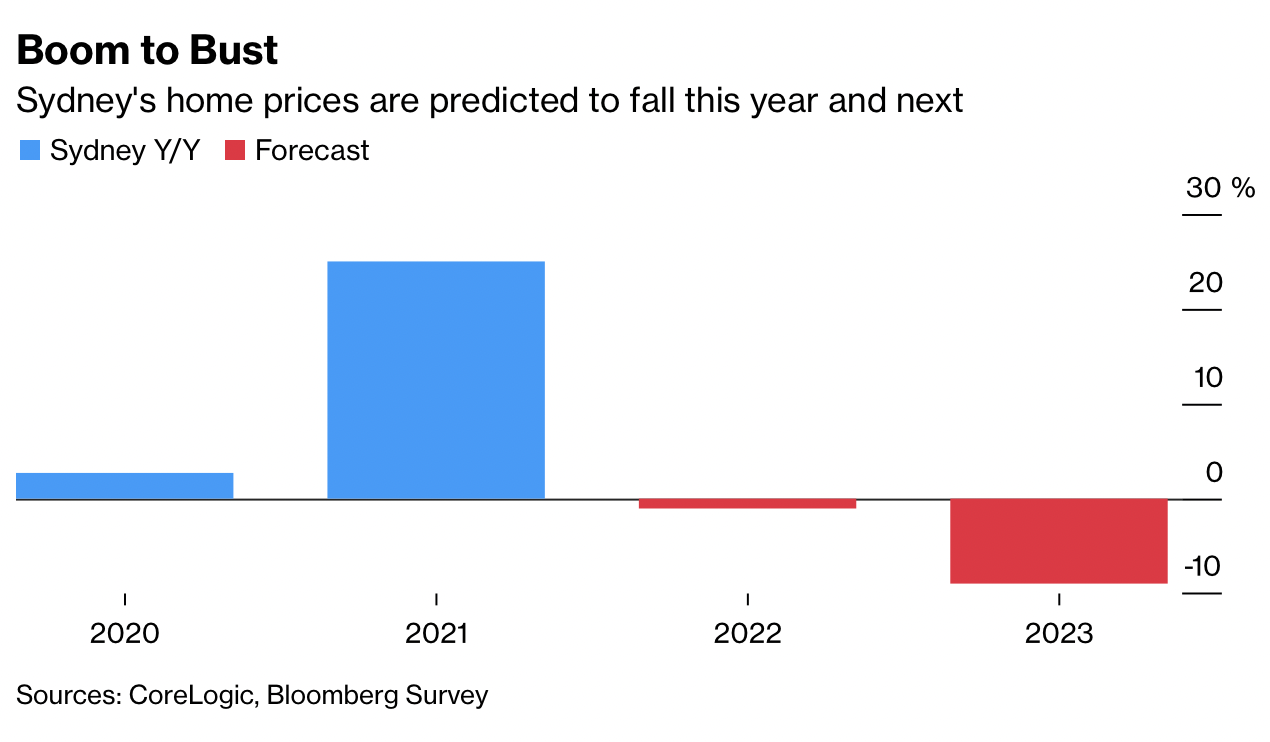 Sydney house prices are expected to drop significantly in 2022 and 2023.
Additionally, the household debt/disposable income ratio is close to 200%. All of those factors have kept buyers in the country's largest housing market wary. Sydney house prices fell 0.2 per cent last month.
Hong Kong
Residential property prices in Hong Kong have been on a downward trend since August and show no signs of a quick recovery. The challenges facing the city are a slowing economy and rising interest rates that have prompted people to find ways to go abroad.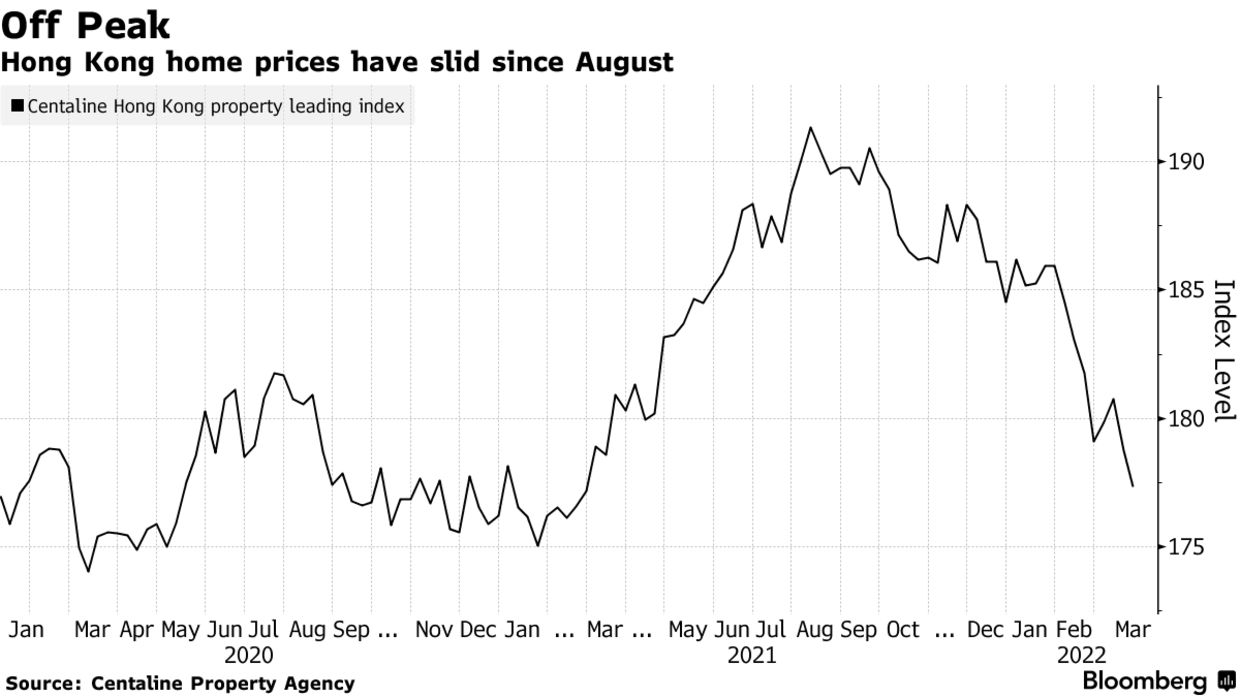 House price movements in Hong Kong.
The housing market in the city seemed to be on the rise last year, and prices hit a record in August. According to Centaline Property Agency Ltd., since then, house prices in Hong Kong have fallen 7.3%. UBS predicts, real estate prices here will continue to decline as more people go abroad and interest rates rise. Goldman Sachs is even more pessimistic, predicting a 20% decline in 2025.
Singapore
After a year of seeing house prices rise to the highest level in more than a decade, Singapore's housing market is gradually cooling down due to restrictions on the real estate sector and higher tax rates. New-home prices rose 0.4 percent last quarter, while home sales in March fell to a 21-month low.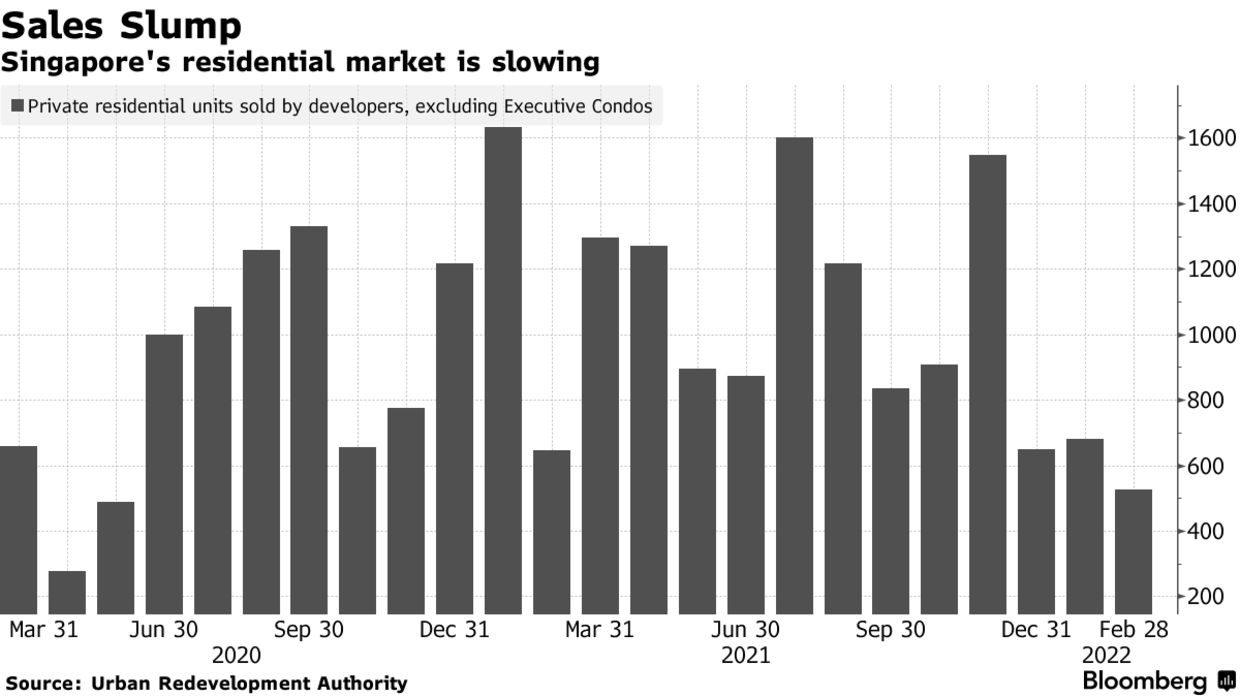 Number of homes sold in Singapore.
The country's authorities introduced measures to cool the market in December. The move helps address buyers' inability to pay and the risk of households having difficulty making mortgage payments. mortgages with higher interest rates. In February, Singapore raised the property tax on wealthy individuals, which may make some buyers in this group hesitant to buy.
However, analysts still say that the fact that the rich have not bought real estate may only be a short-term solution. Demand from local people is inevitable, such as those who want to buy their own home after spending time in government-supported housing and millennials looking for a home to live in.
Alan Cheong, managing director of research at Savills Plc., said that inflation can spur buyers to enter the market and maintain purchasing power. "Inflation is the opiate that drives demand," he said.
Shanghai
Housing prices in Shanghai continued to rise in December after three months of decline. Chinese authorities had previously introduced measures to prevent a liquidity crisis among developers. Currently, this recovery is threatened by the strict blockade.
Even so, Shanghai's long-term outlook appears to be quite positive, thanks to low real estate inventories and interest rate cuts by the central bank. Decelerating economic growth has led China to loosen monetary policy unlike other major economies. The PBOC in January lowered its benchmark interest rate for the first time in nearly two years, while major banks cut mortgage rates and shortened loan approval times.
Yang Hongxu, director of research institute E-House China Enterprise Holdings Ltd., said that Shanghai's home sales are likely to be stable this year, and are likely to recover around the end of the year.
Refer to Bloomberg
https://cafef.vn/gia-nha-o-cac-thi-truong-hot-nhat-chau-a-dang-sut-giam-con-sot-bat-dong-san-da-ha-nhiet- 2022041013240638.chn
https://cafef.vn/gia-nha-o-cac-thi-truong-hot-nhat-chau-a-dang-sut-giam-con-sot-bat-dong-san-da-ha-nhiet- 2022041013240638.chn
You are reading the article
House prices in Asia's hottest markets are falling, has the real estate fever cooled down?

at
Blogtuan.info
– Source:
Afamily.vn
– Read the original article
here