Business
Sustainable development or the trend will soon turn off?
The move to earn trend is the most mentioned in the gaming world with elements of blockchain, NFT, and cryptocurrencies. The appearance of these game projects heats up the quiet gamefi market recently, causing investors to begin to lose confidence in the form of money-making gaming.
The reason move to earn emerged due to the combination of gamefi (playing games for money) and socialfi (earning money through social activities). In these games, StepN is a representative that attracts many participants, receiving an investment of up to 5 million USD in the first round of funding, and also receiving support from Binance.
Most recently, DEFY was also poured $ 3.5 million to develop the game move to earn based on augmented reality (AR), with the participation of large funds such as Animoca Brands, OliveX and Spartan Ventures.
In addition, the market now has several similar platforms like Calo Metaverse or Genopets.
However, many problems are raised for move to earn: is this trend pushed up as an expectation to fill the gap of gamefi which is in the saturation stage? Can it be maintained in the context of forcing players to really make money instead of just playing entertaining games? How to maintain growth to bring profits to all 3 parties: players, investors, developers?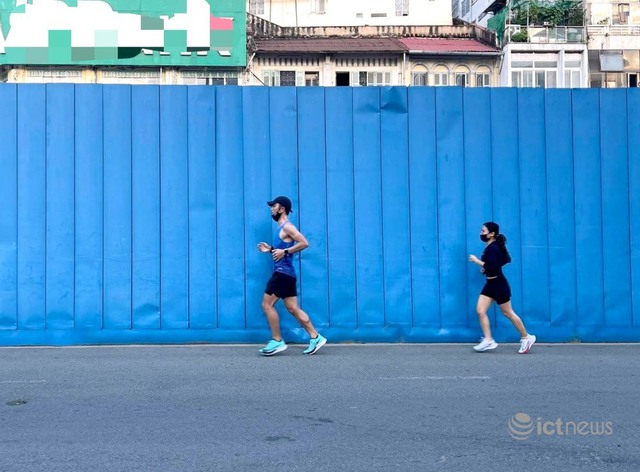 Move to earn opens another new client file with gamefi.
In an online livestream on the evening of April 10 to answer the above questions, a number of industry experts gave their opinions.
Mr. Phan Tuan, founder of Calo Metaverse, said that the move to earn movement promotes the positive things of society, brings meaningful applications to blockchain and NFT, thus receiving the positive support of people. in the industry.
Not only that, this trend also creates a new market, reaching a group of users who have never participated in the gamefi or cryptocurrency market, who often practice sports.
Mr. Tuan cited a statistic that in 2020, the whole world has 111 million people participating in walking and jogging activities. That is not to mention the group of users who walk to work in many countries. Therefore, the growth potential of the move to earn movement is quite clear.
Ms. Ngoc Mei, founder of a running group following the move to earn movement on social networks, confirmed that joining an application following this model makes her more active in exercising. Not only contributing to improving her health, exercising also helps her earn tokens, making sports activities meaningful for investment.
Experts say move to earn inherits the gamefi trend – with Axie Infinity being a prime example. But unlike playing games to earn money, the move to earn model requires users to actually walk or jog, so it makes sense in terms of health protection, easy to be recognized and accessible by society. Get a fresher client file.
However, Mr. Tuan admitted that, due to targeting a new group of players, most of the existing gamefi players – who are sedentary – are not excited about this trend.
Mr. Victor Nguyen, founder of CRVN Capital, agrees with the above view. Given that the move to earn trend is aimed at a different group of customers, with different points of view. Therefore, it will be difficult to accept the old players who are following the gamefi trend, not taking advantage of the current group of players.
Ms. Ngoc Mei acknowledged that the barrier of the move to earn movement is the balance between move and earn. Specifically, the game must be attractive to maintain a group of active users, for them to continue playing the game and be excited about in-game purchases. At the same time, the game must maintain the player's ability to earn money – a characteristic element of gamefi.
Although movement is considered a key element of move to earn because it has a social element and is meant to maintain health, on an article on Wu Blockchain site, the author thinks that running is actually very boring. , is not interesting, so it is difficult to attract participants on a large scale.
In order for move to earn projects to be successful, Mr. Phan Tuan believes that up to a certain stage, in addition to the gamefi factor, developers need to connect with the real world of sports. For example, create in-game clubs, attract users to join and compete among groups to increase competition and attract investment.
In addition, Mr. Victor Nguyen believes that the projects themselves need to balance their finances and ensure the interests of investors, game development teams and players. This is to avoid in-game token inflation, and to maintain a stable level of financial performance in the long run.
As a new trend, there will be many investors participating in the market, so Ms. Ngoc Mei emphasized that players must study carefully about each project and equip themselves with relevant knowledge before deciding to participate.
You are reading the article
Sustainable development or the trend will soon turn off?

at
Blogtuan.info
– Source:
cafebiz.vn
– Read the original article
here