Công nghệ
The MISA Bumas digital platform improves the efficiency of State budget management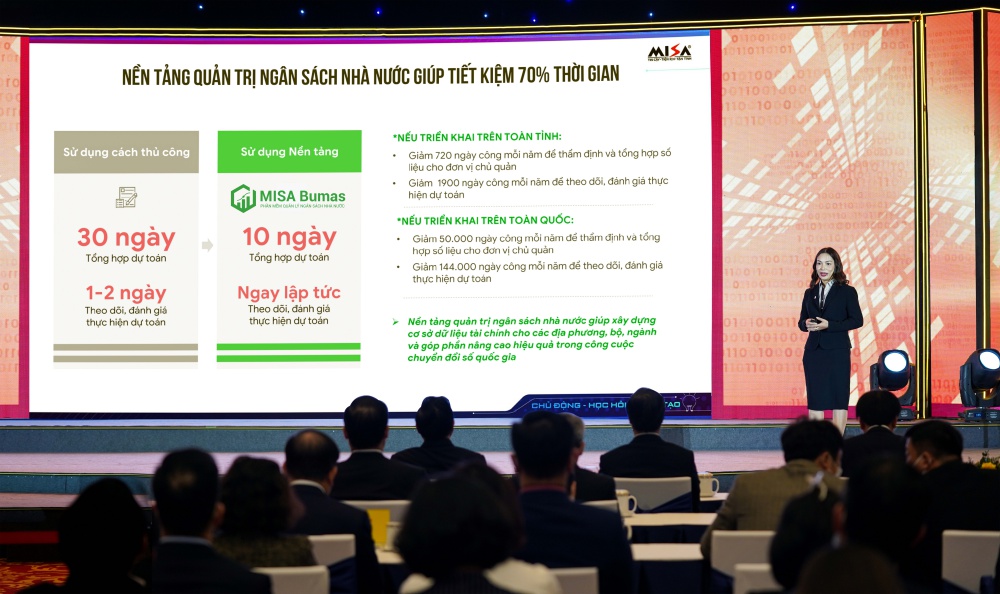 MISA General Director Dinh Thi Thuy shared about the MISA Bumas Platform to improve the efficiency of State budget management
In his opening speech at the National Forum for Digital Technology Business Development, Minister Nguyen Manh Hung emphasized "Digital technology enterprises with specific solutions are the core, the core of promoting national digital transformation. , transforming every Vietnamese enterprise into a digital enterprise, every Vietnamese organization into a digital organization, every Vietnamese citizen into a digital citizen".
It can be said that the solutions of digital businesses are a prerequisite for creating a digital Vietnam that is able to recover and develop rapidly. At this year's forum, MISA brought State budget management solution MISA Bumas. This is an effective tool to help administrative and non-business units (HCSN) perform the preparation, allocation, and general management of the State budget in an accurate and timely manner. The solution has contributed to the task of data convergence, making an important contribution to the national digital transformation.
In fact, budget planning and allocation is a very complicated process and requires the participation of many agencies from vertical (for example, School – Department – ​​Department) to horizontal sector (for example: School – Department – ​​Department) Example: District – Province – Central). This job has to go through many stages of review and approval, not to mention having to do it from the beginning if it is not satisfactory, leading to the case of doing it over and over again. The current problem is to develop tools to simplify and minimize the time for estimating and budget management for administrative units, and to continuously update them when there is a request for direction and management from the Government. the leaders. Ms. Dinh Thi Thuy – General Director of MISA said that MISA Bumas will help HCSN units save up to 70% of time in estimating and managing budget expenditures.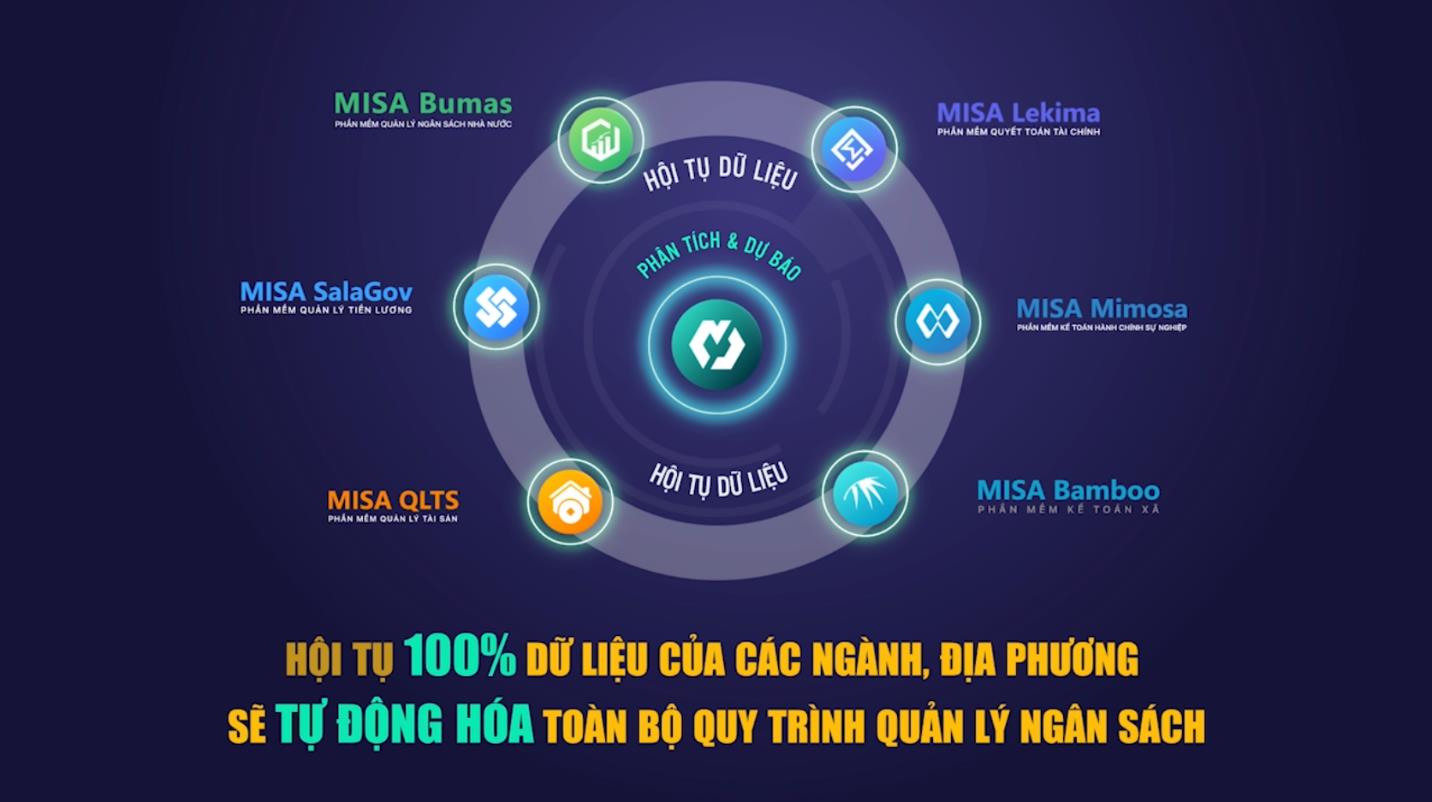 MISA Bumas belongs to the MISA FinGov Governance Platform, helping to converge 100% of industry and local data, automating the entire budget management
According to MISA, the whole country has nearly 3,000 managing units (on average, each province has 40 units), each unit needs 30 days to synthesize the estimate and takes 1-2 more days to monitor and evaluate the actual performance. Executing the estimate (generally once a year, and 2 times per month, there will be a performance evaluation). Thus, when applying MISA Bumas, the time to synthesize the estimate will be reduced to only 10 days and immediately evaluate the effectiveness of the estimate. In the near future, if this application is deployed nationwide, it will reduce 50,000 man-days per year for appraisal, aggregate data for the host unit and reduce up to 144,000 man-day per year for monitoring. , evaluate the implementation of the estimate.
The highlight of MISA Bumas is the application of the most advanced technology such as Cloud Technology (Cloud); ensure safety, security and can be deployed easily at units without investing in equipment and infrastructure. Receiving, approving, allocating estimates… becomes simple and fast, saving time and effort. Estimated data of the whole industry and the whole locality will be aggregated according to the needs in just a few minutes, from which there can be quickly editing and evaluating the estimation work when necessary.
State budget management platform MISA Bumas has been trusted and used at nearly 6,300 administrative units, including the Ministry of Information and Communications; the State Audit Office and its affiliated units.
MISA is committed to continuing to replicate the state budget management platform MISA Bumas on a national scale, contributing to a streamlined and centralized financial database for localities, ministries and sectors. MISA Bumas is contributing to the roadmap to improve efficiency in promoting national digital transformation.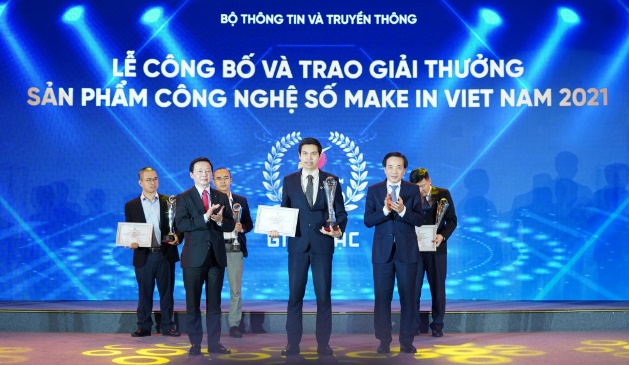 Mr. Le Hong Quang – Permanent Deputy General Director of MISA received the Silver Award for Excellent Digital Platform MISA AMIS
Within the framework of the event, MISA was honored at the Make In Vietnam Digital Technology Product Award Ceremony with the Silver Award for Excellent Digital Platform MISA AMIS – a comprehensive digital transformation solution for corporate governance; Bronze award for MISA revenue and expenditure book software that contributes to the digitization of scientific and modern revenue and expenditure recording with two platforms in the Top 10, the MISA FinGov State Financial Management Platform and the MISA EMIS Education Platform .
You are reading the article
The MISA Bumas digital platform improves the efficiency of State budget management

at
Blogtuan.info
– Source:
danviet.vn
– Read the original article
here