first Making meat stew delicious eggs
Braised eggs have many different ways. Some people add coconut water, others choose stock with ordinary filtered water. So how to make braised meat Which egg is the most delicious and roundest? Try these 2 super simple recipes right now.
Different from the usual way, braised eggs with coconut water will be much more fragrant, sweet and greasy.
a) Ingredients for braised meat with eggs and coconut milk
Pork: 800g

Chicken eggs: 6 eggs

Fresh coconut: 1 fruit

Garlic, purple onion

Fresh chili

Cooking oil, fish sauce, sugar, main noodles, seasoning, salt
Good tip: Braised meat should choose the part of pork leg or pork belly that will be greasy and delicious, not dry like lean shoulder or buttock meat.
b) The most detailed way to make the most delicious coconut egg braised meat
Step 1: Prepare the ingredients
When you buy pork, you wash it and then blanch it with boiling water. This will help remove all the dirt remaining on the meat that normal water cannot remove.

Red onion, peeled garlic, washed chili. Put all 3 ingredients in a mortar and grind until smooth.

Fresh coconut squeezes out the water inside. Note, so that the egg stew does not have residue, you should filter the coconut water through a sieve.
Good tip: Should put 1 piece of red onion in the pot of blanching water so that the pork will be more fragrant. In addition, you also need to soak the meat in dilute salt water for about 5 minutes, this will help eliminate all the odors of the meat.
Step 2: Boil eggs, marinate meat
Put eggs in a small pot, add 1 teaspoon of salt and water and bring to a boil. When the water boils, drop the eggs into the pot. Boiling time on average is about 5 – 10 minutes.

Once the eggs are cooked, take them out immediately into a bowl of cold water, then peel them.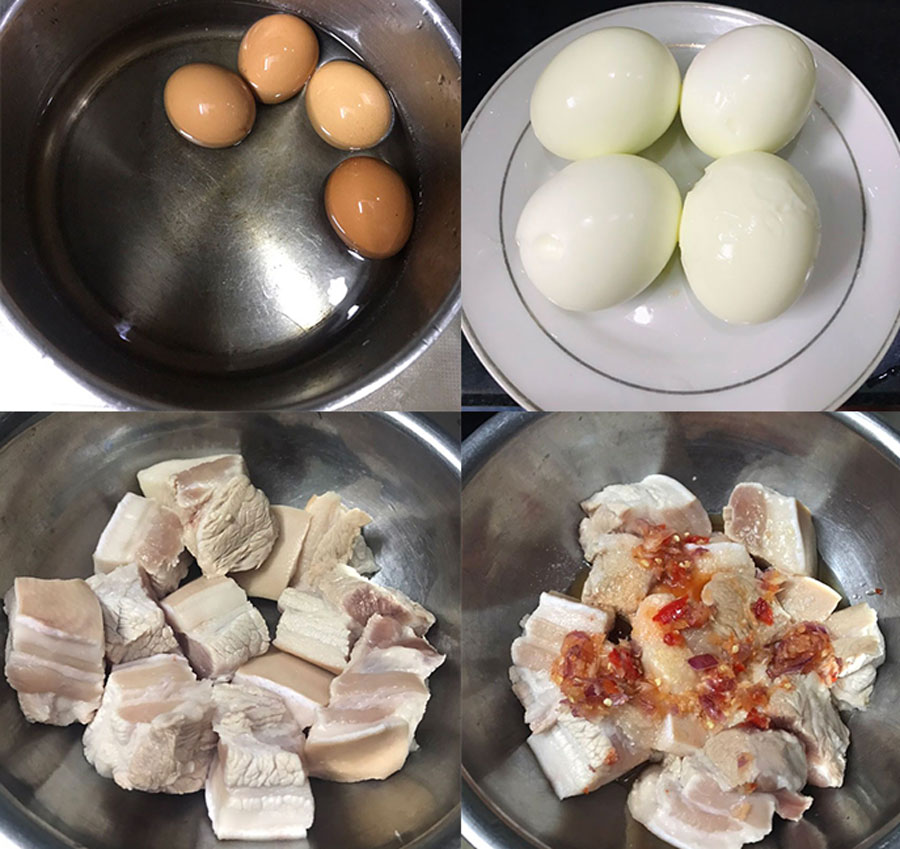 The pre-prepared pork in step 1 is cut into bite-sized pieces and placed in a bowl. Season to taste here 3 spoons of fish sauce, 2 spoons of sugar, 1 spoon of main noodles, 1 spoon of seasoning seeds, 1 spoon of crushed onion, garlic and chili.

Use chopsticks to mix well so that the meat infuses the spices. Marinate the meat for about 30 – 60 minutes.
Step 3: Conduct meat storage
Put a clean pot on the stove and add 3 tablespoons of cooking oil. When the oil is hot, add 1 teaspoon of sugar and cook until it turns the color of cockroach wings, then pour in the marinated meat.

Stir the meat continuously until the meat is tender, then pour in the fresh coconut milk. Adjust the heat to medium to cook the meat slowly. Note, if the amount of coconut water is too little, you should add filtered water to ensure that the water covers the meat.

Braise the meat for 1.5 hours until the meat is soft and rich, then add 6 peeled boiled eggs. Cook for another 30 minutes, then turn off the heat.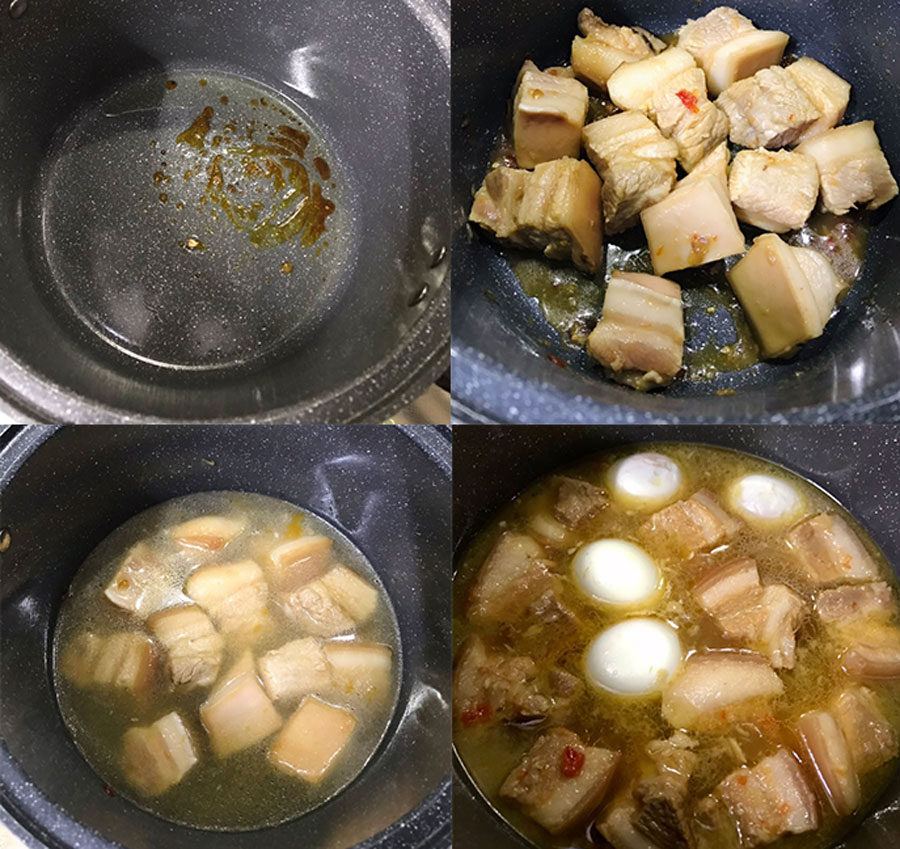 Step 4: Finished product
Scoop out the egg stock into a bowl and then add the broth on top. You should eat it with hot rice or sticky rice.

In order not to get bored when eating, you should serve with pickled sauerkraut or cucumber.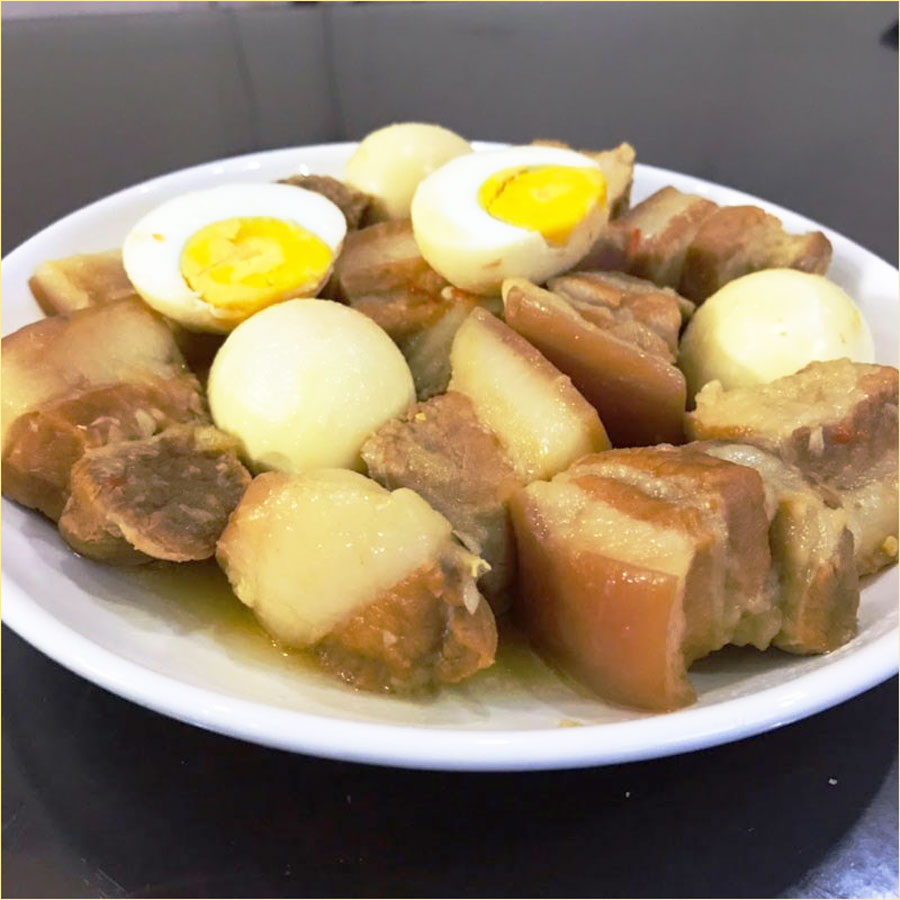 Delicious coconut egg meat stew with beautiful colors. The cooked meat is soft, fragrant with spices. The chicken eggs are rich, the sauce is smooth, and the sweetness is very typical of fresh coconut water.
1.2. How to make braised egg meat without coconut water
If you are a team without coconut water, you definitely can't ignore how to make braised eggs right here.
a) Prepare ingredients for braised egg meat without coconut water
Pork: 500g

Chicken eggs: 4 eggs

Chili, red onion, garlic

Lemon, green onion

Fish sauce, cooking oil, sugar, main noodles, seasoning, salt

b) Instructions for making braised eggs without coconut water
Step 1: Prepare ingredients
Similar to braised meat with coconut water, in this method, you also wash the pork, soak in dilute salt water for about 5 minutes and then blanch it in boiling water.

Wait for the meat to cool, then cut the meat into bite-sized pieces.

Bought chicken eggs are boiled and then peeled.

Wash the green onions. Red onion, minced garlic, peeled and chopped. Sliced ​​chili.
Step 2: Marinate the meat
Place the sliced ​​pork in a large bowl. Add here 3 tablespoons of sugar, 1 teaspoon of MSG, 3 teaspoons of seasoning, 1 teaspoon of lemon juice, minced red onion and garlic.

Use chopsticks to mix well so that the meat infuses the spices. Marinate the meat for about 30 minutes.
Step 3: Make colored water
In order for meat to have an eye-catching color, it is indispensable to cook colored water.
First, you put the pot on the stove and then turn up the heat to high. Add 1 teaspoon of strawberry, 2 teaspoons of sugar. Cook until the sugar turns brown, then pour in the marinated meat and stir-fry together.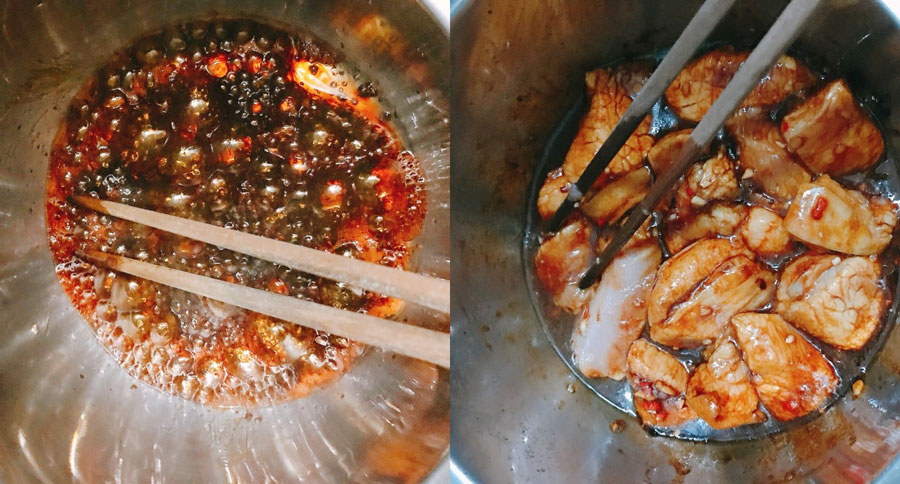 Good tip: In order for the water to have a beautiful color and not burn, while the sugar is boiling, you need to stir continuously with chopsticks. Adjust the heat to low so that the sugar does not burn.
Step 4: Meat stock
When the stir-fried meat with colored water has been hunted, add eggs and then pour in filtered water.

Season to taste here ½ teaspoon of fish sauce and boil for about 15 minutes, then lower the heat.

Cook until the water in the pot is almost empty, the meat is cooked, the color is even and beautiful, then turn off the heat.

Good tip: Pour water into the pot of braised meat to cover the surface of the meat. Avoid pouring too much water, the cooking time will be long and the meat will be tender. If you pour too little, the meat is not cooked properly and the water is gone.
Step 5: Complete the egg stew dish without coconut water
Ladle the braised eggs into a bowl and add finely chopped scallions and a few slices of chili on top.

Braised meat with eggs served with hot rice is very delicious.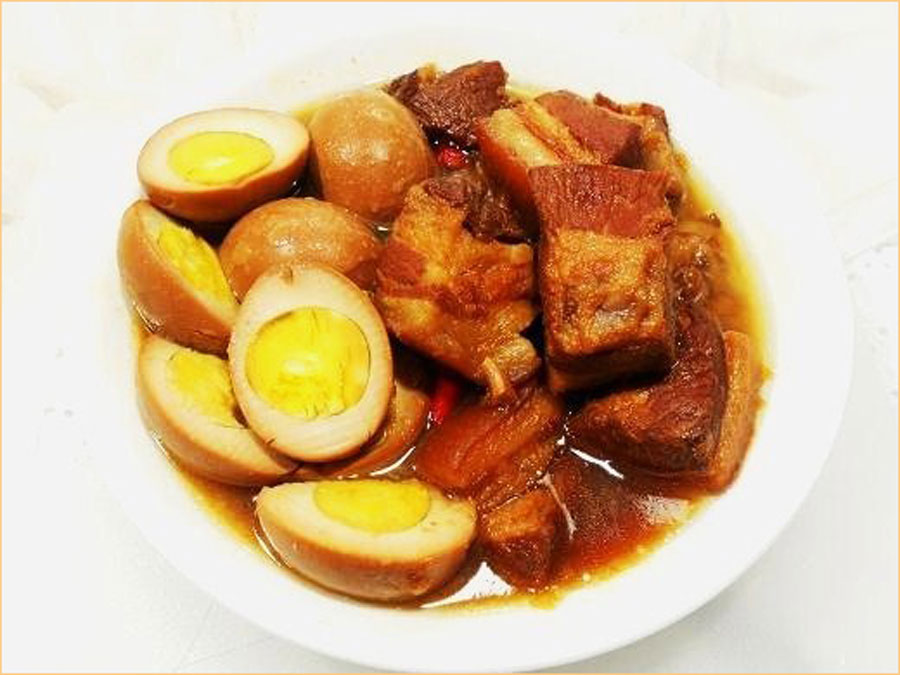 This meat stewed egg dish is still very tasty and rich. The meat is tender and very flavorful. Eggs are delicious, not dry. The broth is thick and flavorful.
2
How many calories in egg braised meat? Eat fat?
How many calories in egg braised meat is a question that many women are interested in. According to the calculation of nutritionists, an average of 1 bowl of full meat-braised eggs will have about 600 calories. If you consume all of this food, you are required to spend 1 hour exercising to consume excess calories.
Not only contains high calories, this is also a very nutritious dish. A few indispensable nutrients in braised egg meat must be mentioned such as:lipids, monounsaturated fats, saturated fatty acids…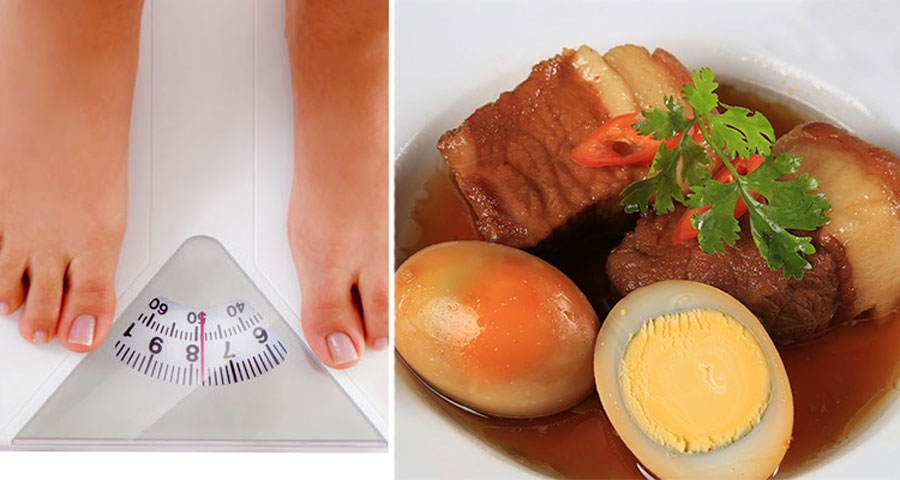 Looking at the nutrition table of the dish, you can see that if you regularly eat meat with eggs, your weight will increase a lot.
If you are a "follower" of this dish and want to use it regularly, you should:
Balance calories in each meal.

Exercise every day to burn off excess energy.

Add fiber-rich foods such as green vegetables and fruits.

Control sugar and salt when seasoning dishes.
3
How long does egg stock last? How to preserve delicious meat without losing quality?
Many families have a habit of preparing food for each week. One of the dishes chosen by the sisters is braised eggs with meat. The shelf life of this dish is quite long, if kept in the refrigerator, it can be used for up to 1 week.
There are 2 ways to preserve the familiar egg stock: keep it in a normal environment or keep it in the refrigerator.
3.1. Leave the meat and eggs outside
WOMENIf you leave the meat-braised eggs outside, the maximum storage time is 1 day. The time will vary depending on the climate of each region and locality. In cold weather, egg stock will keep for longer.
You need to consider cooking egg stock with coconut water or coconut milk. Because this is the reason why braised meat goes stale faster than usual.
Besides, while cooking, you should remove all the fat on the surface of the meat pot. Avoid leaving the lid on so that the stock will be delicious and the color will be beautiful.
When eating, you scoop out individual portions and then reheat. If you don't eat it all, put the leftover braised meat in a small bowl instead of pouring it directly into the pot or the preserved meat box.
Do not forget to keep the meat in a cool place and do not cover the lid tightly.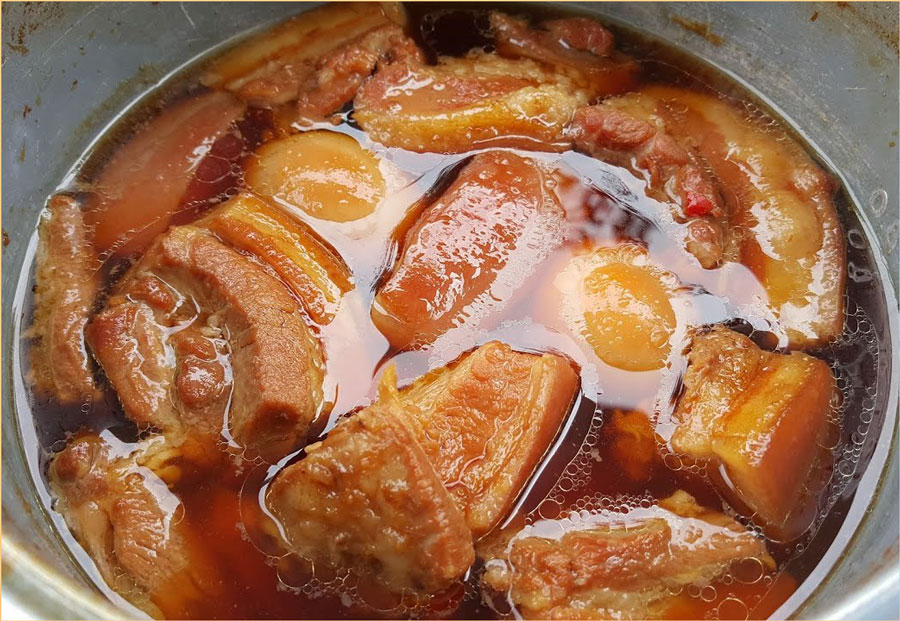 3.2. Keep the meat and eggs in the fridge
Like many other dishes, storing eggs in the refrigerator is the best way to preserve them.
After cooking the braised meat but not eating it right away, you should let the braised meat and eggs cool and then pour it into a plastic container with a lid.
Close the lid of the container and place it in the refrigerator or freezer. Sealing the lid not only helps the meat retain its flavor, not the smell of other foods, but also prevents harmful bacteria from entering, affecting health.
Meat with eggs, if stored in the freezer compartment of the refrigerator, is usually about 1 week. After this time, your braised meat will no longer be delicious and nutritious.
Above are 2 ways to make delicious braised egg meat and instructions on how to properly preserve the dish to ensure nutrition that every woman should know by heart. Good luck!
You are reading the article
2 ways to make delicious, rich egg stock with rice

at
Blogtuan.info
– Source:
Eva.vn
– Read the original article
here