Bao Xuan Gold Promotion – Grateful to Vietnamese women
In order to show gratitude to customers who have trusted in using Bao Xuan female hormone pills for the past 12 years, from March 17, 2022 to July 31, 2022, Bao Xuan launches a special promotion: Customers: Customers who buy 3 boxes of Bao Xuan Gold with gift stamps will receive 1 tube of Bao Xuan Skin Facial Cleanser 50g right away.
The program applies to women who buy 3 boxes of Bao Xuan Gold with gift stamps in 1 time at pharmacies nationwide.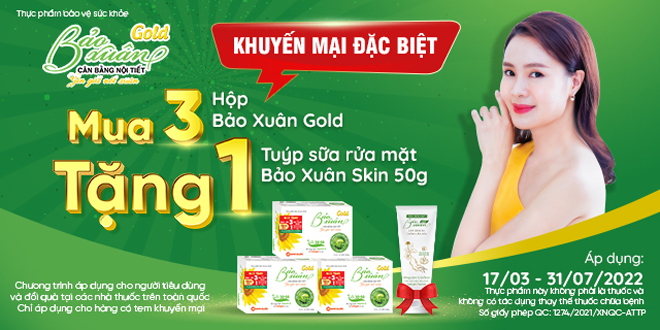 The program is not only a sincere thank you, but also continues Bao Xuan's mission to become a reliable companion to help Vietnamese women maintain their youth, health and happiness. The program is also a sharing from the brand to help women continue to regularly maintain female hormone supplementation because of the great role of female hormones in increasing resistance, increasing strengthen the immunity of women during the epidemic season.
Female hormones: A natural shield to protect women during the epidemic season
A recent study in Sweden has reinforced the importance of the female hormone estrogen in protecting women from Covid-19. The study was conducted on 14,685 middle-aged premenopausal – postmenopausal women with Covid-19 with a severe decrease in estrogen levels. Research results show that: women who supplement their bodies with estrogen have a 53% lower risk of dying from COVID-19 than women who do not take estrogen supplements. This is because estrogen acts on a woman's body, increases anti-inflammatory cytokines, hinders viral infection, and strengthens the immune system.
Women from the age of 30 begin to show signs of endocrine decline. Therefore, in order to detect abnormalities in hormonal status early and improve their own health, experts recommend that women regularly check the status of female hormones at the application. www.noitiettonu.vn and supplement female hormones from herbs as soon as there is a deficiency.
Bao Xuan Gold and Bao Xuan Skin – The almighty combo for women "Healthy inside – Beautiful outside"
Bao Xuan – the No.1 trusted female hormone product in Vietnam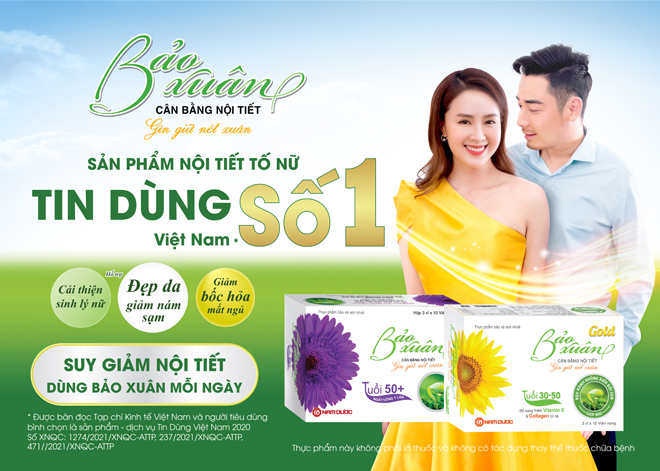 Not only highly appreciated by experts, Bao Xuan also received the trust of millions of Vietnamese women when for many consecutive years was voted as the No.1 trusted female hormone product in Vietnam. (Voted by readers of Vietnam Economic Review and consumers in 2020 and 2021).
Trusted for 12 years, with 4 times of conducting clinical studies at reputable facilities, with 98% of users satisfied with the effectiveness, TPBVSK Bao Xuan supplements herbal estrogen with a high content of active ingredients, supporting Support Balance female hormones, Improve physiology, Reduce hot flashes, insomnia. Not only has a high content of active ingredients, but Bao Xuan Gold is supplemented with Ginseng, Vitamin E and Collagen to help increase the effectiveness of skin beauty and anti-aging. The product is suitable for women after the age of 30, perimenopause to balance hormones, prolonging the youth of women.
Bao Xuan Skin Cleanser: For bright, smooth, youthful skin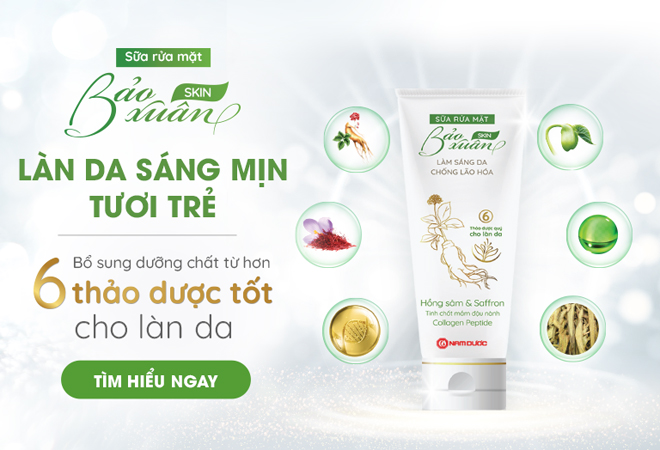 Combining the essence of traditional herbs with modern preparation technology, Bao Xuan Skin Facial Cleanser helps to clean the skin, prevent acne, maintain skin moisture, and make the skin bright, smooth, and youthful.
The secret to making Bao Xuan Skin Cleanser popular with many women is from the 2-in-1 formula set to help lighten skin – Prevent aging with many skin care ingredients that have been trusted by women from time immemorial such as Collagen Peptide. , Soybean germ essence, Pink lotus leaf extract, Rice bran extract… especially two ingredients Red Ginseng imported from Korea and Saffron imported from Iran.
The product helps to gently clean but not abrasive, dry skin by benign natural ingredients and does not contain irritants for the skin: no sulphate and no parabens. As a product in the Bao Xuan set, Bao Xuan Skin is also manufactured on modern production lines and according to CGMP standards.
Using Bao Xuan Skin according to the instructions twice a day, morning and night, will help clean the skin gently, naturally, and at the same time, help improve the signs of aging.
If Bao Xuan Gold is a soulmate to maintain hormones, Bao Xuan Skin is a great gift for women's skin. Using the Bao Xuan Gold product set and Bao Xuan Skin Facial Cleanser every day will help women get full endocrine, glittering color and abundant health to overcome the epidemic season.
For more information about Bao Xuan's promotion program, please see: here
This food is not a medicine and is not a substitute for medicine
You are reading the article
Bao Xuan Gold has a big promotion

at
Blogtuan.info
– Source:
Eva.vn
– Read the original article
here