When it comes to livestream work, most of us will think of streamers playing games, or sometimes chatting with fans. Satto, a streamer from Korea, is also the same, when most of this streamer's time is spent playing Lineage.
However, interspersed with gaming periods, Satto also has another very attractive category, which is… cryptocurrency investment. Specifically, Satto regularly livestreams placing future orders with large leverage on cryptocurrency exchanges.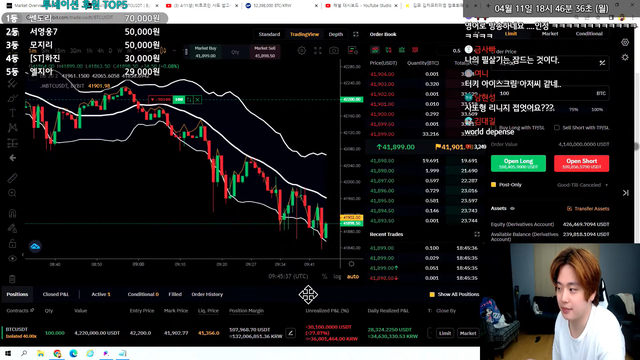 Satto and unique content array: trade coin
In case you don't know, futures, or "futures", are when investors can borrow from an exchange a certain amount of money to predict whether the price of a coin will rise or fall. Future orders include Long (predicting price will increase) and Short (predicting price will decrease).
In the past few days, the cryptocurrency market has been on a downward trend. From more than 46,000 USD/BTC at the beginning of April, the price has now decreased to about 39,500 USD (the morning of April 12).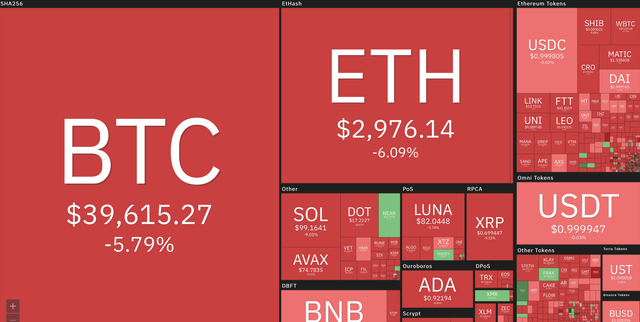 Overview of the market in the morning of April 12
Amidst the time when BTC is still "finding the bottom", Satto still has faith in this cryptocurrency's price increase. So, since the afternoon of April 11 (Vietnam time), this streamer decided to place Long orders.
Satto continuously places long orders with large value, up to millions of USD. It is worth mentioning that Satto's orders are all set to extremely large leverage, which is considered extremely risky for orders with high value.
The climax of the livestream was when Satto placed an order worth 240 BTC, or 10 million USD with 25X leverage. The entry price is $41,666 and the liquidation price is $40,208. For several hours, all Satto did was stare at the screen, watching every movement of the "candles". Satto's audience must also be thrilled to see if he will win big or not.

Satto .'s $10 Million Order Long
However, whatever comes must come. After more than 10 hours of placing orders, the price of BTC dropped at more than $40,000 and officially made Satto lose more than $400,000.
Determined to get revenge, Satto continued to place a Long order worth nearly 5 million USD with leverage… 80X. Perhaps still too depressed by the previous results, this time Satto no longer looked at the chart but switched to… on the couch and dialed the phone.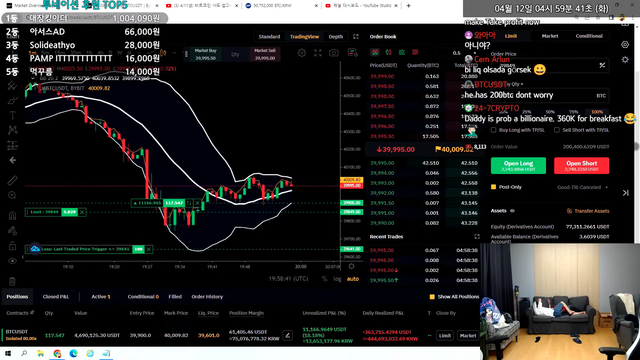 So depressed, Satto put steam on the chair and dialed the phone
However, this did not make the results any better and still caused his order to be liquidated. Satto ended the stream with an expression that could not hide his dismay.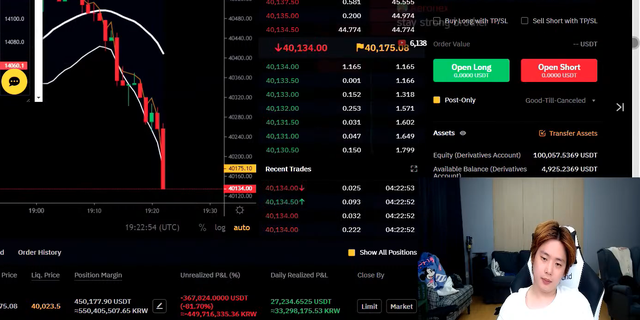 Satto's dismayed face after losing tens of millions of dollars in just a few hours
In the comments section, most people send their condolences to Satto. However, many people also expressed their anger at this streamer's way of trading "like throwing money out the window".
"He'd better donate money to charity and stop gambling with cryptocurrencies."
"It's horrible to see this guy go through such hours of torture. Don't trade with such a large amount unless you have at least more than $50 million in capital. I wouldn't even risk 450,000 USD even if I have 50 million USD"
"Discipline is the most important thing for traders, especially for those with large capital."
You can watch Satto's full livestream, divided into two parts, here and here.
https://genk.vn/can-dam-long-btc-giua-thoi-diem-thi-truong-crypto-di-xuong-streamer-han-quoc-chay-lenh-hon-10-trieu-usd- after-vai-tieng-20220412104732541.chn
You are reading the article
Courageously Long BTC in the midst of a downtrend in the crypto market, Korean streamer "burned out" orders of more than 10 million USD after a few hours

at
Blogtuan.info
– Source:
gamek.vn
– Read the original article
here