Giải trí
Famous Vietnamese martial arts master: Someone once challenged Bruce to a fight
Not only having a passion for martial arts, the martial arts masters are also favored by many directors and producers to participate in many popular TV series projects.
In the Vietnamese martial arts village, there are many people who have left an impression on the screen such as Master Ly Huynh, Master Le Ngoc Quang, Master Truong Van Hoa, Master Vu Hai…
Master Ly Huynh
Born into a family of Chinese origin with martial arts traditions, Ly Huynh studied martial arts with his father since childhood and practiced Shaolin martial arts, Vietnamese martial arts, boxing… Therefore, he is fluent in many martial arts, often was mentioned with the unique martial arts move "Continuing eight kicks" (Throwing people to kick 8 kicks in the air) At the age of 23, master Ly Huynh opened a martial arts school, training many talents for the Vietnamese martial arts village.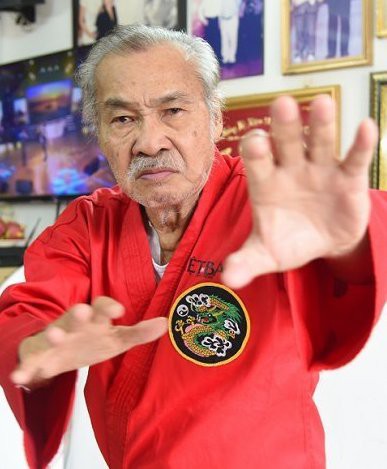 Since 1970, he rarely participated in competitions in the ring but switched to acting in martial arts films, impressing the audience through a number of films such as: Dragon and tiger fight, Monster woman Viet Quyen Dao, Precious sword washes hatred, First love, Vortex region, Ong Hai Cu, Dat island, Obstacle season…
Around 1972, Ly Huynh became a name that was noticed by the Vietnamese and international press when publicly challenging Bruce Lee – a world famous martial arts star. However, talking about this incident, martial artist Ly Huynh once revealed the story that originated when he participated in the movie Big brother Duong Son starring Bruce Lee. He was then cast in a antagonistic role with Bruce Lee.
When Ly Huynh performed the kick "Continued of eight kicks", many people praised and asked if he was ready to compete with Bruce Lee. As a martial artist with national pride, he nodded in agreement without hesitation. However, not long after that, Bruce suddenly died, so the competition did not take place.
Master Le Ngoc Quang
Having studied martial arts since he was 10 years old, Le Ngoc Quang soon succeeded and received the recognition of the Vietnamese martial arts village. In 1989, he was the first coach to coach Pencak Silat for the Hanoi, Public Security and national teams. Many years of training for the team, he has contributed to training generations of students to become SEA Games champion athletes. In 1995, the Hanoi Martial Arts Federation changed its name to Hanoi Martial Arts Association, and Master Le Ngoc Quang was elected as Deputy Secretary General of the Hanoi Martial Arts Association.
Few people know that martial arts master Le Ngoc Quang used to study at the School of Theater and Cinema, but left midway to attend Polytechnic School. However, with martial arts talent and bright appearance, he once again fell in love with the small screen and participated in many film projects such as: Morning, Holy Day, Black Territory, Special Police, White Collar, Road of Life, Human Skin Mask, Mysterious Will, Judge…
Master Truong Van Hoa
Coming from a family with a tradition of martial arts, at the age of nine, Truong Van Hoa learned martial arts from Shaolin Tu, a Chinese martial arts master. Because of that, he learned many great techniques such as Quyen Bo, Weapons, Dark Weapons, and Internal Qi. Later, he also studied at Binh Dinh Gia, Vinh Xuan Quyen, Son Dong Khong Dong, Binh Dinh – Tay Son…
Not only is he a famous martial artist, he also acted in many film projects such as Dinh Tien Hoang, Huyen Su Thien Do, Proud Heart, Drops of Water…He has also participated in many TV shows such as Strange stories of Vietnam, Vietnamese martial arts stars, Vietnamese martial arts essence, Learn Asian martial arts,…
Master Nguyen Van Thang
Master Nguyen Van Thang is also known by many people with the nickname "Winning crab". He is the founder of Bac Long Bien dojo and has trained many generations of students to achieve high achievements in martial arts competitions.
As a famous martial artist, he has participated in about 40 big and small films such as Awakening, Sand Island Love Story, Promised Land, Exploding Battleship, Raid,… or martial arts advisor for some movies like Dinh Tien Emperor, Sons of Saigon Rangers.
Master Vu Hai
Born in a family with a martial tradition, since childhood, Vu Hai has studied martial arts from famous martial artists. He affirmed his position in the Vietnamese martial arts village when he became the Deputy General Secretary of the Hanoi Martial Arts Association and successfully organized many congresses and major tournaments.
In addition to his passion for martial arts, he has a predestined interest in the arts and is often invited to direct martial arts or take on gangster roles in TV series. Film projects with his participation can be mentioned Silver Swamp (2011), Happy Dream, Mysterious Will (Tuc "hump"), Raindrop Sa (Boss Hai), Flying Flower (Non "bare"), Question 5 (Hoang Dai ca). ), Fire Keeper (Le Tung), Judge (Hung 'perch'), Crocodile profile (killer)…. and most recently The taste of friendship (You win).
The roles are mostly supporting roles, gangsters, little screen time, but master Vu Hai still receives the love of the audience for his beautiful action scenes.
The most memorable role of martial artist Vu Hai must be "Hung Ca perch" in Judge. "Hung fish perch" is a loyal junior of tycoon Phan Quan (the late People's Artist Hoang Dung). With martial arts talent and absolute loyalty, Hung "perch" is always feared by the Gypsies: "Hung "perch" is the most impressive role in my acting career. This is a character who is good at martial arts, has a strong will, is not afraid of death, and reflects the true nature of us martial artists. Hung's favorite "perch" is his quiet, action-loving, aggressive and loyal personality to his boss.
In order for the role to impress the audience, I had to study the script very carefully to visualize the character's appearance. I focus on acting with my eyes to make the character's personality come out most clearly." he shared.
However, on the afternoon of April 10, martial artist and talented actor Vu Hai breathed his last at the age of 62 after a short treatment for pancreatic cancer. The sudden departure of martial artist and actor Vu Hai made fans, friends and colleagues shocked and mourned.
You are reading the article
Famous Vietnamese martial arts master: Someone once challenged Bruce to a fight

at
Blogtuan.info
– Source:
24h.com.vn
– Read the original article
here