Business
Love boys Nghe An, American girls give birth without a wedding, live peacefully in "paradise land"
The love story of Hanna Larsen (1993, American nationality) and her boyfriend Luong Thanh Duc (1986, Nghe An) lasted 3 years with a sweet baby, a very lovely hybrid. Like many multicultural couples, they have problems arising from separation. Hanna and Thanh Duc are not married, never show off each other on social networks, but are still two on the journey to find happiness.
Fall in love with each other because they love nature together
Hanna Larsen is a "addict" to travel, love to travel and love nature. She is rarely in one place for too long and always leaves the door open for her to go here and there. In 2018, Hanna went to Asia to explore, including Vietnam. She worked briefly for a Canadian film crew to film on Cat Ba Island (Hai Phong). Thanh Duc met Hanna by chance, because he also worked for this film crew.
At that time, they had noticed each other but the impression was not deep. They chat socially and make friends via Facebook to stay in touch. That Christmas, Hanna reunited with her family in America. But then her legs could not stay in one place for too long, "incited" Hanna to go to Vietnam again in March 2020, this time in Ho Chi Minh City.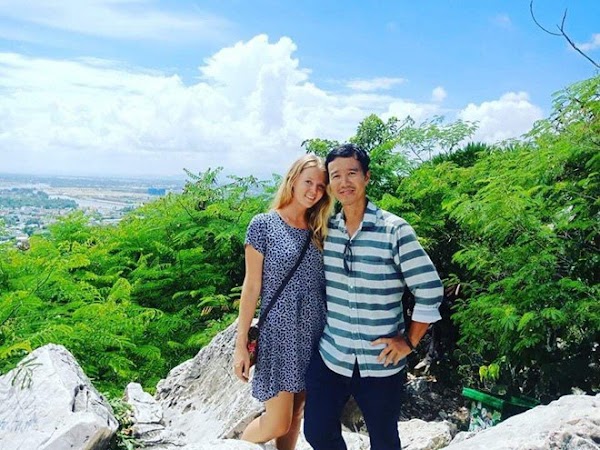 American girls and Nghe An boys love each other because they have the same lifestyle.
Hanna works here, spends a lot of time backpacking, exploring here and there. She and Thanh Duc met again and fell in love at this time. Thanh Duc is both a real estate businessman and a theater actor, with a generous personality, fond of creativity and freedom. This makes Hanna feel that he is very suitable for her.
The first impression of Thanh Duc is that he is open, approachable and has a nice voice and an attractive way of talking. Hanna therefore agreed to be his girlfriend, after a while Thanh Duc flirted. Hanna has 2 years of studying Vietnamese, German also knows English, so they don't have a language barrier when they're together.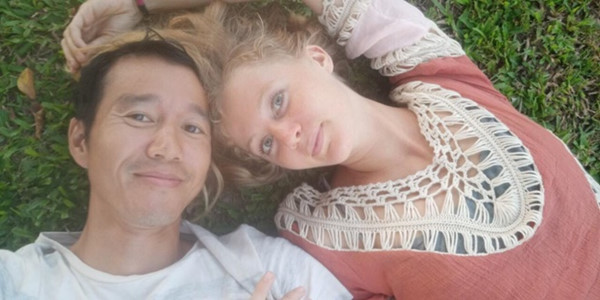 The couple has been together for 3 years.
In the period of 2020 – 2021, they live together in Ho Chi Minh City and go on many trips together, especially in the Southwest region. They choose to live close to nature. In early 2021, Hanna became pregnant. Thanh Duc happily hugs and kisses his girlfriend and eagerly awaits the new milestone of the couple.
Going to a foreign country alone, giving birth at home
Pregnant in the 5th month, Hanna returned to the US with her family. It was August 2021, Hanna bid farewell to Vietnam, temporarily closing her journey of experience. "Vietnam is a completely different country from the US. Hanna is grateful for the opportunity to live closer to nature and meet kind people all over Vietnam. Many people think that America is very special, but for Hanna, Vietnam is a magical country.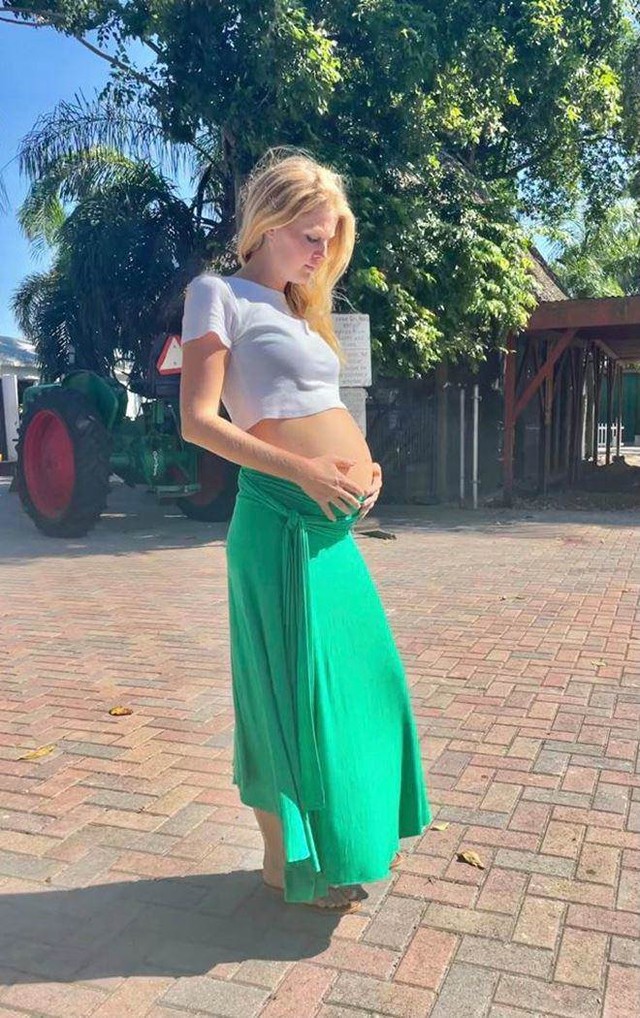 Hanna chose to give birth alone in a foreign country.
Hanna will never forget the kind people she met all over Vietnam, the Vietnamese clubs, her backpacking days in the West or near Saigon.
Maybe I'll go back, one day. Sometimes I just want to bring all of Vietnam's nature into my suitcase and carry it with me.", the American girl thought.
Before returning to the US, the "pregnant woman" and her boyfriend traveled from Mui Ne to Nghe An by motorbike and introduced Thanh Duc's family. They consider it a very meaningful and enjoyable time together and for the baby to have a moving experience.
She stayed in the US for more than a month and then decided to try living in Ecuador, a South American country. This place is completely foreign to Hanna as well as Thanh Duc, the indigenous people mainly speak Spanish, there are almost no Asians, and English is not a common language.
But the unspoiled nature, liberal lifestyle of Ecuador has made them believe that this will be a "paradise land" to live together.
Hanna and Thanh Duc loved each other for nearly half a year. The time difference makes it impossible for the couple to talk all the time, but Thanh Duc still arranges a time to make a video call, meditate with Hanna and "talk" with the baby in her belly.
That time was also very meaningful to Hanna, as she revealed: "When we are together every day, sometimes I don't realize the value that person brings to me. When we are apart, I feel grateful and miss him. Hanna thinks it's okay to be apart for a few weeks, because they both have separate lives.".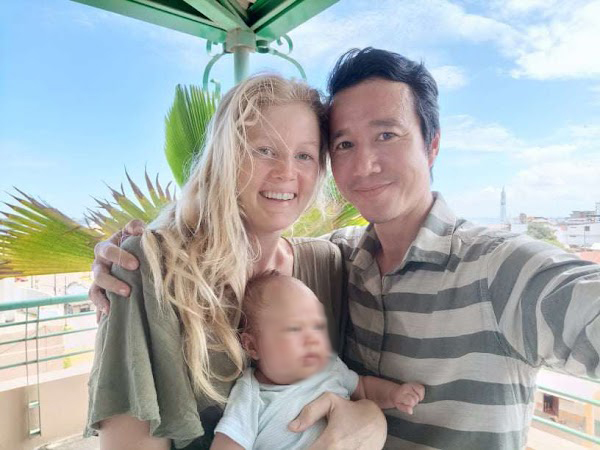 After the baby was born 2 weeks, Thanh Duc was able to reunite with his girlfriend.
A vegetarian and opting for a natural lifestyle, Hanna gave birth at home with the support of friends in Ecuador. Hanna did not cut the baby's umbilical cord, but used salt and lavender to incubate the placenta and let the umbilical cord fall off on its own.
After Duc arrived, they dropped each other's cakes into the river near their house. Hanna believes that many cultures consider the placenta as the 8th human chakra, so she wants to respect it.
Thanh Duc was a bit disadvantaged because he couldn't be with Hanna at that sacred moment. About 2 weeks after the baby was born, he could apply for a visa and go to Ecuador to reunite with his mother and daughter.
Unmarried, still happy in "paradise land"
Currently, Hanna and Thanh Duc live together in Ecuador. Thanh Duc describes life in this "paradise land":There seems to be no concept here of what an epidemic is. People are only interested in enjoying life."
He witty said, I live by "hunting, gathering, gardening, living close to nature". Duc often goes hiking (mountain climbing) and has the opportunity to make new friends from all over the world, enjoy the scenery, pick fruits by the roadside, see strange animals and birds with colorful colors. enjoy and be in harmony with nature.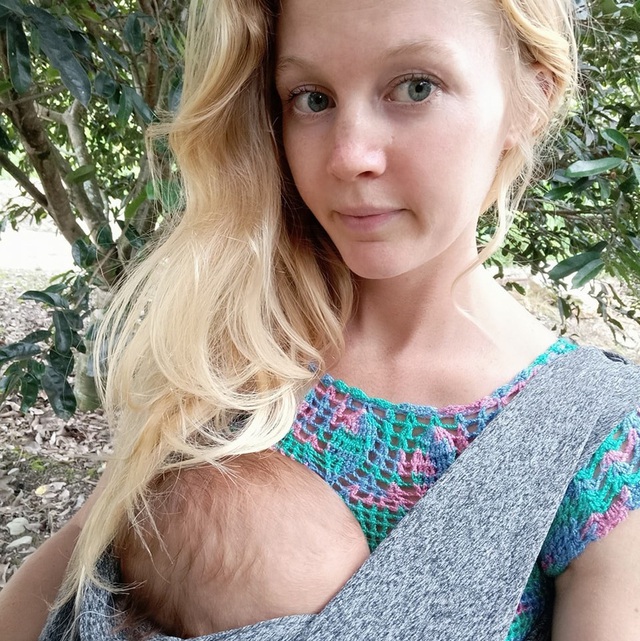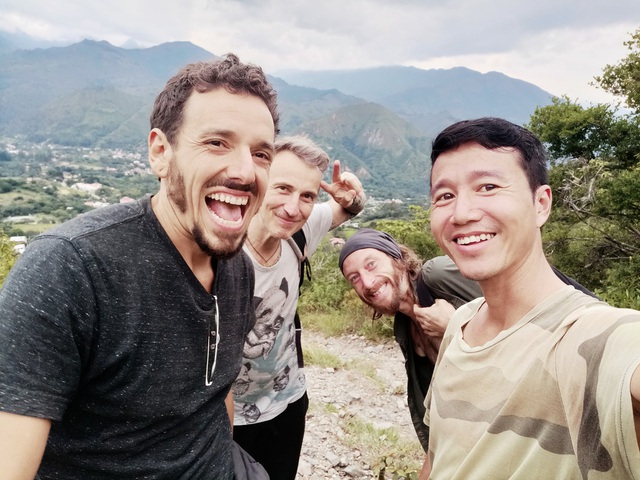 The couple lives independently with their own experiences, side by side.
Hanna is a vegetarian and Thanh Duc also has a simple diet, so they have a pretty good life. They agree on how to take care of the baby: Hanna wants to sleep with the baby, likes to carry the baby around. Germany also supports Hanna's vegetarianism but wants Hanna to eat a variety of foods, not to eat a strict or raw diet (a "fresh" vegetarian style that restricts cooking and food processing).
Hanna also wants to raise a vegan baby and use eco-friendly cloth diapers. Her boyfriend was fine with that, accepting the hard laundry.
Sometimes there are also minor disagreements between them, like the story of Germany… too clean to the point of obsession. When arguing, he spoke in Vietnamese, making Hanna a little confused. As for Thanh Duc, although he respects and loves his girlfriend, he still hopes she can teach her children in a more… Vietnamese way, abstaining a little for the baby.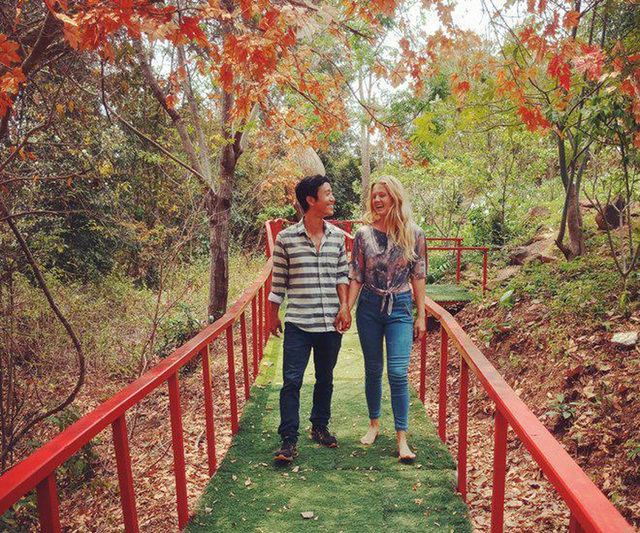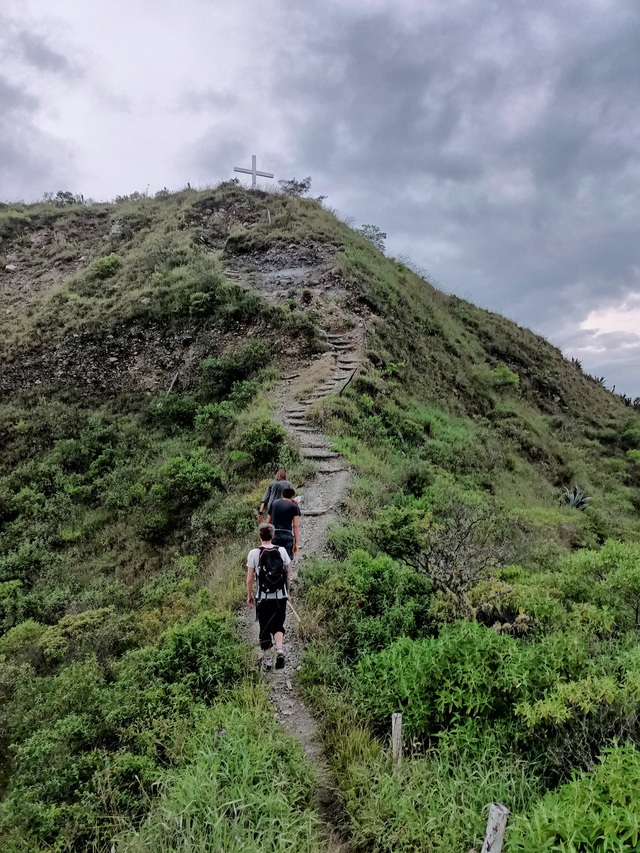 Although not married, not tied to marriage, Hanna and Thanh Duc are still living well together, exploring nature together. They do not determine to settle in Ecuador because staying in one place for a long time is boring. For now, they are still excited about this beautiful land.
https://soha.vn/yeu-trai-nghe-an-gai-my-sinh-con-ma-khong-co-dam-cuoi-song-thanh-thoi-o-xu-thien-duong-20220411232850763. htm
You are reading the article
Love boys Nghe An, American girls give birth without a wedding, live peacefully in "paradise land"

at
Blogtuan.info
– Source:
cafebiz.vn
– Read the original article
here