Công nghệ
The first agricultural product of Vietnam to be designated as an agent in Japan
Recently, Bac Giang Provincial People's Committee held an online conference to consume lychee at 30 domestic and international demand points. Of which 22 points of domestic demand, 8 points of demand in other countries are the main export markets of Bac Giang lychee. Minister of Science and Technology Huynh Thanh Dat attended at Bac Giang Bridge.
Discussing at the bridge points, the delegates focused on issues such as: Creating favorable conditions for lychee customs clearance; put lychee for consumption on e-commerce sites; fabric consumption at large supermarkets and wholesale markets in the country.
E-commerce is becoming popular in many countries, including Vietnam. This method becomes even more convenient and advantageous when the Covid-19 epidemic is breaking out on a global scale.
The fact that Bac Giang has actively applied a business method based on new technology in lychee consumption is the right direction, creative and effective way in the current situation.
Also at the conference, Director of the National Office of Intellectual Property Dinh Huu Phi announced and awarded the Certificate of Geographical Indication of Geographical Indication of Luc Ngan litchi in Japan to the representative of the People's Committee of Luc Ngan district, Bac Giang province. .
Implementation of the Vietnam – Japan Joint Statement during Prime Minister Nguyen Xuan Phuc's official visit to Japan in 2017, in which the Governments of the two countries affirmed their willingness to facilitate the procedures for allowing fruit exports of the two countries. Vietnam entered Japan through cooperation in the field of geographical indication protection, including lychee products in Luc Ngan, Bac Giang.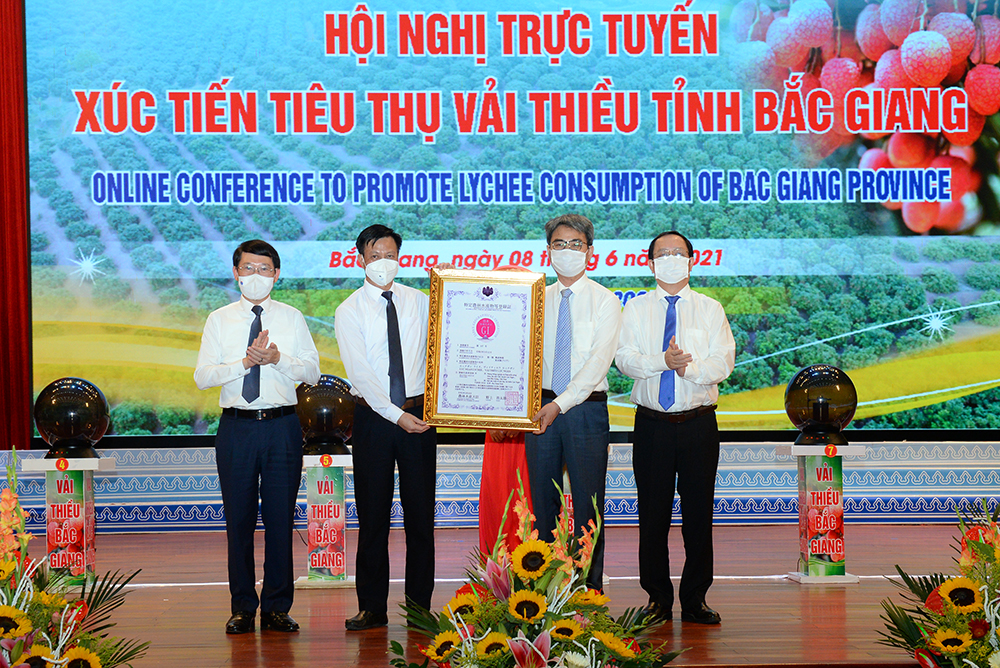 After nearly 02 years, with the close direction of the leaders of the Ministry of Science and Technology, the efforts of the leaders and functional units of the NOIP, and the coordination of the agencies of Bac Giang province, on 12/3/ 2021 Luc Ngan lychee has been granted a Geographical Indication Registration Certificate by the Ministry of Agriculture, Forestry and Fisheries (MAFF) with registration number 107.
This is the first of three GIs supported by the Ministry of Science and Technology under the framework of the Intellectual Property Development Program. Currently, 02 GIs of Binh Thuan dragon fruit and Buon Ma Thuot coffee are in the process of completing documents at the request of MAFF.
Currently, Bac Giang's lychee is being protected by trademarks in 8 countries including: China, USA, Japan, Australia, Korea, Singapore, Laos, Cambodia.
In particular, in March 2021, Luc Ngan litchi, Bac Giang became the first agricultural product of Vietnam to be officially protected as a GI in Japan, paving the way for the promotion of GI protection. lychees in other countries; At the same time, it is also a "passport" for lychees from Luc Ngan, Bac Giang to be exported to other large and potential markets.
In order to have the highest quality lychee to meet the requirements of all domestic and international markets, over the years, the Ministry of Science and Technology has always accompanied and coordinated with Bac Giang province to persistently carry out the research. research and synchronously apply scientific and technological solutions to production such as cultivation and care techniques; harvesting, preliminary processing, applying traceability to products; internal inspection and supervision and external supervision; production links along the value chain; expanding lychee growing area according to VietGAP, GlobalGAP standards… towards 100% lychee according to VietGAP standards.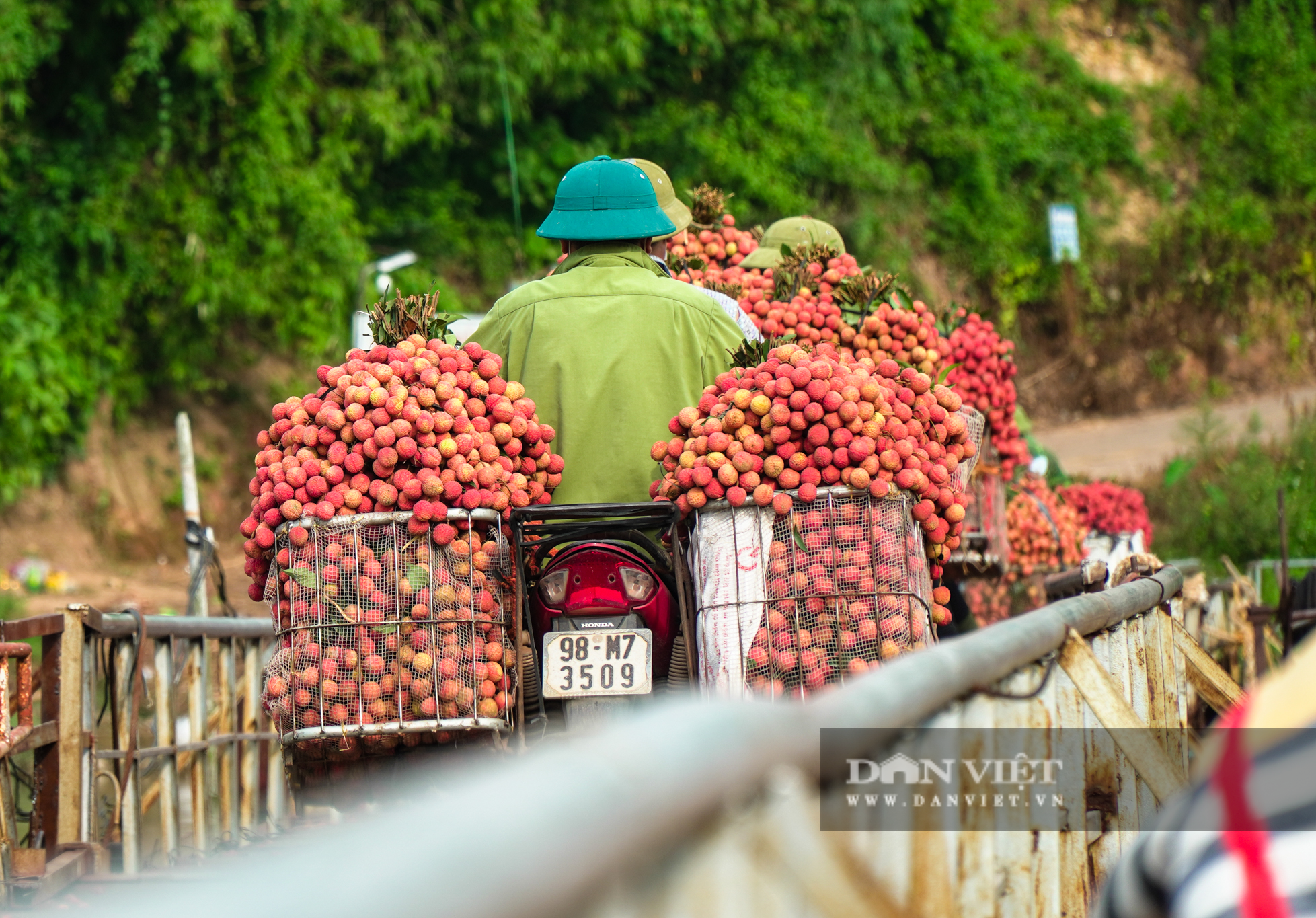 Along with that, closely monitor litchi gardens participating in the organic lychee model; install surveillance cameras, electronic care logs; organic fabric has many outstanding advantages.
According to reports, the whole Luc Ngan district currently has more than 15,000 hectares of lychee, concentrated in communes such as Hong Giang, Tan Son, Quy Son, and Giap Son. In which, many production areas follow GlobalGAP, VietGAP, and organic processes, helping products to have both beautiful codes and high quality, meeting the needs of domestic consumption and export. At present, the flowering rate is more than 90%, the growth and development is good, people are focusing on taking care measures for the litchi to set fruit.
In the 2021 production season, the lychee area of ​​Bac Giang province is expected to reach about 28,000 hectares. In which, the area of ​​early litchi is nearly 7,000 ha, main season lychee is more than 21,000 ha; production is expected to reach about 160,000 tons. The area of ​​lychee produced according to VietGAP standards of the province is expected to reach over 15,000 hectares; lychee produced according to GlobalGAP standards on an area of ​​338 hectares.
In the lychee crop in 2020, Bac Giang province has officially exported to Japan with a total output of about 200 tons of lychee.
This year, for the Japanese market, Bac Giang continues to direct the production of 19 planting area codes that have been granted in 2020; at the same time, reviewing and expanding a number of regions, bringing the total area of ​​lychee areas to serve the Japanese market to about 130 hectares. Currently, the Plant Protection Department (Ministry of Agriculture and Rural Development) is evaluating and appraising to issue area codes in the near future.
You are reading the article
The first agricultural product of Vietnam to be designated as an agent in Japan

at
Blogtuan.info
– Source:
danviet.vn
– Read the original article
here