Khỏe - Đẹp
The most terrible complication of shingles
Many people with shingles have a painful complication that makes men cry because they can't stand it.
Ms. Nguyen Thi L. (43 years old, from Bac Giang) suffered from shingles and had painful complications. Ms. L. has gone to cut off the male medication and has reduced more. When going to Ho Chi Minh City to work, the pain caused by shingles is increasing.
The pain only lasted 3-5 minutes, but it made her cry, so she had to try her best to relieve the pain. After that, she went to the doctor and said that she had a pain complication due to shingles.
Another case, Mr. Nguyen Van Q. 45 years old, Ho Chi Minh City, was taken to the hospital by family members because of pain. Mr. Q has had shingles from more than a month ago, has recovered from external lesions but has turned to pain.
The pain came, Mr. Q sat crying, struggling in panic, scratching himself. Relatives said he went to the doctor and was given medicine but it didn't help. When he entered the hospital, the big, strong, muscular man was still struggling to cry like a child because of the pain.
According to Dr. Bui Thi Yen Nhi – Ho Chi Minh City University of Medicine and Pharmacy Hospital, base 2, shingles, also known as "shingles" is an acute mononeuropathy caused by infection with the Varicella-zoster virus.
The most common symptom is vesicles that grow in clusters on a red background along the path of the sensory nerves.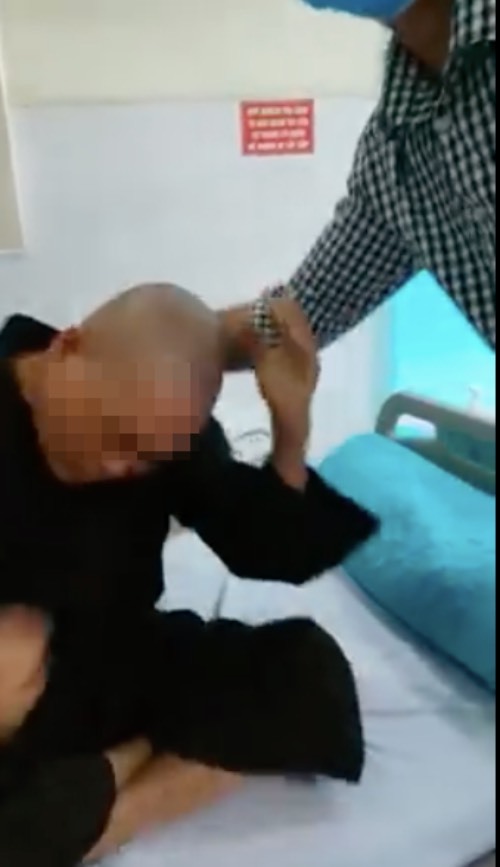 The complication of shingles made the man painful and cry when he was admitted to the hospital.
Dr. Nhi said the case of Postherpetic neuralgia (Postherpetic neuralgia) is a chronic pain syndrome caused by a virus located in the reactivation of the posterior radicular ganglia, the pain persists from several months (>3 months) to many years, although skin lesions have healed.
The type of pain is often described as burning, like a knife… Pain often lasts for many episodes affecting quality of life. Common in people with weakened immune systems such as the elderly, people with diabetes …
Post-shingles pain affects quality of life as much as sleep disturbance due to pain and even depression has been reported in patients.
How is the room?
Dr. Nhi said that preventing pain after shingles is very important. Currently, self-treatment by applying leaves, applying green beans, drawing ink, catching fish, … not going to a specialist is not uncommon. Even at an early stage of the disease, the cluster of blisters has not appeared, it is easy to misdiagnose and treat incorrectly.
For example: shingles in the head are mistaken for migraine, shingles in the back are mistaken for intercostal neuralgia, shingles in the abdomen are mistaken for sciatica or spine pain… Therefore, it is diagnosed and treated early. 72 hours before the onset of the disease, this is of great significance in the prevention of post-herpetic neuralgia complications.
The treatment of pain caused by shingles so far has no specific treatment, the pain does not respond to conventional anti-inflammatory drugs. Pain control is the main goal of treatment.
The patient can use physical therapy. Currently, there is transcutaneous electrical nerve stimulation (TENS) therapy, which uses inhibitory electrical impulses to create pain relief.
For traditional medicine, patients can use:
Heat type: mainly itchy, uncomfortable stinging.
Hypothermia: usually with blisters, drainage or pus from the blisters.
Inflammatory heat: low toxic heat causes blockage of meridians, causing stagnation of qi and blood, resulting in a characteristic intense pain. This is the form closest to the symptom of pain after shingles.
Medicines: Depending on the type of disease, use the people who clear heat and leave fire (Long Dam Thao, Hoang Cam, Chi Tu, Trach cholera, Sinh Dia …) to treat low Pi (Thuong Truc, Phuc Linh, Bach Truc, Tru Linh, etc.) Tran skin, Hau sketch, …) or active blood gas (Dao Nhan, Hong Hoa, Xuyen Khuong, Duong Quy, Sai Ho, Huong Phu, Chi body, Mot medical, …) which constitute the remedy.
Electro-acupuncture according to "nerve section": It is a method based on the area of ​​​​the diseased skin that is affected by sensation, which determines the acupuncture along the paravertebral line to affect the nerve root segment to inhibit pain.
In combination with acupuncture points, or specific acupoints to clear heat and eliminate toxins, leprosy or low-grade areas, depending on the type of disease:
Heat-winding form: Feng Shui, Khuc Tri, Hop Co, Bonded, Blood Sea
Low temperature body: Tuc Tam Ly, Ky Mon, Uyen Translation, Phong Long
The body of fire and heat (qi and blood stasis): Chuong Mon, E Phong, Thien Du, Duong Lang Tuyen,
Hydro-acupuncture: using drugs with the effect of enhancing nutrition, reducing nerve pain (which is a mixture of Vitamin B1 mixed with Lidocaine) injected into the muscle area corresponding to the acupoint, each 0.5mL of the mixture for each acupoint location.
Khanh Chi
You are reading the article
The most terrible complication of shingles

at
Blogtuan.info
– Source:
infonet.vietnamnet.vn
– Read the original article
here