During the Cold War, the Soviet Union was the country that operated one of the forces submarine largest in the world. At its peak in 1980, this force numbered 480 aircraft.
Today, this class of submarines is still a "remarkable" force after the extensive modernization programs of the Russian Navy.
The Kilo-class submarines were originally developed by the Soviet Union under Project 877 Paltus and remained under construction until the mid-1990s when Moscow switched to the more advanced Project 636 Varshavyanka.
This class of submarines is designed for both anti-submarine warfare (ASW) and anti-ship warfare (ASuW) as well as general patrol and reconnaissance missions.
NavyRecognition reported that, in early April 2022, the Ufa submarine – the fourth of the improved Project 636.3 Varshavyanka was launched at Admiralty Wharves Shipyard (a subsidiary of United Shipyard – USC).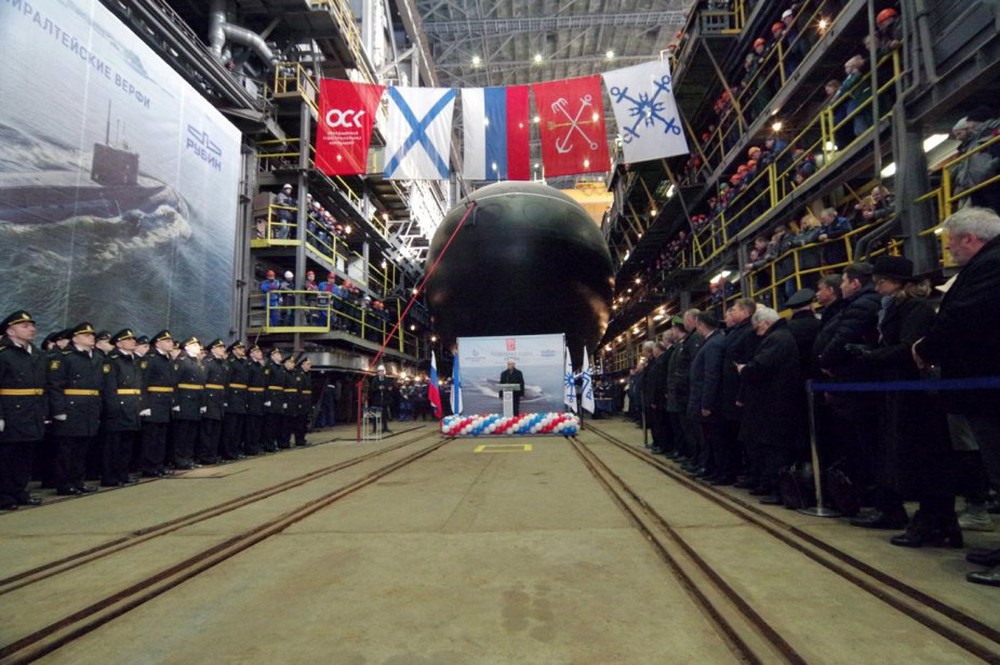 Launching ceremony of Ufa submarine of Project 636.3
According to previous Russian media reports, a contract for the construction of six Project 636.3 diesel-electric submarines for the Russian Navy's Pacific Fleet was signed in September 2016.
Petropavlovsk-Kamchatsky – the first submarine of Project 636.3 was delivered to the Russian Navy on November 25, 2019. The second submarine of Project 636.3 – Volkhov submarine was handed over to the Pacific Fleet on October 24, 2020, while the third submarine Magadan was put into sea trials on June 25, 2021. This ship was delivered to the Russian Navy in October last year.
Project 636.3 improved Varshavyanka submarines (NATO reporting name modified Kilo-II) are considered third generation diesel-electric submarines. The US Navy has dubbed Russia's Kilo-class submarines as Oceanic "Black Holes" because they are designed to operate in shallower, coastal waters and are assigned both anti-submarine and anti-ship missions.
The improved Kilo-II class is noted for its higher combat effectiveness than its predecessors, including hydroacoustic stealth, larger target detection range, and inertial navigation system. the latest, advanced automated information, control systems, more powerful high-speed torpedoes and improved missiles.
The improved Kilo-II class submarines are capable of detecting enemy submarines at a range 3-4 times greater than they can be detected.
The Project 636.3 submarines are 74 m long, displace more than 3,900 tons, and thanks to their sturdy hull design, they can reach an operating depth of 240 m and dive to a maximum depth of 300 m, with a range of range. Operates up to 7,500 miles.
Russian submarines are still considered one of the quietest underwater cruisers in the world. They can move at speeds of up to 20 knots and operate continuously at sea for 45 days. Each submarine of this class carries six torpedo tubes and a crew of 52.
Project 636.3 submarines are equipped with Kalibr/Club ground-attack cruise missiles, anti-ship missiles and anti-submarine missiles.
3M-54 Kalibr, also known as 3M54-1 Kalibr, 3M14 Biryuza, (SS-N-27 Sizzler and SS-N-30A), 91R1 and 91RT2 are cruise missiles developed by Novator Design Bureau ( OKB-8). The Kalibr can be launched from torpedo tubes while the submarine is in a submerged position.
Each Kilo-class submarine is also equipped with 533 mm torpedo tubes and carries a total of 18 torpedoes.
https://soha.vn/tau-ngam-kilo-tai-sao-my-van-phai-lo-so-ho-den-dai-duong-cua-hai-quan-nga-20220412071808433.htm
You are reading the article
Why does the US still have to fear the Russian Navy's "Black Hole" Ocean?

at
Blogtuan.info
– Source:
Soha.vn
– Read the original article
here