Business
Encroaching into the pharmaceutical segment – ​​medical equipment, industrial equipment, F&B…
Without an appointment, both Chairman Nguyen Duc Tai of Mobile World (MWG) and Doan Hong Viet of Digiworld (DGW) Both of them set a compound annual growth target for their businesses of 25% or more. With the growing scale of Mobile World and Digiworld, this goal is increasingly difficult to achieve. The common solution that both of these presidents have chosen in recent years: diversifying business lines.
While Mobile World retailer has entered the mother and baby segment, sports, fashion, bicycles, watches…, recently, wholesaler Digiworld said it will distribute more FMCG, home appliances, and pharmaceuticals. – medical equipment, industrial equipment, F&B.
However, the implementation method of each party is different, while The Gioi Di Dong has granted the opening episode of 5 series at the same time in AVA World in early 2021, Digiworld is slowly going step by step.
In 2019, Digiworld started to distribute FMCG. In 2021, it decided to encroach into the home appliance segment and will officially distribute it in 2022. Also in 2022, Digiworld will conduct M&A to go faster in the industrial equipment and F&B segments, and place new orders. the first foundation for the pharmaceutical industry – medical equipment.
With these new industries, Chairman Doan Hong Viet hopes that the profit margin of the business will be improved in the future.
IF M&A, THE PARTNER'S SIZE MUST BE 20% LESS Than DGW
During the AGM 2022, Digiworld's leadership admitted that they did not do well in the FMCG segment. Although this segment has been deployed for a few years, it is still growing slowly and not as expected by Digiworld. Usually the new segment will grow the fastest of all, but in Digiworld it's the opposite.
Proof: in 2021, the FMCG segment brings in VND 376 billion in revenue, up 42% compared to 2020 and only completing 75% of the plan. FMCG is Digiworld's lowest growth segment in 2021. By the first quarter of 2021, this situation has not improved, the consumer segment only brought the company 71 billion VND – a decrease of 12% compared to the same period last year. .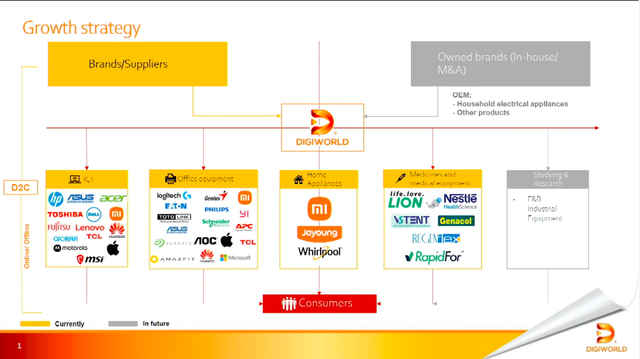 However, not because of that, Digiworld's leadership stopped the proposed business expansion projects. In addition to FMCG, in the next few years, DGW will distribute more segments such as household appliances, pharmaceuticals – medical devices, industrial equipment and F&B. Digiworld's management said that the sales of both FMCG and pharmaceutical segments are modest compared to the common ground, which is both a challenge but also an opportunity.
In the field of home appliances – Home Appliances, Digiworld said that they are distributing products for 3 brands: Xiaomi, Joyoung and Whirlpool.
According to the sharing of President Doan Hong Viet, Whirlpool has been in Vietnam for about 2 years and has cooperated with a small distribution business, but it is not effective, so it came to Digiworld. The two signed a comprehensive cooperation agreement at the end of 2021 and after months of preparation, DWG will officially sell the products of its US partner in the 3rd or 4th week of this April.
Xiaomi has a very rich range of household products, but Digiworld does not distribute all, but only sells products with user manuals in Vietnamese or English.
"The Vietnamese home appliances market is worth about $2.5 billion and even though we are new, we still want to take 10% of the market revenue. Digiworld is ready to conquer Vietnam's potential home appliance market", Digiworld Chairman affirmed.
In the field of pharmaceuticals and medical equipment: Recently, Digiworld has tried to distribute Covid-19 anti-epidemic products such as antigen test trays, protective suits… However, because this is a specific field. so they can't be in a hurry.
Currently, Digiworld is still waiting for licenses, and consolidating general regulations and standards according to state laws. Despite being in the exploration stage, Digiworld is still strong, aiming to take the 3rd position in pharmaceutical supplier by 2025.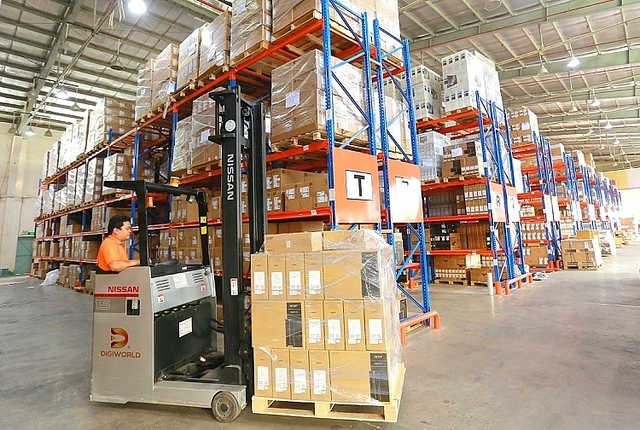 Digiworld has just expanded its warehouse 4 times compared to 2021 to be ready for the multi-industry game.
"If the FMCG and pharmaceutical industries have certain achievements, surely Digiworld's profit margin will be higher than now. We will never 'say no' to any opportunity, especially in industries with high profit margins," said Mr. Doan Hong Viet specifically.
About industrial equipment and F&B: DGW will go on two legs, both self-build and M&A. With Digiworld, how to go right and go fast is important, so they don't insist on starting their own business. "The idea is only worth 5 cents, how it is implemented is important", Doan Hong Viet expressed.
Accordingly, the size of partners for Digiworld to be able to M&A must be 20% or less than themselves. Both must have a certain harmony in corporate culture and business. Up to this point, Digiworld is pursuing several M&A deals and may close some of them in 2022.
Investment capital in these M&A deals will come from profits that businesses have retained or borrowed more, but Digiworld will not issue shares, so as not to dilute shareholders' interests.
'Haunting' XIAOMI AND APPLE OF DIGIWORD SHAREHOLDERS
On the other hand, there is another very interesting thing: Digiworld's management was constantly questioned by its shareholders about issues related to Xiaomi and Apple during the AGM. Although, this business has anticipated the anxiety of shareholders when two big players have joined the distribution market of these two brands, FPT Retail and The Gioi Di Dong, recently, so they have spread the word. much information on this matter.
But, it seems that the efforts of the Board of Directors are not enough or maybe, Digiworld's shareholders are "obsessed" with these 2 brands too.
Ms. To Hong Trang – Deputy General Director of Digiworld
"In fact, distribution is only one of Digiworld's business segments, not all. Digiworld also has 4 other important services such as market development, branding… Currently, Digiword has 5 D Care warranty centers, operates 12 Samsung exclusive warranty centers, and operates 6 Xiaomi stores in Vietnam. Hanoi, Da Nang and Ho Chi Minh City.
So, it's normal for brands to cooperate with Digiworld for a long time and "have enough hair" and then fly off to find other partners, it's not surprising to us. Digiworld's problem is to find a way to research and develop all 5 business services at the same time, build infrastructure – digitize operations to better serve the online channel.", Ms. To Hong Trang – Deputy General Director of Digiworld feedback.
Sharing the same opinion, Mr. Doan Hong Viet also said that Xiaomi or Apple having more big partners will not affect Digiworld's growth much. Business is not as simple as: now, if Xiaomi has an important partner, FPT Shop, the market pie will be divided into 2. Or add Mobile World's TopZone chain, Digiworld's sales will be affected; Actually, TopZone also buys goods from Digiworld.
"So, in 2022, the contribution of these two brands to Digiworld's revenue will continue to increase. And we are still one of the important partners of Xiaomi and Apple. Furthermore, the Our strategy is to increasingly diversify partners – to cooperate with new brands in both new and old categories, making the contribution to revenue of each brand smaller.
In a nutshell, Digiworld will not be too dependent on any brand, the industry – partners will expand," continued Digiworld Chairman.
Furthermore, as a wholesaler, Digiworld has advantages that retailers do not have. If it takes a retailer 6 to 8 weeks for the goods to arrive at the warehouse after signing the order, it only takes Digiworld 1 to 2 weeks. Therefore, Digiworld is having the function of regulating the market and this is also the value that this business brings to manufacturers.
https://cafebiz.vn/dai-gia-ban-si-digiworld-dua-da-nganh-lan-san-sang-mang-duoc-thiet-bi-y-te-thiet-bi-cong-nghiep- fb-2022041215304581.chn
You are reading the article
Encroaching into the pharmaceutical segment – ​​medical equipment, industrial equipment, F&B…

at
Blogtuan.info
– Source:
cafebiz.vn
– Read the original article
here