Business
Exam preparation 1.5 months has achieved 8.0 IELTS, looking back at the high school profile is not inferior
Among the famous faces of GenZ, Chau Anh (Chao) is a name not to be missed. Chau Anh began to become known by sharing about her own life.
Although she was born in 2003, she already owns a TikTok channel of more than 1.5 million followers, and manages a series of online store chains and accepts advertising for many brands.
The rich kid received a "terrible" scholarship
Chau Anh is mentioned by many people as "a rich kid with a diamond spoon" because he was born in a family with good conditions. Currently, she is studying at New York University – one of the most expensive schools in the US.
Chau Anh passed the entrance exam to New York University thanks to her essay and IB score (international Baccalaureate certificate). The IB score of 10x is 40/45 – well above the world average of 30/45.
According to a survey by The Princeton Review 2018, New York University is one of the schools most American students dream of going to, after Stanford University and Harvard University. Famous alumni of the school include actress Anne Hathaway, actress Angelina Jolie…
Before that, the GenZ girl smashed the rumor of "relying on her parents" when showing off her achievement of winning a scholarship to study abroad. One of the conditions to help Chau Anh get a scholarship is because she has an 8.0 IELTS.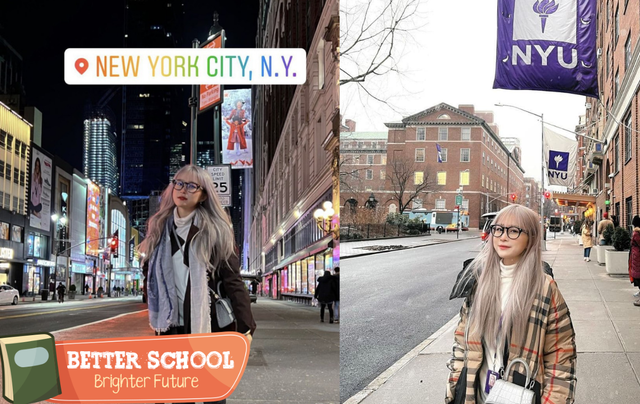 Chau Anh is currently studying in the US
She even shared that it took only 1.5 months to reach this point. Many people commented that Chau Anh might have lied about his academic achievements and thought that 10x should not say so to avoid misunderstanding about the difficulty of the IELTS test.
After that, Chau Anh had to correct it with another story on his personal page. The female student said that she had attended an international school since she was a child, so she had a good foundation in English. When deciding to take IELTS, Chau Anh was very fluent in this language and 1.5 months was just a review to understand the format of the question and how to do the test..
According to Chau Anh's share, she previously attended British International School in Hanoi – the high school with the most expensive tuition fees in the capital. Tuition for the final year of high school is up to 731 million VND.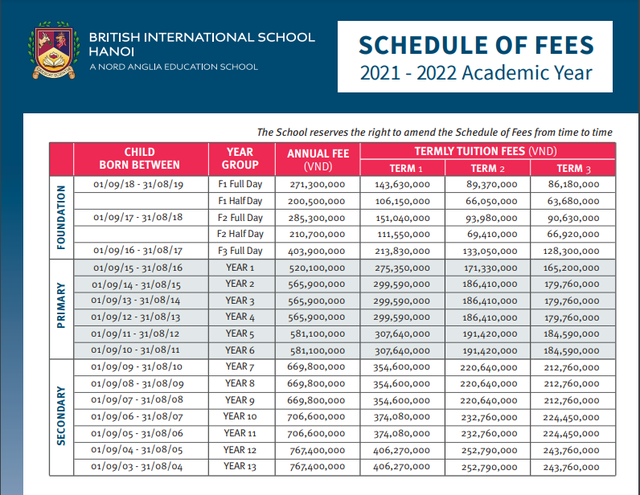 Fee table of British Multi-level International School – Hanoi (Source: BIS Website)
What does an expensive international school have?
1. Modern facilities
British International School Hanoi – BIS Hanoi is located in the urban area of ​​Vinhomes Riverside Hanoi. The school belongs to Nord Anglia Education group and is one of four British International schools in Vietnam. The school provides an English-style education model for children from 2 to 18 years old, the tuition fees are among the highest today.
British International School Hanoi was built in a modern style with full facilities to serve the learning needs of students. It has facilities including a library, large hall, cinema room, 25m long indoor swimming pool, gymnasium and artificial grass football fields. All classrooms are equipped with projectors and interactive whiteboards.
In particular, the school has specialized classrooms serving different subjects. In the classrooms of the Primary block, there are also small rooms to support group learning.
The Kindergarten Building also has large multi-purpose rooms, a library, a small hall and an indoor safe playroom for children. All areas in the building are covered with wireless networks with an outdoor playground that fully meets international standards for safety and flexibility.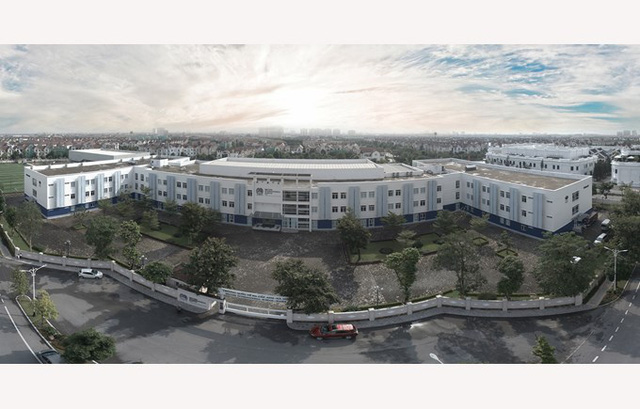 School campus seen from a distance
2. Various languages
Languages ​​are an important part of the learning experience at BIS Hanoi, equipping children with the means to go further in today's globalized world. Students attending the school are guaranteed to be able to communicate in English and at least one other language.
In addition to communication, language learning promotes internationalization by building your child's understanding of other cultures and perspectives. English is the main language of communication and instruction throughout the school.
Students also have the opportunity to learn additional languages ​​including Vietnamese, French, Spanish and German with specialist teachers from Grade 1 until leaving school.
3. International standard curriculum
BIS Hanoi affirms that the school attaches great importance to education issues. On the official website, the school says: "Our students will leave school and enter a competitive world where they will need all of their academic abilities, strengths of character and personal skills to be happy and successful. provides a nurturing yet rigorous environment in which our students will become active and capable citizens of the future.
From kindergarten through high school and university preparation, we ensure that every student receives the best international education, with a tailored approach that takes into account needs, interests and grades. strength of each child".
In 2015, BIS Hanoi became a member of the Federation of British International Schools in Asia (FOBISIA). From August 2016, British International School BIS Hanoi was officially licensed to teach the IB International Baccalaureate Program (International Baccalaureate).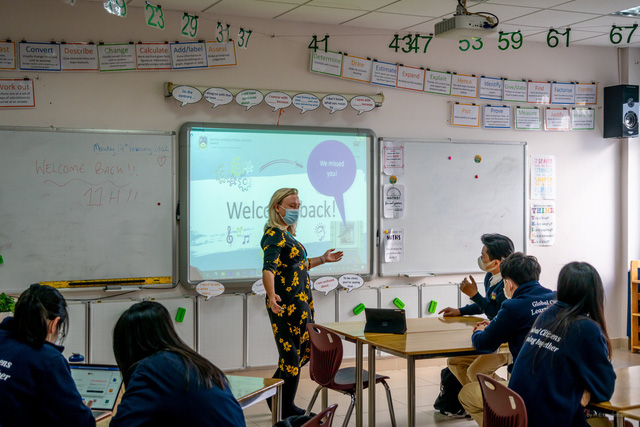 Teaching activities of the school meet international standards
In 2017, the school was recognized as a full member by the Council of International Schools (CIS) and the Western Association of Schools and Colleges (ACS WASC). BIS Hanoi students achieve academic excellence, significantly surpassing the world average in renowned qualifications including IGCSEs and the International Baccalaureate Program.
4. Various extracurricular activities
In addition to studying, BIS Hanoi also focuses on extra-curricular activities for students. Through these activities, students can explore their interests and talents in many different aspects. In addition, children can share their interests with their classmates, thereby developing social skills and communication skills.
Parents can register their children to participate in extracurricular activities during the registration deadline at the beginning of each semester. Most of the school's extracurricular activities are free, but some require a cash payment.
Currently, the school has typical extracurricular activities such as dancing, lego club, origami club, table tennis, fencing, gymnastics club,…
Synthetic
https://cafef.vn/rich-kid-ngam-thia-kim-cuong-chau-anh-thi-do-dh-noi-tieng-nuoc-my-on-thi-15-thang-da-dat- 80-ielts-soi-lai-profile-truong-cap-3-cung-khong-he-kem-canh-20220413123953641.chn
You are reading the article
Exam preparation 1.5 months has achieved 8.0 IELTS, looking back at the high school profile is not inferior

at
Blogtuan.info
– Source:
cafebiz.vn
– Read the original article
here