After a long day of hard work, I returned to my newly rented motel room 2km from the company. I couldn't sleep all night because of the cold, thinking forever about the image of a female worker in the same neighborhood who was full of people holding their little daughter…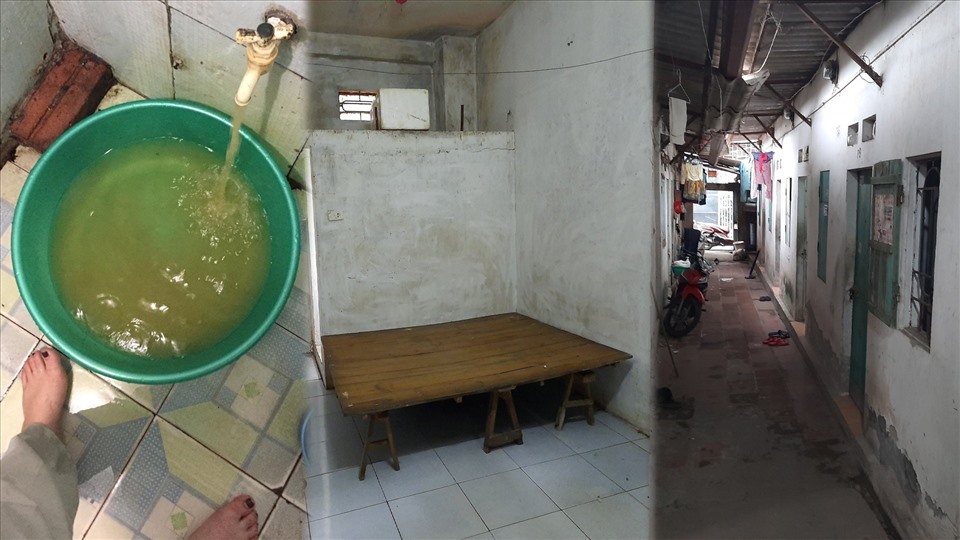 The hostel I found is located deep in Bau village, about 2km from the company where I work.
Cheap hostels
After applying for a job, it took me nearly a day to find a room to stay. Bau village (Kim Chung commune, Dong Anh district, Hanoi) is considered by many workers as the "central" area, where people live in densely populated areas.
The hostel I found is located deep in Bau village, about 2km from the company where I work.
Came to see directly, the room was too shabby, called the mobile number of the innkeeper and received a notice that the room was full. Finally, I also found a room about 15m2 wide, with a loft and a closed toilet. The landlady said that I was "lucky" when someone had just moved here, otherwise the area would always "burn out".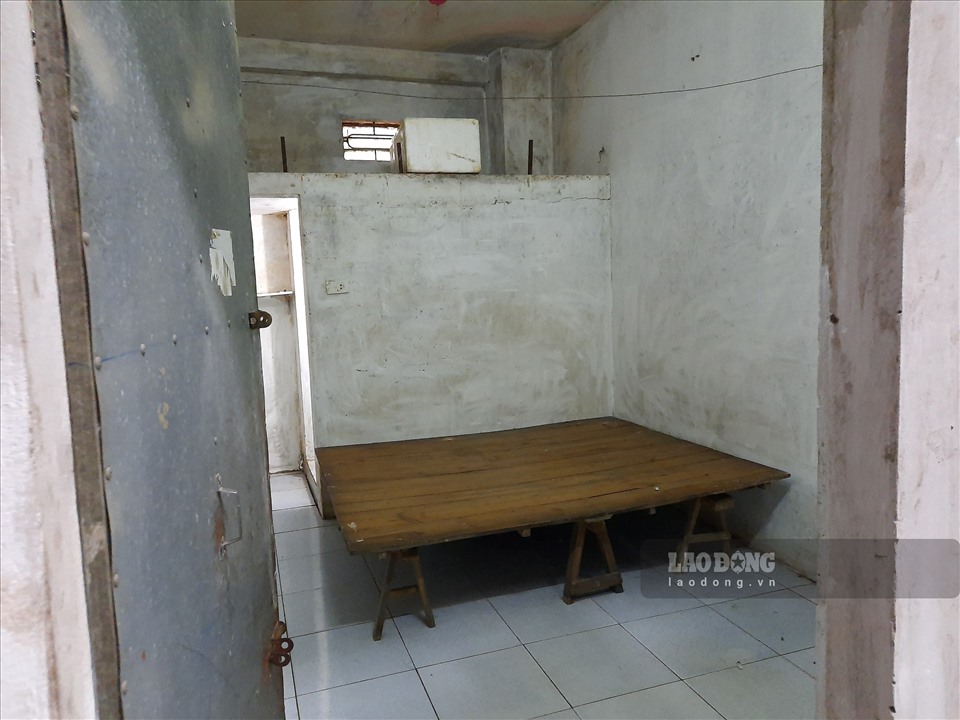 The room I rented was already a "genuine" room in this hostel.
The first day I moved in, I had to pay the rent of 850,000 VND/month. At the end of a month, I will pay electricity and water bills later. This hostel is quite crowded, there is a 3-storey self-contained block and 2 fourth-level blocks with about 10 rooms sharing 1 bathroom and two toilets.
The room that I rented is considered the "best" in the neighborhood because it's on the first floor, which is cool and has a self-contained toilet, but the room is old, musty, and smells fishy from the toilet. When I was cleaning the motel room, I turned on the water to clean it. Looking at the yellow and cloudy water, I panicked and ran to the neighbor's house to ask.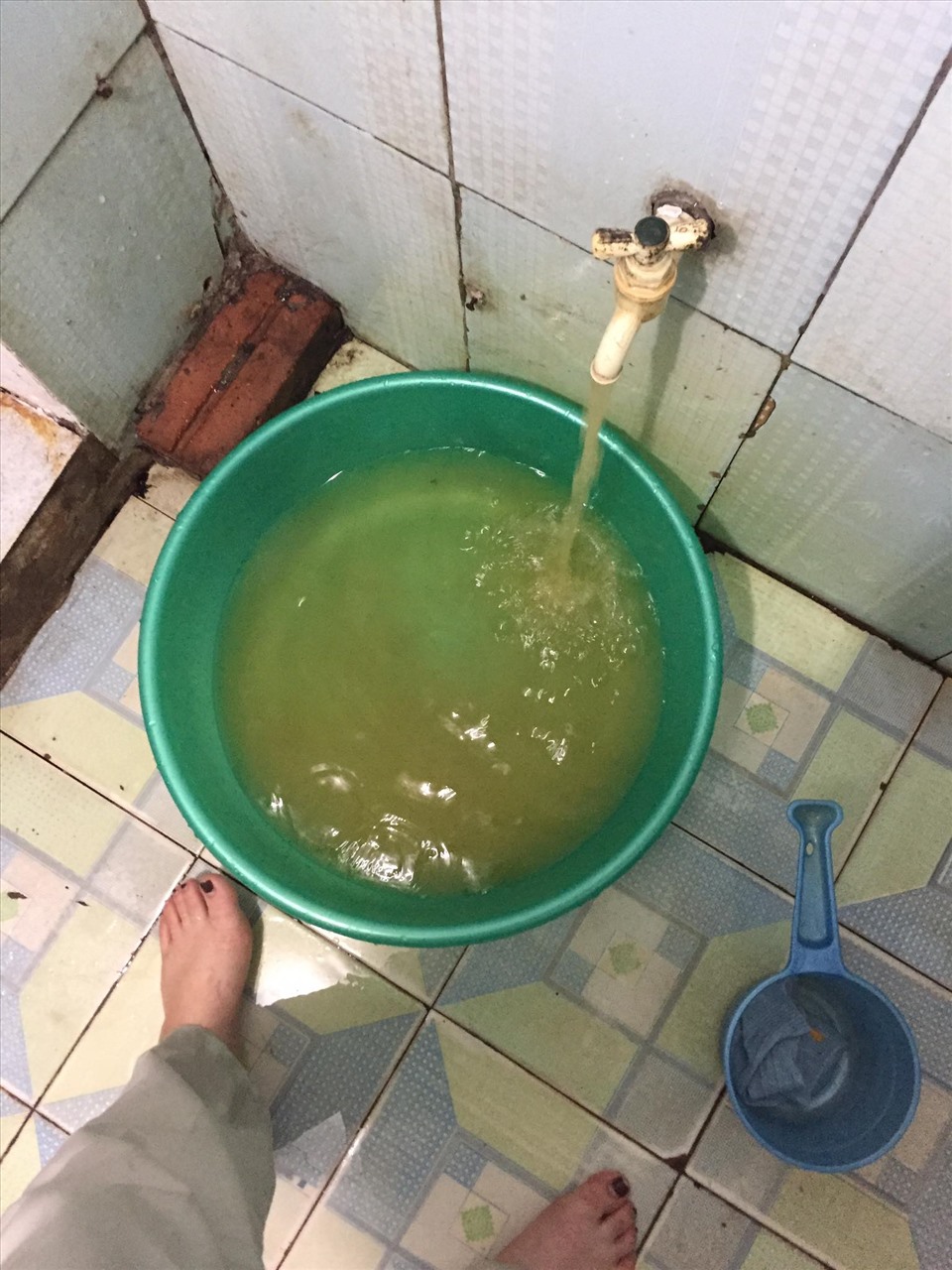 Tap water always has a fishy smell and is cloudy every time the tank is empty.
"The water is running out, the owner is pumping, so the water at the bottom of the tank is damaged. The day before, there was also dust and dirt. I'll wait a while to finish it," a neighbor told me.
As for what I consider unusual, everyone in this inn thinks it's normal. Perhaps they were too used to it. There are also some other rooms that are old, damp, and small like a bird's nest. They have to use the cramped bathroom, just enough to "cram" one person and a bathtub in it.
Got sick because there are many other things to take care of
After the shift, back to the motel room, I stopped in a room of more than 10m2 of a worker's family. The daughter was lying under the old mattress, and her mother – Lien (born 1987, hometown Tuyen Quang) was drying her hair. She raised her face when she heard my greeting, I was startled by her completely gloomy face.
She said that her husband is a builder and earns about 200,000-300,000 VND per day. She has been working in Thang Long Industrial Park for more than 10 years, but she has only lived in this hostel for a few years.
Working hard including overtime, she earns about 8-9 million VND per month. Her room is cheaper than mine – 600,000 VND/month. The room was full of furniture and clothes. The family's valuable assets are an old TV, refrigerator and motorbike parked in the yard of the innkeeper's house.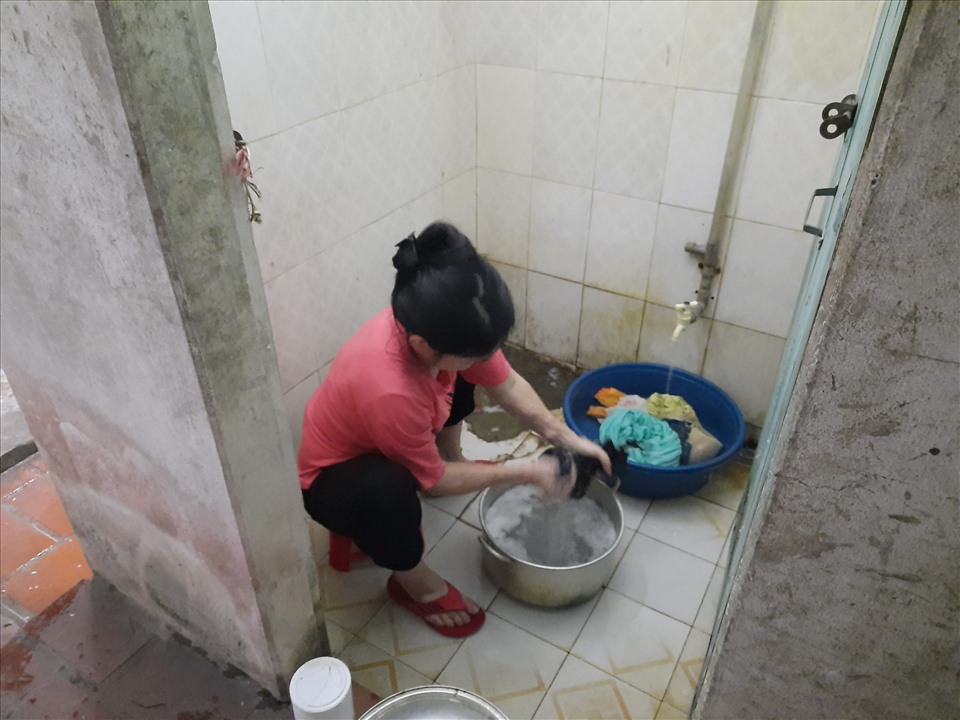 Ms. Lien suffers from neurofibromatosis and still goes to work every day to have money to support her children.
In order to have time to work, Lien has to send her landlady to look after the children for 3,000,000 VND/month. "The period of social distancing took more than 2 months for both husband and wife to stay at home and hold their child. Doesn't make money," Lien said.
Talking about the lumps growing all over her body, Ms. Lien said the disease is called neurofibromatosis. She did not feel any pain or itching, so she went to a doctor at Hung Vuong General Hospital (Phu Tho) and then left.
With the current income of the couple, there are too many things to take care of before she even thinks about curing her illness completely.
Poor spiritual life
The landlady said there were families who rented 10 years here, from the time they got married until now, the children have grown up. There is a working couple who just moved out because they bought land to build a house – but this is a rare case.
The row of motels is sometimes very quiet, only the sound of motorbikes of workers going to work shifts and returning. There were people who came to the room and slammed the door, not communicating with anyone.
After hours of work, overtime, tired, workers mainly sleep in the room to regain strength the next day to work.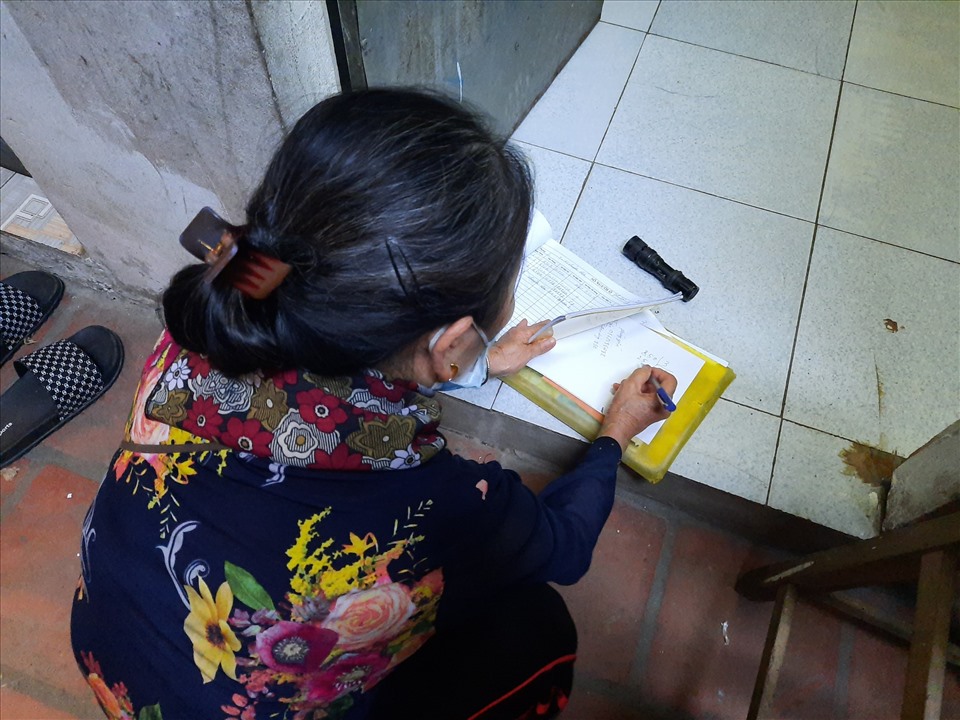 The landlady collects the room fee.
Thuy (SN 1994, hometown Nghe An) has just surfed an electric bike to the market to eat food. Through this worker's story, it turns out that she also works in the same company about electronic components with me, but has been an official for 2 years now.
Thuy said: "Doing that company only stands, there is no place to sit. But I'm bored, because I only work for 8 hours, I rarely work overtime, so my salary is only 7-8 million VND/month."
While I find standing for 8 hours continuously is more than torture, this worker laughs: "I'm not used to it, it's hard, but I find the clean room job is also easy, no pressure".
Thuy lives with her husband. Her husband is also a worker at Quang Minh Industrial Park. Married at the age of 19, Thuy has 2 small children so far, but has sent her to her grandparents' hometown to take care of her.
The total income of the couple is not much, but she said that the cost of food, room, electricity and water … is not less than 4 million VND/month. Although I have spent a lot of money, living in a cheap room, I do not dare to buy air conditioning, hot and cold, but the costs incurred are countless. Except for expenses in Hanoi, the couple also saved money to send money back to their grandparents in the countryside to raise children.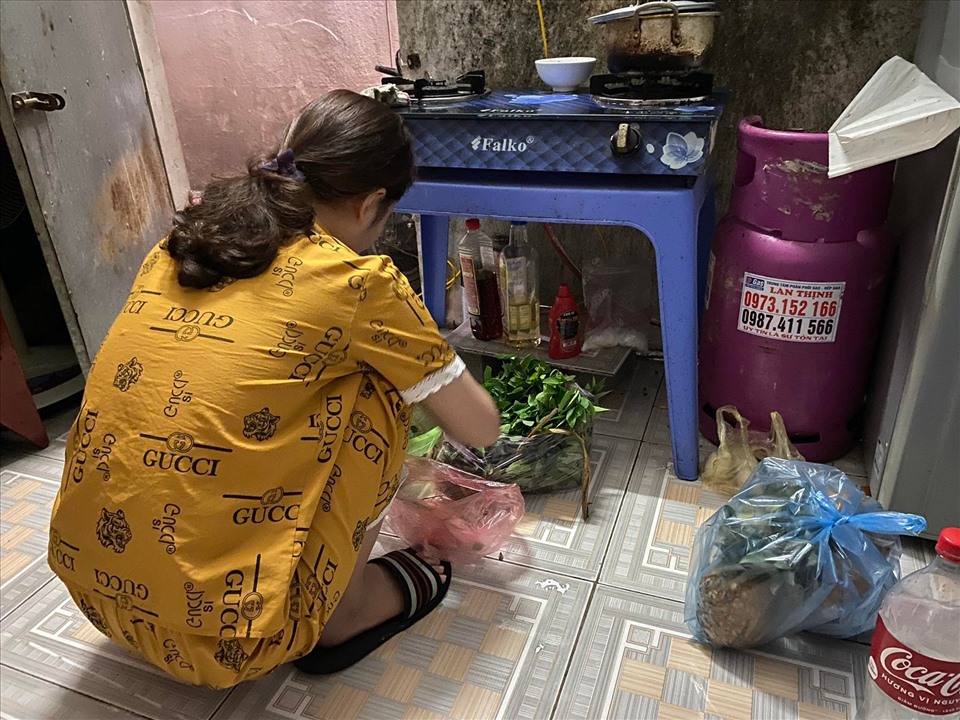 Working as workers in the industrial park for a long time, Ms. Thuy and her husband are not determined to stay for a long time.
According to this woman, there is also an Industrial Park in the countryside, but the minimum wage by region is still low. Therefore, the couple went to Hanoi to rent accommodation and work as workers to have a higher income.
However, Ms. Thuy's family is not determined to stay in Hanoi for a long time. "I don't know how many more years I can stay here, so I still have my health and try to work overtime to earn money. When I have an amount, I also go back to my hometown. If I don't work overtime, my income is very low," – Ms. Thuy said. .
The hostel has a lot of workers, but everyone knows the house. According to Ms. Thuy, coming home from work tired, people rarely interact with each other. There are rooms that are closed all day.
Every day work overtime until 10pm, the next day workers will sleep until 9-10am to regain strength. Their only means of entertainment is the phone.
When asked if she could go out on weekends, Ms. Thuy said: "We don't go anywhere on weekends, just lie in bed. It's been like that for many years in Hanoi, because I don't know the way to the inner city, and I don't know where the pedestrian street is."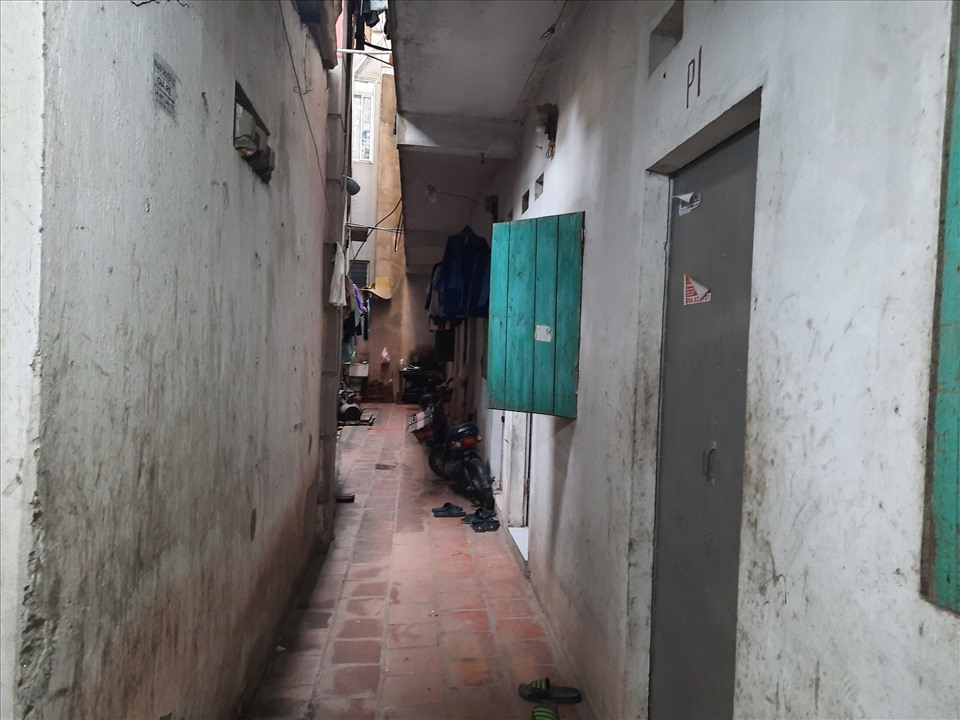 The old boarding house is always closed and silent.
During the days of staying here, in addition to the hardships of working, I understand the loneliness of being away from family and going to the industrial park to work for the majority of workers.
A cycle of going to work, going to the bedroom and then going back to work makes them not care about many other things, about living conditions, poor accommodation or love, marriage, having children…
As for the married workers, the burden of food, rice and money and taking care of their children makes them just want to work more, earn more income, and most of all hope for their children to have a life without suffering like that. myself…
According to laodong.vn
You are reading the article
Haunting the worker's room

at
Blogtuan.info
– Source:
infonet.vietnamnet.vn
– Read the original article
here