Business
Land fever is a saturated real estate market, like the stock market in the period 'from students to greengrocers also talk about stocks'
What type of real estate to invest in to make a good profit in 2022 is a question that many people are interested in. At the recent Invest Summit webinar, with his own experience, Shark Pham Thanh Hung, Vice President of Cengroup had many useful shares related to this topic.
Commenting on the real estate investment channel, Shark Hung said that this is a special type of investment because of its small value, buying does not have to be built, so anyone can participate. However, land plots are the "tail" of the investment wave, meaning that when the land "fevers" up, the real estate market has begun to reach saturation.
"It's like stocks. When the whole population invests in stocks, from the woman selling vegetables to the students telling stories about stock investment, it means that the market is having problems. So is the land plot, especially the residential land. provinces".
According to leaders of Cengroup, land plot is a long-term investment product and usually goes through a few cycles of price appreciation. Therefore, when investing in land, investors need to consider and consider many factors.
In case the land is in the state-owned sector, which has been auctioned, built infrastructure and then sold for self-construction, or the land is located in established urban areas, it will be classified as a very good potential group. On the contrary, if the land is located in a remote area and the infrastructure has not yet arrived, investors need to be careful.
"That is to say, you need to know the use value of the land if you want to make a sustainable investment. For example, land only plays the role of a turn-key investment product, the latter selling a little higher than the former, then the products will be sold a little higher than the former. That product needs to be careful. Maybe we can't withdraw capital in time and need to wait for a few more cycles, or investors will become residents," said Shark Hung humorously.
Resort real estate is "hot" again in 2022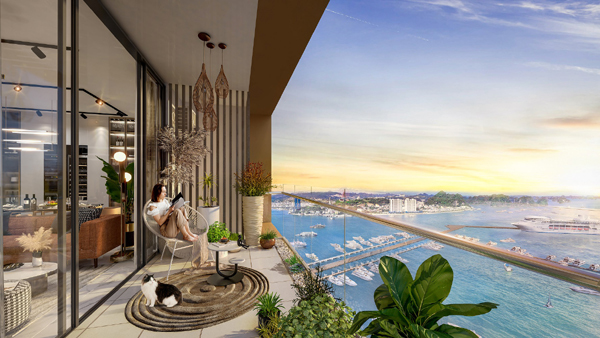 In addition, the general view of the market, according to Shark Hung, in 2022, tourism and resort real estate will be an attractive type again.
"Many projects in big tourist cities, from the inside to the outside, are growing strongly. That's a positive sign for the resort real estate market."
Particularly in the North, there are two "hot" resort real estate markets: Thanh Hoa and Quang Ninh. These are two markets that Shark Hung considers attractive for several years now, due to good preparation in terms of infrastructure. In the South, the Southeast and the South Central region, with a number of provinces and cities such as Ninh Thuan, Binh Thuan, Quy Nhon, Phu Yen, Khanh Hoa, Ba Ria-Vung Tau,… are also hot spots in the region. resort real estate.
Only the central markets of Nha Trang and Da Nang are showing signs of decline, because in the previous period, resort real estate here had a hot growth. Not to mention these are not two emerging markets.
"For example, Da Nang and Nha Trang in the period 2015-2018, the price increase was about 5 times, in some places it was up to 10 times, so now it's adjusted. Currently, investment capital must go to emerging markets in Vietnam. As far south as South Hoi An, then began to encroach on Chu Lai and Quang Ngai. New projects in this area are being offered for sale very badly."
With the more affordable real estate segment, Shark Hung believes that investors should continue to wait. The reason is that when the crisis happened, many people lost their jobs, reduced their incomes, and moved away, causing the demand to buy houses in the low-priced segment to slow down.
https://cafebiz.vn/shark-hung-dat-nen-sot-len-la-thi-truong-bds-da-bao-hoa-giong-chung-khoan-giai-doan-tu-sinh-vien- den-ba-ban-rau-prov-ce-convention-coupon-20220413113151459.chn
You are reading the article
Land fever is a saturated real estate market, like the stock market in the period 'from students to greengrocers also talk about stocks'

at
Blogtuan.info
– Source:
cafebiz.vn
– Read the original article
here