Business
Land fever is unlikely, but land prices still increase
Land fever is unlikely this year
In the first 3 months of the year, the Northern real estate market had a positive recovery after the Covid-19 epidemic in all aspects.
In terms of selling prices, the central regions have now established peaks from high to very high. Apartment prices in Hanoi increased by 4.4% compared to the fourth quarter of 2021, land prices increased by 10-20% over the same period last year, in some places with large road surfaces and beautiful locations, prices increased by 30-40%.
According to data from batdongsan.com.vn, the price of land plots in the Northern provinces also increased sharply over the same period in 2021, specifically, Bac Ninh increased by 16%, Quang Ninh increased by 20%, Hai Phong by 29%, Bac Giang increased by 16%. 35%.
The resort real estate segment recorded a rapid recovery after the epidemic, with many new resort projects appearing in the northern market. In which, there are many potential destinations such as Thanh Hoa, Lao Cai, Phu Tho, Hoa Binh … besides familiar markets in the central and southern regions.
In 2021, many new price levels will be recorded in the coastal provinces such as Bac Ninh, Bac Giang and Thanh Hoa through land auctions. Therefore, investors looking for new markets with more attractiveness tend to move away from the central cores to the suburbs of the capital. New markets such as Thai Nguyen, Phu Tho and Hoa Binh receive a lot of attention in the first months of 2022.
According to information from Dat Xanh Services, industrial park real estate in the North also recorded a high occupancy rate, leading to demand for land around industrial zones. Specifically, in Bac Ninh, the occupancy rate is up to 95%, Hanoi is 90%, Hung Yen 89%, Hai Phong 73%. Provinces such as Bac Giang and Thai Binh are also experiencing growth in occupancy because the rental price for a land cycle in the North is more attractive than the South (the North is 107 USD/m2/cycle, while the Southern region is at 107 USD/m2/cycle. South is 111 USD/m2/cycle).
The central core areas of Hanoi in particular and the big cities in the North in general do not have much land left. Therefore, the relocation to the periphery is taking place rapidly on a large scale. Products with convenient locations linking highways or major roads are extremely attractive to investors and people to buy and use.
Dr. Pham Anh Khoi, Chief Economist, Director of Dat Xanh Services Market Research Institute, CEO of FINA Finance, said that looking closely at the nature of the "price fevers" that occurred as a feature of the market. or changes in infrastructure conditions, the reasons for land fever will no longer appear in 2022.
In addition, the fact that the Government and localities are promoting public investment in the direction of publicity, transparency of information and stricter control over legal, real estate transactions… are important factors. It is important to prevent "virtual" land fevers. Although land fever is unlikely, land prices still tend to increase in many segments due to main reasons such as inflation, rising raw material prices.
In addition, this is also the boom period of the real estate market after the "freezing" period with positive signals on laws, State policies and the market. For example, the Law on Housing and the Law on Real Estate Business 2014 took effect; The Government launched a support package of VND 30,000 billion for real estate; Condotel type ascends to the throne thanks to the novelty and attractiveness in the profit commitment of investors…
Apartments and land plots maintain their attractiveness
Real estate expert Dinh Nhat Quy – Deputy General Director of Dat Xanh E&C said that market developments in 2022 will depend heavily on the speed of disbursement of public investment. The Government's push to disburse public investment and inject large-scale economic stimulus packages can help the real estate market get double benefits. Cash flow disbursed for public investment can support the real estate market through transport infrastructure projects connecting the region, helping assets increase in value. The economic stimulus packages recovered, contributing to increasing consumption, improving purchasing power, boosting the demand for housing ownership for both residential and investment purposes.
According to this expert, the Northern region continues to be the local beneficiary of key projects, with many localities having the highest public investment plans for the 2021-2025 period such as Hanoi, Hai Phong, and Hai Phong. Quang Ninh, Bac Ninh.
Dat Xanh Services forecasts that in the second quarter of 2022, the market will develop stably, the supply in some existing markets will decrease due to policies and limited land fund. In addition, public investment packages in infrastructure in Hanoi as well as neighboring provinces, namely ring roads 4, 5… will be the highlight to help the real estate market in satellite provinces attractive. than.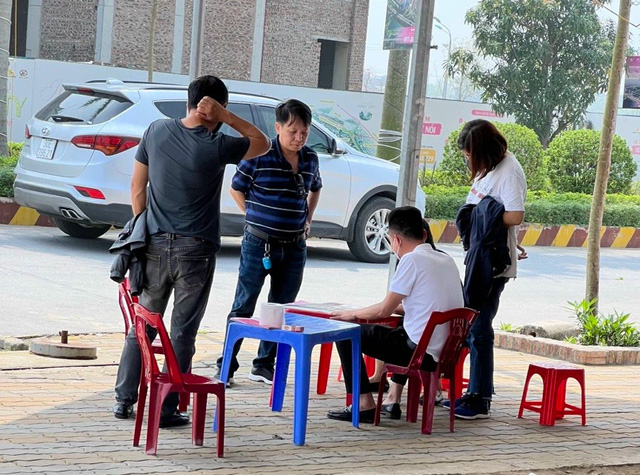 Investors still prefer to invest in project land.
Regarding specific regions and segments, commercial apartments will still maintain their attractiveness in Hanoi, Bac Ninh and Quang Ninh. Land plots and low-rise products such as townhouses and villas will have advantages in the markets of Hanoi, Bac Ninh, Bac Giang, Thai Nguyen, Quang Ninh, Thanh Hoa and Thai Binh. Finally, resort products with old and new markets are Quang Ninh, Lao Cai, Thanh Hoa, Hoa Binh, Thai Binh, and Phu Tho.
Currently, investors in the North are also interested in key areas in the Central and Southern regions. Specifically, commercial and low-rise apartments have Da Nang, Ho Chi Minh City; Resort real estate has Da Nang, Khanh Hoa, Nha Trang, Phan Thiet, Quy Nhon…
Besides opportunities, the market still has many challenges. Inflation, specifically the imbalance of supply and demand, and rising input costs often push up real estate prices. Dr. Pham Anh Khoi said that this is the time when long-term investors benefit with high returns, while short-term investors are becoming cautious because the market still has many fluctuations.
https://cafef.vn/thi-truong-bat-dong-san-mien-bac-kho-xay-ra-sot-dat-nhung-gia-dat-van-tang-20220413113017804.chn
You are reading the article
Land fever is unlikely, but land prices still increase

at
Blogtuan.info
– Source:
cafebiz.vn
– Read the original article
here